Project Highlights
WaterTank Solution wanted to take their business online to make it easier for their clients to understand their tank requirements before placing them. They also wanted to make the purchase and selling of their products hassle-free for their clients. For this, along with the expertise of our clients in their domain, we developed industry-specific features for their website.
Our Work
Personalized quote Within a Few Clicks
We developed a 'Quote Request' feature on their website using which their customers can request a quote of the tank they wish to buy from the comfort of their homes. Further, they can select the tanks they wish to purchase, fill a small form, and submit it. Based on this form our client reaches out to them and provides them with personalized quote and consultation if required. Instead of going to the shop, now their customers get personalized experience within a few clicks.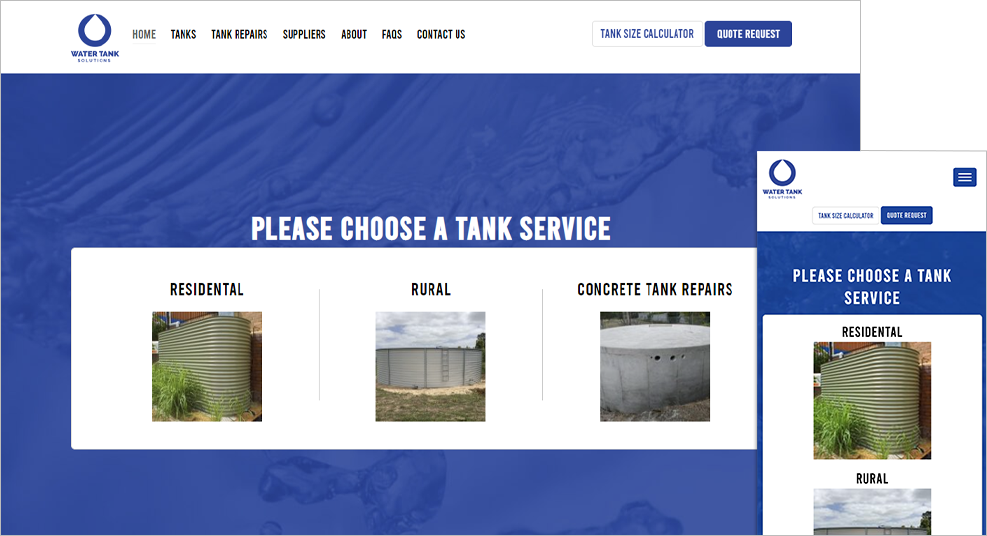 Tank Size Calculator
This allows customers to find a right-sized tank from the plethora of options available on the sight. The calculator is divided into three parts: roof area, site area, and rainfall. The customers have to fill in information like length, width, height, etc. to come to the final size of the tank they might need. This has been developed in collaboration with our client and their knowledge of tank solutions. This feature makes it easy for the customer to calculate the capacity of the tank, understand the things like what type of tank, and the tank capacity they require.
Tanks Filter
We have created filters features for their customers to easily search for their tank after they've calculated the size of the tank using our tank size calculator. The filters provide sort out data from the huge database to make it easy for users to decide which tank they want to buy.
Final Outcome
These features and taking their business online have helped our clients to grow their business and simplify a previously complicated sales funnel. This has made a positive impact on their sales and also help educate their targeted audience about their requirements and client's products.