Project Highlights
The client wanted an e-learning solution that would help professionals in the hospitality industry to sharpen their learning curve. Along with it, free courses and online webinars from world leading learning partners such as Forbes to educate the youth about the industry and it's demand on the wider front. 
Advanced filters, live video streaming, separate portals was another major requirement.
Our Work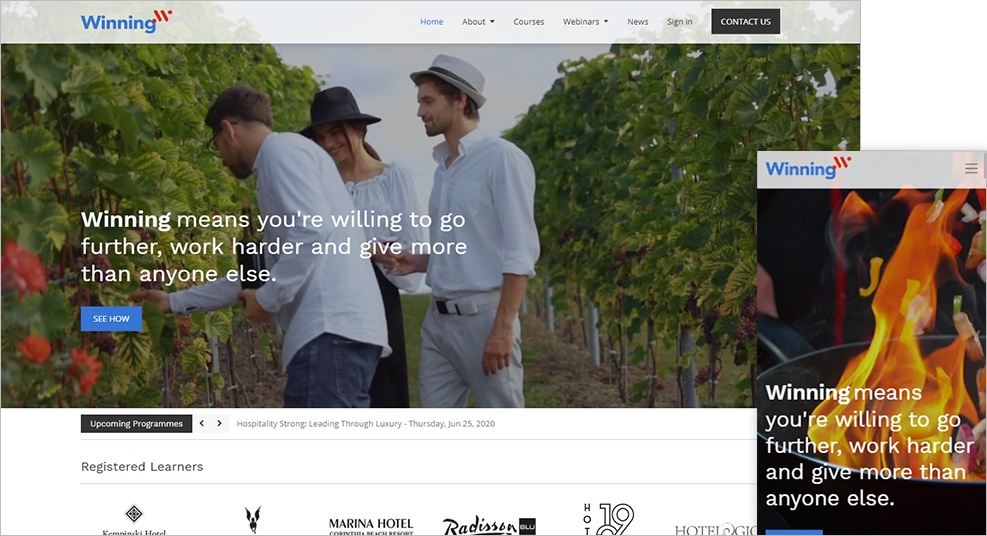 Separate Portals
We developed separate portals for the General Public, Odoo Guest Users, and Admins/CMS Users.
General users can view the free courses and webinars available online. They would have limited access to the website content. On the other side, Odoo Guest Users can login from their portal to access the wide range of courses and webinars, additional details, modules, etc. The Admin/CMS users will have access to the backend from where they can manage all the course details, website content, reporting, etc.
Advanced Features
To make the e-learning solution more valuable and provide users with wonderful experience, we integrated multiple features such as: 
This feature allows users to learn the skills, view the courses on their level without any deadline to complete the course.
We integrated Zoom API for live webinars, events, lectures, etc.
To help users with quick searching of specific courses from a huge list, we added filters with sub fields such as level, category, learning partner, learning product along with a search bar.
Users can download the course materials or other related documents from the resource tab.
Sales and Reports
To get an insight about the registered courses and the demand of the webinars, courses, we created different reports such as 
Total number of people who registered for the courses

Total number of employees registered

Total messages sent by OGU (Odoo Guest Users)
And the list goes on…
Customer Support and Helpline
We integrated Odoo HelpDesk with Winning platform with a live chat feature that would help registered and non-registered users to communicate with the support team.
Final Result
With Winning Platform, the MHRA are able to provide their teams and employees with specific skill sets and career guidance training. The platform also offers the youth with various job opportunities. In short, it is actually a winning project for Maltese travel, tourism and hospitality industry.
This is the Phase 1 of the Winning project. New and advanced features are in development.