Fitness has been a trending topic for the past entire decade. Today, the gym and fitness industry is flourishing across the globe. According to the IHRSA (International Health, Racquet & Sportsclub Association), the $30 billion health and fitness industry in the U.S. has been growing by 3 – 4% annually for the past decade. It shows no signs of slowing down anytime soon.
COVID-19 has brought fitness apps in trend. Although fitness apps have been a part of our life long before that, their popularity truly peaked in the last few months. With this, many national, as well as international health and fitness companies, are mushrooming in this segment.
During the covid-19 lockdown, Nike made the premium version of its Nike Training Club app available for free to all its U.S. consumers. The app offers virtual workouts like a 40-minute upper body strength routine, a 20-minute core strength yoga course. Since then, Nike has seen a rise of more than 100% in the weekly active users of the app.
Due to the potential of fitness apps, the fitness app development market is flourishing day by day. With the growing trend of fitness apps and its increasing demand, many business owners are seeking the help of fitness app development companies to build a fitness app for them.
If you are wondering how to make a fitness app, there are several things that you need to consider before actually getting into the development. Hiring a fitness app development company would be the last stage of the process.
This article is a detailed guide to create a fitness app from ground-zero, wherein we share:
Why Build a Fitness app?
"The global fitness app market is expected to reach USD 14.64 Billion by 2027."
Fitness apps weren't much popular before 2014. 2014 was the year of wearables. With Apple launching its Apple Watch, Samsung's fitness band, and many other such products, 2014 saw smartwatches and their ilk cross over into the mainstream.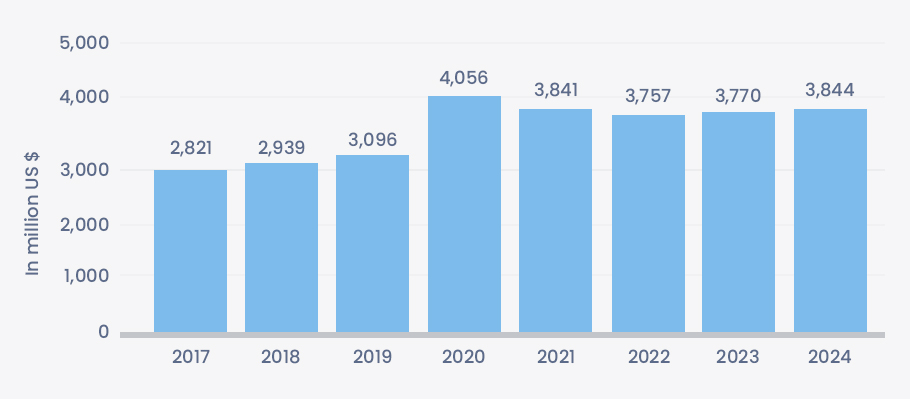 The above chart shows revenues from wearables in US Dollars. And wearable businesses have continued to rise since then.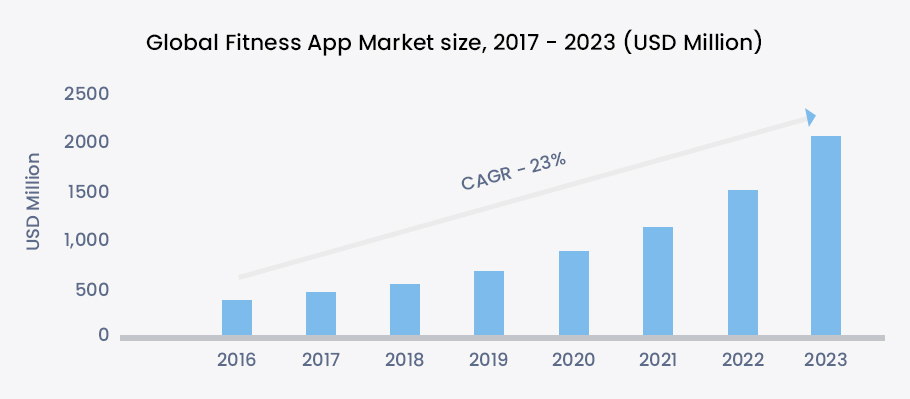 The global fitness app market is likely to grow at 23% CAGR during the period of 2016 to 2023.
According to Statista, fitness apps that analyze fitness achievements like weight lifted or miles run are only going to become more popular. The overall fitness market will show significant growth by 2021. Hence, this can be the right time for start-ups to dive into this industry and build a fitness app. Ready to find out how to make a fitness app? Here is a step-by-step approach:
Type of Health and Fitness App
Before we answer how to create a fitness app, let us first have a look at the various types of fitness apps available.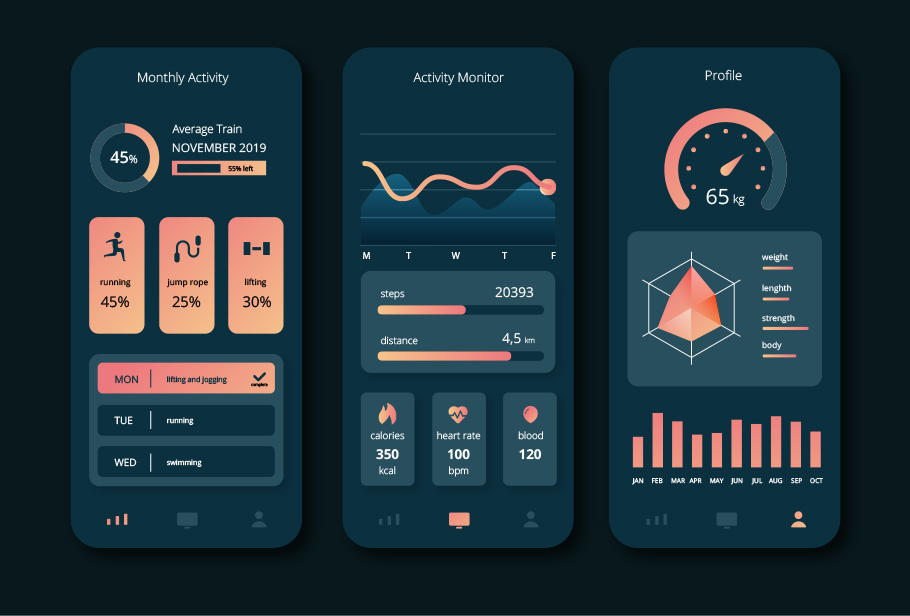 The fitness app industry offers more than one type of fitness apps. There are varieties of apps to track various aspects of health and fitness. Every app has its own use case, market, and caters to intended audiences. Before we move forward to address the question "how to create a fitness app," let's have a look at some popular in-demand fitness app types:
Fitness Tracking Apps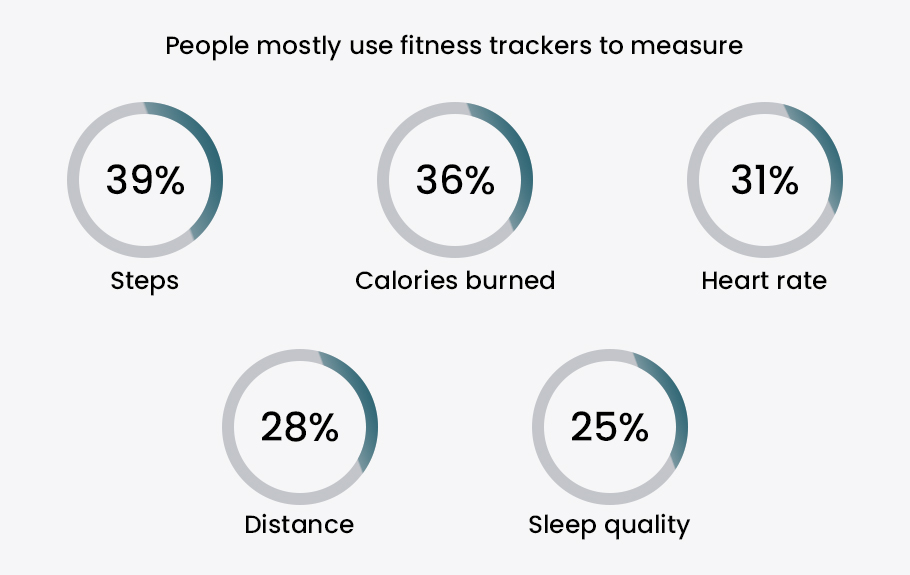 Fitness tracking apps are widely popular nowadays. It keeps track of various aspects of health and consumption. It has features like counting calories, tracking physical activities, counting steps and pace maintained, tracking the distance traveled.
"By the end of 2020 wearables are expected to be one of the biggest fitness segments with a market volume of USD 18,984."
— Statista analysis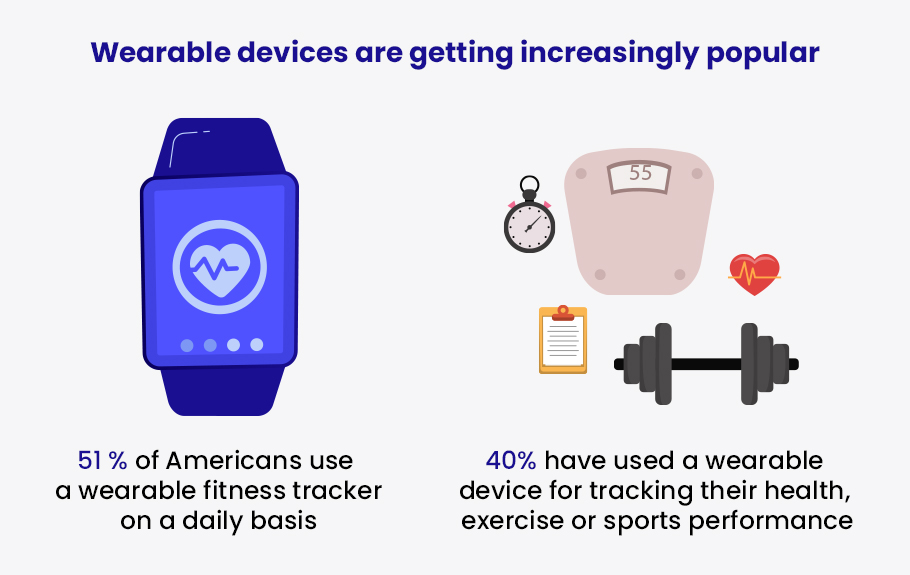 You can also have this app read data from a wearable. By pairing the wearables to your app, your end-users can receive more accurate information about their activities. They can even set a goal for their daily activities and work accordingly. Your tracker app can become their digital logbook.
Sub-categories of Fitness Tracking Apps
| Tracking app category | Features | Fitness app example |
| --- | --- | --- |
| Running trackers | Route tracking, send safety alerts, track running and walking activities differently | Couch-to-5K, Human, Pacer, Runcoach |
| Cycling apps | Record rides, GPS tracking, multiple routes, send notifications regarding free roads or diversions | Strava, Komoot, MyWindsock |
| Yoga trackers | Count and track multiple training sessions. | Track Yoga, Glo, Asana Rebel |
| Gym trackers | Track the gym workout progress based on data feed from wearables, timers, etc. | Strong, Gym Workout Tracker, Fit Notes |
Workout & Exercise Apps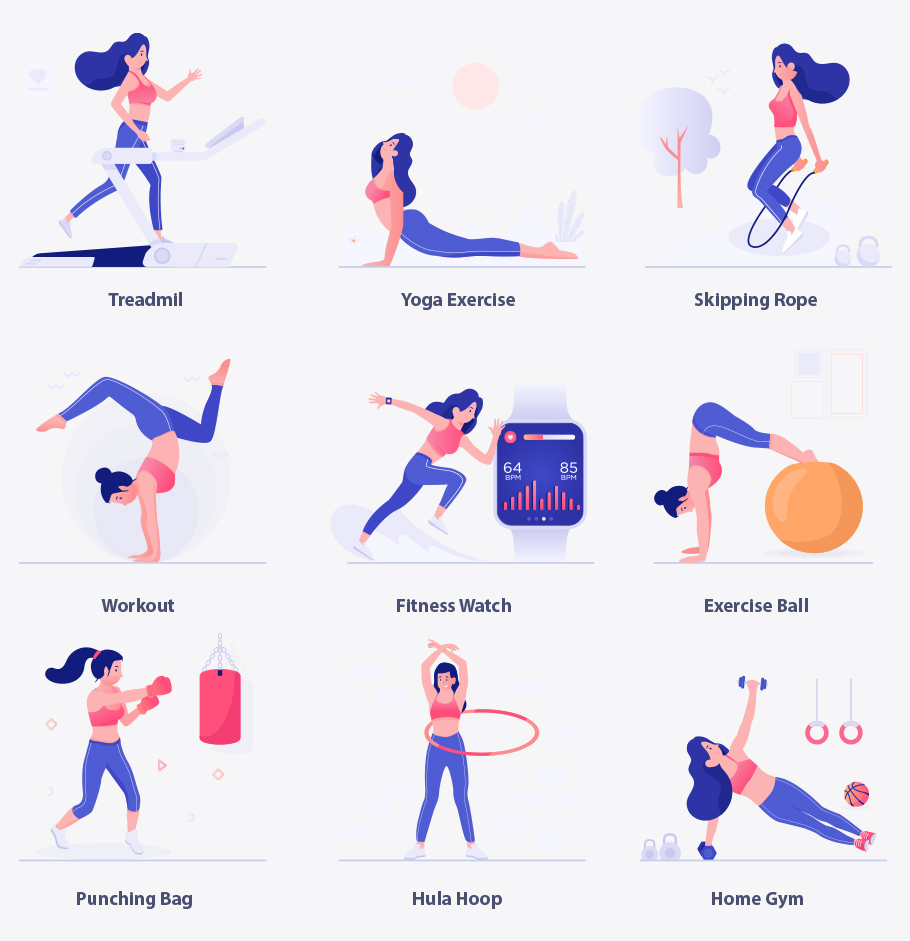 Workout apps are the first that comes to our mind when it comes to fitness app development. Most users choose this app because it lets them adapt to a training plan, keep the time record, calorie record, and maintain regularity. Workout apps are also a convenient solution for people who do not have the time or will to go to the gym or activity clubs. Hence, workout apps are popular. A survey by Flurry analytics denotes that workout and weight-loss apps together alone account for 73 percent of all health and fitness app sessions.
These apps come with various exercise plans for various body strength categories. For example, upper body strength, cardio session, yoga session, power workout, floor exercise sessions, and more. Some companies also build workout specific apps. You'll find a number of yoga apps and personal training apps.
The most important thing to keep in mind while designing a workout app is the ease of use. The more you categorize things, the more likely will the audience adopt them. Simplifying the search options for users is the key to acing the workout apps market. You can provide video and audio demonstrations for exercises for guiding your users.
The Nike Training Club app provides filters that include duration level, intensity, equipment, type, focus, and more. It gives users several training plans to choose from and adapts the plan for them if necessary. For Nike, this app has helped them engage with customers and build brand awareness.
Nike Run Club app is yet another classic example of a workout app specific to running. Users can track their run and even adapt its coaching plan. Nike also provides marathon training plans. This is a great technique to build a community of a large number of users which may lead to brand establishment and customer retention.
Alo Moves, another workout app provides yoga video sessions. In order to help find the right classes and yoga sessions, Alo Moves let their users choose the duration, instructor, style, difficulty, and intensity. The app also has a community engagement feature, which lets them follow each other and leave comments on the sessions.
Subcategories of Workout and Exercise Apps
| Workout app category | Features | Workout app example |
| --- | --- | --- |
| Exercise apps | Provides exercise guides and videos. Different workout sessions for different exercises. | Couch-to-5K, Human, Pacer, Runcoach |
| On-demand personal trainer apps | Allow users to hire coaches for one-on-one training. | Strava, Komoot, MyWindsock |
| Yoga and gym fitness apps | Provide customized training to combine yoga workouts | Alo Moves, Yoga Wake Up |
| Apps to plan workouts | Elaborate on planning and tracking progress | Simple Workout Log, Gym Workout Planner |
Diet and Nutrition Apps
Diet and nutrition apps let the users track the calories and check nutrition intake regularly. These apps help users to monitor and maintain their eating habits. The push notification element motivates them to achieve their diet goals.
Some basic features of the nutrition app are a Calorie meter, carbs intake calculator, caffeine intake calculator, everyday calorie intake calculator, healthy food insight guide, healthy recipes guide, and more.
Subcategories of Diet and Nutrition Apps
| Diet app category | Features | Diet app example |
| --- | --- | --- |
| Weight loss apps | Calorie meter, Offers food insights, Healthy recipes | My Plate Calorie Counter, 8fit, Mynetdiary |
| On-demand personal trainer apps | Allow users to hire coaches for one-on-one training. | Strava, Komoot, MyWindsock |
| Muscle building apps | Gaining useful weight by combining workouts with a diet geared towards muscle growth. | MyFitnessPal, Dr. Muscle |
Know Your Audience
After deciding on the core app idea, the next step would be to brainstorm the target audience. Knowing the audience is one of the crucial parts of health and fitness app development. If you research, plan, and analyze things at this stage, the journey ahead becomes much easier. Hence, you must discover your target audience.
You need to find out the popular age groups, their financial status, their work, location, and other such things. If you know your target audience, you can easily find out what features they will need. You need to research your competitors and see if they are providing these needs. You can find out similar apps from the app marketplaces and then run a brief comparison between those apps and your app. You can find out the drawbacks of your competitors' apps and improve it while developing your own fitness app.
Once you know your audience, the rest of your work becomes easy. For example, if you are developing a diet app, then you can include the recipe guide based on location and availability of the type of food in that location. Perhaps the biggest benefit of knowing your audience is that it helps you narrow down on what you offer.
Wondering how to make a fitness app for a specific target audience? Know exactly who your app audience is! Here's how to approach it:
Conducting polls helps you a lot. You can take a survey about your app idea and observe how people respond to it, what kind of people respond to it, what age group and so on. This way you can improve your app idea.
Analyze their remarks and then research them to improve the idea.
Modify your app idea according to the insights and findings.
Test your assumptions by presenting a modified idea again
Observe the segment of people who showed the most interest in your idea. They are your early adopters.
Create a Fitness app with Unique Features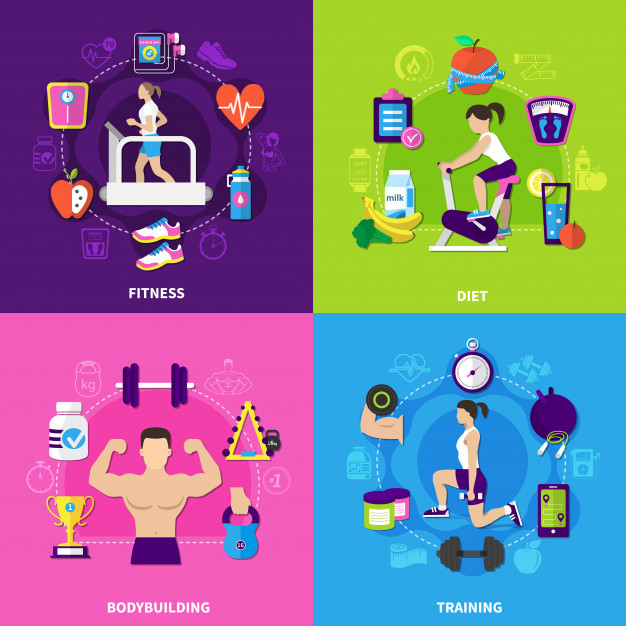 The next step to build a fitness app is defining its features. This largely depends on the type of app. While answering how to make a fitness app unique, think about features like…
1) User Profile
The user profile will contain personal information like age, weight, height, gender, medical conditions. This helps the users to analyze their achievements correctly.
2) Physical Conditions Tracking
Allow users to track their activities like the number of steps walked, sleep duration, pulse monitoring, arterial tension, and so on. You can implement tracking features even without connecting external devices like wearables.
3) Diet Features
The diet feature along with any kind of app suits just fine. You can provide this as a complementary feature. This can attach weight to your services as compared to other apps. You can also provide the simplest version of diet tracking for free and then charge your customers for more personalized plans.
4) Community Building
You can provide features that contribute to community building for fitness enthusiasts. This in turn would help keep the users engaged and motivated.
5) Music App Integration
You can integrate your app with popular music apps. This can play workout specific playlists which can help make the workout much easier. This, in turn, makes working out much more inviting without having to fumble with external music sources.
6) Wearable Device Integration
Regardless of the type of app that you're building, wearable device integration is always beneficial. Fitness apps integrated with wearables could increase the value of the app. It also encourages users to use the app more frequently.
7) Workouts by Professionally Trained Coaches
You can also provide training by professionally trained and popular coaches in your app. Apple Fitness+ is one such Apple watch-focused home workout program which guides users through various workouts by popular coaches.
8) Push Notifications
Push notification is an important feature when it comes to fitness apps. If some users have not been using your app program for a while, you can remind them via notifications. You can send notifications by telling them that it is time to measure their pulse, go to the gym, or other similar things.
9) Social Media Integration
These days, social media drives the world. Therefore, it becomes an essential add-on feature for app publishers. Since people are constantly engaged on apps like Facebook, Instagram, Twitter; you can let users share their achievements and gains on these platforms.
Of course, this is far from all the features you might need. The functionalities largely depend on the financial limitations of app publishers. If you have any other idea for including unique features and are wondering how to make a fitness app with those features included, consult our expert fitness app developers.
Monetization Strategies: Build a Fitness App that Generates App Revenue
Considering the fact that most fitness apps are free at the point of installation, the fitness app business model needs to be adjusted to equalize this. Hence, app monetization is a necessary aspect. Monetization strategies require extensive marketing support before and after the launch of an app.
But, deciding a strategy right at the beginning will help you plan out a roadmap on how to get the maximum benefit out of your health and fitness apps. Here are some strategies on how to make a fitness app that generates app revenue:
1) In-app Advertising Model
In-app advertising model is an effective one. The mechanism is quite simple. App developers serve advertisements within their mobile apps and in return, they get paid for it. In fitness apps this is one of the commonly used app monetization models. The ads are generally promoted at certain intervals. Ads are also published in the form of stickers which are visible statically.
2) Paid Model
For the paid model users have to pay an upfront price before downloading. The user pays a fixed amount for the app regardless of the amount of utility they get. They may also provide trial usage for a limited period of time to let the users get an idea about the app. This model fits an app with high brand recognition and outstanding reviews and ratings.
3) In-app purchases
The in-app purchase model is popular to generate humongous amounts of money by selling virtual products or physical goods from within the app. For these purchases, there is a set commission paid by the app publishers to the app-store owners. Apple and Google both take 30% of every in-app purchase through any app.
4) Freemium Model
The freemium model allows users to utilize some basic features of the app for free and then charge for certain upgrades and access to special features. It is a well-known tactic adopted by companies to lure users to their services and generate revenue. With the premium model, users can keep using the app forever but to enjoy certain benefits and features they'll have to pay. This helps them create a sustainable business rather than just a one-time hit.
5) Subscription model
It is a subscription-based model. It overlaps with premium and freemium models. Subscription is a regular fixed fee paid by the user for using the apps. The subscription model provides a guarantee of repeat transactions. The cost of a subscription is smaller compared to the one-time cost to incentivize the user into a long-term commitment. Businesses with subscription revenues tend to rank far higher in terms of revenue.
These were the five basic monetization strategies used in the health and fitness industry. To identify which model suits you the best, you have to focus on the purpose of the app and the type of users you are planning to serve. You can also check out which monetization model your competitors are following and also the latest trends in app monetization. You can get a detailed insight into these monetization strategies here.
Decide the app platform
The deployment platform selection is a crucial part of the app development process. You need to decide if you want to develop a fitness app for Android, iOS, or something which is compatible with both of these platforms.
The selection of app platforms directly impacts the app adoption rate which in turn has a huge and direct impact on the revenue. This selection can also be location-based. For example, if you're planning to build a fitness app that is native and only plan to launch it in a certain country, then you must look at the platform apps that are the most popular in that country. This ensures that your app reaches out the maximum number of users.
How to Make a Fitness App That Stands Out in the Market
Many business entrepreneurs opt for a clone app, because of the common perception of clone apps being reliable and cost-effective. But there are certain drawbacks of the clone apps too. As cool as the app cloning approach sounds, it is not practical enough. After all, an original is worth more than a copy.
The overall quality and originality of mobile applications take a nosedive, because of clone apps. Many app publishers face problems like up-charging, bad UI/UX, less scalability, and poor functionality. Custom apps are an answer to the question of how to make a fitness app unique. Hence, it is advisable to take the custom app route when you make a fitness app. Here are a few benefits of custom apps in contrary to the drawbacks of clone apps:
Scalable: Custom can be personalized based on one's business needs because they are built from scratch.
Functionality and Quality: Clone apps compromise the quality be it in terms of functionality or appearance. Custom apps have the potential to deliver qualitative results because your app development project is in the hand of a professional developer.
User experience: Users always look for something unique. Unique features intrigue user attention up to a larger extent. In custom apps, it is easy to introduce new and innovative features to solve this problem.
Advanced Features: With the app cloning approach, you have to go with the existing features that exist in the original app whether you want them in your app or not. Take the customer app approach to get rid of this extra baggage of unwanted features.
Cost: You may think that creating a clone app is cost-effective and affordable. The quality of apps is quite low in clone apps. Therefore, trying to salvage your app built with clone software may cost you even more than custom apps.
iOS App Store Law for Clone Apps: Apple introduced a set of rules for its App Store against clone apps. The apps built through app generation services, or by commercialized templates will be rejected from launching on its store. Custom apps have never faced such issues because they are original, and will never do!
So, these were the benefits of custom apps. Are you still hung up on the low-cost clone apps? Well, the difference between custom and clone apps is not much. Can't believe it? Read ahead.
How Much Does it Cost to Make a Fitness App?
Biztech Consultancy assures you affordable pricing for the successful execution of your fitness app idea. While calculating the actual cost to create a fitness app for Android or iPhone, the platform (Android or iOS) plays an important role. It affects the total number of hours of our expert developers.Without discussing more on the pricing of developing fitness apps, here is a brief analysis of estimation for a fitness app development.
To give you a brief, if you want to go with the native app in Android and IOS, it will take 1340 hours including all the required APIs. If you choose to go with a single (Android or iOS) platform, the hours will be 670 each.
With the hybrid app development, you can have your app ready in 1136 hours including APIs.
Apart from this plan, our models are flexible that can fulfill your custom requirements. Here's the detailed breakthrough of features and hours.
Features
API
Native: Android + iOS (in Hrs)
Hybrid (in Hrs)
Module Name
Design
Development
QA/UAT/PM
Design
Development
QA/UAT/PM
Login and Forgot Passoword, Registration
12
12
40
12
10
32
8
Social Media Login
3
0
16
4
0
12
4
User Profile Management
3
8
16
4
6
14
4
User Health Profile Management
3
8
24
3
6
20
3
Upgrade to Higher plan to unlock pro features
6
8
40
8
6
32
6
Personal Assistant (Dialogflow Based)
3
4
16
3
3
12
3
Progress Dashboard
6
8
24
6
6
20
6
List of Diets(of the week)
6
8
24
6
6
20
6
Diet Items Selection (for a week) and repeat
4
8
24
4
6
20
4
Diet Calendar (can add cheatings)
6
6
20
6
5
16
6
List of Workout plans (of the week)
6
4
24
5
3
20
5
Workout Creation Wizard
9
8
32
7
6
24
8
Workout Tracker
6
8
24
6
6
20
6
Steps Tracker on Map
6
6
16
4
5
12
4
Circular and route Tracker (with Traffic Advise)
6
4
8
4
3
6
4
Intutitve Push Notifications on Intervals
12
0
32
8
0
24
8
Auto Fitness Goal Creation from diet and workout
3
0
16
4
0
24
4
Fitness Goal Tracker and notifier
9
0
4
4
0
4
4
Compare with similar fitness profile
6
8
20
8
6
16
6
Fitness Profile Ranking
3
0
8
4
0
6
4
Fitness Rewards and Online Competitions
12
8
32
8
6
24
6
Knowledbase with Voice Search
6
4
24
5
3
20
5
KB – Workout Sessions by Certified Users
6
6
16
5
4
12
5
KB – Diet recepies by Certified Users
6
6
16
6
4
12
6
Daily Fitness tips
3
4
8
4
3
6
4
Sleep Tracker
6
6
16
4
4
12
4
Heart Data Tracker
6
7
16
4
6
12
4
Book and Join Live Video Classes
12
8
28
6
6
24
6
Book and get online Consulting
12
8
24
6
6
20
6
Book and get Lab Testing at Home
12
8
24
6
6
20
6
Auto Health Reports
6
8
16
6
6
12
5
Quick Health Scan (Dialogflow based)
6
8
24
6
6
20
6
In depth reports (workouts, goals, etc)
12
16
48
16
14
30
12
223
205
720
192
157
578
178
Total
Native: Android + iOS + API
1340
Hybrid + API
1136
Create a Fitness App Development Roadmap.
Fitness app development is a tempting and lucrative idea. In order to implement correct development strategies for the profit of your company you first need to define your goals and needs and see which areas call for optimization. After defining the issues, you will be able to develop a suitable solution and then implement various monetization strategies to it.
The key to making a fitness app that gives quality performance is the correct development process. Before you plan a roadmap to create a fitness app you need to decide the correct monetization method and make the app UX smooth and bug-free. Make sure that you work with experienced developers who answer all your questions on how to make a fitness app. Experienced developers can ensure successful implementation with wearable integration, monetization strategies, and also deliver a high-quality user experience.
Users' perspective is important to maintain the overall experience. In short, it should have a personalized touch and it should also sell. Biztech Consultancy services are one such service that gives a personalized touch to all their products. If you still have doubts regarding how to make a fitness app that best fits your business needs, we can help you plan the correct roadmap. That is not all; we can also help you with the most relevant monetization strategies. We specialize in fitness app development for Android, iOS, as well as cross-platform solutions.
Planning to build a Fitness App?