5 App Monetization Strategies that Seldom Fail
29 Oct, 2020
7 min read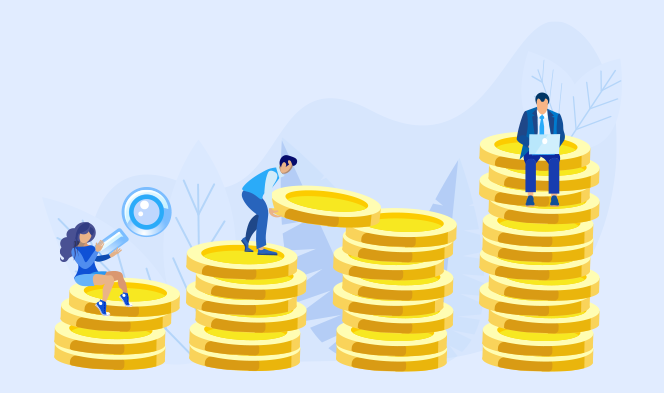 https://www.biztechcs.com/blog/fail-proof-app-monetization-strategies/
Since the launch of the App Store in 2008, the world of mobile apps has seen exponential growth. With this, there was a dramatic increase in the conversion rate of mobile apps, app screen time and overall preference of apps over websites. And hence the lucrative money-making concept of Mobile app monetization came into picture.
Be it a business app, gaming app, social media app or an ecommerce app, launching a mobile app is just the first tiny step in marking the path of success of an app. The next most important step is monetizing it. In simple terms: app monetization is a method to generate revenue from an app, any app! It is the process of converting app users into revenue. In this guide, we dive deep into the core strategies and know-hows of app monetization. Let's roll!
Importance of mobile app monetization
App monetization is necessary to adopt because it has become a more common scenario that most apps are free at the point of installation. The app business model, therefore, needs to be adjusted to equalize this.
The following graph depicts the importance of app monetization in today's mobile world. It shows the app revenue from 2014 to an estimated app revenue till 2023. It says that in 2015 the app revenue reached $152 billion, globally. By the end of 2016, this had risen to $218 billion, which is quite significant. It is also predicted that the worldwide app-revenue will reach close to $1000 billion till 2023.
There are multiple ways through which you can monetize your mobile app. Let us look at the 5 popular app monetization strategies that seldom fail and their potential impact on app growth and engagement.
Effective strategies to monetize apps
Take time to familiarize yourself with all of the following methods and find out the best strategy to monetize your app.
In-app Advertising Model
Nowadays mobile apps not only drive global usage but also drive global media consumption. This makes the in-app advertising model an effective one. The mechanism is quite simple. App developers serve advertisements within their mobile apps and in return they get paid for it. Using data tracking and user targeting based on age, gender, location etc. advertisers can reach their ideal audience with pinpoint accuracy using this model. The revenue generated from this model depends on its viewability or impressions.
Now, let us look at some of the ad formats in which these ads are served.
Video Ads
Video advertising is catchy, engaging, can deliver the brand messages effectively and hence a successful strategy. Some of the popular video formats are:
a) Interstitial Video Ads
These are full-screen videos that appear as a natural break within the app. They are engaging as they take up the whole screen and catch more attention.
b) Rewarding Video Ads
This is specifically used in gaming apps, enabling users to gain virtual currency that will help them advance in the game further. All this, in exchange for watching the ad video.
c) Outstream Video Ads
Outstream videos are the ones placed between the images or paragraphs of text (i.e. within the in-app content). These ads auto-play when it reaches the viewable area of the app.
d) Instream Pre-Roll Video Ads
Mostly used by publishers that offer video content within the apps, these ad videos play before, during or after video content.
Display Ads
In-app display ads is also a flexible way for the advertisers to scale the reach of their campaign. The various types of display ad formats are:
a) Native Ads
Native ads fit in the native look and feel of non-advertising content units, to make advertisements feel like native in-app content. This creates an effective and non-disruptive user experience.
b) Interstitial Ads
Interstitial display ads are full-screen ads that appear when there is a content break within the app. They fill the entire screen and are engaging.
c) Banner Ads
Banner ads are the most common form of advertisement and a quick way to generate revenue.
d) Medium Rectangle Ads
Rectangle ads have more visual impact than traditional banners. These ads offer high viewability at low cost.
.
Premium Model (Paid Apps)
Premium model has an upfront price to be paid before it can be downloaded. It is similar to any licensed software. The user pays a fixed amount for the app regardless of the amount of utility they get. They may also provide trial usage for a limited period of time to let the users get an idea about the app. The overall user expectation for these apps lies somewhere between $2–$5 range. Some even cost $10–$20.
The best example in today's world to understand the premium model is Netflix. They provide a trial month to all users, after which users have to compulsorily purchase their package to access the app.
Premium apps work only under following few situations:
1. There is a strong demand for your app and there are not many competitions providing the same services to bring the prices down.
2. You have a strong brand already and can establish trust with users.
3. The lower reach does not bother you.
4. There are no ongoing features or content costs that can drive up the average cost of supporting users to levels higher than what they paid.
Freemium Model
The freemium model allows users to utilize some basic features of the app for free and then charges for certain upgrades and access to special features. It is a well-known tactic adopted by companies to lure users to their services and generate revenue. With the premium model, users can keep using the app forever but to enjoy certain benefits and features they'll have to pay. It is dead simple for developers to charge small amounts of money inside the app. This helps to create a sustainable business rather than just a one-time hit. Apps with this model have more users, but even a small percentage of them drive astronomical revenue.
The best example for freemium would be Spotify. It gives access to a huge library of songs to its users which they can listen to in online mode whenever, wherever they want. However these songs are hindered by two or even three ads between them. Users can get rid of these ads by turning to its subscription model and by becoming it's premium user. Other functionalities like offline songs or download songs, access to lyrics, etc. are also only accessible to the premium users with subscription.
Subscription Model
Subscription model overlaps with premium and freemium models. Subscription is a regular fixed fee paid by the user for using the app. The subscription model provides a guarantee of repeat transactions. The cost of subscription is smaller compared to the one-time cost to incentivize the user into a long term commitment. Businesses with subscription revenues tend to rank far higher in terms of revenue.
Example: A single issue of "The New Yorker" magazine costs $6, but a year's subscription of 50 issues costs $70. That is a 77% discount and guess what? Revenue wise, it is still better than selling individual copies. A guaranteed customer in the future is far more important to them.
There's also a drawback to this subscription model. There is a single price for all users, regardless of the utility. Sometimes many hardcore users willing to pay a lot more, cap out at these fixed price. Then, there are users who would not sign up as the subscription price is too high. Despite all this, the subscription model is considered the holy grail of revenue models.
In-app Purchases Model
The in-app purchase model is popular among gaming apps. Gaming apps generate humongous amounts of money by selling virtual or physical goods from within the app. For these purchases there is a set commission paid by the app publishers to the app-store owners. Apple and Google both take 30% of every in-app purchase through any app.
Virtual currency:
Virtual currency refers to the currency offered inside the games in exchange for real cash. Usually, this currency is used to get ahead in the game, unlock new levels, or redeem certain features that would usually take longer to unlock.
There is a balance to be maintained. The users must feel that they are getting the value for their hard-earned cash. This keeps them playing the game to pay more money.
Physical product or service:
If your app is a subset of your business then in-app purchases can be a large part of your app income. In exchange for your physical product or service, users can pay instantly. Your physical good or service must be top quality if you wish to increase your revenue.
So, these were the five popular app monetization strategies. Apart from all this, there is one thing that is more important than these strategies. That is user experience!
User Experience
A good monetization strategy leading to bad user experience is as good as "no monetization strategy".
These models and strategies will only work if the user experience is completely taken care of. A good UX can make your app popular and a bad one can lead to your downfall. People do not come to mobile apps because they like watching ads. They're there because your content is something that they want to access or view multiple times. Why? Because they enjoy whatever your app provides!
User experience along with monetization strategies can be improved by thinking about your user and their journey within the app. It can be answered by brainstorming questions like "How will your users utilize the app?" and "Where does it make the most sense to monetize it?"
Customers, with happy experiences, will only come to your app, time and again. It all comes down to the user experience in the end. Happier the users, lucrative the monetization strategy! To understand what makes users happy, and where you might be falling short on UX, working with experts like Upptic and using analytics to drill into customer behavior is important.
Summing it up!
Yes, there's a lot of variety in app monetization. It is important to note that there is no one way or one perfect strategy for every app. Different apps call for different strategies. And, with the right kind of ads, from the right advertisers in your app, you can get a great ROI from them.
To fix a monetization strategy for any app, the app needs to be understood. The core of the app has to be linked with the core of the monetization strategy. It needs to be studied from the user's point of view and the overall experience has to be maintained. In short, it should have a personalized touch. We are a company that does just that! If you want an app solution that best fits your business needs, we can help you build a perfect app with the most relevant monetization strategy. We specialize in mobile app development for both platforms: Android as well as iOS and cross-platform apps.
All product and company names are trademarks™, registered® or copyright© trademarks of their respective holders. Use of them does not imply any affiliation with or endorsement by them.
Befriend Technology for Transformation
Selecting the right technology is pivotal to your business's growth and success. Have you already decided the suitable one for your next project? If so, we can help you take the next step. If not, we can help you decide the best option. Connect with the Top 1% pre-vetted software engineers to build your software.