People are always on the go and it can be revolutionary for any business to provide the convenience of its services while they move. Hence, this digital way of providing services and dealing with the problems of the physical world has paved the direction for new business avenues. For example – Uber Taxi Booking App. A simple swipe in a smartphone app replaced the old fashioned whistling taxi system.
Maybe you're a Hotelier or a company owner or a solopreneur looking to build an independent online booking app for a specific industry or for multiple industries. If so, then you can explore with us the development stages and features of an online booking app, and how you can deliver the value and earn profits with such a solution.
Herein we will discuss:
Approaches and Use Cases for an Online Booking App
The development of a mobile app for online booking is a very large use case as a whole. It encompasses various business models and industries. Below are some that we are going to discuss:
Bed & Breakfast (BNB) services or Hotel Booking
Reservations or Restaurant Booking
Vehicle Booking
Fleet Rental Booking
Space Rental Booking
Doctor Appointment Booking
On-demand services Booking
Food Delivery Services
Fuel Delivery Services
Gas Delivery Services
A lot of mediator apps opt for a multi-industry approach. These apps are supposed to offer all of the above use cases and more. However, always remember, "Rome wasn't built in a day". The approach should be that you start with one or two of these use cases and add more use cases in a periodic manner.
The other approach is primarily specific to businesses that already have a strong presence in the offline domain. And this online booking app can be an extension to bring the online audience to the fold.
[You should refer to our dedicated articles to the above given industries as they aim to cover industry-specific solutions in the desired depth it deserves.]
How to approach developing an online booking app?
As you start developing an application, you need to plan out certain things in order to avoid mismanagement, repetitive work, and most importantly to save your time and money. So to gain clarity about what you're building and why, start with the basic requirements of your online booking app before reaching out for an end solution. For this, follow the steps below.

Step 1: Decide the genre of your booking system app
Every business is a different one. A restaurant business, for example, may have a different use case than a leasing business. The first step, then, is to decide the genre. Whether the app is for home services, beauty, travel, hospitality, medical or rental services.
Step 2: Design the plan
Once you have listed out services for your online booking app, it is time to design a plan. You would need to enumerate all your feature requirements. But before listing the features, you need to identify your target audience, their demographics, psychographics, behavior patterns, etc. For a restaurant booking application, the target audience would be based on the type of food you offer – fast food, veg, etc. and the service you offer – whether it's a dine-in or a home delivery. Then you need to figure out your USP which will drive your audience to your business.
Only after knowing the audience, you can list out the features that your users would find useful. In the case of online restaurant/table reservation booking app, the features that would be required by restaurant owners, for example, Setting Availability management and the ones, which the end-customers might require would be online payment, food ordering, reserving a table, etc.
Hence, after identifying the audience, write down all of the system's specifications. Like, the ideas you have about the online booking application, the features it needs to have, the app design, and the services you want to provide to customers and vendors. Give a definite structure to your thinking.
Pro Tip: Do market research, study similar booking system apps, and run a few surveys before finalizing the structure.
Step 3: Consider the budget
Not focusing on budget planning can cause failure for start-ups or businesses venturing into the online domain. You need to first zero-in on how much money you can assemble for the next 6 months. And once done, focus on questions such as, (i) Native App or Cross-Platform, (ii) Marketing Cost, and (iii) Resource Planning Cost. These three will help you map where to spend how much, and when.
Pro tip: Always have allotted 2-3% of the total budget under misc. to help you tackle any surprises before the launch.
An idea to plan a budget: Suppose your business needs a small booking system app rather than an enterprise-level system. Instead of spending extra on new features that are not needed at the moment, you can spend them on marketing ads and promotions. This way you can plan your budget consciously with proper planning.
Step 4: Gather the resources
After finalizing the plan and the budget, you need to gather all the resources that would be needed to build the app and start the business. Resources can be employees/staff, devices like a smartphone or a laptop, a storehouse, items, various assets, vendors, and more.
Say, you've got a salon business. You would, therefore, need a place for the salon, different goods, and products for your services, maybe a saloonist and other helpers/staff to run the business.
Step 5: Get your business online
Be it flight bookings or renting homes, customers want to get it done with a single click, so you need to have a booking system app. However, that's not enough. To reach those 6.95 billion smartphone users and grow successful businesses, design your website and app, market your business, build your brand, and boost your sales. To get all this done, partner with the right mobile app development company.
Want to develop a booking application for your business?
Reach out to our team and we will provide you with a demo of how the app could work with your business logic. We have the basic version of the booking app ready which can be customized as per your business requirements.
Must have features for an online booking app

Booking and Cancellation
Let your clients book online from anywhere, any device, anytime with no interruption. A one-click cancellation feature to allow customers to cancel their bookings.

Calendar
Schedule your customers' appointments for available time slots and eventually set your staff's work schedule all in one place. Easily plan all your bookings based on the availability so that no customer goes unserved.

Rating and Review
Allow customers to rate the products/services and leave feedback after the services have been rendered. Share your ratings and reviews on various social media platforms to ensure your customers about the quality of your services.

Multi Region Support
Manage all the franchises easily through a centralized location. Provide multi-language support along with multiple currencies and types of payment. Let your customers have access to the booking system app in the language that they are accustomed to.

Notifications and Emails
Improve customer engagement with automated notifications and emails. Keep your customers and vendors up to date with their appointments by sending push notifications. Let them know about new offers, services, order updates through emails, news, and messages.

Sales and Reports
Track your business performance, sales, and transactions with detailed analytics and easy reporting. Get weekly customer and vendor reports, total earnings, total expenditures, and other product-related details, if any.
How to deliver value with an online booking app?
PaymentsAllow your customers to pay with escrow-based payments online or offline to ensure secure payments and easy cancellations. Provide multiple payment options, such as credit and debit cards, e-wallets, cash, etc., along with multi-portion payment options where customers can book with a deposit amount and pay the remaining balance later.
Offers and DiscountsTo provide customers with excellent services and reasons for vendors to stick along, offer various discounts, corporate gift cards, membership benefits, etc. Reward new ones and retain existing members with loyalty programs.
Multiple InterfacesEnsure that your vendors and customers get their separate windows to book and view all their information, such as bookings, payments, history, etc.
Third-party IntegrationsRetain customers by integrating various plugins like a CRM plugin that gives complete detail about the customers and their preferences, their spendings, bookings, wallet history, etc.A CMS plugin to reach out to the customers with promotional offers, newsletters and sale specials, blogs and videos, etc.An application that allows you to integrate different plugins, such as maps, social media, etc., will be a bonus for your business alliance.
Simplified DesignPersonalize your online booking app in a sophisticated manner. Incorporate quick bookings, smooth navigations, and other UX/UI elements to provide better customer experience.
How to market a booking system app?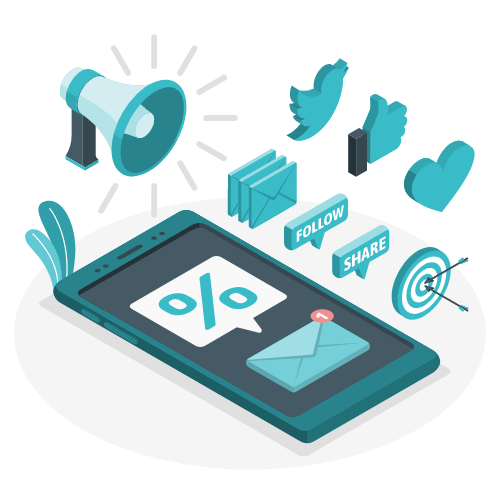 The features above will add value to your mobile app, however, to market, you need to have a proper online presence with precise business strategies. Dive deeper to know!
Acquisition CostThe first step to market your newly launched app is to get eye-balls. Any migration from traditional means to the online channel is a change of habit. And, to inspire that habit, you would need a plan – one that incurs your loss. The loss budget is the key to acquiring new customers who through their life-cycle makes your business profitable.
Paid PromotionsTo kick-off your campaign, you would need a media buying strategy that drives your promotions. The acquisition strategy is the key but the spending channel(s) is the master combination that opens the lock – aka brings in the relevant customers. You need to ensure that you have picked the right channel to spend to get the right set of visitors who would convert to a customer.
WebsiteThe majority of your promotions would directly land the visitors on the app store and the play store. However, you must also invest in having a web-front to have a higher visibility for your business. A web-app any-which-ways is essential to managing the backend operations of your business, but it is also important as the front for that visitor who wants information before downloading your app.
Online booking app for various Industries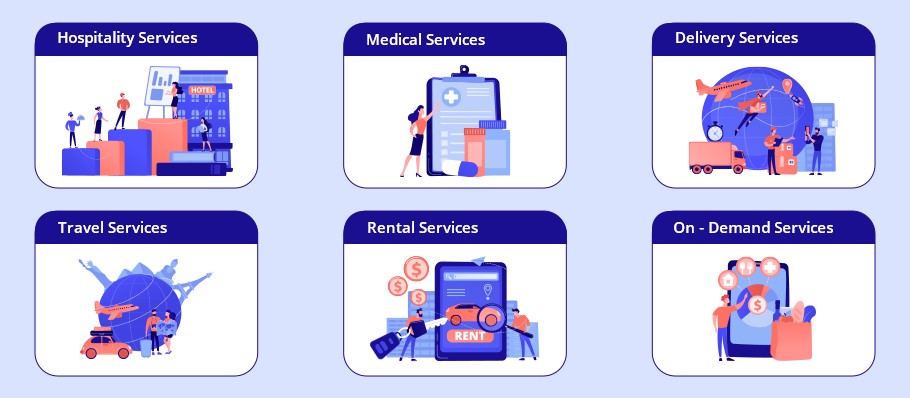 Worried whether this booking system app is right for your industry or not?
Let's look at the different services that can be rewarded from an online system.
Bed & Breakfast (BNB) services or Hotel Booking
The critical thing about bed and breakfast services is that the experience has to be great throughout. If there are glitches in getting the right room or the customer service, it can impact your business.
So, if you provide Bed & Breakfast services, with an online booking app people can book the place for overnight stays. They can access the best prices and offers, locate the hotels closest to them, book stay directly through an easy, efficient and intuitive interface.
Reservations or Restaurant Booking
Do you run a restaurant or an event management company? Do you need more customers?
Yes?
Bring an online reservation app that would allow your customers to book tables from their device at any time of the day. With the online booking app, customers do not need to call restaurants to check availability. In addition to table bookings, you can even provide them with pre-order food bookings through apps, social media, and the web. This way, you can reduce the workload of your staff and plan your future business expansion accordingly.
Hospitality services are not limited to the food and beverage sector. The same booking system app can be used for events (games, sports, festivals, learning) or film tickets booking with seat reservations.
Fleet Rental Booking
Car rental booking for fleet services works pretty much the same way it works for the vehicle booking apps. The good thing about having an app for fleet booking is that as an owner is that you can easily give access to people so that they can book the vehicle of their choice.
There are a variety of features you can tailor as per your requirements. For example, car rental tracking, driver management, location mapping, billing & invoicing, fines management, inventory management, etc. for smoother operations.
Doctor Appointment Booking App
If you are in the medical industry, looking for a way to improve your services, appointment booking is the first step to streamline all your operations. It not only improves the experience of the users but also sends a strong signal to your patients that you are on track with the technology trends.
As per the report by Accenture 60% of appointments scheduled online are for same-day slots, while 20% are for next-day slots. These are the indicators of how convenient it gets for your patients to book slots with an online doctor appointment scheduling. There are some important features like online and offline booking, doctor listings, map integration, notifications, cost calculator, etc. for better user experiences.
Food Delivery Services
Food Delivery apps have become like a boon for both business owners and their customers after the Covid pandemic striked.
Here's the chart that showcases the four companies that ranked roughly $5.5 billion in combined revenue from April to September. It was more than twice their combined $2.5 billion in revenue during the same period in the previous year.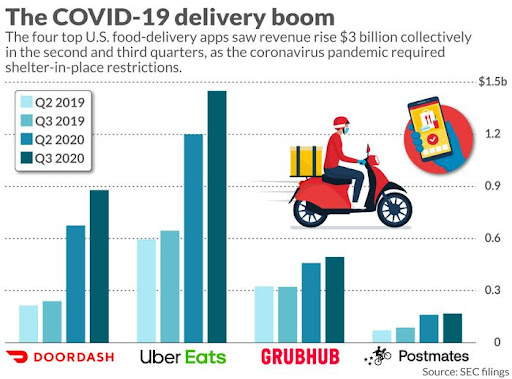 Apart from the features, it is important to focus on customer service and quality deliveries. Features like real-time status updates on orders, quick response on the user queries are some of the most important aspects to consider.
Fuel Delivery Services
This model works as an on-demand fuel delivery mobile app. It allows your users to request gas delivered and filled in their car. They can request the delivery at their choice of location. Based on the orders, the technicians can drive the truck to the user's location and fill in the gas tank.
One of the biggest benefits of this model is that it lets you put your services out of the station. One order and you can deliver the orders as per the request. Features like real-time tracking of fuel delivery, easy payment options will help you streamline your operations.
Travel services
If you are running a travel agency, then with a travel portal or hotel booking application, you can let your customers search, schedule and book flights, cruises, rental cars, tourist spots, and travel packages.
For example, in order to book a travel package, customers need to search for the relevant package, view the itinerary, and enter final booking dates and personal information. After paying the amount, a notification would be received.
With these few steps and an online booking app, without having to spend hours searching, your customers can plan their travels hassle-free and you can widen your reach.
Medical services
To streamline appointments at your clinic or medical institution and to avoid queues for doctor's appointments or health-related tests or results, an appointment booking system is a perfect solution. Patients can schedule an online appointment with the choice of their doctor or the lab in charge of their treatments. Doctors, on the other hand, can plan their daily work based on appointments, meetings, and operations scheduled.
It's simple, a patient would choose the faculty, their choice of doctor, and the date of the appointment and make a booking through the online booking app. Similarly, upon receiving the appointment notification and viewing the calendar, the doctor can plan which slot can be assigned to a particular patient.
Rental services
With the increasing craze for traveling, the need for an online booking application has also increased. After all, they provide plenty of comforts for those who want to rent a bed and breakfast, a holiday home, cab, or a transportation solution.
To hire a car/property, your customers can browse your hotel booking app, vehicle booking system, car reservation software, or taxi booking app if you've decided to go with a niche where they'll get all the details including the price, then they can choose the best one, enter the dates they want to hire (if scheduling for later) and click the book button.
Tadaa!
It can be this easy only if you choose your car rental reservation software or hotel booking app development company wisely.
Vehicle booking services
Regular travel and economical means of transport have increased the market for taxi booking apps. After all, they deliver several conveniences to customers, such as no parking problems, vehicle maintenance, fuel expenses, etc. Hence, there's a big market out there which means there's plenty of space for your venture as well.
A taxi booking app helps customers book short or long-distance trips. Depending on your business model, you can develop a taxi booking app to book your cars for self-driving or for hire for trips like Uber. The flow of the Uber-like app would be – customers enter the source and destination, select the type of vehicle, and hit the book button. Drivers serving in that area will be instantly notified of the booking with the liberty to accept or reject the booking.
Delivery services
With a delivery service app, your customers can have food, laundry, and other goods delivered at their place. This is how it works: they can select the item, enter their zip code and street address, add any notes like pick-up or delivery instructions, choose a delivery time, and wait for it to get delivered.
From food delivery to laundry and product delivery to any kind of delivery service, all you need is an online delivery app.
On-demand services
Your customers no longer need to look for professionals for home improvement, house cleaning, repair, and tech support, beauty services, events, crafts, and other expertise. The only thing your customers need is an online booking app on their phone. Bookings can be made easily by selecting the service, the convenient date and time, and hitting the schedule button.
On the other hand, the concerned expert/vendor would be notified of the same.
This application will provide users with a list of cleaners, home appliance repairers, salons, tech supports, event managers, and other professionals available in the area, along with their portfolios and ratings. In addition, customers can also pay for service, right from the app.
You can have your own on-demand booking app just like UrbanClap and Thumbtack. To see how it would work with your solution, we can take you to a tour with our solution. It is a basic version of a booking app that can be further beautified as per your requirements.
And the final decision
After examining all the aspects, developmental phases of getting started with an online booking app comes the decision part. To get detailed standard rates of developing your online booking app, contact us and our project manager will be in touch with you to discuss the necessary aspects and costs.