2841
A Complete Guide to Developing a Car Rental Reservation System
29 Jul, 2020
7 min read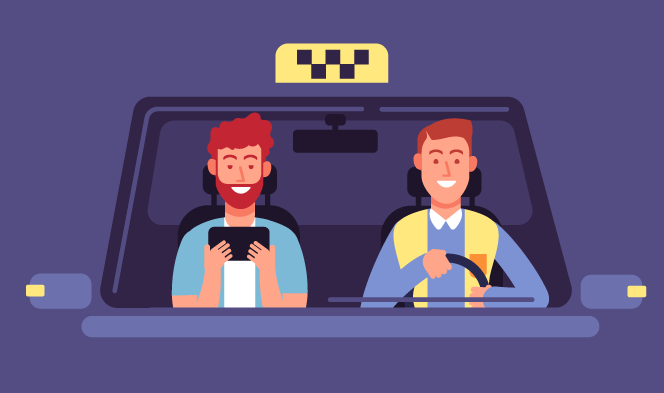 https://www.biztechcs.com/blog/car-rental-reservation-system/
Do you know why most of the youth/millennials don't buy cars anymore? Because cars create an overhead which means more investment with lesser returns. On the other hand, rental services make it possible for them to travel anywhere, at any time providing flexibility without costing a fortune. This change in behavior has caused the rise of car rental booking apps like Uber, Ola, Lyft, etc.
The other reason this business model is in demand is the projected annual growth rate which is supposed to be 18.5% by 2024, according to Statista.
You can operate a car rental company online, completely.
Look at Turo, the world's largest car-sharing marketplace, started in 2009, today offers over 400,000 vehicles by streamlining business operations, providing real-time tracking, auto vehicle bookings, etc. And they are completely online.
To get a good understanding of the vehicle booking system and how important it can be to your company and customers, first let's understand what it is.
A car rental reservation system is an online booking software specially designed for car rental agencies, car operators, taxi rental operators, and small to large scale car companies. It's a secure platform that offers customers with quick car bookings and admins with managing car rentals. 
Now, let's move forward with how to build one for you!
HOW TO BUILD A CAR RENTAL RESERVATION SOFTWARE?
Switching from traditional login and management to online booking systems can significantly enhance your company, but such a huge shift might seem daunting. Reason: There are a plethora of competitors in the market to partner with, and different services such as one fit for all, custom development, subscription-based, to choose from. That is why you must first look at your business needs before making any decisions. 
Ready for a background check before investing in developing a car rental reservation software?
Types of Booking System (based on vehicle and services)
The booking system will be based on the services you provide:
Own a car/vehicle fleet

Partnering with drivers, owners, suppliers

Mixed
Self-owned
If you own a car fleet, then the car booking system eliminates the hassles of calls/emails for your customers and allows them to book vehicles directly from the app without contacting you. It hem and allows customers to directly book
Partnership
To help customers book different vehicles based on their needs, you can partner with different drivers/operators and in this scenario, you would need a portal for customers, drivers/operators along with the admin dashboard.
Hybrid
Suppose you have a fleet of vehicles but you want an app that allows passengers to book specific vehicles that are not part of your inventory as well. In this case, you have a car booking system that allows third-party bookings too. Your online rental system would, therefore, serve Admin, Drivers/Operators, and Customers.
Target Audience
For online vehicle booking system, your audience can be:
Travelers needing a vehicle, they can be commercial travelers or family

Vehicle owners/Operators

Drivers
This is not the complete list as your audience will depend on various factors including demographic and geographic location, services, business model, etc. First, you need to decide the type of vehicles you want to rent out. This will again depend on the area you want to serve – such as for beaches, two-wheelers would be a preferable choice whereas for hill stations and snowy areas, cars would be the major requirement. Further, you need to list down the services that you want to offer. Say you want them to book a car for a short distance of travel/events or a long distance/multiple days of travel and tourism, etc. 
To get a complete insight about the target audience, create different buyers' persona considering their demographics, behavior pattern, geographic conditions, etc. It would help you understand your audience, business model, features of the app, etc.
WHAT YOU NEED TO FOCUS ON?
Business Model 
Owners/Drivers

Who owns a vehicle and wants to rent it. Admin collects commissions from this party upon each booking.

Customer

Travelers, families or officials who want to travel comfortably at reasonable rates. The admin may receive a convenience fee from the customers upon every booking.

Admin

One who would venture out the business and manage all the drivers/operators and customers' activities.
Technological Requirements
To develop a car rental reservation software, you will need developers to guide you through the languages and technical aspects as well as build you an app. 
What you should ask them: 
Application Framework

Programming languages 

Cloud Storage

Cloud Hosting 

GPS and Maps for tracking and route

Global Payment 

SQL data storage

Voice and SMS API for SMS, Voice, and Phone Verification and instant notification

SMTP and other mail APIs
Cost Structure 
Website and app

Employees/drivers

Online payment platforms like MasterCard, Visa, and PayPal

App promotion and marketing activities

Vehicles and their maintenance (if self-owned)

Insurance and claims
Revenue Model
You may take a fixed/variable commission from customers and drivers/operators, i.e. vehicle owners, depending on the type of vehicle, distance, etc. or you may only take commission from drivers/operators.
HOW DOES CAR RENTAL RESERVATION SOFTWARE WORK?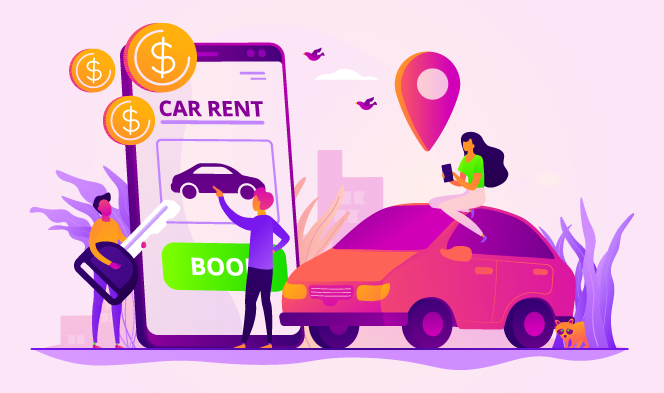 An online car rental system would connect drivers who rent vehicles to clients who want a vehicle. Using a variety of filters, customers can find the right vehicle, a chat system would connect hosts directly to customers, and digital payment options would allow secure payment via the site.
Online Car Booking System for Hosts
Register the vehicles in the online car booking system with all the information, such as model, passenger seats, luggage size, AC or non-AC, etc.

Build the profile, add photos and details, licenses, and verify it.

Receive the reservations.

Accept/Deny booking requests as per availability.

Receive full/half payment in advance.
Car Hire System for Customers
Create and manage the profile.

Search for dozens of vehicles based on multiple filters like model, passenger seats, AC or non-AC, luggage size, etc.

Book a vehicle that suits their needs. They can either book it right away, or ask to book according to the options available.

Pay the amount through multiple payment options, including a credit card, debit card, PayPal, eWallets, netbanking, etc.
FEATURES OF AN ONLINE CAR BOOKING SYSTEM
Customer Features for Car Rental System
Log-in/Sign-up: Users are required to log in with their pre-registered ids or create a new account by filling in details such as name, number, email, etc. They can also log in via their email address or social media channels. 
Profile: Manage personal profile information such as email verification, mobile number, birth date, gender, permanent address, wallet money, saved cards, etc. 
Notifications: Instant updates and text messages of their car booking status.
Search Filter: To search for the desired vehicle by filtering the vehicles based on model, seater, air conditioner, luggage size, etc.
Chat: Interact with the driver through messages in real-time.
Payments: To select the payment method and pay in desired currency. View the payment receipt and complete transaction history. 
Booking: To check all the past and upcoming bookings.
Support: Users can access the FAQ parts and seek customer support in the event of misunderstanding with the bookings.
Rate and Review: Users can share their experience with the hosts/drivers through rating and review.
Driver/Operator Features for Car Reservation Software
Registration, Log-in, and Profile: Similar to customers' features.
Vehicle Listing: Handle all details related to the vehicles, such as licenses, model, images, verification, etc.
Bookings: To view all future bookings in a calendar form.
Requests: To approve or decline the car reservation request of the user.
Messaging: Communicating with visitors about the vehicle availability and other questions the visitors might have.
Booking History: All previous bookings and the received payments can be tracked here. 
Admin Panel of Online Car Rental System
Dashboard: The admin dashboard for viewing all the users, sales reports, emails and notifications, etc.
CRM Integration: Details of all the hosts/drivers and users.
Inventory Management: Manage all the vehicle details and scrutinize their legalities and other processes of verification.
Booking Management: Manage all the previous and new bookings.
CMS Integration: To maintain the website & app content, marketing through emails, newsletters, offers and discounts, and many more. 
Customer Support: All customers and hosts/drivers feedback can be viewed here. Any complaints/suggestions/queries about the hosts or any customer can be processed here.
Insights: Reports of all the bookings, total earnings, etc. These detailed insights can help in future decisions.
SUMMARY…
By now, you've got an idea of the flexibility your booking software needs to have along with the following features:
Clear tariff policy

Auto distance calculator

Social logins

Coupon management

SEO settings

User-friendly mobile app

Online and mobile ways of payment

Detailed vehicle overview

Quick reservations

Invoices and sales

Reports and stats
And a lot more…
With 13+ years of experience in software and mobile app development, we can help you develop your customized car rental reservation program or any online booking app with all the mentioned and additional features.
Don't stop here!
Know us and our work through our case studies. 

Befriend Technology for Transformation
Selecting the right technology is pivotal to your business's growth and success. Have you already decided the suitable one for your next project? If so, we can help you take the next step. If not, we can help you decide the best option. Connect with the Top 1% pre-vetted software engineers to build your software.