861
Adapt to Changing Circumstances with Salesforce for Nonprofits
27 Sep, 2022
5 min read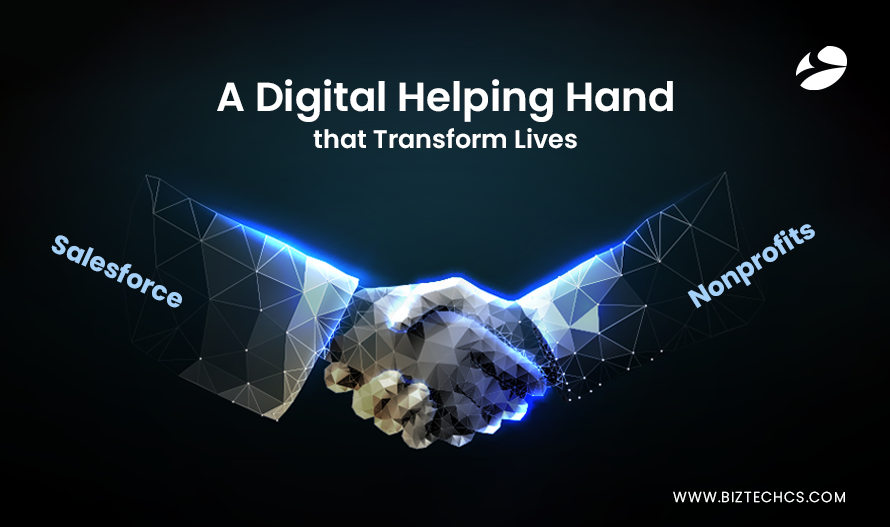 https://www.biztechcs.com/blog/adapt-to-changing-circumstances-with-salesforce-for-nonprofits/
Summary
Bringing in change is the core principle of every nonprofit organization. I am sure yours is the same!
However, one thing that disrupts this goal is limited resources and the old age technology that is unable to keep pace with the changing requirements.
Even UNICEF Australia agrees with this! This is why they digitized their entire technology environment with Salesforce for nonprofits, from donation acquisition to fundraising, engaging existing supporters, and reducing costs and risks.
They brought in Salesforce Nonprofit Cloud, combining Salesforce Sales Cloud and a Nonprofit Success Pack with Fundraiser Accelerator. The result? UNICEF Australia reduced its average response time of 10 days to less than a day!
With Salesforce for Nonprofits, they can run the whole business via iPad and have a 360-degree view of the donors at a moment's notice from anywhere.
Like UNICEF, 76 percent of organizations rely on Salesforce because it makes their job easy. It allows them to communicate effectively, raise more funds, increase employee performance, and strengthen their communities.
If you, too, want to streamline your nonprofit operations, hire dedicated Salesforce developers!
Meanwhile, keep reading to know what Salesforce can do for your non-profit organization.
Salesforce CRM for Nonprofits: The Basics
What is Salesforce Nonprofit Cloud
The Salesforce Nonprofit Cloud software is an end-to-end platform created for charitable organizations, institutions of higher learning, and other nonprofits. It provides businesses and NGOs with an integrated perspective of their operations and activities. It helps these organizations broaden their digital reach, strengthen their relationships with constituents, organize their internal operations by keeping track of the people they collaborate with, and eliminate silos between their fundraising, program management, marketing, and technology teams.
Numerous non-profit solutions are included with this CRM software, including:
Fundraising
Marketing & Participation
Program Administration
Grants Administration
These technologies enable NGOs to centrally manage and monitor their funding sources, incoming donations, and projects.
Salesforce for Nonprofits Features
From online registration to volunteer management, fundraising, and donor management, Salesforce helps you manage everything from one place. Here are some of the Salesforce for Nonprofits features.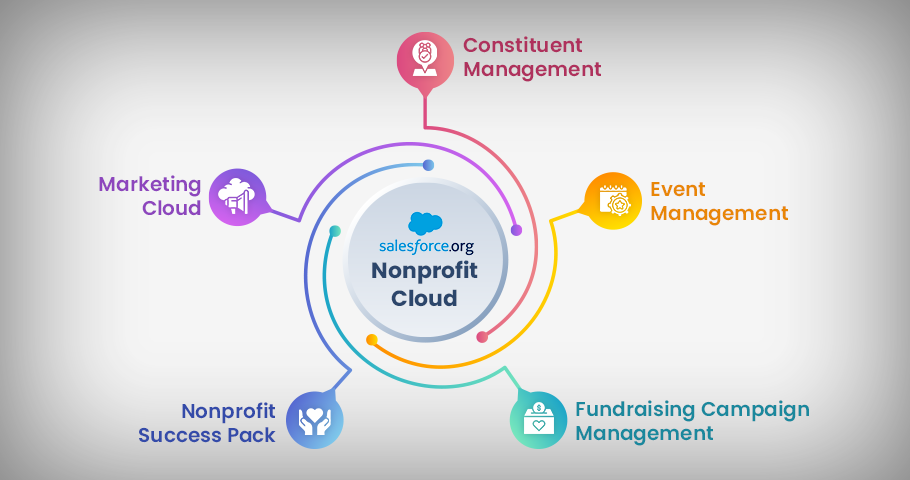 1. Fundraising Campaign Management
Funds are the most crucial component for a nonprofit to keep going forward. They are one of the essential elements that sustain NGOs and keep them steady.
Salesforce Nonprofit CRM's fundraising feature allows you to connect successfully with the right supporters. It gives charitable organizations like yours a comprehensive understanding of the partners of their constituents, which aids you in managing and carrying out your fundraising objectives.
This tool simplifies communication between your organization and partners, provides a single image of donors, and encourages you to continue giving.
You can manage a variety of fundraising strategies, including:
Online fundraising
Matching gifts
Peer-to-peer fundraising
2. Program Management
Fundraising programs are the focal point of many NGOs' fundraising efforts. Whether you're organizing a series of modest gatherings or a sizable annual fundraiser, you'll need a way to keep track of the attendees, marketing, and other aspects of your events.
Even if you have the option to use a third-party service to organize your event, having access to all of your event management tools within your Salesforce system will provide you with a complete picture of your efforts and enable you to automate many of the processes involved.
With the aid of the appropriate Salesforce event management tool or integration, you can tackle all the essential event components such as event registration, logistics management, guest experience, etc.
3. Marketing and Engagement
With the aid of Salesforce Marketing Cloud for nonprofits, you may quickly and effectively develop communication with your constituents.
The purpose of the marketing cloud for NGOs is to improve their communication strategy more quickly. You can use it to send more individualized emails and messages to your supporters. For volunteers, donors, subscribers, and sustainers, email templates are already included in the marketing cloud for NGOs.
With just a few clicks, you can generate lovely, organized, and appealing emails and send them to your partners and supporters. It finally heightens supporter interest and draws several donors to your campaign, which is already your most eagerly anticipated goal to be met.
4. NPSP
More than 47000 charity organizations now utilize the free, open-source software called NPSP (Nonprofit Success Pack) to empower the staff and volunteers to link them with stakeholders, extending the organization's reach. With this software, corporations can manage and service multiple constituencies simultaneously. Nonprofit organizations can analyze their fundraising efforts through analytical reports and analytics.
Benefits of Salesforce for Nonprofits
Salesforce for nonprofits keeps your operations coordinated and your goals met. Here are the benefits it offers you.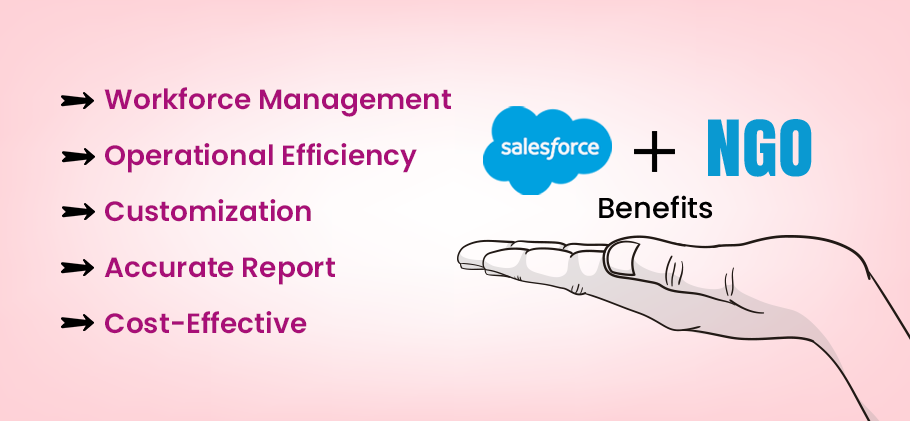 1. Keep Nonprofits More Organized
The main advantage of Salesforce for NGOs is the reduction of chaos and the organization of more actionable tech initiatives. How? Nonprofit organizations can design and build personalized workspaces for each participant using the built-in functionalities of the Salesforce cloud. Managing non-profits activities like fundraising, grants, or workforce are typically tough. Here, Salesforce aids in overcoming these difficulties. The Nonprofit Cloud platform enables the creation of custom dashboards for diverse teams to facilitate workforce management and job performance.
2. Increase Operational Efficiency
Another key factor in choosing Salesforce nonprofit CRM is the higher operational effectiveness. It facilitates the development of strong communication channels between nonprofit organizations' staff and their numerous partners. Improved communication and a rising positive synergy result in increased operational efficiency, which ultimately aids in meeting the specified objectives by the deadlines.
3. Flexible Customization Options
Nonprofit organizations can customize the nonprofit cloud to suit their regular operational needs. NGOs can customize the functionality of the nonprofit cloud software to suit their regular operational needs. Some organizations operate under the same paradigm but can alter the default features and functionalities that help them achieve their goals.
4. Real-time Data and Insights
Every nonprofit organization must accurately record and report all of its activity, including its fundraising efforts, programs, seminars, and donations. Keeping up to date and correct is crucial because it impacts your goals and objectives. This makes choosing Salesforce one of the finest choices for organizations to report. This CRM software is well-known for its precision and dependability.
5. Immense Community Support
Salesforce has a large user base, so you'll never feel alone or isolated if you run into problems with its numerous features, capabilities, dashboards, or layouts. You will always have the assistance of professionals who will provide you with the best solutions. Salesforce Nonprofit Cloud enables fundraising NGOs to request aid whenever and wherever. Its partner program will allow you to connect with swift support that will help you manage all of your inquiries, whether you need technical assistance or dashboard help.
Salesforce for Nonprofits Cost
Salesforce's pricing is among the key justifications for nonprofits to use it. Over 32000 NGOs worldwide are currently receiving assistance from Salesforce Nonprofit Cloud. Salesforce's "The Power of Us Program" provides affordable products and services to charitable organizations. The first 10 subscriptions are free for organizations as part of the Power Us Program. Additionally, following the free trial, the firms can discover profitable deals at price breaks. As a result, Salesforce will become a genuine partner of NGOs, assisting them in connecting with their clients and expanding their reach quickly and affordably.
So, is Salesforce free for nonprofits?
No, it's not FREE!
While Salesforce NPSP may be free of cost, you will need to incorporate additional apps to facilitate operations, such as wealth screening, mass emailing, marketing, etc. These apps will add upto over $5000, plus Salesforce nonprofit implementation cost.
What's the Solution?
Consult third-party Salesforce consultants and take implementation quotations to handle Salesforce setup, additional apps, customizations, data migration, and training and support. Based on it, calculate the ROI, and go for Salesforce for Nonprofits implementation.
In short, look for a company that provides Salesforce development services.
P.S. Salesforce for nonprofit organizations has immense benefits. The end results depend on the way you make use of it. If you're wondering how to do that, our Salesforce consultants can help you with all the support you need.
So, don't hesitate. Take the step and schedule your free consultation with our Salesforce experts today!
Befriend Technology for Transformation
Selecting the right technology is pivotal to your business's growth and success. Have you already decided the suitable one for your next project? If so, we can help you take the next step. If not, we can help you decide the best option. Connect with the Top 1% pre-vetted software engineers to build your software.