Which is The Best eCommerce Platform for Clothing Brand in 2023?
28 Apr, 2023
5 min read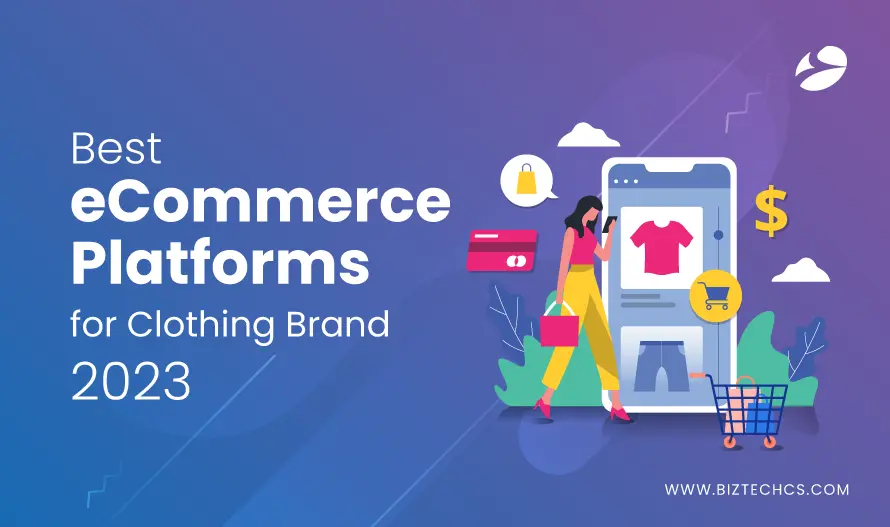 https://www.biztechcs.com/blog/best-ecommerce-platform-for-clothing-brand/
Summary
Do you want to start your eCommerce clothing brand?
Well, the good and bad news is you are not alone! Over 21K fashion tech startups are struggling to leave their mark in the industry, attract audiences, and generate outstanding revenue.
The good thing is you have a reference point and case studies to learn the cause of their successes and failures. And the bad thing is competition is fierce!
So, it all circles to the first very important decision you make, i.e., choosing the best eCommerce platform for clothing brands. With so many options at your disposal, it is understandable that you are confused.
Lucky for you, I have put together this detailed guide to help you choose the best eCommerce development platform for your clothing and apparel brand. You can choose from the best technologies like Magento, Shopify, WooCommerce, BigCommerce, etc.
It will also give clarity of you should hire Shopify developers or any other. So, without further ado, let's dive right into it.
Most Successful Clothing and Apparel eCommerce Websites to Take Inspiration From
Before you decide on the technology to build your eCommerce website, let's first look at a few renowned brands that are doing good.
I. Shein
It is a global B2C Chinese fast fashion brand that delivers products in about 219 countries. The $100 Billion company Shein was named the most searched brand of 2022 on Google.
The website features a big banner in its first fold that immediately attracts shoppers' attention providing information on deals and coupons. You can browse the various categories seamlessly, apply filters, and search products.
Technologies Used: HTML5, CSS, Javascript, JQuery, and Google Analytics
II. Nike
An American Multinational company, Nike Inc. designs, develops, manufactures, and sells apparel, footwear, sports equipment, and accessories. The website is fast and has a minimalistic design in the hues of white and black. The navigation menu is obvious and right at the top, making it effortless for users to browse through categories.
Technologies Used: Javascript, React, Node.js, CSS, Magento, Amazon web hosting, Twill CMS (An open-source Laravel toolkit)
III. H&M
Hennes & Mauritz AB (H&M) is a Sweden-based MNC that produces a fast fashion range of clothing for men and women. Offering a range of sustainable products at affordable prices, H&M has become a unique brand amongst GenZ.
H&M's website celebrates the lighter tones and gives users a simple user interface. Everything is available in the header: the menu, search bar, customer support, cart, or store.
Technologies Used: About 26 technologies, including JQuery, HTML5, and Google Analytics, are used.
IV. Myntra
Myntra is a Bengaluru-based fashion eCommerce company. It was founded in 2007 as a personalized gift-selling company and was later acquired by Flipkart in 2014. With 100% unique products, a seamless user experience, a 30-day return/exchange policy, and Myntra Live, it has become one of the most desirable brands in India.
As per statistics, its operating revenue in FY2022 was approximately 35.01 billion INR. Unlike other websites that use minimalist designs and lighter shades, Myntra uses a speck of pink and orange in its theme. The website turns into a web app when you use it on mobile and is a perfect example of an elevated user experience.
In fact, I found the mobile version handier!
Technologies Used: Javascript, Sigma, Hazlecas, and more.
Here are some best eCommerce for clothing brands doing tremendously well in the fashion sector. You can check out their business model, website design, UI/UX, and technologies to see what sets them apart.
Why Clothing eCommerce Brands Fail? Examples of Failed Fashion Startups
Clothing and apparel industry is booming and makes a huge part of the entire retail eCommerce sales. The global fashion market in 2021 was computed to be $700 Billion and is expected to surpass $1.2 Trillion by 2025, a Statista report shows.
Clearly, the eCommerce sector's demand for clothing and apparel isn't lacking. However, some companies aren't doing so well for themselves. Let's check a few failed fashion startups and the reasons for the same.
I. Jabong
The fashion and lifestyle eCommerce brand Jabong was founded in 2012 and was later acquired by Flipkart (via their acquisition of Myntra) in July 2016 for $70 Million.
However, Flipkart later shut down the company to support its premium fashion brand Myntra.
The reasons behind the failure of Jabong are:
Lack of investment.
Expensive products.
12.71% reduction in app downloads.
10.61% drop in daily active users.
The UI of the Jabong mobile app was found to be cumbersome and repetitive.
II. Fashionara
Darpan Munjal, an ex-employee of Reliance Trends, launched the fashion and lifestyle brand Fashionara. The company created a buzz around 2014 and 2015 and broke down shortly after. The main reasons for its failure were fluctuating online fashion industry, lack of funding, and increased competition.
Key Features of a Fashion eCommerce Platform
Now that you know the best examples of clothing eCommerce websites (Successful and otherwise), you will better understand the market, things to do, and things to avoid. Now, before I enlist the best website builder for an online clothing store, let me help you decide on the unavoidable features.
Do you want the online clothing platform to have a simple user interface, an easy learning curve, and high customizability? Or do you have any other requirements in mind? Nevertheless, you should always choose a platform that best suits your needs.
Here are some of the key features to look for in an eCommerce platform for clothing:
Customization flexibility: If you aren't a coder yourself and don't have the budget to hire one, you will have to rely heavily on a CMS that allows customization. Thus, looking for an eCommerce platform that allows heavy customization options to help you create a unique online store is advisable.
Payment options: Today's payment methods aren't just limited to credit and debit cards but payment wallets, UPI, cryptocurrency, BNPL, and more. You should be able to provide your customers the flexibility to choose their preferred payment option. Henceforth, choosing a platform with multiple payment options is extremely important.
SEO-friendliness: Did you know startups like Vivalatina and Zulily failed because of poor marketing? digital marketing plays a pivotal role in your brand's success. And while it is important to market your site appropriately to the right audience, you should also choose the best online clothing platform that is search-engine friendly.
Scalability: Another desirable feature is a website builder that allows you to scale your business anytime you wish.
Analytics Reporting & Integration Capability: Whether analyzing sales data or tracking consumer data for marketing purposes, data is a powerful weapon for businesses.

So, look for the best fashion ecommerce platform that provides powerful data insights or allows integration with other sales, CRM, ERP, and marketing tools.

Customer support: Best eCommerce platform for clothing should also provide developers and business owners with the necessary technical support or documentation. You can also choose an open-source technology that has a huge community of developers to support.
Best eCommerce Platforms for Clothing & Apparel Industry in 2023
Let's look at some of the best eCommerce platforms in the clothing industry!
1. Magento
Magento is an open-source, PHP-based eCommerce platform. Initially released in 2008, the eCommerce giant was acquired by Adobe Inc. in 2018. In August 2022, Magento 2.4.5 was released with features like GraphQL improvements, payment improvements, live search, and inventory improvement.
Recently, Adobe released its latest version Magento 2.4.6, with improved features and error fixes. Here, look at some of its best features.
Key Features:
Highly customizable
Internationalization with localization, multi-language, and multicurrency support
Comprehensive analytics & reporting
Highly secure
Multiple payment alternatives
Order management
Catalog management
SEO-friendly
2. Shopify
Shopify eCommerce development stores can be seamlessly built using the simple UI of the Shopify platform. It is used not only for developing and managing eCommerce stores but also for POS systems. It is one of the best eCommerce platforms for small businesses because anyone with limited funds can easily set up their store.
Key Features:
1600+ Shopify customizable themes
Drag-and-drop website builder
Optimized for SEO
Smooth 3rd party integrations
Advanced analytics reporting
No transaction fee for the in-house payment system
Seamless store management with an app
100+ payment gateway support
Unlimited products
Pricing:
Besides these plans, you can also opt for a trial period for Shopify.
| Shopify Plans | Basic | Shopify | Advanced |
| --- | --- | --- | --- |
| Pricing of Shopify | $29/ month | $79/ month | $299/ month |
Even though setting up a Shopify store is quite easy and may not need technical proficiency, you can build a more customized store with help from developers.
3. BigCommerce
BigCommerce is a leading SaaS (Software as a service) provider for retailers and was founded in 2009. It is suitable for small-scale and enterprise-level eCommerce businesses that want to scale their operations at every growth stage.
With a plethora of features available for free and no transaction charges on the products you sell, BigCommerce is preferred by many for starting a B2B eCommerce store or B2C.
Key Features:
Responsive themes
0% transaction fee
Drag-and-drop website builder
Availability of native POS system
Round-the-clock customer support via chat and call
Selling across multiple channels and marketplaces is possible
Support for renowned digital wallets and payment processors like Amazon Pay, Apple Pay, Pay Pal, etc.
Analytics reporting in real-time
Complete support for integration with Drupal & WordPress
4. WooCommerce
It is one of the most renowned WordPress plugin known to us. WooCommerce is open-source and is used by about 3.5% of all websites and about 11.5% of all WordPress websites. It is customizable and works seamlessly with other WordPress plugins.
Key Features:
Completely customizable
Translation for 24 languages available
Thousands of plugins available for access
No transaction fees
A plethora of clothing brand themes
Community support
Wide support for all renowned payment processors
Mobile app for iOS and Android
5. Drupal
Drupal is an open-source, PHP-based web content management system. Released in January 2001, Drupal is used all across the globe for the development of simple to complex web applications. With a dedicated module for eCommerce, this CMS provides you with a range of eCommerce possibilities like product returns, refunds, inquiries on returns and order processing, etc.
Key Features:
Highly secure for eCommerce transactions
Scalable
Personalization
Multilingual support
Marketing automation for your clothing brand
Open-source
Flexible
6. OpenCart
An open-source eCommerce platform like OpenCart enables you to build top fashion eCommerce sites with immense capabilities. You can make use of the PHP-based software for free. However, you may have to take care of hosting and other costs associated with the development of the online store.
Key Features:
Unlimited categories
Multilingual support
Multi-currency support
Unlimited manufacturers and product additions
Over 20 payment gateways
Customizable with templates
Product ratings and reviews
selling digital products online
Mentioned above are some of the most renowned eCommerce platforms we have today. Now that you are aware of the key features offered by these platforms, you should be able to decide the best one to build your fashion ecommerce software
How to Choose a Clothing eCommerce Platform?
Let me help you decide the best eCommerce platform for your clothing brand with the help of this table. Here, check!
I. Based on pricing
Platform
Pricing
Magento
Using Magento open source is free and you don't have to pay any license fee.
However, if you want to use Adobe Commerce or Adobe Commerce Cloud (previously known as Magento Commerce or Magento Cloud), you will have to pay an annual charge depending on your annual gross revenue.
Shopify
The Shopify Basic plan starts from $29/month and goes up to $299/month for Advanced. You don't have to pay any transaction fee if you use Shopify payments. However, you will be charged accordingly if you choose any other payment option.
BigCommerce
BigCommerce Standard plan starts from $39. For BigCommerce Plus, it is $105/month; for Pro, it is $399/month; and for Enterprise plans, pricing varies based on your online sales.
However, there's no transaction fee in this case.
WooCommerce
It is open-source. So, there's no setup or license fee. However, 2.9% + $0.30 is charged per transaction for US-issued credit and debit cards. An additional 1% is applied in the case of cards outside the US.
Drupal
It is completely free.
OpenCart
It is open-source and free to use. However, it comes with additional costs like a hosting plan and domain name that you must get for your store.
Conclusion: Platforms like Magento open source, Drupal, and OpenCart will let you use the software free of cost for developing applications. However, you will have to take care of your hosting yourself or pay a sum to get it.
II. Customization flexibility
| Platform | Customization Ease |
| --- | --- |
| Magento | The platform presents extreme customization capability giving you complete control of your site's look, feel, and functionality. |
| Shopify | There are limitations if you use Shopify. However, a Shopify Plus plan lets you customize your store just as you want. |
| BigCommerce | You can use no-code tools or custom develop to incorporate changes in your store. |
| WooCommerce | Being an open-source WordPress plugin, it allows complete flexibility in customization. |
| Drupal | In terms of customization, Drupal is the best. However, you must be proficient with coding to build the best eCommerce website for clothing. |
| OpenCart | There are options for customizing your OpenCart themes. However, I wouldn't consider it that flexible with customization. |
Conclusion: If you want to customize and personalize your clothing eCommerce site, platforms like Shopify and OpenCart aren't your best options. However, Magento, Drupal, and WooCommerce give you complete control of your store.
III. Security
| Platform | Security |
| --- | --- |
| Magento | With the use of Advanced Encryption Standard AES-256 for passwords and secure hash algorithm SHA-256 for other data, Magento 2 is highly secure. |
| Shopify | Certified Level 1 PCI DSS compliant, Shopify takes immense care of the security of stores selling clothes on Shopify. |
| BigCommerce | ISO/IEC 27001:2013 & PCI DSS 3.2, Level 1 certified, BigCommerce is protected with several security layers, such as intrusion detection, firewalls, and file integrity scanners. |
| WooCommerce | Yes, WooCommerce is built to be safe. However, it is up to you to maintain your store for security. |
| Drupal | It is a highly secure CMS that safeguards you against attacks as well. You can further enhance your store's security with SSL, strong passwords, and timely updating of your site. |
| OpenCart | It is open-source and is not at all responsible for the security of your website. Since the source code is accessible by anyone, there are security concerns for you to note. |
Conclusion: While security is a key aspect for most of the best website builders to sell clothing, you have to take care of the timely updates and security certifications in time to ensure it is secure all time.
IV. Learning curve & Developer availability
| | Magento | Shopify | BigCommerce | WooCommerce | Drupal | OpenCart |
| --- | --- | --- | --- | --- | --- | --- |
| Learning Curve | Steep | Easy | Comparatively easy with no coding needs. | Beginner-friendly | Takes time to learn | Easy |
V. Customer support
Support
Magento

Support tools,
announcement,
documentation,
best practices,
troubleshooting,
help center guide, and
Magento forums

Shopify

Community access
24×7 support
API documentation
Community events

BigCommerce

FAQs
Knowledge base
API and theme documentation
Developer community
Tech support

WooCommerce

Global support team
Blogs
Documentation

Drupal

Forums
Community documentation
Q&A

OpenCart

Dedicated support
Community forum
Marketplace support
Final Thoughts
In your quest to find the best platform to sell clothes, you will see multiple eCommerce platforms at your disposal. This blog illustrates all such eCommerce platforms alongside their features, benefits, and comparisons so you can choose the best among the rest.
It should help you choose the best platform for your eCommerce clothing business. Already have a platform in mind and want to know in detail how development with the platform will help your business?
Well, our eCommerce experts can help you with that! Connect with our eCommerce professionals and not just decide the best platform for your clothing brand but start developing a unique store for your audience.
FAQs
Which platform is best for selling clothes?
There are several platforms available for selling clothes, such as Shopify, WooCommerce, Drupal, Magento, OpenCart, and BigCommerce, to name a few. However, the best among these will entirely depend on your company size, budget, expertise, and target audience.
What is the cheapest eCommerce platform?
Any open-source eCommerce platform is best suited for development as you don't have to pay any license fee. At the same time, you should also choose platforms that don't levy any transaction fee. Some examples of such platforms are Drupal, OpenCart, WooCommerce, and Magento.
What is e-Commerce Clothing?
Here, eCommerce clothing brand refers to online stores that sell a range of clothing and apparel.
Befriend Technology for Transformation
Selecting the right technology is pivotal to your business's growth and success. Have you already decided the suitable one for your next project? If so, we can help you take the next step. If not, we can help you decide the best option. Connect with the Top 1% pre-vetted software engineers to build your software.