How ERP for eCommerce Leads to Elevated Business Performance and Growth?
21 Sep, 2023
7 min read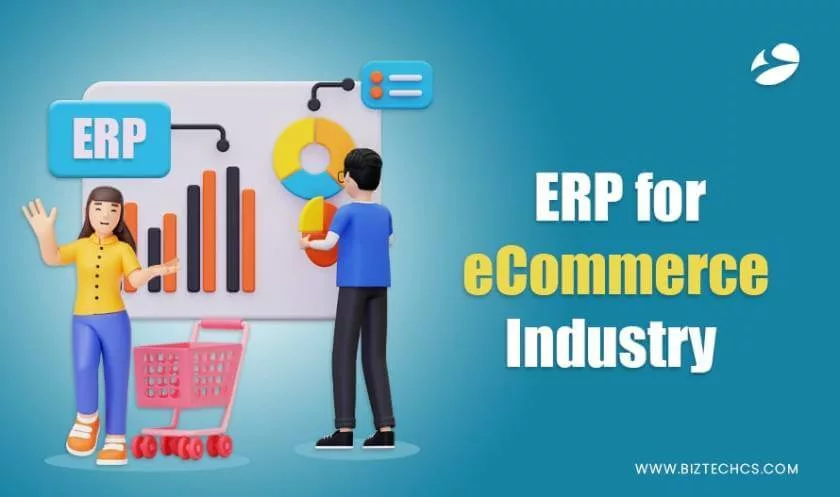 https://www.biztechcs.com/blog/erp-for-ecommerce/
Summary
The eCommerce market is constantly evolving for enhanced customer experience, improved loyalty, and higher engagement rates. What started as a need for door-to-door delivery has now become a global phenomenon.
Online shopping has become an inseparable part of our lives. With that, e-commerce businesses like yours are in for more fierce and cutthroat competition – to attract potential customers and retain them. And an ERP for eCommerce might be the best thing you need for your business unit's strategic necessities.
It can help with better collaboration between teams, seamless communication, improved sales, purchase, inventory management processes, and so on. Furthermore, you can avail of ERP development services to improve your productivity and focus better on your core business operations.
Moving forward in this blog post, we will learn in detail about the ways a connected business ERP can help your eCommerce store and why there's a need for ERP in the first place!
What is ERP?
ERP acts as a centralized platform that consolidates and automates essential business functions such as financial management, inventory levels, supply chain automation, and marketing campaigns. By harnessing the power of ERP, eCommerce businesses can have real-time visibility and access to critical information that allows for better decision-making and improved customer experience.
The Enterprise Resource Planning systems typically consist of a suite of integrated applications that enable different departments to access and share data, collaborate more effectively, and make informed decisions.
Types of ERP for eCommerce Companies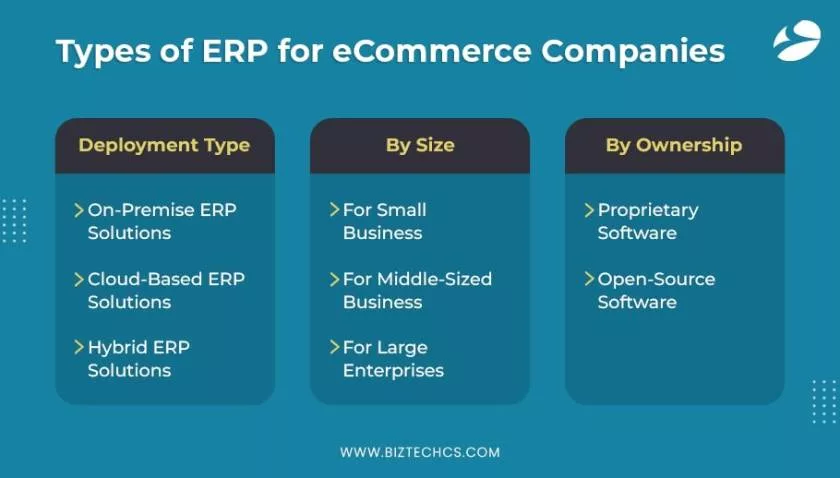 You can find several kinds of ERP for eCommerce B2B companies based on your needs. Here, we have divided the ERP solution types based on ownership, business size, and deployment type.
I. By Ownership
Open-Source Software: Such Open ERP systems provide customizable and cost-effective solutions for ecommerce businesses. You don't have to pay any license fee for its software and can customize it to meet your specific needs.Examples: Odoo, ERPNext, Dolibarr, ADempiere
Proprietary Software: Proprietary ERP software refers to ERP systems that are developed, owned, and sold by a specific software company.Examples: Oracle Cloud ERP, SAP ERP, Epicor, Netsuite, and Syspro
II. By Size
For Small Businesses: Ecommerce ERP systems that are suitable to meet various needs of small-scale businesses come under this category. These applications are easy to use, don't require extensive technical expertise, and are cost-efficient.Examples: Xero, Quickbooks, Zoho Books
For Mid-Scale Businesses: These eCommerce ERP solutions are perfect for mid-scale businesses with evolving business needs. If you are looking for Enterprise resource planning software that constantly scales and updates alongside your business processes and customer base, these ERP solutions would fit best.
Examples: Acumatica, Sage 300, Odoo, Epicor Prophet 21
For Enterprises: Such eCommerce ERP software is not susceptible to frequent changes as large enterprises rely on it for their day-to-day business operations. These ERPs provide seamless integration capabilities and ensure seamless collaboration.Examples: SAP S/4 HANA, Microsoft Dynamics 365 Finance and Operations, Odoo, Netsuite, Infor Cloudsite
III. By Deployment Type
On-Premise ERP Solutions: The on-premises ERP solutions are installed and run on a company's in-house servers and hardware. They require significant IT infrastructure and maintenance. You have complete control over the system and can customize it to your needs. However, the costs can be high.Examples: SAP Business Suite, Oracle e-Business Suite, MS Dynamics 365 Finance
Cloud-Based ERP Solutions: The Cloud-based ERP is hosted on remote servers and accessed via the internet, giving you flexibility and scalability. It doesn't depend on your hardware architecture and is easy to update.Examples: Oracle ERP Cloud, Odoo, MS Dynamics Business Central, Netsuite
Hybrid ERP Solutions: The Hybrid ERP solutions combine elements of both on-premises and cloud-based systems. In this setup, some critical data may be stored on-premises while other functions are in the cloud. It offers great flexibility for businesses with specific requirements.Examples: Epicor, Sage X3, Infor Cloudsite
What are the Challenges Faced by eCommerce Companies?
The eCommerce industry continues to grow and evolve at a rapid pace, offering immense opportunities for businesses to reach a global customer base. However, along with the numerous benefits, there are also several challenges that eCommerce businesses face.
These challenges can range from managing inventory levels and customer satisfaction to integrating various systems and streamlining business operations. Here, we will explore some of the common challenges faced by the eCommerce industry and discuss how implementing an Enterprise Resource Planning (ERP) system can help overcome these challenges.
Identifying Needs and Goals for an ERP System
Most business owners fail to realize the need for an ERP system. And even when they do, they remain unsure of the goals they can achieve with ERP implementation.
Are you amongst them? Are you still using a legacy system and struggling to achieve greater productivity?
Then, it is time to realize the need for modern ERP software for eCommerce. And most importantly, identify the challenges your business is facing because of the lack of ERP.
Once you identify these challenges, you will be able to identify your ERP goals. Make sure you set attainable goals and work towards them.
Struggles with Omnichannel Experience
One key benefit of omnichannel experience is the ability to deliver consistent messaging about the brand. By ensuring that the brand's message and values are communicated consistently across various touchpoints, businesses can establish a strong brand identity and connect with customers on a deeper level.
While you may realize the significance of omnichannel experience, it might be more challenging to deliver the same. Mostly because of the varied channels used by customers for shopping.
For instance, mobile shopping has become one of the most popular channels of shopping in 2023. As per a Statista report, global mobile eCommerce sales reached $2.2 Trillion in 2023.
With the adoption of diverse channels, it has become all the more important to embrace the omnichannel experience. ERP is one of the best ways you can sell across multiple channels (desktop, mobile, offline POS) while still streamlining all your processes smoothly.
Issues Retaining Loyal Customers
Customer loyalty is crucial for the success of any eCommerce company. Not only does it lead to repeat purchases, but it also helps in building a positive brand image and attracting new customers through word-of-mouth recommendations.
But, earning loyal customers often becomes one of the most challenging parts of your eCommerce journey. It takes going beyond your normal sales-purchase regime and providing consistent customer experience through loyalty programs, customer service, personalized experience, hassle-free customer support, social media marketing, and so on.
Data and Cyber Security Threats
With security breaches becoming increasingly prevalent, businesses must prioritize the protection of customer data to maintain trust and credibility. The consequences of a security breach can be severe, leading to financial losses, damaged reputation, and loss of customers.
One way to fortify security in eCommerce is through the eCommerce ERP integration process. It consolidates various business functions and data sources into a single platform, providing a centralized and secure environment for managing customer information.
Selling products online can be highly lucrative, but it also comes with its fair share of challenges. These challenges include understanding customer behavior, fierce competition from online marketplaces, and difficulty in finding unique products to offer.
To stay ahead in this dynamic industry, businesses need effective selling strategies that can overcome these barriers and maximize success. Leveraging ERP software can further help strengthen your sales strategies and make decisions based on real-time data.
The ability to be agile enables eCommerce businesses to stay ahead of the curve and take advantage of emerging opportunities. Adaptability, on the other hand, allows eCommerce businesses to proactively anticipate and respond to online market changes. This means being flexible and open to trying new approaches, technologies, or business models to stay relevant and competitive.
However, more often than not, it becomes extremely difficult to adopt the latest technologies and innovative solutions while gauging your current business situation. The presence of a robust ERP system can be helpful in analyzing your business performance and staying agile at the same time.
Why Do You Need ERP for eCommerce?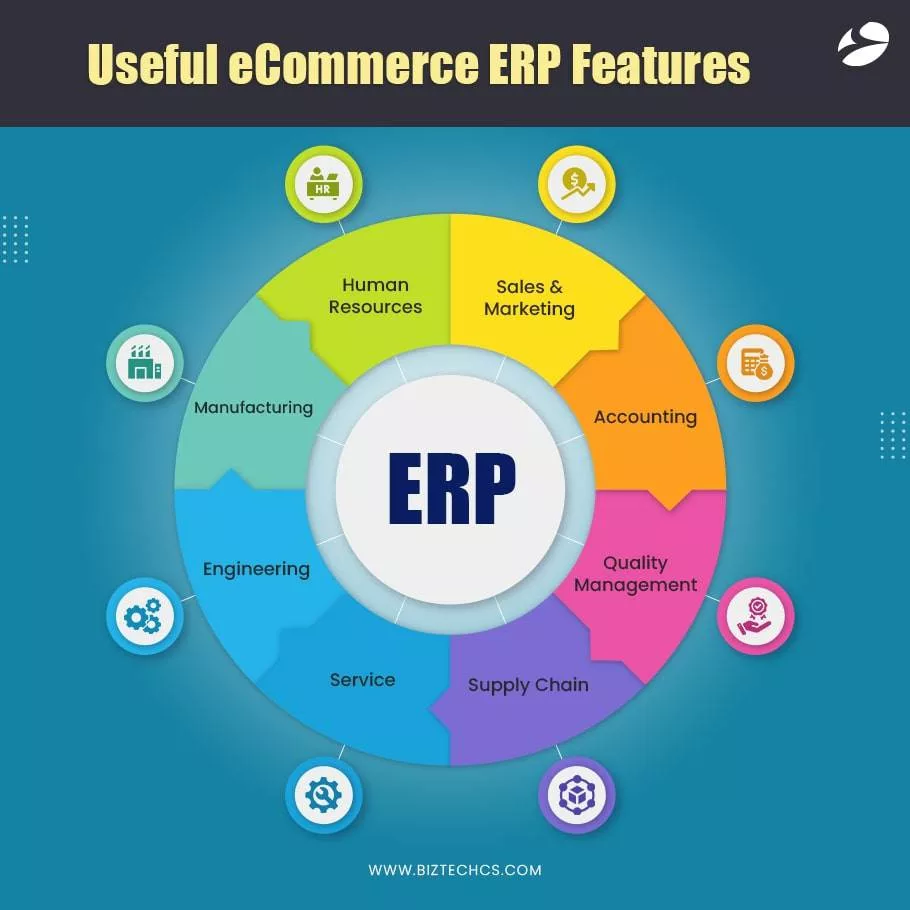 ERP for eCommerce is essential in the digital age, as it streamlines and automates core business processes, eliminating the need for manual data entry and reducing human errors. This not only improves overall efficiency but also enhances productivity and customer satisfaction.
Centralized Data Management
ERP centralizes all your data, from inventory details to customer information, in one system. Various verticals of your business are integrated into a centralized ERP system that enables quick data access and usage. This eliminates data silos, ensures data accuracy, and provides real-time access to crucial information for Sound Decision-making.
Efficient Inventory Management
With ERP for eCommerce businesses, you can optimize inventory levels, track stock in real-time, and automate replenishment processes. This prevents overstocking or understocking, reducing carrying costs and improves order fulfillment.
Order Processing Automation
ERP automates order processing, reducing manual errors and accelerating order-to-cash cycles. This enhances order accuracy, automated invoice generation, quick order confirmation, and customer satisfaction.
Multi-Channel Integration
ERP integrates with various sales channels, like online stores, marketplaces, and physical stores. Therefore, it is easier to sell your products online across multiple channels while ensuring consistent product information and pricing across all channels.
Enhanced Customer Service
Access to customer data within the ERP system allows for personalized service. It enables quick responses to inquiries, efficient issue resolution, and improved customer satisfaction. You can resolve your customer queries in much less time.
ERP streamlines financial processes, including accounting, invoicing, and payroll. It provides real-time financial insights, helpful in budgeting, forecasting, and financial decision-making.
ERP systems come with built-in analytics and reporting tools. They help you analyze sales trends, customer behavior, and operational performance, facilitating data-driven strategies.
Streamline ERP Operations
ERP streamlines core business processes like procurement, manufacturing, and order fulfillment. This boosts operational efficiency and reduces costs.
As your eCommerce business grows, ERP scales with you. It accommodates increased transaction volumes, additional product lines, and more complex operations.
ERP systems help you adhere to industry-specific regulations and standards. This minimizes compliance risks and ensures accurate record-keeping.
Incorporating an ERP solution in your eCommerce business not only centralizes operations but also optimizes them for better performance, growth, and customer satisfaction.
Human Resource & Payroll Management
ERP includes modules for human resource management and payroll. This allows you to efficiently manage employee data, payroll processing, attendance, and performance evaluations. Automation of these HR processes saves time, reduces errors, and ensures compliance with labor laws.
ERP systems often integrate marketing automation features. This empowers you to create, execute, and track marketing campaigns seamlessly. By automating tasks such as email marketing, lead nurturing, and customer segmentation, marketing teams can enhance customer engagement and conversion rates.
ERP can integrate with Customer Relationship Management (CRM) software. This ERP eCommerce integration enables you to synchronize customer data, purchase history, and interactions. It provides a 360-degree view of your customers, which helps in delivering personalized experiences and improving customer retention.
What are the Factors to Assess When Choosing an eCommerce ERP Solution?
By now, you have already explored the multiple benefits of enterprise resource planning software for the eCommerce sector. And if you have decided to migrate to a modern ERP, then you might have understood the real struggle.
With a plethora of ERP options like ERPNext eCommerce, Odoo, SAP, Oracle Cloud ERP, Netsuite, etc., you are spoiled for options.
At a time like this, it is essential to evaluate your business needs and scrutinize each platform depending on multiple factors. Let's check some of the factors that majorly influence the selection of an ERP platform.
Consider the time required to implement the ERP system. Some solutions may have faster deployment times, which can be crucial if you need to get your eCommerce operations up and running quickly.
However, some ERPs may take longer to implement. Based on your urgency, you can pick the software.
Evaluate the features offered by the ERP system. Ensure it provides the functionalities needed for your specific eCommerce operations, such as inventory management, order processing, financial management, and reporting.
Some must-have features of e-commerce ERP include:
Inventory Management
Order Processing Automation
Financial Management
Multi-Channel e-commerce Integration
Reporting and Analytics
Customer Relationship Management (CRM)
Human Resource Management
Supply Chain Management
Customization and Scalability
Mobile Accessibility
Security and Data Protection
Cloud Integration
Regulatory Compliance
Vendor and Supplier Management
Document Management
Integration & Customization Capabilities
Check the ERP system's ability to integrate with your existing eCommerce platforms, third-party applications, and any customizations you may require. Flexibility for customization is vital to tailor the ERP to your unique business needs.
Most renowned ERPs like Odoo and MS Dynamics Business Central allow you to customize freely as per your needs.
Assess whether the ERP solution can grow with your business. As your eCommerce business expands, your ERP should accommodate increased data, users, and transactions without significant disruptions.
Analyze the pricing structure, including licensing fees, implementation costs, hiring costs, and ongoing maintenance expenses. Ensure it aligns with your budget and provides a reasonable return on investment.
Regular updates and support are essential. A reputable ERP solution should offer ongoing updates to address security issues, bug fixes, and feature enhancements. Reliable customer support is crucial for resolving any issues promptly.
These factors should guide your decision-making process when selecting an ERP eCommerce solution. A well-chosen ERP system can significantly impact the efficiency and growth of your e-commerce business.
You can also consider these factors for selecting ERP in manufacturing, retail, automotive, or any other sector.
Conclusion
In the fast-paced world of eCommerce, success hinges on agility, efficiency, and customer satisfaction. As we step into 2024, one thing is abundantly clear: ERP solutions are not just an advantage; they are a necessity.
With centralized data, streamlined operations, and data-driven insights, your eCommerce business can scale new heights of performance and growth. It's the era of empowered eCommerce, and ERP is the key that unlocks the doors to prosperity.
So, if you're aiming for excellence in the eCommerce landscape, it's time to embrace ERP – the engine that propels your business towards a future of boundless possibilities. And, if you are looking for a competent partner company that can assist you in this journey, Biztech can be a renowned name.
Having worked on 1200+ projects in over 16 years, we have trained ourselves to learn and adapt to evolving IT trends. Connect with our skilled eCommerce ERP experts and take the first step toward elevated business performance and growth.
FAQs
What are the 3 common types of ERP?
Enterprise Resource Planning (ERP) systems come in various types, but three of the most common ones are:
On-Premises ERP: In this traditional model, the ERP software is hosted on the company's servers and maintained by their IT team. It offers complete control over data and customization but can be costly to implement and maintain.
Cloud-based ERP: Also known as Software as a Service (SaaS) ERP, this type of system is hosted on remote servers, and users access it through the internet. It's more cost-effective, scalable, and offers flexibility for businesses of all sizes.
Hybrid ERP: Combining elements of both on-premises and cloud-based systems, hybrid ERP solutions allow businesses to keep critical data on-site while using cloud services for other functions. This approach provides a balance between security and flexibility.
Is Shopify an ERP?
No, Shopify is not an ERP system in the traditional sense but an eCommerce software. It is primarily an e-commerce platform that helps businesses set up and manage their online stores. It provides features for product catalog management, order processing, inventory tracking, and online sales.
However, it does not offer the comprehensive suite of integrated business management tools that typical ERP systems provide. But, if you are a Shopify store owner, you may integrate an ERP system to help improve efficiency and accuracy in managing both online and offline aspects of the business.
Is Amazon using ERP?
Yes, Amazon uses an extensive and highly customized ERP system to manage its vast and complex operations. However, Amazon's ERP system is not a commercial off-the-shelf solution like those provided by vendors such as SAP, Oracle, or Microsoft. Instead, Amazon has developed its own proprietary ERP software to support its wide range of business activities, which include e-commerce, cloud computing, logistics, and more.
What kind of ERP is best for online business?
The best ERP for eCommerce often depends on the specific needs and scale of the business. However, cloud-based ERP solutions are commonly preferred for online businesses. Cloud-based ERPs offer several advantages including scalability, accessibility from anywhere with an internet connection, and reduced upfront infrastructure costs.
These are well-suited for businesses that operate primarily online, as they can efficiently manage e-commerce, inventory, customer data, and financials while adapting to the dynamic nature of online sales and customer interactions. Popular cloud-based ERP options for online businesses include NetSuite, QuickBooks Commerce, Odoo, and Acumatica, among others.
Befriend Technology for Transformation
Selecting the right technology is pivotal to your business's growth and success. Have you already decided the suitable one for your next project? If so, we can help you take the next step. If not, we can help you decide the best option. Connect with the Top 1% pre-vetted software engineers to build your software.