Ecommerce ERP Integration: How it Helps Boost Your Store's Performance?
08 Aug, 2023
7 min read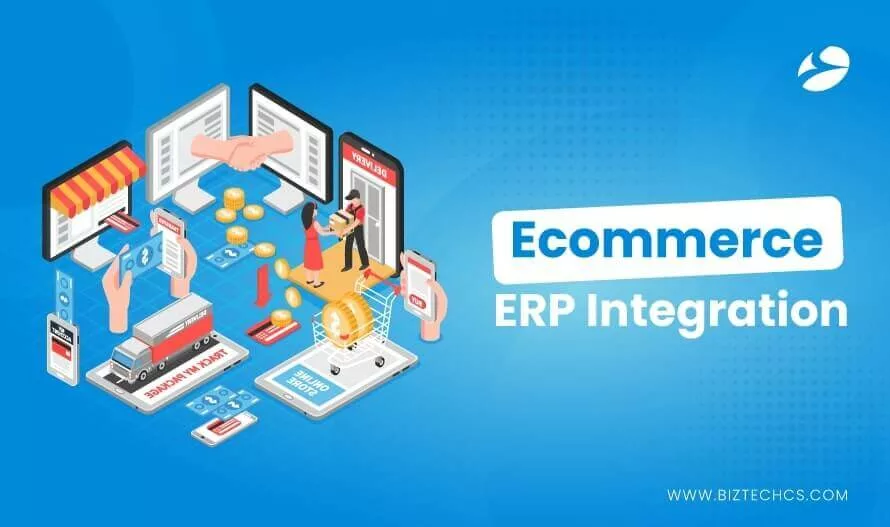 https://www.biztechcs.com/blog/ecommerce-erp-integration/
Summary
There's no debate on how eCommerce stores have become integral to our lives. From grocery shopping to lifestyle and electronics purchases, eStores sell anything and everything permissible.
But, do you realize the amount of effort that goes into managing a perfectly built eCommerce store? You would if you are managing one yourself or planning to get there.
What if you could minimize these efforts, save time and money, and even perform the tasks with precision?
Well, that's possible with eCommerce ERP integration. A robust and scalable ERP solution might just be the answer to all your business-related problems.
How?
Let's consider a scenario! For your eCommerce store, you have to perform multiple tasks. For example, tracking inventory, ensuring displayed products on the website are in stock, displaying accurate product prices and discounts, and even categorizing the right products under the right category. Not just that, targeting audiences and recommending relevant products to the right audience are also essential.
Now, if you begin doing every task manually, it will take a lot of time and effort; while the results may not be as accurate. But, an ERP system can help streamline all these processes and more from a centralized platform.
You can further avail of Custom ERP services and customize the system to your unique business needs.
Intrigued how ERP eCommerce integration can help boost your store's performance? Let's take a deep dive into how eCommerce and ERP platforms work together and its benefits.
Complete Understanding of eCommerce ERP Integration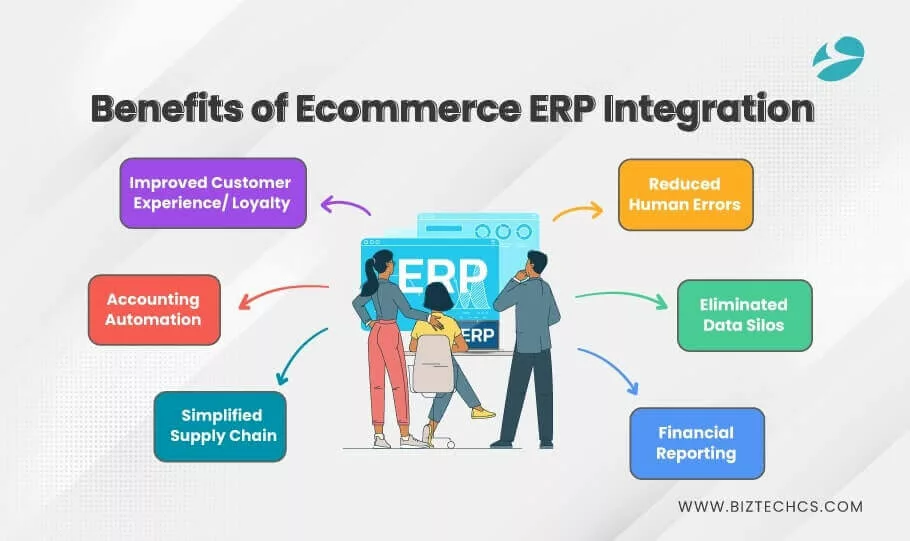 Ecommerce-ERP integration refers to connecting an eCommerce store with a full-fledged ERP system to optimize overall business performance. The integration provides a synchronized environment that helps connect two complex systems together and allows seamless customer and sales data exchange.
How Does B2B eCommerce ERP Integration Work?
Let's take one of our own eCommerce products 'Brush Your Ideas' to understand how integrating ERP works for an eCommerce store.
To begin with, BYI (Brush Your Ideas) is a Biztech company extending Enterprise web-to-print solutions and tools so you can streamline your store's backend operations effortlessly. The tool works seamlessly with all eCommerce giants like Magento, Shopify, PHP, WooCommerce, and more.
While our web-to-print tool works seamlessly for B2B and B2C eCommerce store owners, we also have a Print ERP software 'PrintXpand' to help manage your print operations through a single interface. Our Odoo-based Print ERP solution also helps us streamline our own business operations.
With the ERP system, you get an advanced dashboard, accurate progress reports, and various modules like Inventory manager, Quotation manager, Print Job manager, Order manager, etc. to help your business run flawlessly.
Now, let's take a look at some of these features that help streamline your various eCommerce operations.
Notable Features of ERP for eCommerce
An eCommerce ERP system, like any other, consists of several modules that offer a number of features and functionalities. Let's check the most useful features/ benefits of ERP systems here.
Inventory Management: Helps prevent overselling, optimize stock level, and ensure correct product availability status is shown on the website. It lets you manage inventory seamlessly across several fulfillment centers, sales channels, and warehouses.
Product Information Management: With a centralized repository, you are able to manage all your product data (descriptions, images, videos, GIFs, pricing, and specifications) consistently.
Order Management: From order capturing to generating invoices and automated processes for order workflow, an Enterprise Resource Planning system makes the job 5x simpler for you.
Multi-Channel Integration: With the right ERP eCommerce platform, you will be able to integrate your store with multiple sales channels. For example, social media platforms, eCommerce marketplaces like Amazon and eBay, and brick-and-mortar stores too. Thus, giving you a unified platform to manage all your sales, inventory, and customer data
Customer Relationship Management: With CRM capabilities in your ecommerce website integration, you will manage customer data and interactions a lot more efficiently. It is especially useful for eCommerce stores where
Real-Time Analytics: Your business not just thrives on your intuitive decision-making skills. Rather, your decisions have to be data-driven. And integrating ERP with eCommerce lets you in on a comprehensive report with key metrics such as sales performance, customer behavior, inventory levels, etc.
Financial Management: It facilitates managing your accounts seamlessly by the book. You comply with all tax policies and seamless tax management alongside invoicing, financial reporting, managing accounts receivable/ payable, etc.
Business Intelligence: With the help of cutting-edge technologies and advanced analytics tools, you get a deeper insight into critical factors like industry trends, opportunities, demand fluctuations, etc.
By now, you must have figured eCommerce integration with ERP is here to make your life easier.
But, did you know there can be integration on several levels based on your unique needs?
Let's take a look at the different types!
Types of eCommerce ERP integration
One-Way Integration: In this type of ERP and eCommerce integration, data is shared across the two platforms. But, it's not shared in real-time. Rather, the data is updated periodically in intervals.
Two-Way Integration: Here, the data synchronization happens in real time. So, any changes made in the eCommerce store reflects in the ERP systems and vice versa. For instance, whenever a customer orders a product from your store, the data is updated in the ERP system too and the inventory level is modified as per the number of products ordered by a customer.
Custom Integration: If you want your ERP eCommerce integration tailored to your unique business needs, custom integration is the way to go. You can choose the modules to keep, the features to use, and how the dashboard will look and work for you and your staff. This level of ERP eCommerce integration costs more and the price will vary based on the level of customization.
Middleware Integration: In this type, a middleware system is used that acts as a data container or bridge between the two systems. It helps with the seamless transfer of data between the ERP and online store without affecting the core functionalities of the two systems.
Partial Integration: As you already know, an ERP system comprises multiple modules. Now, a business may not need to integrate all of these modules into its eCommerce system. Rather, they find one or two modules that are most useful to optimize their processes. They can choose to integrate these few modules into their eCommerce website without integrating with others in case of partial integration.
Want to proceed with eCommerce data integration?
Now that you know the different types, you can choose which type of integration would suit your business needs best.
Need help understanding the best one for your eCommerce business? Our ERP experts can help you with that. Consult our ERP engineers to find the right ERP solution for you.
Time to address the elephant in the room! If you are wondering how to integrate ERP and eCommerce platforms, here's what you need to do.
Best Practices for eCommerce ERP Integration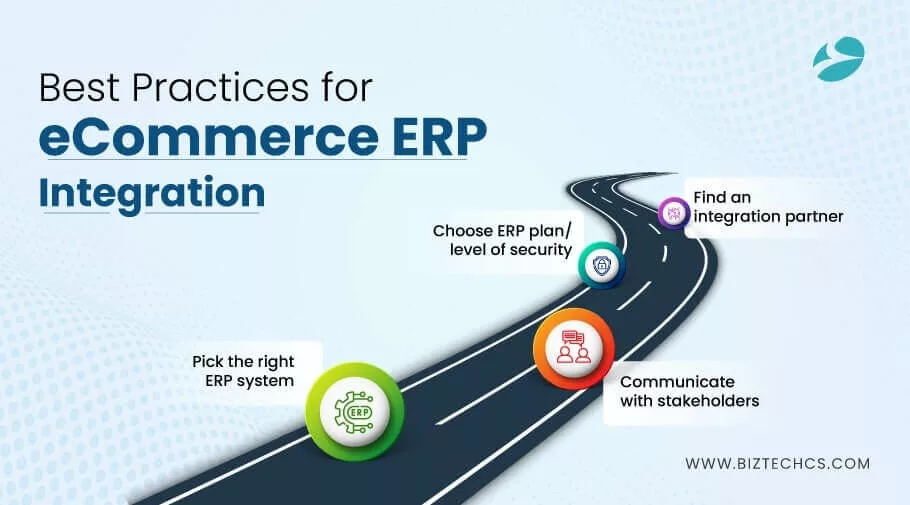 Step 1: Pick the right ERP System
Ecommerce website integration with ERP is a complex process. And with the wrong ERP system, your business would suffer even more.
So, it is important that you take your time and choose the right ERP platform for your business. Here are a few things to consider before you decide on the ERP system.
Integration capabilities
Customization capabilities
Scalability
eCommerce-specific features
Hosting options (On-premise and Cloud, as you need)
Total cost of ownership
Customer data security and compliance
User-friendliness
Support options and community
Mobile access
Reporting and analytics
User training and resources
Data migration
Based on these factors that best suit to your business needs, choose an ERP eCommerce integration platform.
Let's check a few popular ERP systems that you may pick from for your online business.
Best ERP for eCommerce Platforms
Microsoft Dynamics Business Central
MS Dynamics Business Central is an ERP tool to help upgrade your business unit's legacy system or entry-level accounting software to a comprehensive solution. With such an ERP systems in place, you will be able to manage multiple aspects of your business right from finance, operations, and sales to customer service.
SAP Business One
The ERP software was first released in April 2002 and is apt for small to medium-scale businesses. You can deploy it on-premise or on the cloud and it can be customized to your needs. The software is suitable to meet your enterprise's growing needs and can help manage inventory, CRM, finance, purchasing, etc.
Odoo
Available in Community and Enterprise editions, Odoo is a reliable choice for businesses of all sizes and sectors. It is highly customizable and can be scaled whenever your business grows. With over 10,000 applications in the Odoo store and a plethora of modules, it provides a comprehensive interface for all your eCommerce ERP needs.Besides, migrating to Odoo ERP is super easy and you can easily get familiar with the user interface and start managing your processes. However, the migration process can be complex and you will need to avail Odoo migration services for seamless integration.
Netsuite ERP
This cloud ERP system is best suited for medium to enterprise-level businesses. The software helps manage core business functions by helping manage finance and accounting, inventory, orders, purchases, and more.These ERP platforms aren't just reliable for eCommerce sectors alone. Rather, you can also use such ERP for Automotive industry, manufacturing, healthcare, and others.
Step 2: Communicate with stakeholders
When integrating eCommerce with ERP, you have to consider the stakeholders and people associated with your business. Your employees and stakeholders should be able to connect with you and feel comfortable with the evolving business processes.
Thus, it is extremely important that you involve the stakeholders in the decision-making process for your ERP software. Since they are involved with the processes more closely, they can help identify the underlying challenges of your business operations quickly.
Therefore, you will know what you need in the new platform and choose the best ERP for eCommerce business.
Step 3: Choose an ERP plan/ level of security
You can choose to deploy the ERP system based on the level of security you want for your business. There are various types of deployment you can go for.
On-Premise: It refers to the installation of an ERP system on your own servers or infrastructure. In this type of ERP deployment, all systems are connected to the central ERP system on-premise and it can't be accessed remotely.
Cloud-Based: The cloud-based ERP systems follow a subscription-based model and let you integrate and access ERP from anywhere and everywhere.
Tiered Pricing: Some ERP vendors may provide plans based on the number of users, business size, and features required for the business.
Per-User Pricing: It is one of the most effective ERP models for small-scale businesses as the pricing is decided based on the number of users who will access and use it.
Step 4: Find an integration partner
In your pursuit of integrating e-commerce with ERP, a reliable partner is essential. You need to find the best ERP engineers who are well familiar with your industry challenges and can help overcome them. Before you hire the best ERP experts, take into consideration:
Check their portfolio for past ventures in ERP integrations
Interview to test technical skills and soft skills
Check ratings and reviews for clarity
Make sure they are transparent about the total cost of hiring
Ensure if they will provide support and training so you can use the ERP best
Looking for a reliable partner with more than a decade and a half of experience in Ecommerce ERP integration? Our ERP experts can help you with that. Connect with our developers today and optimize your business processes like never before!
What Are Some ERP Ecommerce Integration Challenges?
While there are numerous benefits of eCommerce ERP integration, it comes with its own sets of challenges too. Let's check some of these challenges that can affect the ERP e commerce integration process and ways your web store can overcome these.
Real-Time Updates and Delays
Challenge: If there's a lack of real-time synchronization between ERP and eCommerce solutions, it can lead to inaccuracies and delays. And even affect the performance of your online store. Suppose a customer orders the last 10 units of a product from your web store and the data isn't reflected in the ERP immediately. When another customer orders the same product, you won't have the updated inventory information to accept orders. And even if you accept the order, you won't have the product in stock to process for delivery.
Solution: This problem can be resolved when you choose ERP tools supporting two-way real-time integration. It will ensure there are no delays and the changes reflect in the two system immediately.
Data Mapping and Synchronization
Challenge: When working with different data flows, formats, and structures, mapping them between ERP and eCommerce platforms becomes a challenge. There can be data redundancy, variability, poor data quality, and inconsistencies because of data collection from multiple sources.
Solution: You must invest time to understand the data structure of your online stores and ERP applications to minimize these issues. If needed, invest in a good API or middleware and take the help of ERP experts to form a robust ERP integration strategy.
 Performance and Scalability
Challenge: As your online business grows, your existing ERP system has to adapt to evolving needs for enhanced customer experience.
Solution: This problem can be easily solved when you choose scalable ERP solutions for your eCommerce store. Consider investing in cloud-based ERP software to ensure scalability whenever your business grows.
Complexity and Integration Costs
Challenge: Some Inventory software and ERP tools are subscription-based and may even charge additional amounts for maintenance. In some cases, the cost depends based on the ERP modules you choose.
Solution: Before investing in an ERP solution, you need to clearly find out about all the hidden costs such as integration costs, maintenance costs, training costs, post-deployment support costs, etc. It is recommended to plan a budget from the beginning and evaluate the ROI and long-term benefits you shall achieve from this integration.
 System Downtime
Challenge: System downtime and disruptions can affect your business processes and customer journey severely.
Solution: This problem can be avoided with thorough testing of your ERP data and processes. Besides, make sure to deploy the changes at off-hours when there's less traffic and deploy the integration in live environment when it's completely ready.
Legacy Systems and Data Silos
Challenge: Legacy systems are complex with data silos. The system generally consists of a customer database, inventory database, account database, and so on; with no connection to each other. While ERP software unifies the various departments and streamlines your system with up to date data. This can lead to a complex and time-consuming integration process.
Solution: With a meticulous ERP migration plan, this issue can be resolved. However, one must ensure to create data backup and maintain consistency. Moreover, hire an Odoo expert to help you out in this venture.
Looking for a reliable partner with more than a decade and a half of experience in Ecommerce ERP integration? Our ERP experts can help you with that. Connect with our developers today and optimize your business processes like never before!
Takeaway
Ecommerce ERP Integration is a transformative solution that empowers online businesses to unlock the full potential of their business and drive unparalleled performance.
The integration enables real-time data exchange, streamlining order processing, inventory management, and customer relationship management. It eliminates manual data entry, reducing the risk of errors and delays, while ensuring accurate and consistent product information across various sales channels
With this unified approach, businesses can effortlessly scale their operations, adapt to evolving market demands, and stay one step ahead of the competition.
Embracing this powerful fusion of systems (Ecommerce and ERP integration) empowers eCommerce entrepreneurs to redefine their store's performance, elevate customer satisfaction, and create a future brimming with possibilities.
FAQs
What is ERP in eCommerce
ERP refers to Enterprise resource planning software, a complete suite of software that helps you manage your various business operations. Right from managing raw materials and goods in inventory to order processing, purchasing, and manufacturing to finances and HR. The centralized software makes communicating within the organization and even with stakeholders easier.
What is ERP integration?
The process of connecting ERP and eCommerce systems together to help manage various business processes is termed ERP integration.
What is an example of an ERP system in eCommerce?
A popular example of an ERP system for eCommerce is Odoo. You can either use the Community edition or Enterprise edition to meet your various business needs. It also has a dedicated website module that helps manage your eCommerce platform as you take care of ERP needs.
What is the role of ERP in e-commerce?
An ERP system in eCommerce can help you in multiple aspects such as inventory management, supply chain management, purchase, sales order management, finance management, HR module to manage resources, and so on. You can automate multiple eCommerce processes and boost your business performance.
Befriend Technology for Transformation
Selecting the right technology is pivotal to your business's growth and success. Have you already decided the suitable one for your next project? If so, we can help you take the next step. If not, we can help you decide the best option. Connect with the Top 1% pre-vetted software engineers to build your software.