1361
How to Hire Dedicated Developers in India: A Useful Guide
21 Nov, 2022
7 min read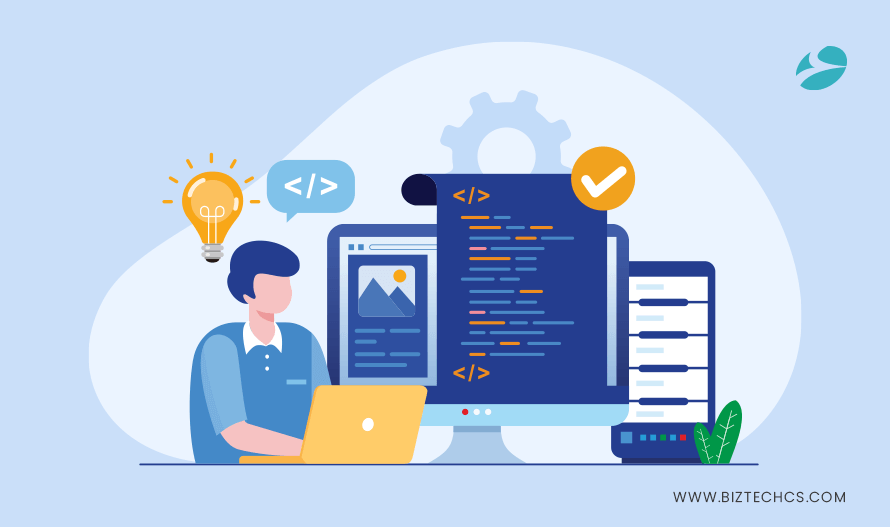 https://www.biztechcs.com/blog/how-to-hire-dedicated-developers-in-india/
Summary
After you have decided to build software, the first thing you do is find suitable talent to assist you in this venture. Since they will be in charge of all the technical aspects, you need a team that understands your vision. Only then, they will be able to translate it into an impactful product.
However, finding suitable developers can be a challenging task for businesses. You have to consider the developer's skills, experience, and quality-to-cost ratio. Lucky for you, I have put together this blog on finding the most suitable resources and tips on hiring developers in India.
Let's check!
Common Challenges Around Hiring Dedicated In-House Developers
What are some common challenges that businesses face while finding suitable developers?
Is it a lack of skills and expertise or budget constraints? Let's look at some of the most common challenges businesses face while hiring developers.
1. Budget constraints
Hiring a developer takes you through many cycles of operations which can be expensive. For instance, if you plan on hiring an in-house developer, you would have to pay him/her a full-time salary and bear onboarding expenses, employee benefits expenses, infrastructure, and work system costs.
This can burden your budget. And in case the employee plans to leave your organization after a month or fifteen days, you would have to invest more amount of time and money in hiring another developer.
If your company has budget constraints, you would have a harder time funding your talent acquisition tools and activities.
2. Little knowledge about hiring talent
Startups that don't have a full-fledged talent acquisition team or HR department will find it challenging to find suitable developers. They won't know the best approach to finding the best candidates or a proper screening process in place. Additionally, they will lack the resources and tools needed to meet desired candidates.
3. Long hiring cycle
For a western country, the average cycle of hiring lies anywhere between 45 and 90 days. Furthermore, if there's a delay in the hiring process due to unprecedented events, your project's development cycle will increase. This will automatically increase the time to market.
Therefore, hiring remote developers or outsourcing the project to a remote team is very much preferred today. Going further, we will look at why hiring programmers from India will be more beneficial to you.
Why Should You Outsource your Development Project?
Before I enlist any benefits of outsourcing, let's first help you understand what outsourcing is.
Suppose you want to develop a mobile application and require talented app developers to assist you in this process. For that, you need to hire dedicated developers and upscale your business. Now, instead of hiring an in-house developer, you can hire a remote team and get the job done.
The remote team will work exactly like your in-house developers. They will help with the development and communicate seamlessly with your team to complete the project.
Fast turnaround time
When you outsource your development project, a team of developers works dedicatedly for you. Thus, the turnaround time for your project is much shorter and you get to launch your website or app more quickly.
Cost-efficiency
The cost of hiring remote developers is obviously less compared to an in-house team. You don't have to pay for infrastructure or operational charges. Rather, you just pay the developers based on their hourly rates for their billable hours.
Perfect solution for short and long-term projects
You can hire developers seamlessly for any of your project requirements. Whether it is your long-term project demands or short-term development goals, you can outsource developers flexibly as per your requirements.
Access to global talent
In case you find difficulty hiring local developers, outsourcing can help you get access to global talent. Your area might have limited resources who are already busy with other development projects. In such situations, hiring remote developers can assist you immediately. And, you will save a lot as the cost of hiring would be less.
What are the Benefits of Hiring Remote Indian Developers?
If you are planning to outsource your development project, you might consider to hire a developer in India. With a talent pool of developers skilled in a range of technologies, you can leverage several advantages.
Skilled and experienced developers
As of October 2022, about 9.75 million Indian developers use GitHub. Over the past year, about 2.5 million Indian developers joined the collaboration platform. Thereby, denoting a year-over-year (YoY) increase of 35%.
Today, India has become the second largest community contributor on Github after the United States. And as per reports, India can match the current population of the US by 2025.
Clearly, India has a diverse pool of talented developers skilled in several technologies. When you hire developers from India, you can build exceptional software solutions by leveraging the developer's expertise.
Good communication skills
If you hire Indian developers, you don't have to worry about any communication barriers. The developers from India are fluent in English and will ensure you don't have any issues communicating with them. They can easily understand your project requirements and will ask for any additional information they might need.
Low developer rates
The rate of hiring developers differs from one region to another. In case you hire developers from the United States or western countries, the hourly rates will be higher. Whereas, developer rates for Ukraine or Asian countries like India are much lower comparatively.
You can check out the various mobile app developer rates here.
Timezone compatibility
One of the key challenges business units face with outsourcing is the difference in timezone. If you end up hiring Indian developers who don't work flexibly with your time zone, there will be issues communicating with them.
However, most Indian development companies work flexibly to ensure timezone compatibility. So, you don't have to worry about how the team will collaborate with your working time and meet deadlines.
Reliable
When you find a reputed company with skilled coders in India, you can trust them with your project. You can check their portfolio for past work experience. The client testimonials and reviews will further help you decide if they are a reliable partner for your business.
Confidentiality
With an NDA (Non-disclosure agreement), you can maintain confidentiality for your project. When you hire Indian programmers from a reputed firm, you can agree to a contract of services to protect your rights. You will also be able to protect private/ sensitive information from any potential threat.
How to Hire Best Developers in India: Steps to Follow
I. Freelance Indian developers for hire Vs Remote Development Company
| Freelance Developer | Remote Developers from a Company |
| --- | --- |
| They work independently and are not a part of any team or company. | A company has a team of developers from where you can hire programmers in India. |
| You may need to hire multiple independent developers and manage or communicate with them separately. Multiple touchpoints. | You can hire one or more developers or an entire team and manage them effortlessly from a single touchpoint. |
| The risk factor is high as a freelancer may abort your project anytime causing you losses. | Here, the risk factor is much lower. Companies have a reputation to maintain and can't risk any negative news to demolish it. |
| Managing is difficult. Communication barrier. | Easy management and effortless communication. |
| Need to be interviewed and assessed carefully before you hire. | You can choose from a pool of pre-vetted professionals. |
| Low cost of hiring software developers in India. | Comparatively high costs. |
| Limited skills and access to tools. | Diverse skills and easy access to tools and technology. |
| Slower time to market. | Faster time to market. |
| The developed products might not have the best quality. | The Indian developer hire will ensure to meet the best quality benchmarks and deliver efficient software solutions. |
Based on these factors, you can decide whether to look for freelance Indian developer hire or outsource the project to a remote firm.
II. Where to find Indian developers for hire?
To find a freelance developer, you can look at sites like Upwork, Guru, Toptal, Freelancer, etc. You can also post vacancies in job portals such as Monster, Dice, and Indeed.
Besides, you can also look for the best software development companies in India from top review sites like Clutch and Good firms. You can also rely on recommendations or social networking sites like LinkedIn to find the best developers.
III. Steps to hire software developers India
If you want to hire the best-talented developers from India, these steps should help you sufficiently.
Write a captivating job description/ Define the scope of the project
In case you want to hire developers India, you would need to write a job description first. This copy is essential for social media platforms, job portals, or freelance portals. This is how you get a prospective developer to apply for the job vacancy you have posted or bid on your project.
A job description typically contains all the information about the job vacancy you are sharing. For instance, the number of vacancies, tech stack requirements, minimum years of experience, qualification requirements, full-time/ part-time job, etc.
If you are outsourcing your project to a software development agency, make sure to define the scope of the project. It should include what kind of project it is (app development, website development), your preferred tech stacks, development time, the number of developers needed, etc.
You can share this document with the companies you approach to get a quote.
Factors to consider when hiring developers
When you shortlist a development company, you need to consider these factors and choose the best ones for further process.
Technical expertise
Based on your project requirements, you should make a list of the required technical skills and tech stack knowledge. It will help you shortlist candidates based on these tech skills.
Project size
What is the size of your project? Is it a small-scale project or a large one? You need to choose developers and a development team who are the best fit for your project size.
Industry experience
Hire developers in India who have experience in a similar industry so you can leverage their skills. They will know what's in trend and what are the development challenges that they have to overcome. Thus, it is preferable to have industry experience.
Reviews & testimonials
Consider the reviews and testimonials of a software development company before shortlisting them. You will get a lot of insights into how their team works.
Communication ease
Check in with the developer or development team about the modes of communication so there are no barriers. You should also make sure that their working time overlaps with yours for improved productivity.
Interview candidates
After you have shortlisted candidates or a development agency, you would need to interview them. The interview can be segregated into multiple parts to test one's technical and behavioral skills. You can get your senior technical resource onboard to test the technical skills of a developer.
Your HR department might help you assess whether a candidate is suitable for your organization or not. It will also help you see if the developer will be able to communicate with your team members.
Wrapping Up
These tips should help you with hiring developers in India, be it a freelancer or a remote development company. You get to find the most skilled and seasoned developers and interview them to find the most suitable talent for your project.
Furthermore, you can reduce your development expenses substantially with remote developers from India. In this regard, you can hire dedicated developers from a renowned clutch-reviewed development firm, BiztechCS. We have seasoned in-house developers who are not only proficient in multiple technologies but also have soft skills.
Connect with the best developers in India and develop quality software solutions effortlessly.
Befriend Technology for Transformation
Selecting the right technology is pivotal to your business's growth and success. Have you already decided the suitable one for your next project? If so, we can help you take the next step. If not, we can help you decide the best option. Connect with the Top 1% pre-vetted software engineers to build your software.