703
Hyva Theme Development: Best Way to Optimize Your Magento Store's Performance
24 Aug, 2023
8 min read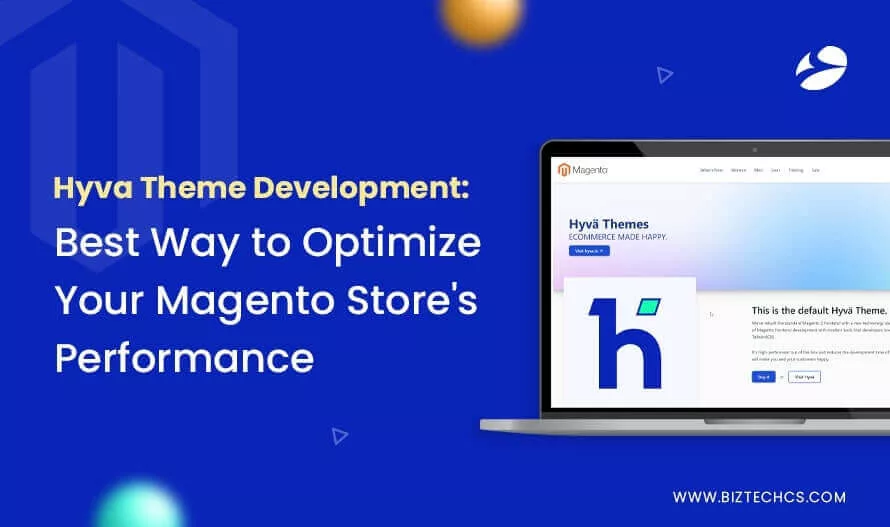 https://www.biztechcs.com/blog/hyva-theme-development/
Summary
In an era where online shoppers demand seamless experiences, a sluggish eCommerce store could result in unwanted situations. You may end up with abandoned carts, frustrated users, and lost sales opportunities.
paramount. And Hyva theme development might be one of the best decisions you can make on this front for your Magento store.
With a perfect symphony of aesthetics with speed, Hyva themes are engineered to offer a transformative eCommerce experience. Unlike traditional themes, Hyva embraces modern frontend technologies like React and GraphQL, placing efficiency at the forefront.
Going forward in this blog post, we will see how themes like Hyva can help optimize your Magento store's performance. You can also hire Magento developers and customize Hyva or custom-build themes to your liking.
What is Hyva Theme?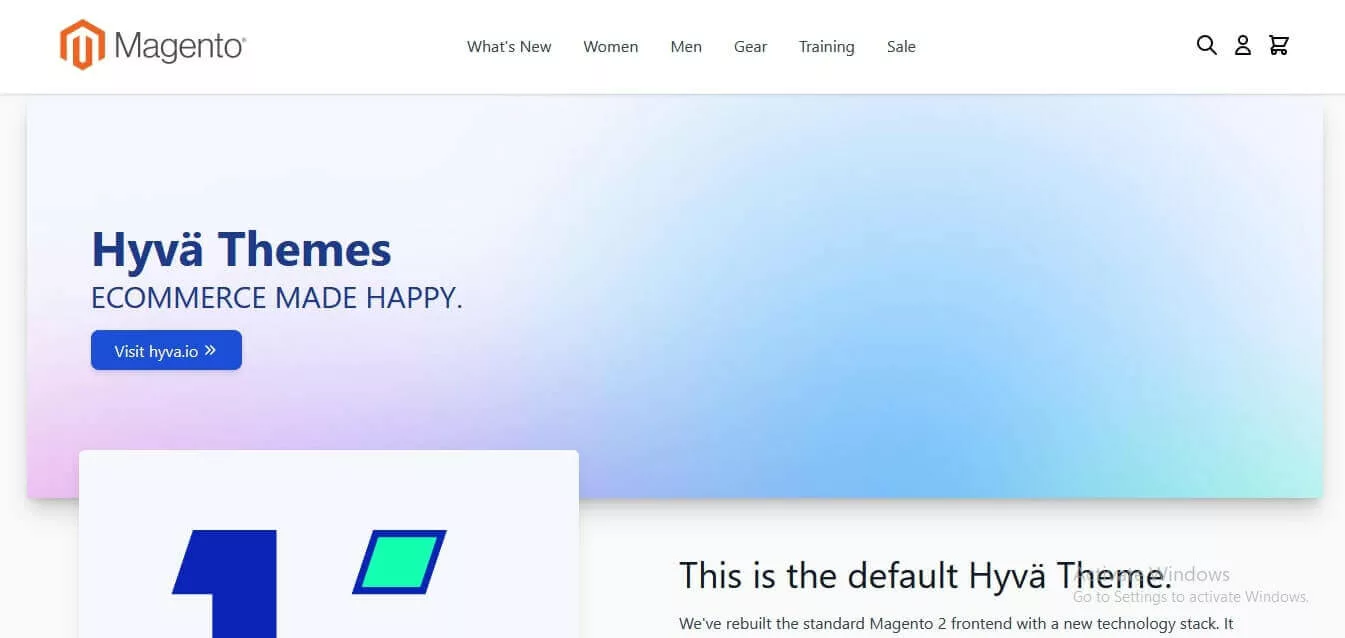 Hyva theme is a frontend Magento theme, built on top of modern technologies like Tailwind CSS, Vue.js, and Alpine.Js. The modern, lightweight Magento theme is completely responsive and capable of giving your eCommerce store a refreshing and appealing makeover.
With the robust Magento 2 Hyva theme, you can build a fast-loading front-end that helps gain elevated user experience and conversion rates.
Willem Wigman created Hyva from scratch, eliminating all the things developers liked; for instance, UI Components, Knockout, Require.js, etc.
At the same time, he used a single JS framework and technologies like Tailwind CSS, Vue.js, and Alpine.Js to reduce CSS output and create a less complex frontend.
Besides its simple coding structure, it is fast and flexible, making it a perfect choice for developers to create customized Magento themes. Developers can further give you a more tailored front end with Hyva theme development as per your specific needs.
Benefits of Hyva Theme Development for Magento Store
As online shoppers demand seamless interactions, the choice of a theme becomes pivotal in shaping customer engagement and conversion rates. Therefore, it is important to choose the most appropriate theme for your store.
So, before you choose the Hyva Magento theme, you must explore the benefits you could leverage alongside it!
Did you know eCommerce stores loading in 1 second have 3x times higher conversion rates than stores that take longer?
Yes, how fast your website loads is critical to customer retention and conversion! And if you choose a bulky theme, it can affect your loading speed.
But when you choose Hyva Magento 2 theme, you don't have to worry about that. Being lightweight and having simple coding, it ensures fast loading speed for your pages.
Benefits: Higher customer retention rate, improved conversion rates, reduced bounce rates.
You can use the default Hyva theme as it is or customize it to your unique needs. The theme is extremely versatile and flexible and can be used by anyone and everyone. From scall-scale startups to enterprises, Hyva is appropriate for all kinds of companies.
You can create a personalized storefront with the help of Magento 2 Hyva theme development. All you need to do is connect with expert developers and share your unique requirements with the Magento development company.
Benefits: Personalized web front, improved customer engagement.
The ultimate aim of any eCommerce theme is to deliver a seamless and hassle-free experience to its shoppers. And Hyva holds true on this front because of its fascinating yet simple design and layout.
The theme provides a straightforward navigation experience, making it easier for customers to explore various categories, search for products, and make purchase decisions.
Benefits: Improved conversion rate, reduced bounce rate, lowered cart abandonment rates.
Near about 46% of shoppers prefer checking product ratings and reviews on mobile before making a decision, as per reports. In fact, almost half of mobile shoppers use smartphones to compare services and costs of a product.
Therefore, a responsive theme is the need of the hour!
With Hyva, you don't need to worry about your store's responsiveness. It is completely responsive and works seamlessly on multiple devices like smartphones, laptops, and tablets. The minimalistic and modern interface of Hyva ensures it doesn't look cluttered.
Benefits: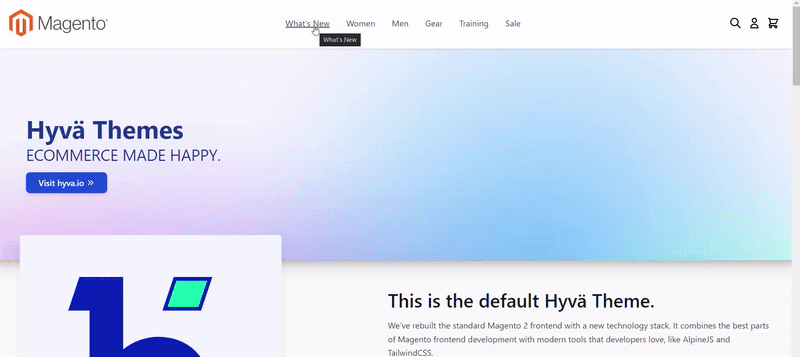 There are multiple benefits of the Hyva theme to users and business owners. But, it is equally advantageous for Hyva themes developers.
With Hyva theme development, you can reduce code and dependencies with the help of modern technologies like AlpineJS and TailwindCSS. Thus, it has an easier learning curve and developers can easily build custom Hyva themes for the Magento store.
Benefits: Shorter time to market
The Magento Hyva theme is component-based, making it extremely easy to maintain. If there arises a problem with your store front end, you can easily make changes in the concerned component without having to change the entire framework.
Benefits: Easy to manage, better support.
How to Maximize Magento Store's Performance With Hyva?
Besides using the default theme, you can also avail of Magento Hyva theme development services and personalize your store's front end.
You can further use these extensions to optimize your store's performance!
Varnish Cache: The HTTP accelerator caches static and dynamic content, helping improve your store's loading time.
Elasticsearch: Harness the power of this search engine to elevate your Magento store's search feature.
Full Page Cache Warmer: Warm up your full page cache automatically to keep it up-to-date.
Image Optimization: Optimize your images automatically by reducing file size while retaining quality.
Advanced JavaScript Bundling: Improve your store's loading time as you optimize your JS files and minimize your HTTP requests.
Hyva itself is a power-packed theme and further customizations can elevate its performance. You can also adhere to various Magento security tips like FTP, encrypted SSL, password protection, etc. to secure your storefront.
Luma vs Hyva: A Brief Comparison
There are two Magento out-of-the-box themes:
I. Blank: It's a neutral framework that allows you to customize as per your specific needs.
II. Luma: It has an opinionated styling and is based on the Blank theme.
So, if you don't choose any theme or customize one, you can use these default ones for your store.
Now, let's compare one of these default themes Luma with Hyva and see how they compare to one another!
| | Luma | Hyva |
| --- | --- | --- |
| | It's a default Magento theme for building a robust storefront. | Hyva is one of the bestselling Magento eCommerce themes with extensive customization capabilities. |
| Design & Performance | The Luma theme's design is basic and functional. However, it can be challenging to optimize it for improved performance. | It uses modern frontend technologies such as Tailwind CSS, Vue.js, GraphQL, and Alpine.Js to attain faster loading times and smoother interactions. |
| Customization | You need to customize the theme to attain certain performance goals and branding. However, customizing it for performance improvement isn't quite favorable. | Hyva themes extend greater flexibility in terms of customization. You can customize the Hyva theme without sacrificing performance, allowing tailored designs that align with brand identity |
| Load Times | Difficult configuration of Luma themes might be the cause of higher load times | Hyva theme is known for its faster loading time because of its compact code and reliance on Modern web technologies. |
| User Experience | Possibility of slower interactions may affect the overall user experience. | Quick responses and smooth interactions in the Hyva Magento front end help with elevated user experience. |
| Flexibility | Customizing Luma themes is challenging because of their limited flexibility. | Hyva offers greater flexibility for tailoring designs and functionalities to specific requirements. |
| Out-of-the-box Optimization | You need additional optimization efforts to optimize your store's frontend. | The Hyva theme is optimized as is and can be used out of the box. However, you have the flexibility for customization. |
| Community Support | Since it's the default theme, it benefits from extensive community resources and receives support. | Hyva theme is comparatively newer. Even so, it is growing in popularity and is followed by avid developers on GitHub and other networks. |
In the realm of Magento theme development, the distinction between Luma and Hyvä is evident now. While Luma offers a functional starting point, Hyvä takes a modern leap by prioritizing performance and customization. With its use of cutting-edge technologies, Hyvä not only delivers faster load times and smoother interactions but also empowers businesses to create tailored and efficient Magento stores that redefine user experiences.
Final Thoughts
The emergence of Hyva Theme Development presents a revolutionary solution to the ultimate challenge eCommerce businesses face – delivering seamless user experiences. By seamlessly integrating modern frontend technologies with Magento PWA Studio, Hyva themes not only enhance speed and responsiveness but also offer unparalleled customization without compromising efficiency.
This approach translates into improved user experiences, higher conversion rates, and a competitive edge in the crowded online marketplace. With Hyva Theme Development, businesses can elevate their Magento stores to new heights of performance, delivering seamless interactions that captivate and convert visitors with every click.
Considering Hyva for your store's frontend too? We can help you integrate the same! Our Hyva theme development services also help entrepreneurs like you personalize Hyva themes to meet your unique business goals.
With our dedicated developer expertise and 16+ years of experience in eCommerce, Biztech is a renowned name in the industry. Want to learn more about Hyva theme development and integration? Connect with our developers today!
FAQs
What is Hyva?
Hyva is a front-end theme for Magento e-commerce stores. It leverages modern technologies to enhance performance, user experience, and customization possibilities. Hyva aims to optimize the speed and responsiveness of Magento stores, providing a lightweight and efficient solution that empowers businesses to create visually appealing and high-performing online platforms.
What is the Hyva theme in Magento 2?
The Hyva theme in Magento 2 is a modern and performance-focused approach to front-end development for Magento stores. It offers a cutting-edge alternative to traditional themes, utilizing technologies like Vue, GraphQL, Tailwind CSS, etc. to optimize performance and user experience. The Hyva theme prioritizes fast loading times, smooth interactions, and customization possibilities, making it an ideal choice
What are the benefits of Hyva themes?
Hyva themes bring a host of benefits to Magento stores. They prioritize performance optimization through modern technologies like Vue, GraphQL, Tailwind CSS, etc., resulting in faster load times and smoother interactions. The lightweight nature of Hyva themes ensures efficient rendering and responsiveness, enhancing user experience. Additionally, their flexibility allows for easy customization, enabling businesses to tailor their store's design while maintaining optimal performance.
Befriend Technology for Transformation
Selecting the right technology is pivotal to your business's growth and success. Have you already decided the suitable one for your next project? If so, we can help you take the next step. If not, we can help you decide the best option. Connect with the Top 1% pre-vetted software engineers to build your software.