1341
A Detailed Guide On Magento 2 Amazon Integration
18 Apr, 2023
5 min read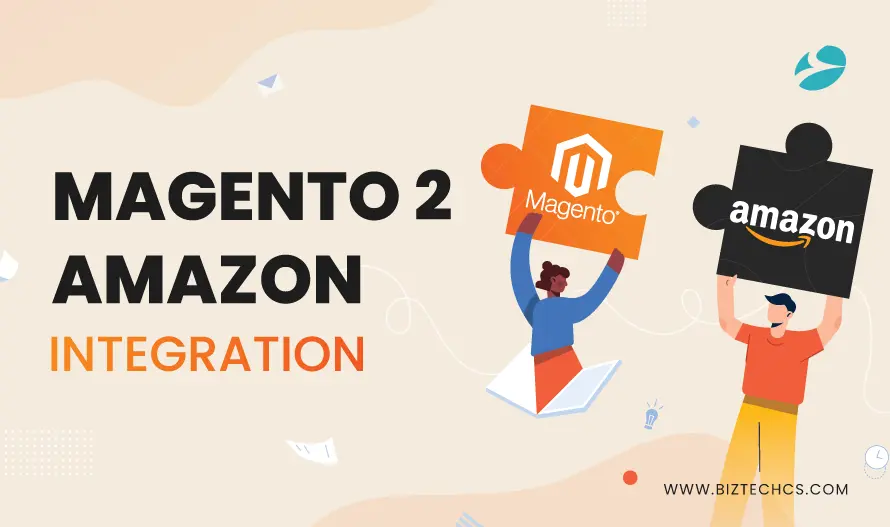 https://www.biztechcs.com/blog/magento-2-amazon-integration/
Summary
As of October 2022, Magento stores account for approximately 0.9% of all eCommerce stores present on the web. With over 167,000 Magento 1 active stores and 100,000 Magento 2 active stores, Magento provides you with complete customization capabilities for your store.
While Magento alone can help you build interactive, feature-rich, and sustainable online stores, increasing your sales becomes a bigger challenge. Besides developing a robust and secure site, you will have to take care of its user experience. Market it properly and so on.
That's where Magento 2 Amazon integration comes into the picture! Yes, it is possible to integrate your Magento 2 store with marketplaces like Amazon, eBay, and more.
Now that you know, you might wonder if Magento Amazon integration will actually be fruitful with respect to successful eCommerce store development. Well, it has the potential to upsurge your sales in leaps and bounds, if not more.
In this blog, you'll see more about the whys and hows of Magento 2 Amazon integration. Let's dive right into it!
What is Integration With Magento?
It is possible to call Magento web APIs with the help of integration. You can integrate any third-party apps and plugins to improve the performance and functionality of your Magento store.
At present, Magento API supports ERP, CRM, Accounting, Product information management, marketing automation, etc. You can integrate your Magento store with marketplaces like Amazon and eBay and start selling on multiple platforms.
Why to Integrate Magento with Amazon? Backed by Statistics
If you are wondering what makes Amazon the perfect marketplace for your Magento integration, here are some statistics to note!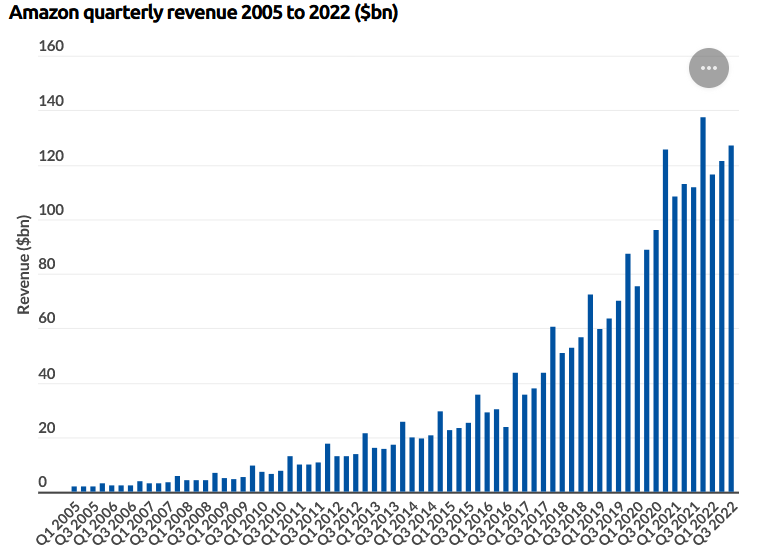 In 2021, Amazon became the third largest company by revenue as it generated a revenue of $470 Billion.
Approximately 13% of this revenue comes from AWS (Amazon Web Services).
Millennials outpace Baby Boomers and use Amazon for shopping twice as much as Baby Boomers. So, if you want to target millennials, Amazon Magento integration might work best.
Over 197 Million people work visit Amazon.com every month.
Here's the breakdown of Amazon's revenue for the years 2019 to 2021 by segment.
Year
Online Stores
(In $bn)
Physical Stores
(In $bn)
Third-party Retail
(In $bn)
AWS
(In $bn)
Others
(In $bn)
2019
141.2
17.1
53.7
35
33.2
2020
197.2
16.2
80.4
45.3
46.6
2021
222
17
103.3
62.2
66.2
As per eTail, Amazon's worldwide customer base is about 310 Million.
All of these statistics suggest Amazon is indispensable as an eCommerce marketplace. Let's check these Magento 2 Amazon integration key benefits.
You will have the world's largest marketplace for selling your products.
The worldwide popularity of Amazon will open your doors for selling products not just domestically, but internationally.
You don't have to spend heaps of money on marketing to get the first buyers.
Stress-free shipment with Amazon FBA.
Read Also: How to Optimize Magento Store's Performance with Hyva Theme Development
How to Integrate Your Magento Store With Amazon?
With so many benefits of integrating the Magento 2 store with Amazon, it is clear that you can sell your products more aggressively. However, executing it can be a bigger challenge, especially if you lack the technical expertise.
To integrate Magento with Amazon, you will need extensions! You can either use the readymade extensions or custom-create one. Next, follow the steps mentioned below.
You must be a registered company to be able to sell on Amazon. That's because Amazon doesn't accept individual sellers.
Next, get ready with details like email, address, VAT/CST registration, legal name of the company, and create an Amazon Seller Account.
Once your account is verified, log in to your FTP and navigate to the root folder of Magento 2. You will find it under public_html.
Next, you will have to follow the installation steps based on the extension you are adding to your eCommerce store. It may differ for different extensions and you will have to look into it.
After this, you need to configure Magento with Amazon so you can start using the Amazon features on your Magento store. However, the steps are complicated and it is preferable to connect with a Magento development agency for smooth execution.
What are the Best Magento Amazon Integration Extensions?
I. Codisto Linq Amazon & eBay Integration
With this extension, Magento eBay and Amazon integration are possible. Not just that, it also helps businesses sell on Google, Walmart, and more. The plan starts from free for up to 50 orders per month and can range up to $199/month for about 2,500 orders per month.
Features:
Create new product listings or revamp existing ones in seconds.
Synchronization between Amazon and Magento 2 stores in real-time.
Optimize keywords and listing fields.
Enjoy exclusive Amazon features like multicurrency support, FBM & FBA fulfillment, etc.
II. M2Epro eBay/Amazon integration solution
The native Magento extension is great for Magento Amazon eBay integration. It allows full customization and complete automation alongside giving a 30-day free trial option to its users.
Features:
Get your product listings live within 15 minutes with Magento eBay integration extensions.
Automated order management to help with order processing, shipping, invoice generation, cancellation, refunds, etc.
Automatic updates on inventory and synchronization between Magento and Amazon in case of product-related alterations.
Create custom selling rules as per your business strategy.
Easy management of live listings in the Amazon marketplace.
Smooth integration with Amazon.
III. Holbi eBay and Amazon Connector
Features:
Link one or more than one Amazon/eBay account with your Magento store.
Edit products in bulk.
Synced stock levels with marketplaces.
Edit price and product descriptions for Amazon.
Product data export to Amazon.
Download sales orders from Amazon into Magento's backend.
Configure products.
IV. ChannelUnity Integration
Features:
Data mapping between Magento stores and Amazon marketplace.
A simple listing of products in Amazon from existing Magento listings either individually or in bulk.
Seamless product categorization.
Set maximum discount and minimum selling price with the help of Amazon's repricing feature.
Track FBA listing sales of Amazon conveniently.
Stock synchronization and order management.
V. 247 CloudHub Multichannel Marketplace Connector
Available in Open Source (CE), Commerce on Premium Enterprise (EE), and Commerce on Cloud (ECE) editions.
Features:
Seamless inventory management for managing stocks.
Secure payment processing with Amazon Pay Magento 2 integration.
Automated delivery systems.
Simple order fulfillment with Magento fulfillment integration.
Intelligent Amazon repricing for selling smartly in the marketplace.
Reports and analytics management.
Automatic quantity synchronization and avoiding over-sales.
VI. CedCommerce Marketplace Extension
Features:
Manage multiple accounts from one Magento backend.
Upload products in bulk for saving time.
Real-time synchronization in Magento Amazon affiliate integration.
Product profiling.
Product category mapping.
Sync and track shipping between Amazon and Magento stores.
These are some of the best extensions along with their Magento 2 Amazon integration features. You can choose to integrate any of these or custom-create one with help from Magento 2 development company.
If you are looking for a company that can help with Magento-Amazon Integration Solutions, look no further than BiztechCS. We are a Magento Bronze partner and have the expertise to integrate marketplaces like Amazon with your Magento store.
Connect with our team to get more insights about it!
Conclusion
Integrating your Magento store with the Amazon marketplace not only requires technical expertise but also a strong knowledge of eCommerce. You have to be aware of eCommerce trends, changing customer preferences, and market demand to upsurge your sales.
This blog should help you understand why businesses like yours prefer Amazon Magento integration. You will also be able to know ways to do it. However, the steps can be too technical and complicated. It would be beneficial for you to opt for professional eCommerce store development services.
FAQs
How can Magento be integrated with Amazon Marketplace?
Magento can be integrated with Amazon using extensions. These extensions can be readymade or custom-made. However, the cost of using readymade extensions will be much less in comparison.
What is the cost of Magento Amazon integration in the US?
Well, the cost of Magento Amazon integration depends largely on the type of extension you use. Is it open-source? Or, do you have to pay a monthly/annual fee? In case you are building a custom extension, the cost will increase further. Besides, the cost of development will also vary depending upon the Magento development company you hire.
How to find the best agency for Magento 2 Amazon Integration in USA?
You can look for the best Magento 2 agencies on review sites like Clutch and GoodFirms, search engines like Google, or via social media. If you are looking for quality integration services in the USA at cost affordable rates, you can also consider outsourcing to a different company in India.
How to sync Products between Amazon and Magento 2 store?
To synchronize products between Magento and Amazon, follow these steps:
Go to Magento Admin Panel followed by 'Amazon Integration' and 'Manage Products'.
Choose the product you wish to sync.
Next, tap the sync icon in the corresponding row in the Action column. It should synchronize the product.
Is Magento 2 Amazon Integration affordable for small businesses?
Though there are several expenses associated with the Magento 2 Amazon integration, small businesses can still make do with it. You can use the Community version of Magento 2 for the development of their eCommerce store. As for getting an Amazon seller account, you will have to pay 39.99$ + selling fees. Choosing a cost-affordable extension or open-source will further ease your financial burden.
Befriend Technology for Transformation
Selecting the right technology is pivotal to your business's growth and success. Have you already decided the suitable one for your next project? If so, we can help you take the next step. If not, we can help you decide the best option. Connect with the Top 1% pre-vetted software engineers to build your software.