1270
Dynamics 365: A Manufacturers' Secret to Success (Powerful Just like Thor's Hammer)
25 Jul, 2022
5 min read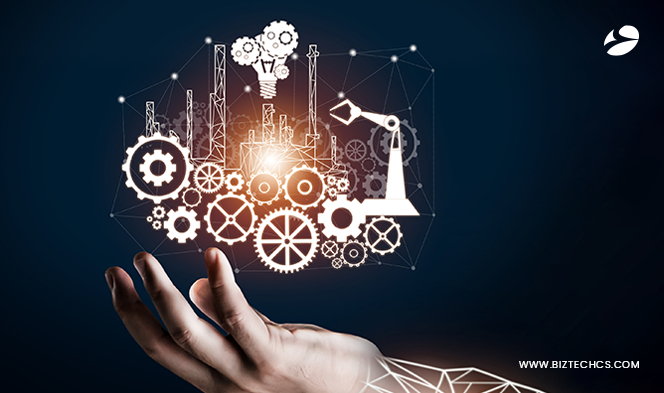 https://www.biztechcs.com/blog/microsoft-dynamics-365-for-manufacturing/
Summary
Modernizing can help manufacturers meet new market needs at a moment's notice.
Despite the supply chain disruption, workplace transformation, and consumer behavior shifts, the pandemic gave us many impressive examples.
Textile companies switched to making masks.
Food companies now produce hand sanitizer.
Water treatment companies churn out disinfectants.
Yet, manufacturers don't know where to start. While manufacturing leaders know they need digital transformation to achieve top priorities like increased engagement, single customer view, superior customer experience, etc., legacy systems have left some scars.
The idea of changing to a new process or new technology can be daunting.
Digitization doesn't have to be painful, traditional, or expensive. Manufacturers can now begin the journey towards supply chain automation with Microsoft Dynamics 365.
Dynamics 365 services bridge the gap between CRM and ERP systems and streamline the overall business process by giving a real-time 360-degree view of all the data and processes.
It helps tackle the common problems that hold the manufacturing business back!
Challenges that Automation Can Solve
1. Product Demand Forecasting
Despite the advancements, some manufacturers face difficulty incorporating inventory levels into their production planning procedures. Most of them are unaware of the right approach and later blame the forecasting.
The major problem
Most manufacturers don't have advanced reporting tools that tell them how much they should sell in the next quarter. As a result, they fail to meet customer demands and suffer lower sales.
Solution
You can leverage Dynamics 365 development services and get real-time data from sales, order fulfillment, product performance, customer support, etc.
The reporting feature of Dynamics CRM will help analyze consumer behavior and identify fast-moving and slow-moving products for better planning.
2. Controlling Inventory
Inventory management is another critical concern of the manufacturer because it's time-consuming. On top of that, they try managing it manually.
Its impact
Manual stock management results in errors, shortages, inaccuracies, overload, etc. Moreover, organizations are under pressure to deliver high-quality products that meet customer demands.
Solution
Using inventory management software can help cut-down time-consuming tasks. It can help you to keep up with inventory levels at all times, receive alerts when the stock approaches the specified minimum amount, and reorder the right items at the right time.
3. Improving Efficiency
Manufacturers keep looking for ways to reduce costs and improve efficiency in the workplace. Many of them even choose to compromise on the quality of the product to reduce production costs. This results in reduced profitability because most dissatisfied won't buy.
Solution
Modernizing processes and systematizing workflows is how you can optimize your business efficiency. You need to minimize time-consuming and labor-intensive tasks, reduce material waste, optimize equipment use by minimizing damage, and simplify their supply chains.
With Microsoft Dynamics services, you can facilitate them, achieving optimal efficiency.
4. Managing Sales Leads/Tracking Customers
Another common challenge that manufacturers face is identifying and evaluating potential leads. They implement a common strategy for all the leads, unaware they are unique, and so are their requirements and preferences.
The problem
Failing to identify potential leads results in setting unrealistic expectations. Manufacturers often forget to follow up with potential leads and constantly ask the sales team for updates.
Solution
Dynamics CRM provides a centralized customer database to understand sales leads. It makes it easy to identify sales prospects, know their status in real-time and assign leads to the right salespeople.
5. Increasing ROI
Every manufacturing business wants to increase its ROI. To get the desired results, they would increase the price of the products or sales. However, these are not effective ways.
Solution
There are various ways to increase ROI, such as increasing sales correctly, updating marketing strategies, increasing efficiency, reducing costs, etc.
The most effective way is to implement Dynamics 365 software. Not only does it automate the process flow, but it also provides real-time insights to make sound decisions.
Dynamics 365 Services
Today, Dynamics 365 is not just a CRM that helps store customers' data in one place. Businesses also leverage Microsoft Dynamics CRM services to encourage a collaborative approach and strengthen customer relationships.
Take Dynamics 365 for Finance and Operations, for instance. From an automation perspective, this application incorporates a vendor portal that enables customers to self-serve, enhancing their overall experience.
Use-cases of Microsoft Dynamics 365 in the Manufacturing Industry
Accounting Management: Integrate the accounting module, i.e., Dynamics 365 business central, to finish various tasks with a few clicks. It allows you to create detailed, auditable, reconcilable accounting from various systems.
Budget Planning: Discrepancies arise in budget planning because of unforeseen circumstances. Budget planning helps keep costs under control.
Automated Reports: Manufacturers spend most of their time reading reports manually and planning their next move. Microsoft Dynamics BI gives them real-time insights to enhance demand forecasting and streamline asset and production management.
Inventory Warehouse Management: It's difficult, time-consuming, and error-prone to manage production orders and inventory from raw materials to finished goods manually. Automated data collection systems improve efficiency and accuracy with visibility.
Procurement and Sourcing: Manufacturers can manage suppliers and third parties and monitor their performance from a single platform.
Digitize your Manufacturing business with Dynamics 365. Automate the processes, upgrade efficiencies, and detect operational anomalies before they become a problem. Learn how Microsoft Dynamics development services can help you exceed customer expectations.
Advantages of Custom Microsoft Dynamics Development Services
Dynamics 365 makes it effortless for all types of manufacturers -process, discrete, batch, and repetitive to create smart factories and maximize their productivity by folds. Here's how it can help you achieve your desired goals.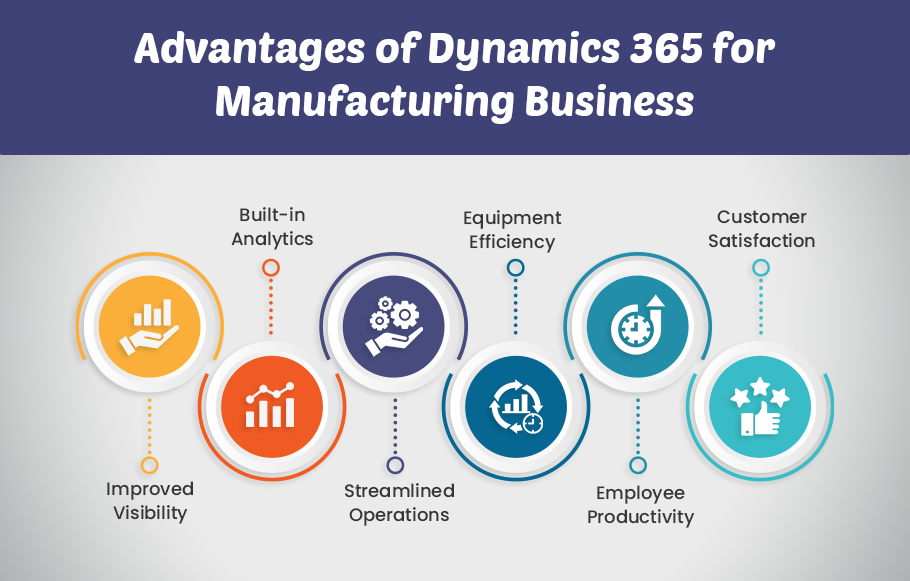 1. Optimize Supply Chain Operations
Manufacturers often rely on highly complex legacy systems to manage their supply chain. These systems work independently and are challenging to integrate.
They make it difficult to get the data from sales, suppliers, order fulfillment, product performance, and customer support in one place. This leads to lackluster customer experiences, increasing churn, and risking revenues and margins.
Modern systems like Dynamics 365 bring everyone on the same page. They break down silos and provide a holistic view of the supply chain.
For example, manufacturers can get insights into their supply chain data from the dashboard. They can automate manual work and forecast accurately by combining data with AI and machine learning.
If a process is not achieving desired results, you can get visibility into changing demand and align your supply chain to meet new needs.
2. Streamline Asset Management
Assets are the holy grail of the manufacturing business. With Dynamics 365, manufacturers can coordinate their equipment and processes better.
They can monitor their equipment with real-time data related to performance, usage, and machine lifecycle information, thereby solving issues faster.
By combining Dynamics CRM with IoT, you can observe your assets, spots broken, and inefficient components and use the data collected to enhance your equipment's efficiency.
3. Enhance Customer Satisfaction
The core problem of sales downfall is production planning. As a manufacturer, you only sell what you produce. However, if you're unaware of customer buying behavior, you can suffer significant losses as the production doesn't suffice customer requirements.

Microsoft Dynamics 365's predictive analysis and intelligence reporting provide insights into your customers' behavior and needs. It helps you track their every activity – past orders, payment modes, order frequency, forecast the demand requirements, and plan your production accordingly.
You can tailor the service to your customers' requirements and provide them with an invaluable experience.
In addition, the CRM system captures all the interactions with customers and partners in a systematic way. This allows your employees to engage with them from anywhere, anytime. With data in hand, they can quickly resolve customer queries and work collaboratively with partners on the shared goals.
4. Make Sound Decisions
The rise of digital tools not only allows manufacturers to sync their equipment and automate manual tasks. It also makes room for innovation by generating data and providing real-time insights.
Till now, manufacturers used 5 different systems to store and manage their data, which failed to provide a clear picture of the entire organization.
Dynamics 365 centralizes data, helping manufacturers derive actionable insights, make predictions based on it, and take calculated risks to optimize output. This helps cut down on costs and reduce unnecessary processes.
5. Boost Efficiency and Productivity
The entire point of leveraging Microsoft Dynamics 365 development services is to boost productivity and efficiency. By automating manual tasks, improving workflows, and providing the team with enough time to brainstorm ideas, you can boost your team's productivity, which results in higher profits.
Dynamics 365 provides you with all the tools and techniques to make the service faster and more customer-focus, all of which help provide value to your customers. This is most commonly used in smart offices all around the world, simply because the level of utilization and overall productivity improvement can be guaranteed.
Reality Check: It's Time for Dynamics 365!
The sooner your manufacturing business adopts Dynamics 365 services, the sooner you can reap benefits. If you can bring your manufacturing company to speed up with the changing customer demand, the next time the world undergoes axis shifts, you will be ready to adjust!
Find out how we can help you attain business success!
All product and company names are trademarks™, registered® or copyright© trademarks of their respective holders. Use of them does not imply any affiliation with or endorsement by them.
Befriend Technology for Transformation
Selecting the right technology is pivotal to your business's growth and success. Have you already decided the suitable one for your next project? If so, we can help you take the next step. If not, we can help you decide the best option. Connect with the Top 1% pre-vetted software engineers to build your software.