Best Mobile App Ideas for Your Restaurant and Food Business in 2023
15 Sep, 2023
7 min read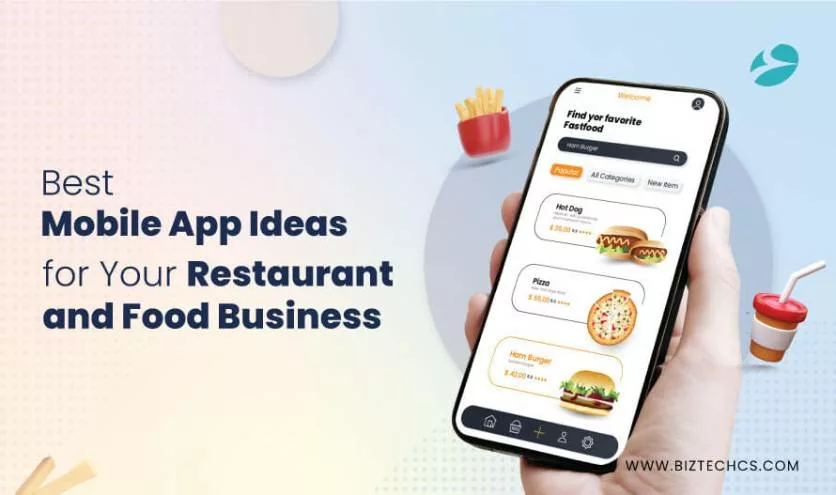 https://www.biztechcs.com/blog/mobile-app-ideas-for-restaurant-business/
Summary: Mobile App Ideas
In today's digital age, mobile apps have become an integral part of almost every industry. The food service industry, including restaurants and food businesses, is no exception. With the increasing digitization of our daily lives, it is crucial for restaurants and food businesses to adapt and embrace mobile app technology to stay relevant in a highly competitive market.
For instance, have you checked the tremendous popularity of food applications like Zomato and Swiggy?
Whether it is to deliver food to your customers' doorstep or enable your audience to book a table for dining in, mobile apps can easily help improve your customer experience. And with the right mobile app ideas, you can further create unique and dominating mobile applications for your audience.
You may as well hire dedicated developers for technical assistance in this pursuit. With the right talent by your side, you can add interesting features like
allowing customers to customize their orders,
saving favorite food choices,
receiving personalized recommendations based on preferences, and so on.
Want to leverage the mobile technology for your restaurant and food business in 2023 to its best? These mobile app ideas for your food business should come in handy.
But before we explore the varied ideas, let's help you understand 'Do you need a mobile app?'.
Why Should Restaurants and Food Businesses Invest in Mobile Apps?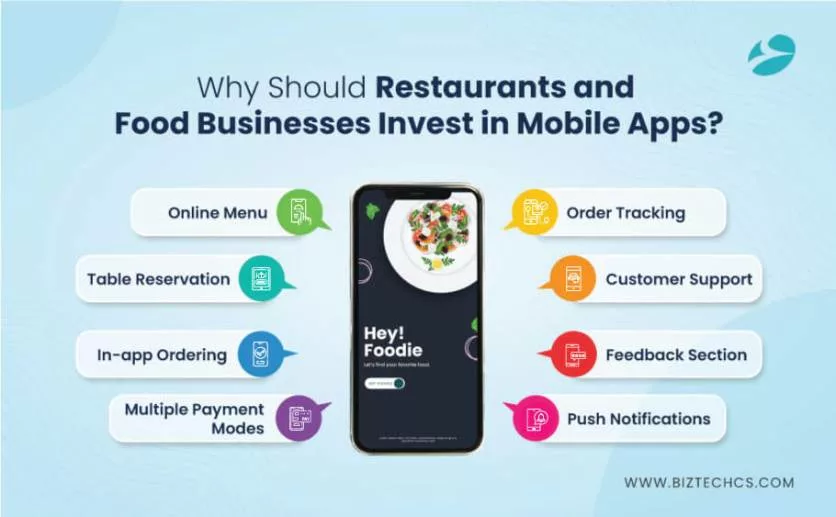 Today, mobile apps have become a necessity for restaurants and food businesses. They offer a multitude of benefits and advantages, making them a crucial investment.
First and foremost, mobile apps expand customer reach. With the majority of people owning smartphones, having a mobile app allows businesses to tap into a market with broader audience. It enables them to showcase their menu items, promote discounts and coupons, and attract potential customers who may not have discovered them otherwise.
Online menu for convenience
Customers can conveniently browse menu anytime and anywhere without having to connect with the restaurant or visiting the outlet. Customers can easily browse through the food options, select their favorite dishes, and place an order with just a few taps on their screens. This convenience saves time for both the customers and the restaurant staff, resulting in increased operational efficiency and customer satisfaction.
Does your restaurant takes table reservation? Then, a mobile app for restaurant may be quite useful for you. Customers can easily book a table or more depending on the number of people visiting. Your restaurant can also accept bookings or close ongoing bookings and cater to a wider audience segment.
In-app ordering enhances the user experience by offering convenience, speed, and a user-friendly interface. It can include features such as adding items to the cart, specifying dietary preferences, selecting delivery or pickup options, making payments securely, and receiving order confirmation.
This feature is particularly valuable for restaurants and food businesses as it facilitates direct engagement with customers and streamlines the ordering process, contributing to increased sales and customer satisfaction.
With a mobile app for restaurant, you can enable your customers to pay at their convenience. Make sure your mobile app accepts a wide range of payment options such as credit and debit cards, UPI payments, cash on delivery, shopping coupons like Sodexo, and so on.
Order tracking in real-time
Before food delivery startups explored this unexplored territory, people used to bring takeouts or call the restaurant for delivery. However, there was no way to track the food orders in real-time. But with apps for restaurants, your customers can easily track when should they receive an order, whether the food is being prepared, picked up by the delivery executive, or on the way.
With the map integration feature, they can also track the location of the delivery executive in real-time. Thereby, you get to improve customer experience and earn more loyal customers.
The feedback or review section helps understand more about the food style and reputation of a restaurant. Your customers can check out the reviews for honest pros and cons and even get recommendations for the bestselling dishes.
Push notifications to reduce cart abandonment
Whenever there's a discount or offer, your customers are immediately notified of this news through push notifications. This feature was even missing on a website! It also reminds customers of dishes or food items in their carts. Therefore, you have the option to reduce your cart abandonment rate as well.
It is much easier for customers to reach out to you with their queries and grievances and seek resolution. Make sure your mobile app has a distinguished support section that makes it easier for customers to reach out to you, should they face any issue in the process.
Mobile apps foster customer loyalty. Through features like personalized recommendations, loyalty programs, and push notifications, restaurants can engage with their customers on a more personal level.
This fosters a sense of connection and encourages repeat business, ultimately leading to customer loyalty.
Furthermore, the post-covid era has seen a significant increase in the demand for mobile meal delivery. Having a mobile app allows restaurants to adapt to this changing landscape and offer online food delivery services. Establishing a solid digital presence has become more important than ever for food brands to survive and thrive in the current market.
Top 10 Mobile App Ideas for Restaurant and Food Business
With the increasing demand for online food delivery services and the need for customer loyalty, there's much to do in this sector. Have you pondered the various ideas that can help skyrocket your restaurant business sales and customer loyalty?
If not, now's the time! Check out this comprehensive list of top 10 mobile app ideas for restaurant and food businesses.
1. Food Ordering App
Food delivery app development helps create a user-friendly app that allows customers to browse menu items, place orders, and track their delivery in real time. By extending food ordering services, you will be able to expand your restaurant's sales and attract more customers.
Examples: Zomato, Uber Eats, Doordash, Domino's, Just Eat, Swiggy, Faasos
App Development Cost:
Basic App: $10,000 – $20,000
Mid-level App: $20,000 – $50,000
Complex App: $50,000 – $100,000+
Challenges with Food Ordering App Development:
Complex user experiences
Real-time updates
Problems with order accuracy
Payment integration
Location-based services
Menu management
Cross-platform compatibility
Regulatory compliance
Offline functionality
Marketing and user acquisition
Exclusive New Features for Food Ordering App:
Virtual food customization so customers can customize their order or the virtual representation of the dish.
AR-guided 3D image views of dishes for customers to view.
Food allergy and dietary filters so your customers can order easily without contacting the restaurant for each order.
Voice-enabled ordering in food delivery mobile apps.
Social dining with features like bill splitting, inviting friends for dining in, etc.
Smart recommendations with the help of AI.
Cashback and loyalty rewards for customer retention.
Group ordering for corporate circles.
Instant language translation.
2. Table Reservation App
An app that lets customers reserve tables, select time slots, and pre-order their food to reduce waiting time.
Examples: OpenTable, Yelp, Wisely, Table Agent, Eveve, Resy, Eat App
App Development Cost:
Basic App (Single platform): $10,000 – $25,000
Mid-level App (Single platform): $25,000 – $50,000
Complex App (Single/ cross-platform): $50,000 – $100,000+
Challenges with Table Reservation App Development:
Real-time data synchronization
Integration with restaurants
Location-based services
Regulatory compliance
Different restaurant business policies
Reservation management
Complex user experience
Speed, scalability, and compatibility of app
Exclusive New Features for Table Reservation App:
Virtual waitlist and notification so users can book a table later when one is available. They don't have to actually wait in queue to get a table in the restaurant.
Let users create guest profiles with allergy and dietary information.
Add dynamic pricing features based on peak hours, weekend rush, and weekdays.
Instant reservations to book immediately.
Visual table selection to help choose a preferred table.
Table sharing by inviting friends.
In-app communication.
Social sharing and gamification.
3. Food Coupon & Discounts App
An app that offers exclusive food coupons & discounts for customers to avail while placing orders.
Examples: Ibotta
App Development Cost: $10,000 – $40,000
Challenges with Food Coupon & Discounts App Development:
Complex coupon logic
User engagement with right deals and rewards
Vendor integration
Smooth coupon redemption with minimal errors
Competitive market
Vendor onboarding
Monetization options
Exclusive New Features for Food Coupon & Discounts App:
AI-powered personalization to recommend right coupons to right users.
Location-based offers.
Real-time deals for user engagement.
Gamification like scratch cards, spin the wheel, etc.
Social sharing.
Multi-vendor coupons.
In-app wallet.
QR code scanning.
Charity coupons.
Voice search.
4. Grocery Delivery App
A Grocery Delivery App is a mobile application that enables users to order groceries, organic foods, dairy products, and essential household items from local grocery stores and have them delivered to their doorstep. These grocery booking apps provide a convenient and efficient way for customers to shop for groceries without physically visiting a store.
Examples: Fresh, Dunzo, Big Basket, Instacart, Shipt, Peapod, BlinkIt
App Development Cost:
App Design and UI/UX: $5,000 to $15,000
Frontend Development: $10,000 to $25,000
Backend Development: $15,000 to $30,000
Admin Panel: $5,000 to $15,000
Mobile App Development: $20,000 to $40,000
Deployment Cost: $2,000 to $5,000
Challenges with Grocery Delivery App Development:
Delivery logistics
Inventory management
Real-time tracking
3rd-party integration
Payment security
Regulations and compliance
Customization challenges
Exclusive New Features for Grocery Delivery App:
Voice ordering
Smart shopping list with the help of AI
AR based app for shopping
Share shopping lists and collaborate with friends and families to order groceries
Quick grocery reordering
Virtual shopping assistants
Interactive store apps
Smart cart management
Real-time local deals
In-app cooking tutorials
5. Virtual Cooking Classes App
A Virtual Cooking Classes App is a mobile application that enables users to learn cooking skills, techniques, and recipes through virtual lessons and tutorials. This app allows users to participate in cooking classes from the comfort of their own homes, providing them with a convenient and interactive way to enhance their culinary skills.
Examples: Top Chef University, Masterclass, Home Cooking New York
App Development Cost:
MVP or basic app: $20,000 to $40,000
Advanced features: 40,000 to $80,000
UI/UX development: $5,000 to $15,000
Total development cost: $60,000 to $150,000
Challenges with Virtual Cooking Classes App Development:
Content quality and engagement
Live streaming stability
Technical infrastructure
Monetization
Multi-device compatibility
Exclusive New Features for Virtual Cooking Classes App:
User onboarding to help users navigate app features and classes seamlessly
In-app quizzes and testses, voting favorite recipes
Live streaming and social sharing
Progress tracking and achievements
6. Food Waste Reduction App
Live Q&A sessions
AR cooking
Interactive recipe guides
Community cooking challeng
An app that connects restaurants or food makers with potential customers who want to purchase surplus or leftover food at discounted prices to reduce food wastage.
Examples: FoodCloud, Karma, Nowaste, Kitche, Nosh, Olio, Too Good To Go
App Development Cost:
Basic App (iOS/Android): $10,000 – $20,000
Mid-level App (iOS/Android): $20,000 – $50,000
Complex App (iOS/Android): $50,000 – $100,000+
Challenges with Food Waste Reduction App Development:
Logistics and timing to ensure timely transactions between donor and acceptor.
User verification and review to establish trust and safety to both parties.
Food quality assurance with appropriate guidelines.
Legal and regulatory compliance.
Scaling challenges.
Sustainability by introducing new features and tending to feedback.
Adherence to cultural sensitivity.
Exclusive New Features for Food Waste Reduction App:
AI-powered food expiration prediction.
Smart donation matching with an intelligent algorithm.
Food waste analytics dashboard.
Donor recognition program.
Localized food waste insights.
Partnership programs.
7. Personalized Diet App
An app that offers personalized diet plans and recommends food items based on the customer's health goals, preferences, and fitness requirements.
Example: MyFitnessPal, Ate Food Journal, Noom, PlateJoy MyPlate Calorie Counter
App Development Cost: $50,000 to $200,000
Challenges with Personalized Diet App Development:
Accurate nutritional data.
Personalization algorithm.
App integration with wearable to track various metrics.
Difficulty with accurate nutritional calculation because of food variability.
Continuous updates to meet updated nutritional guidelines.
Exclusive New Features for Personalized Diet App:
AI-powered meal recommendations based on your dietary recommendations, restrictions, and health goals.
Real-time nutrient tracking and sharing insight into whether the food aligns with a customer's health goals in calorie tracker apps.
Ingredient scanning with the help of image recognition technology.
Virtual nutritionist consultation.
Recipe customization and meal plan automation for user convenience.
Gamification and challenges.
Offline access and synchronization.
Social community.
8. Restaurant POS App
A Restaurant POS (Point of Sale) App is a software application designed to facilitate and streamline various operations within a restaurant, including order processing, payment handling, inventory management, and customer interactions. It serves as a central hub where servers, kitchen staff, and management can access and manage all aspects of the restaurant's operations from a digital device, typically a tablet or smartphone.
Examples: Square POS, NCR Aloha, Talech, Lightspeed Restaurant, Toast
App Development Cost:
Basic app: $15,000 to $30,000
Standard app: $30,000 to $60,000
Advanced app: $60,000 to $100,000+
Challenges with Restaurant POS App Development:
Integration complexity
Offline feature
Regulatory compliance
Cost management
Data security
Exclusive New Features for Restaurant POS App:
AI-powered upselling
Voice-command integration
Gesture-based order modification
Inventory forecasting
Waitlist management
Multi-language support
Automated order splitting
QR-code based ordering
Offline mode with sync
Dynamic pricing
Tableside ordering and payments
These ideas for food apps cater to the diverse needs of the food service industry, enhancing customer satisfaction, and reducing operational costs. By incorporating these restaurant app ideas you can build the best apps for restaurant owners and food business owners.
Partnering with a reliable mobile app development company will further help restaurant owners bring innovative food delivery app ideas to life and thrive in the competitive food app industry.
Successful Restaurant and Food Business Apps to Take Inspiration From
Successful restaurant and food business apps have become a game-changer for the food industry. The best restaurant apps for owners not only enhance customer engagement but also streamline operations and boost revenue.
Clearly, it's a win-win for both entrepreneurs and customers!
Now that you have explored the various AI mobile app ideas, it is time to take inspiration from some top restaurant and food business apps that have garnered immense success.
1. OpenTable
OpenTable is a popular app that allows users to make restaurant reservations effortlessly. With features like real-time availability, time slots, and user reviews, it has significantly improved customer satisfaction and streamlined reservation management for restaurant owners.
2. UberEats (Acquired by Zomato in India)
UberEats has revolutionized the food delivery industry by offering a convenient platform for ordering food from various outlets. This app gives customers access to a wide range of food menu items, discounts, and delivery options, boosting customer loyalty and expanding the potential customer base for food businesses.
3. Foodpanda
Foodpanda is a leading online food delivery app that works seamlessly with multiple restaurants. With its user-friendly interface, diverse food options, and prompt delivery services, it has helped food businesses increase their reach and operational efficiency.
4. Too Good to Go
This app addresses the issue of food waste by providing a platform for leftover food from restaurants and food outlets to be purchased at discounted rates. It not only benefits potential customers who demand food at lower prices but also reduces the wastage of delicious food.
5. MyFitnessPal
Although not a traditional restaurant app, MyFitnessPal has gained popularity among fitness freaks. By allowing users to track their calorie intake and nutritional content, it has become a useful tool for analyzing food items and promoting healthy eating habits.
6. Zomato
Zomato is the best delivery app to work for millions of users. The renowned food delivery app has revolutionized the way people order food. With its user-friendly interface and extensive restaurant listings, Zomato has become a household name in the food delivery industry.
The app's success can be attributed to its seamless ordering process, real-time tracking, and diverse cuisine options that cater to a wide range of tastes and preferences. Zomato's commitment to delivering quality food, coupled with its reliable delivery service, has earned the trust of millions of users worldwide. The app's success story also includes its strategic partnerships with restaurants, efficient logistics, and innovative features such as personalized recommendations and reviews.
These successful restaurant and food business apps serve as inspiration for entrepreneurs looking to enter the industry or improve their existing ventures. By understanding the needs of the target audience and collaborating with experienced mobile app developers, businesses can create effective digital solutions to enhance customer engagement, streamline operations, and boost revenue.
Conclusion
Mobile app ideas for restaurant and food businesses are crucial for staying competitive in the market and catering to customer needs. With the help of this blog post, we have tried to highlight the significance of these ideas in addressing various aspects of the food industry, such as food wastage, online food delivery services, customer loyalty, and managing operational costs.
By checking out these mobile app ideas to make money and earn loyal customers, you achieve success in the competitive food service industry.
Do you want to drive customer satisfaction, attract new customers, and establish your brands in the highly competitive space? Then, our mobile app developers can help you greatly. We are a renowned mobile app development company with 16+ years of experience in various industries.
With our top-vetted talent, we can help you build restaurant and food business apps unique to your brand. Connect with us today with your idea!
FAQs
How to make an app for a restaurant?
To develop a restaurant app, start by conceptualizing the app's purpose and features. Choose the development platform, design an attractive interface aligned with your restaurant's branding, and create a user-friendly menu and ordering system.
Incorporate reservation and booking features alongside other important features. Offer secure online payment options and enable push notifications for updates. Integrate social media sharing and conduct thorough testing before launching the app on app stores.
Continuously gather user feedback for improvements, ensuring a seamless and convenient experience for customers engaging with your restaurant app.
Which type of restaurant app is in demand?
Currently, restaurant apps that offer online ordering and delivery services are in high demand. With the growth of food delivery platforms and the convenience they provide, customers are looking for apps that allow them to easily browse menus, place orders, and track deliveries from their favorite restaurants.
Additionally, apps that offer features like table booking, contactless payment, and loyalty rewards are also popular as they enhance the overall dining experience.
Do mobile apps help increase sales?
Yes, mobile apps can significantly increase sales for businesses. They provide a direct and convenient channel for customers to browse products or services, make purchases, and engage with brands.
Mobile apps offer personalized experiences through user profiles and preferences, enabling targeted promotions and recommendations. Features like push notifications can alert users to special offers, new arrivals, or upcoming sales, prompting immediate action.
Additionally, mobile apps enhance customer loyalty by offering rewards, discounts, and exclusive content, fostering repeat business. The ease of use, accessibility, and seamless shopping experience provided by mobile apps contribute to increased customer engagement and ultimately drive sales growth.
Are food delivery apps profitable?
Yes, food delivery apps can be profitable for several reasons. They tap into the growing demand for convenient and contactless food ordering and delivery services, especially in today's fast-paced lifestyle. These apps connect a wide range of restaurants to customers, expanding their reach and customer base.
By charging restaurants a commission on each order, food delivery apps generate revenue. Additionally, some apps charge customers delivery fees or offer subscription models, further increasing their earnings. With the right marketing strategies and user-friendly interfaces, food delivery apps can attract and retain a large user base, contributing to their profitability in the long run.
How much does it cost to develop a food delivery app in India?
The cost to develop a food delivery app in India can vary depending on several factors. These factors include the app's complexity, features, design, development platform, and the development team's rates.
A basic food delivery app with essential features may cost around $10,000 to $20,000, while a more advanced app with custom features, real-time tracking, payment gateways, and user-friendly interfaces can range from $25,000 to $50,000 or more.
Befriend Technology for Transformation
Selecting the right technology is pivotal to your business's growth and success. Have you already decided the suitable one for your next project? If so, we can help you take the next step. If not, we can help you decide the best option. Connect with the Top 1% pre-vetted software engineers to build your software.