342
Launch of Odoo 17 - Keynote by Fabien Pinckaers
10 Nov, 2023
7 min read
https://www.biztechcs.com/blog/odoo-17-launch-at-odoo-experience/
Summary
The most anticipated event of the year Odoo Experience 2023 is in full bloom and we already have some keynotes for the latest Odoo 17 update that can transform businesses globally – right from Fabien Pinckaers himself.
The founder and current CEO of Odoo SA Fabien unveiled what are some interesting new features and improvements that you can expect from this update! We can't wait to find out more about the new upgrade.
Are you in the same boat as we are? Then, this is for you!
The launch of Odoo 17 brought about some major changes to its various modules like manufacturing, accounting, services, HR, and so on. But before we explore that, let's begin with the most important aspect – user-friendliness!
What's New in Odoo 17? Features & Improvements
User-friendliness
Improved UI
The revamped user interface of Odoo 17 has dropped the purple color it used for so long into a clearer and white background for better readability. The interface shows better recognizable icons and the black font appears more vivid against the white background so anyone ( be it an accountant, project manager, or worker) can use Odoo easily.
Dark Mode
The Odoo interface is now available in dark mode which is preferred by many.
Odoo 16 vs Odoo 17 Kanban View
The font size has been increased from 13 px to 14 px in Odoo 17. It is not just bigger but more comfortable, great to use, readable, and even has enough white space.
Unified Search Interface
The Kanban view has a unified search interface which is time-saving and improves productivity. Users can also use the 'Group by' and 'Filter' options to upend their search and get more definite and exact search results. It assures easy navigation to projects and a list view from where you can select records and assign tasks to users quickly.
Starting a Business with Odoo Website Builder
Odoo 17 makes website building a piece of cake while taking away the clumsy work of a website builder. You can create a business website by choosing the Business Type. You will get AI-built pages as suggestions which you can choose from. Click on 'Build My Website' and get it done.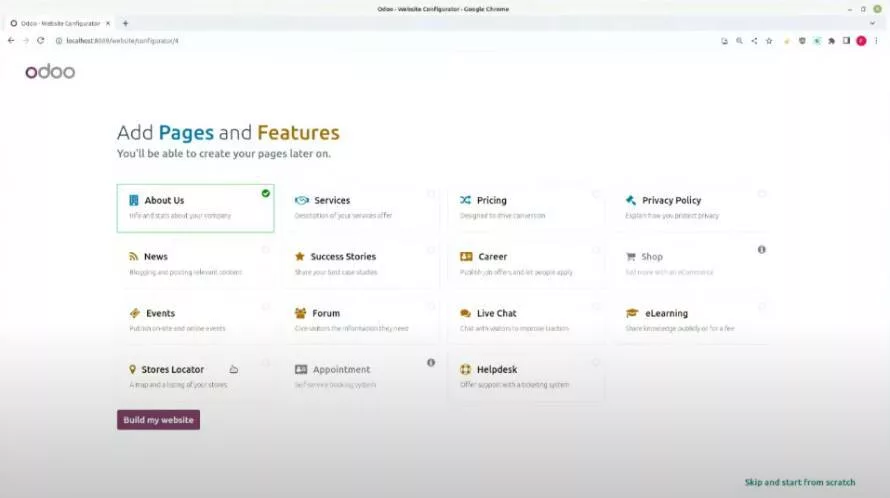 It helps kick off website creation much faster. You can also organize content, drag and drop web elements, bullets, etc.
With features like easy customization, you can do more like selecting royalty-free pictures from the web, using AI Copywriter to fine-tune your website headings and content, optimizing your image sizes and ensuring higher loading speed, adding shapes, cool effects, animate, on-scroll, on-hover animation, etc.
The images on the website are automatically converted to WebP format. Furthermore, you can add product tags and image attributes so that users can easily find products in your store. You can choose to add more pages and select the template with the right text from ChatGPT or other AI tools.
Multi-Channel Sales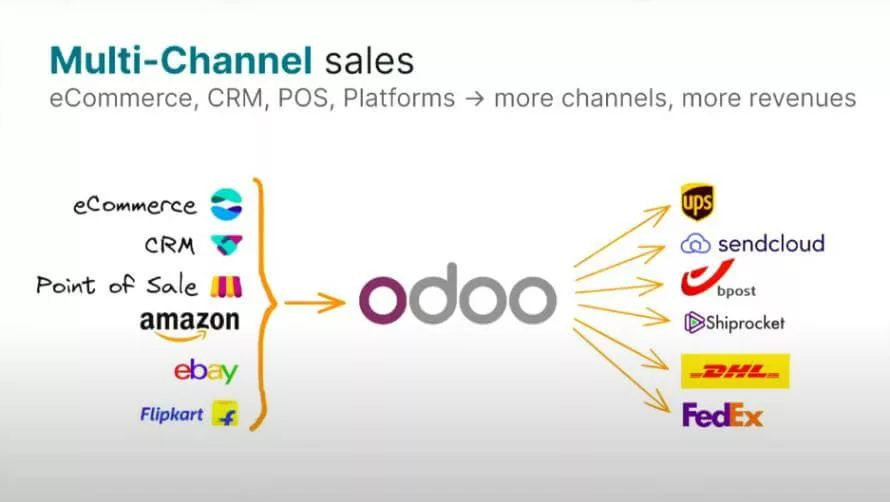 Odoo 17 has an integrated CRM with improved capabilities. You can check the time taken to convert a new lead into qualified, for them to make a proposition and conversion. You get detailed data on how much time a customer is spending on the website.
Translate customer messages in a single click.
Automate recurring orders by choosing options like yearly and monthly.
Keep track of subscriptions from the dashboard.
Easy to create quotations by adding products from the catalog view; highly time-saving.

You can transform the way quotations work and look. The Traditional Quotation from a sub-contractor can be optimized to be more professional-looking. And you can even send it in a one-click email.
Use PDF or Adobe to custom-create Quotations in Odoo for 15% higher margins if not more.
Odoo POS
Exclusive Features for Retailers, Restaurants, and Bars
You get to use Product Configurator inside POS with Odoo 17.
For retailers, restaurants and bars, orders can be displayed on the screen and processed orders can be updated with a single click.
Customers Scan the QR code and order more to the table.
Kitchen staff can also prepare orders and update task progress for a more transparent and streamlined process.
Customers can utilize the Easy Bill Split feature and share a meal with friends.
Connected payment devices ensure secure and seamless payment. All sales data are unified centrally.
Employees can close the session after the table is cleared and print the daily sales report with a click.
Multi-Channel Communication With Odoo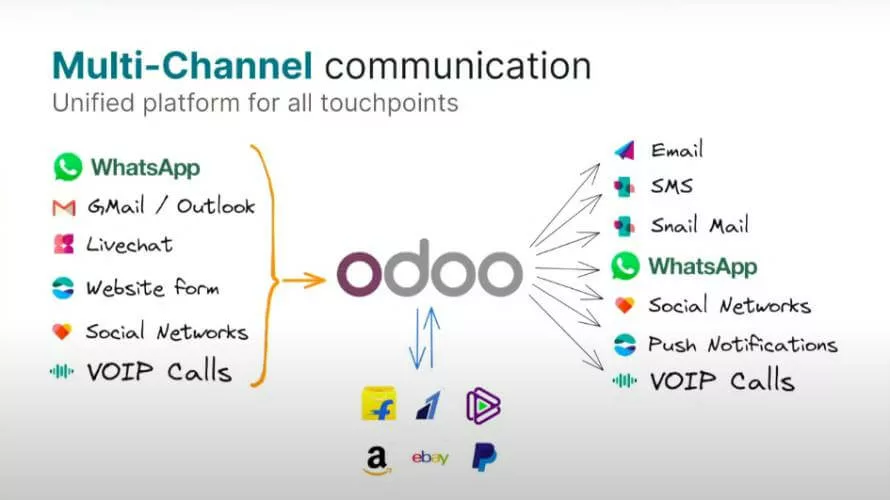 Odoo ERP manages to connect all communication touchpoints such as Whatsapp, Livechat, Gmail, VOIP calls, social networks, etc.
You can chat or send a voice message to customers, send attachments, or schedule a video conference as needed.
Communicate with clients and customers as you work with Odoo, create and send quotations on the go.
Receive SMS from customers on chat popup and respond quickly. Some interesting feature additions are a P2P centralized server, 500+ attendees, video quality, 'raise hand' during voice and video, etc.
Whatsapp Video integration with Odoo
The Whatsapp integration in Odoo 17 allows customers to send chats and orders via WhatsApp
Send curated menu options to customers
Mobile floor plan so restaurants can arrange tables and manage sitting.
Use Odoo shortcuts to add customers in CRM as potential lead
Special order requests can be updated to the baker by adding them to the conversation
Order confirmation on WhatsApp
Use templates for seamless communication.
Every app is integrated into Odoo
Send bulk messages for promotion instantly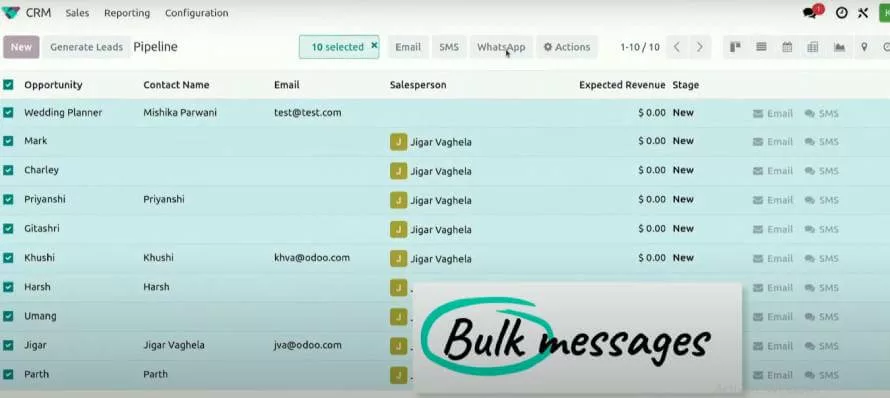 Logistics
You get Inventory information, view forecast, manufacturing forecast, and simulation to see what's more feasible and stock products accordingly.
It is highly efficient as the Purchase Order is ready to be sent to the vendor with a click.
Streamlined supply chain operations to help act in real-time.
Assign people to work on manufacturing orders, tracking what they do, and providing instructions, images, and print labels.
Employees can also suggest worksheet improvements, add components, move parts to scrap, and so on.
Component status to check any issues across operations.
Replenish missing items as you choose a vendor by checking the forecasted date. Set a vendor as a supplier and create a Quotation.
Process manufacturing orders using a barcode scanner.
Add Multiple work centers, Record production, Worksheet integration, Pause timer, Quality check integration, attach picture finished products for pre-approval, and close work order or mark as done. These are some additional features of the manufacturing module in Odoo 17.
New Services Application
Additional task status has been added. For example, In Approve, Change Requested, Done, and Canceled.
Use automation to send emails, WhatsApp messages, create triggers, and update records.
Assign users from Kanban view, change task status, sub-task directly available in Kanban view
Customize tasks easily by adding labels, properties, and so on (will be visible in the Kanban view).
ChatGPT integration helps to create task requests with detailed requests to users.
Timesheet and Billing Rate
Complete visibility on the billing and timesheet ratio
Get more information on various users
Filter the list by billing time leaderboard or total time leaderboard
Fun animations for user profiles
Project profitability report helps with timesheet tracking and checking how profitable your ongoing project is.
Knowledge Module
Perfectly integrated into Odoo
Choose templates and even build templates for knowledge content.
Check old content, new content, and compare them. You can also add comments.
Library of templates
Collaborative editing
Improved sharing
Revision history
Versions
Multi-langauges in AI
Export PDF
Accounting
New Keyboard Shortcuts CTRL+K
Split and merge documents and share with the respective department.
Easily search for bills through index content. The search feature also works for images.
Link vehicle and track expenses.
Multi-page thumbnail for invoices.
Odoo 16 had a scamming protection feature. Bank account validation before outgoing payments. In Odoo 17, it will point out if there is risk involved and reasons why it is risky.
Assign authorized personnel who can validate bank accounts.
Get deferred entries in a single click with invoice validation requests.
Payments
Easier view based on invoice lines
Add additional columns
Create batch payments after validation

Official Peppol Access Point – Free for Enterprise Users
Credit limit contains validating sales order
Peppol status to see if the invoice is received or not
Create bank statement and print in a click; available in Odoo 17 accounting
Find missing transactions for deleted transactions as they have a unique ID.
Bank Reconciliation is grouped by Accounts and Partners. The old widget is replaced with new one.
Auto-reconcile corresponding amounts or all accounts in a single click
Refurbished financial reports
Combining different financial reports together in a single report (P & L, Balance sheet, VAT Return, etc.)
Odoo Accounting Analytics
Powerful reporting across all dynamics
New analytics reporting is grouped by different months with all dimensions available on the left. Choose as you want and split it by department, platform, region, or anything else. You get detailed analytics reports out of the box.
HR Suite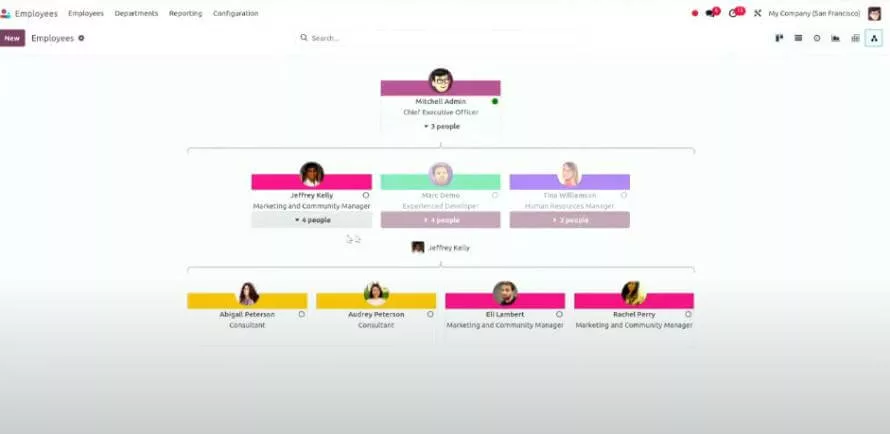 Simplified chart view of employees besides the Kanban View.
Navigate different levels of employee hierarchy.
Drag and drop employees after promotion.
Skills and data fulfilled in Odoo with AI
Print resume of one or multiple people.
Calendar view shows who is working from where (office or remotely)
Chain multiple signatures for easy signing of documents.
Odoo New Apps
To improve the experience of visitors, these apps are introduced in Oodoo 17. Here's a summary of new apps added to Odoo.
Shop Floor (MRP)
Kitchen Display
POS Kiosk
Whatsapp
Front Desk
Meeting Rooms
To – Do
Customize these easily with the no-code Studio app.
Bottomline
The code and templates in Odoo 17 takes up only 8.3 MB, which is quite less compared to 9.8 MB in Odoo 16. Similarly, the Odoo 17 CSS takes up 1.7 MB only compared to the 2.4 MB use in Odoo 16. The loading time of Odoo v16 took 2 seconds 16 milliseconds while that for Odoo 17 takes only 53 milliseconds.
In fact, the HTTP server client request has been reduced to 3 in Odoo 17 compared to what it was in Odoo 16. The Odoo 17 upgrade is much bigger and brings forth exciting new features with more to come in the coming days.
Amidst this, Fabien Pinckaers shows us a hopeful future where he plans to take Odoo number of active users from a mere 5,000 to 50,000, a 10x improvement. Want to know how? Stay tuned for more details about the next chapter of Odoo.
If you need assistance with your project, an Odoo development company like BiztechCS can be of great help. As an Odoo partner, we can help with implementation, migration, development, customization, support, and even more. 
Therefore, choose to connect with the right Odoo experts and seek the necessary support for the same!
Befriend Technology for Transformation
Selecting the right technology is pivotal to your business's growth and success. Have you already decided the suitable one for your next project? If so, we can help you take the next step. If not, we can help you decide the best option. Connect with the Top 1% pre-vetted software engineers to build your software.