1105
A 16 - Point Shopify Checklist to Launch Your Store
26 Aug, 2022
5 min read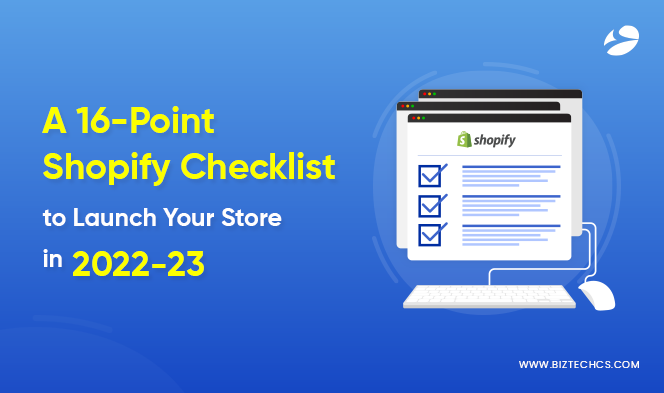 https://www.biztechcs.com/blog/shopify-checklist-to-launch-new-store/
Summary
So you're all set to launch your app on the Shopify app store. Great!
But have you decided on your short-term and long-term goals? What about the marketing plan? How will you analyze your sales?
Don't tell me that you haven't given it a thought!
Launching a Shopify store is easier, but it takes a lot of effort to drive revenue and be a successful brand. Around 90 percent of Shopify stores fail. The primary reasons are complex interface, unverified domain, poor optimization, shipping problems, mobile responsiveness, poor customer service, and lack of marketing.
However, with a methodical approach and our detailed Shopify checklist, you can eliminate the obstacles affecting your sales and road to success.
Here's an organized 16-point Shopify store launch checklist for you:
1. Add your Custom Brand Domain
A domain is the first thing that customers see. That's how they remember you!
Having a custom domain helps with brand recognition. It makes it easier for customers to remember you. For example, instead of www.biztechcs.yourstore.com, a domain like 'www.biztechcs.com' sounds better.
Hence, use your own domain name. Ensure that the name isn't already a trademark by another business. You can purchase your custom domain name directly through Shopify.
If your custom domain name is unavailable, flex your creative muscles and develop something creative. Pepper, for example, uses wearpepper.com as its URL.
Many websites also use TLD (top-level domain) variations such as .gov, .edu, .org, depending on their services. You can use region-specific domain like .co.us, .co.uk, .co.in, and .com.uk. Ecommerce stores usually use .shop and .store.
You can use these or be creative here as well.
P.S. Your URL should be simple to use and express the brand intent.
2. Customize Theme Design
It takes less than 5 seconds for customers to form opinions about your website.
Remember to have an intuitive interface. Make it easy for users to navigate and browse items. Provide useful information at your fingertips.
Here are a few other things we recommend to make your website design attention-grabbing.
Maintain consistency across the website. Be its fonts, colors, primary styles, etc.
Have a clear and appealing call to action to drive customers to sales
Design a logo that resonates with your brand
Have high-quality images
Make it clear what makes your brand stand out
Include visual effects for attention-grabbing
Have easily accessible cart and checkout pages.
Pro Tip: Hire dedicated Shopify developers to customize your e-store.
"Shopify Theme Customization: How to Create Custom Shopify Pages That Sell?" – This is a very useful article for your readers to learn more about Shopify Theme Customization.
3. Design Standard Pages
It's important to build customer trust. And for that, static pages play an important role. They help visitors learn more about you and your business.
Include static pages like Home Page, Contact Us, About Us, and FAQs.
Home page helps them understand if the store provides what they are looking for.
Contact Us page reassures the authenticity of the store.
About Us page tells your shoppers about your brand, business values, mission, etc. It helps build trust.
FAQ page helps customers find answers to their questions. This page saves your customer service team's time and effort.
4. Optimize Shopify Store for Conversion
Along with grabbing attention, also think about conversions.
Here are some ways to optimize your store to increase sales.
Use videos to demonstrate products.
Offer live chat to address customers' concerns and answer their questions.
Display countdown timers to give shoppers a little push to action.
Ensure your website works well. It should consider all the information related to products, delivery times, return policies, etc.
Use a sticky 'buy now' button to allow customers to make quick purchases and checkout with a single click.
Include a wishlist and 'save for later' so shoppers can save and purchase products later.
Add customer reviews to add credibility and trust.
5. Double-Check Product Information
Wondering why this is in your Shopify launch checklist?
Because while adding bulk product information, some data might be misplaced or inaccurate. This inaccuracy in descriptions, images, and product price may result in disappointed customers, refunds, and returns.
So before launching your store, ensure all the information related to your products/services is accurate. Double check product/service name, description, pricing, tags, images, tax and shipping information, etc.
6. Focus on Ecommerce Store SEO
93 percent of traffic comes via search engines. 49 percent of shoppers use Google to discover a new product.
If you're launching a Shopify store, you want to ensure your products appear in the search results of what customers are looking for.
Here are some tips to rank your store on the first page of search engines:
Invest in content marketing: Create valuable and informative content. It could take any form, including blog articles, images, videos, and so on. You can also create podcasts, as one of the benefits of podcasting is they are easy to start, even if you don't have enough podcasting experience. Google will devalue your content if it's for SEO and not customers, according to their latest 'Helpful Content' algorithm update. If you do want to take help from AI for creating content, be sure to use paraphrasers instead of AI content generators. A paraphraser rephrases existing content rather than generating some from scratch, due to which it can be constructively employed for content marketing purposes.
Keyword: Include search terms related to your products/business.
Keyword optimization: Include keywords in product descriptions, headings, meta titles, descriptions, etc. Don't overuse keywords!
Design sitemap: Organize and clarify your website content, and remove unnecessary pages. This makes it easier for search bots to crawl and categorize new pages on your website.
Add schema markup: Adding structured data help search engines parse and understand website information effectively.
Test hyperlinks: Ensure all the internal links navigate users to the expected pages/outcome. Broken links can lead to frustration, and you might lose customers too.
Optimize site speed: Optimize images, evaluate your hosting provider, consider content delivery network (CDN), reduce total redirects, limit HTTP requests, and capitalize on caching to improve user experience.
7. Add Sales Channels
Another step on your online store checklist is to include additional sales channels. It helps you expand your business horizons and reach more customers.
According to consumer preferences, 65 percent of customers are comfortable buying from third-party sellers if they are active on known marketplaces and verified platforms.
So, list your business on popular marketplaces like Amazon, Google Shopping, eBay, Facebook, etc. Connect them with your Shopify website so that you can track the orders and customers across all platforms.
In short, provide an omnichannel experience. Reach your customers where they are. It will help you gain traction.
LeSportsac – a legacy lifestyle brand, has witnessed a 30 percent increase in its orders after implementing a multichannel sales strategy. Apart from their online Shopify store, they list their business on marketplaces like Amazon. They also have an offline store.
8. Strengthen your Email Marketing
You may say that email marketing is dead, so why is it on the Shopify store checklist? Well, email marketing is still strong!
In fact, 73 percent of millennials prefer businesses to communicate and share brand updates via email. Hence, strengthen your email marketing. Customize your email templates and create sequences that nurture your list and drive sales.
Here's a sophisticated order confirmation email from AllBurst.
Subject: Your Feet Say Thank You
Some email templates that you should automate include:
Welcome series
E-receipts
Order confirmation
Abandoned cart reminders
Shipping notifications
Send promotional drip emails and holiday offer SMS to gently remind your customers about the offers they shouldn't miss out on.
9. Install Essential Apps
Shopify offers tons of apps to integrate with your e-store. But not all will be essential for your store. Most of them may not even be required for your business.
So, to caution you from slowing your website with unnecessary app integration, I have added this point to your Shopify checklist.
Install only required apps when you're launching your store, such as:
Bulk product editor
Product reviews
Social media feeds
Shoppable links
Currency converter
SEO optimizer
Abandoned cart management
Discount code generator
Order export
Countdown manager
Include more as your business expands!
Here's a bundle of 28+ Shopify apps you can try for free – CommerceXpand. It has apps for engagement, store optimization, and conversion.
10. Conduct a Content Audit
Google recently announced a 'Helpful Content' algorithm update. According to which, your website content should be for your visitors. The blog posts you share should be informative and valuable to your shoppers. It should not be for SEO.
Hence, audit your content. See that all the loopholes are covered. Ensure the credibility, uniqueness, and value of your content. Use tools to check for plagiarism, spelling mistakes, grammar errors, etc. Maintain consistency by using a style guide such as AP or MLA.
Also, get help from a reputable paraphrasing tool to enhance your text and to remove plagiarism from it.
On technical aspects, test hyperlinks, and buttons. Look for broken links, 404 errors, image rendering, and responsiveness issues. Check your website in all the browsers and ensure it provides a similar experience on every platform.
11. Review Checkout and Payment Options
Before planning your business' goals, ensure that your customers can complete the purchase swiftly. According to Baymard, the average shopping cart abandonment rate is almost 70 percent.
The primary reasons are a long and confusing checkout process, aggressive upselling during transactions, slow website loading, high shipping costs, prices in foreign currencies (for businesses across borders), payment security doubts, etc.
So provide your customers with frictionless checkout. For that, make sure:
The checkout process is easy, quick, and sorted. Provide one-page checkout (if possible).
Shipping rates are displayed on the checkout page.
Shoppers can edit their cart's content.
Discount codes can be redeemed.
The estimated delivery time can be known.
Order status can be tracked.
Language and currency switcher are available for shoppers in case it's needed.
Tax and shipping rates are mentioned clearly.
An order confirmation email is sent after the purchase.
Lastly, provide familiar payment methods such as credit card, PayPal, Stripe, Shop Pay, etc.
You should also provide other payment options that your target audience prefers. For example, cash on delivery, EMIs, buy now pay later, and so on.
Double-check if you have added this to your eCommerce store launch checklist.
12. Adjust your Tax and Shipping Settings
It's important to understand your tax and shipping duties while launching Shopify store. These taxes can affect your international shipping costs and customer experience.
Hence, double-check your shipping and tax settings. See if you have charged accurately for the region. If you don't, you might turn your profit into a loss.
If you are unsure how to charge, the best way is to consult a tax accountant.
13. Have a Pre-Launch Ecommerce Marketing Plan
Once you're set with your Shopify store setup, create a marketing plan to make customers aware of your business and promote it.
There are different on-page and off-page activities you can do to gain traction, such as:
Leverage social media
PPC advertising
Create SEO strategy
Content marketing
Email marketing
List all of these and the other activities you would do to promote your business and increase conversions.
Insider Tip:
Ensure your marketing plan includes SMART goals and objectives.
Create a buyer persona to target the right audience.
Have a holiday marketing calendar in place.
Partner with a Shopify eCommerce development company for market trends.
14. Make Use of an Analytics Tool
How would you know what's working for your business and what's not? The answer is analytics.
Integrating an analytics tool gives you an insight into your visitors and customers. Hence, make the most use of the in-built analytical reporting and third-party tools such as Google Tag Manager and Google Search Console.
Here are some other tips that you should consider to get a 360-degree view of your business:
Verify checkout tracking
Customize tracking campaigns using URL Query String Tags
Filter bots and spiders
Set up Meta Analytics
Tip: While launching Shopify store, understand the importance of eCommerce KPIs:
Conversion rate
Lifetime value
Acquisition costs
Bounce rates
Click-through-rate
Net promoter score
Average order value
Revenue by traffic cost
Cost variance
Email opt-ins
15. Set up Billing Information
Shopify provides a 14-day trial. So, choose your plan and ensure you have all the billing information in your system. If you reach the end of the trial period without adding information, you may not be able to accept or process orders. Hence, include it in your Shopify checklist!
16. Set up Shopify App Store Helpdesk
The last thing on the Shopify checklist, but the most important, is to provide your customers with a helpdesk!
Good customer service means increased sales and better customer retention. That's why having the right helpdesk is essential. It solves their problems, engages with customers, and converts them into loyal customers.
Choose a helpdesk that integrates seamlessly with your online store and is customizable.
It should have features like live chat, chatbots, FAQs, knowledge base to provide customers with an instant solution.
A helpdesk software that I would recommend is DeskXpand. Try it for yourself and share the experience!
Valuable Tip: Make it easy for your customers to reach you. Update your contact information and provide the right information. Implement self-service to save your customers and staff's time and efforts.
Shopify Launch Checklist: Final Word
Implement the Shopify checklist and witness the results!
I know that you might miss out on some, and that's totally fine! You can explore as your business grows. BUT. What if you can implement all the points mentioned in the online store launch checklist without missing out on any?
Wondering how?
By partnering with a Shopify development company!
They will ensure all the feature-specific elements in the Shopify eCommerce checklist. You won't even have to worry about them.
They will take care of SEO, image optimization, custom themes, designing standard pages, seamless checkout, user experience, third-party app integration, and so much more.
Hurry up! Start looking for the right Shopify development company. You can start your search from us! 😉
Befriend Technology for Transformation
Selecting the right technology is pivotal to your business's growth and success. Have you already decided the suitable one for your next project? If so, we can help you take the next step. If not, we can help you decide the best option. Connect with the Top 1% pre-vetted software engineers to build your software.