1384
Top Reasons to Choose Shopify for Building Profitable eCommerce Store?
19 Dec, 2022
5 min read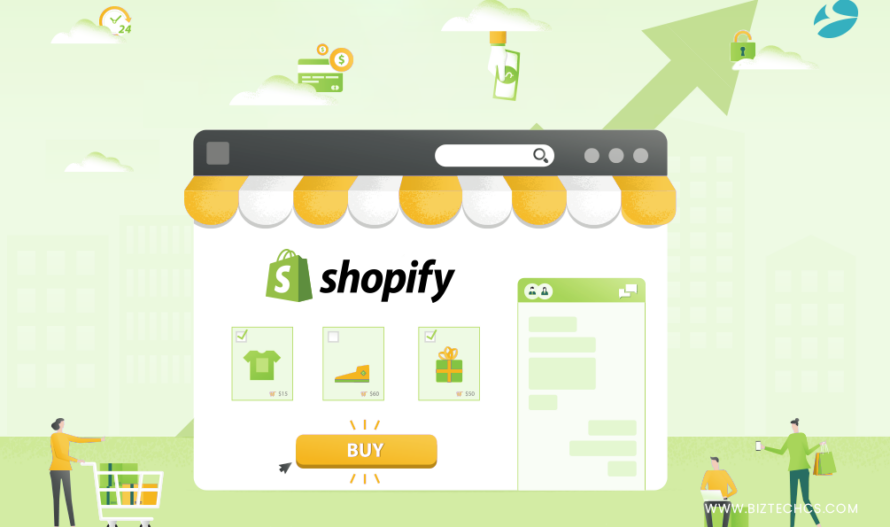 https://www.biztechcs.com/blog/why-choose-shopify-and-its-benefits/
Summary
When it comes to building eCommerce stores, businesses have many concerns. You have to develop a user interface that can engage with the target audience, a smooth navigation menu so shoppers can browse products conveniently, and a secure payment gateway so that transactions are processed securely.
However, the journey to achieve all of it begins with choosing the right eCommerce platform. So, if you are searching for the best eCommerce platform, you must have heard of Shopify. It is one of the leading eCommerce platforms and certainly the easiest one.
In fact, over 1.75 million businesses use Shopify in 2022 for developing their eCommerce stores. And as per predictions, the Shopify stores will see more than 500 million buyers this year.
Let's explore more about the benefits of Shopify website and how they contribute to making a better engaging online store.
What is Shopify?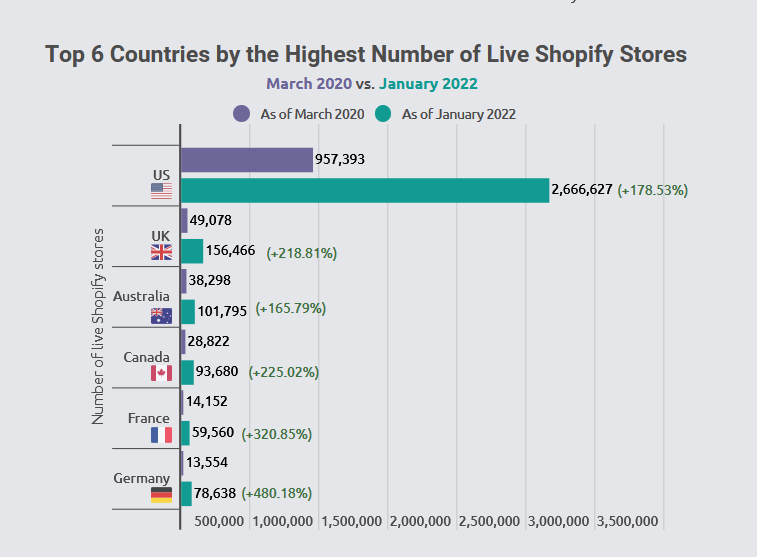 A multinational company Shopify Inc. with headquarters in Ottawa, Canada built and released the Shopify eCommerce software in 2006. The platform is saas-based and can be used significantly for the development of an online store and POS (point of sale) system.
The Shopify platform comes with the biggest flexibility – a simple user interface that you can drag and drop elements and build an online store conveniently. It comes with a dedicated hosting service. Thus, you don't have to take care of hosting by yourself.
Shopify also comes with an app store containing a plethora of applications to assist your eCommerce development process. It is not open-source software and is maintained by its parent company.
The various Shopify plans are mentioned below
| Plans | Basic | Shopify | Advanced | Shopify Plus |
| --- | --- | --- | --- | --- |
| Pricing of Shopify | $29/ month | $79/month | $299/month | Starts $2,000/month |
The basic, Shopify, and advanced plans might as well come with a transaction fee of 2%, 1%, and 0.5% respectively if you use a third-party payment gateway. If you use the Shopify payment gateway, you may not need to pay any additional fee.
Now that you are familiar with how Shopify works, let's explore the many advantages your business can leverage by using Shopify to build an online store.
Read Also: Magento vs Shopify
What are the Benefits of Shopify eCommerce Platform?

Easy store setup
Shopify is hands down the easiest and simplest eCommerce platform of all time. It takes less to no technical knowledge to build a robust, scalable, and profitable online store. You get an intuitive admin interface to set up your online store.
And if you are still confused, you have video tutorials and online materials for assistance. The interface comes with an easy drag-and-drop feature so that you can customize your online store just the way you want, even with no web development experience.
Fast loading speed
Shopify uses a globally hosted CDN (content delivery network) that makes your store's pages more readily accessible to end users. They can quickly access your store, browse different pages, and purchase products.
Besides its CDN, you can also use Shopify apps such as AMP (Accelerated mobile pages) to convert some sections of your Shopify store to AMP. This Google-created app ensures your store's page loading time decreases significantly.
Visually engaging store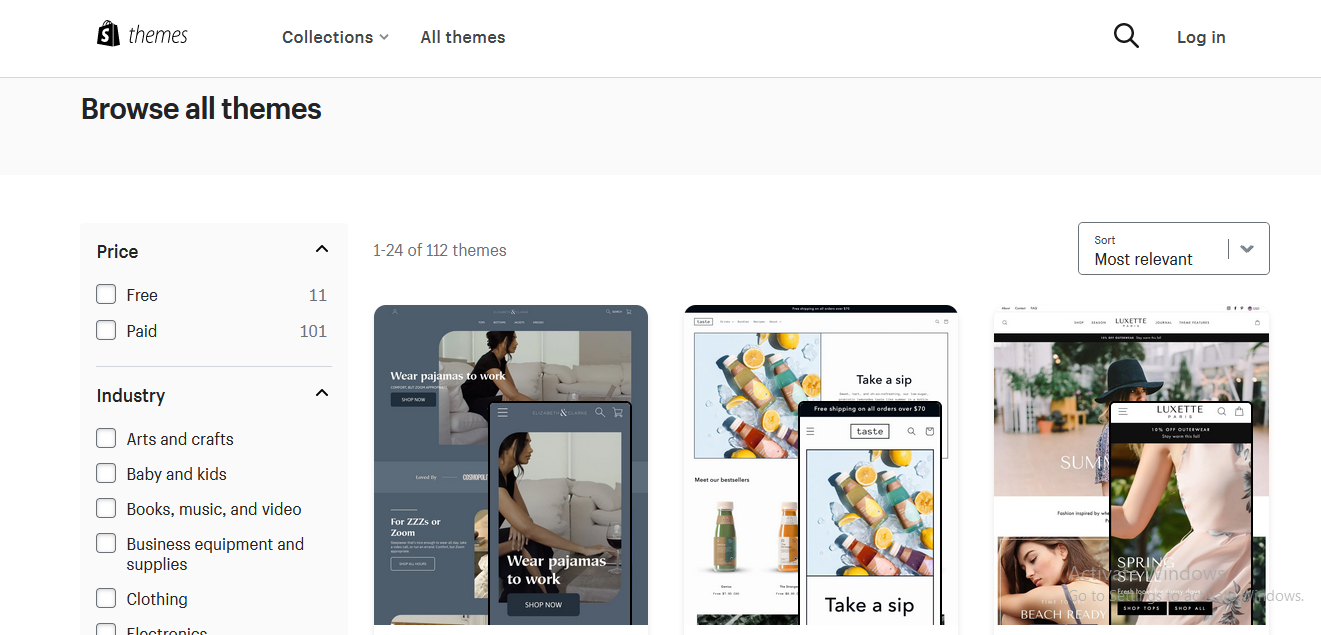 There are about 101 Shopify themes found on its app store. You can either download them from the app store or get other themes from Themeforest. You can make use of any of the unique themes to develop an engaging storefront.
Some popularly used Shopify themes are – Minimal, Minion, Ella, Mysterio, Vendy, Responsive, District, Icon, etc. You can also customize these themes as per your needs to create a more engaging user interface.
Secure & reliable
Shopify excels as an eCommerce platform in terms of security as it uses SSL encryption and complies with PCI DSS needs. The various security features present with Shopify platform protect your store from data breaches and unauthorized access.
Alongside its built-in security features, you can also use best store management practices like regular backups, locking restricted content, and enforcing code management standards. The platform is not only secure but also reliable for use. It is one of the many Shopify advantages you must note.
Mobile-first
Did you know that 46% of customers use a mobile device for purchasing products? And about 55% of website page views originate from a mobile device.
That explains the reason well that why you must build a mobile responsive eCommerce store. One of the noteworthy benefits of using Shopify is that it is completely mobile first. The Shopify themes you use are completely mobile responsive and so is the checkout process.
Seamless payment
One of the significant bottlenecks of any eCommerce business is setting up the payment process securely. They have to integrate a secure payment gateway and ensure there are no vulnerabilities.
Fortunately, Shopify makes the process of payment gateway integrations much easier for you. With the help of Shopify payments, you can easily enable a multi-payment facility for your store. It will help your shoppers to shop more seamlessly and pay using their preferred payment methods whether it is from a debit card, credit card, or UPI.
24/7 customer support
If things go wrong with your eCommerce store, it might take a lot of time for you to resolve it. And the time will surely impact your business. However, the same is not true when you build your store with Shopify.
The eCommerce platform provides round-the-clock support to its users for their various problems in building or managing the store. One of the prominent Shopify benefits is that you can reach out to the Shopify experts anytime via call, chat, or email as you prefer.
SEO friendly
Getting your store ready for launch isn't the only thing you have to worry about. You also need to strengthen your SEO tactics and make your store optimized for search engines. While it majorly depends on your SEO efforts, the platform has a lot to offer in building SEO-friendly stores.
Talking about Shopify, the platform has several built-in tools to make your online store search engine ready. You can easily add meta tags or edit page titles without having to add any apps. However, integrating apps like SEO Suite, SEO Booster, and SEO Optimizer will give you a lot more options to optimize your store for search engines.
Availability of marketing tools
Shopify doesn't only excel in search engine optimization but also provides extensive opportunities for your marketing efforts. The various marketing tools present with Shopify allow you to analyze store statistics and analytics, target specific audience segments with email marketing, or improve eCommerce sales with discount coupons, custom gift cards, etc.
Scalable
Shopify is considered to be best for small businesses and medium-scale businesses. However, it can also be used seamlessly for businesses of any size because of the immense scalability option it provides. Here, you don't have to worry about the massive amount of visitors overburdening your online store as Shopify-built stores can be easily scaled to meet your changing needs.
Since you don't have to take care of hosting independently in the case of Shopify stores, you can upgrade to a better plan anytime when your business needs change. It will ensure you don't lose any valuable customers at any point in time.
Rich third-party app ecosystem
If you want to attract more audience or retain them on your online store for better conversion opportunities, third-party apps are your best bet. You can integrate these third-party applications to enhance the features and functionalities of your eCommerce store.
Whether you want to improve the SEO of your online store or want to handle inventory, manage dropshipping, or sell via social media platforms, third-party app integrations make it all possible. You can make use of the app store to download these applications and utilize the features presented by those without having to code anything here. You can also hire someone to build Shopify store by making these integrations more effortless.
Or, you can check out our 16-point Shopify checklist for launching the online store.
Shopify Plus benefits
When you build your store with Shopify, you get to leverage the many benefits of Shopify plus by upgrading to the relevant plan. Some of these benefits include
The transaction cost is 0.15% for each transaction if you use a third-party payment gateway for processing payments on your Shopify store. If you use the Shopify payment gateway, you don't have to pay any transaction charges. It can be especially helpful for businesses that have a huge number of products to sell.
You can use the Shopify wholesale channel to manage all your B2B transactions. With Shopify plus, you will be able to create a separate password-protected forefront of your eCommerce store with products at discounted prices. You will also be able to manage your both B2B and B2C orders, inventory, and customers from the same account.
You can customize your store's checkout experience with checkout.liquid of Shopify plus. Adding trust signals, and offering promotions or discounts, enabling a checkout breadcrumb menu are some of the personalization you can perform with Shopify plus. It will help you generate more return on investment.
If you want to manage your several Shopify international websites under a hood, it is only possible with Shopify plus. You can add up to 9 international Shopify businesses and manage all of them from one place. In addition, you can also get assistance with local shipping, currency rate, and localized content experience.
With Shopify plus, you get to leverage the benefits of the Shopify POS pro plan automatically.
Shopify plus enterprise apps are free for use in this case.
You can have unlimited staff accounts with Shopify plus.
You can further hire an expert Shopify developer to optimize and set up your store for more profits and conversion.
Now that we have seen the benefits of Shopify, let's check some of its drawbacks.
Limitation of Shopify

Limited customization options
Since Shopify is one of the simplest eCommerce platforms available, it doesn't leave much room for customization to take place. Here, the opportunities for customization are minimal. You may make some tweaks and changes to the Shopify themes and give your store a unique look and feel. However, if you want to solve this problem, you may consider connecting with a professional Shopify eCommerce development company.
Could be expensive
Shopify isn't an open-source software and you will have to opt for a plan to use any of its features. Besides the plan pricing, there is also a transaction fee levied on each transaction that happens on your Shopify store.
However, you can go with the Shopify payment gateway to avoid paying transaction charges. You can manage and reduce the overall cost of using Shopify by better managing your plan, features, and sales.
No email hosting option
Unfortunately, Shopify doesn't come with an email hosting service. Thus, you don't have access to email with your domain name (@your domain name). If you want to use this feature for your eCommerce store, you will have to pay additional fees and get it from a hosting provider.
These are some of the pros and cons of Shopify eCommerce platform. While there are some disadvantages to the platform, they can be resolved by taking the necessary steps. One of them is to hire Shopify app development company and get the necessary professional assistance.
If you are still looking for Shopify developers for hire, BiztechCS can be of your assistance. We are a leading Shopify development company and can assist you through migration, update, store development, and customization processes flawlessly.
Takeaway
Shopify is a well-recognized name in the eCommerce industry. With the security and reliability it has earned in the industry, it is now a preferred choice of many businesses. Amidst that, if you want to know what are the benefits of using Shopify, I would say there are plenty to count on.
Shopify is easy to use, it is scalable, SEO-friendly, and loads faster, which are pretty much the prerequisites of an eCommerce store. Thus, investing in building a Shopify store is definitely a profitable choice when you know how to work around it.
If you are unsure how to set up your Shopify store the right way, we are here to help. Connect with our team to get started immediately on your eCommerce project.
Befriend Technology for Transformation
Selecting the right technology is pivotal to your business's growth and success. Have you already decided the suitable one for your next project? If so, we can help you take the next step. If not, we can help you decide the best option. Connect with the Top 1% pre-vetted software engineers to build your software.