335
Hyvä Theme: The Ultimate Solution for Performance-Driven Magento Store Owners
12 Sep, 2023
7 min read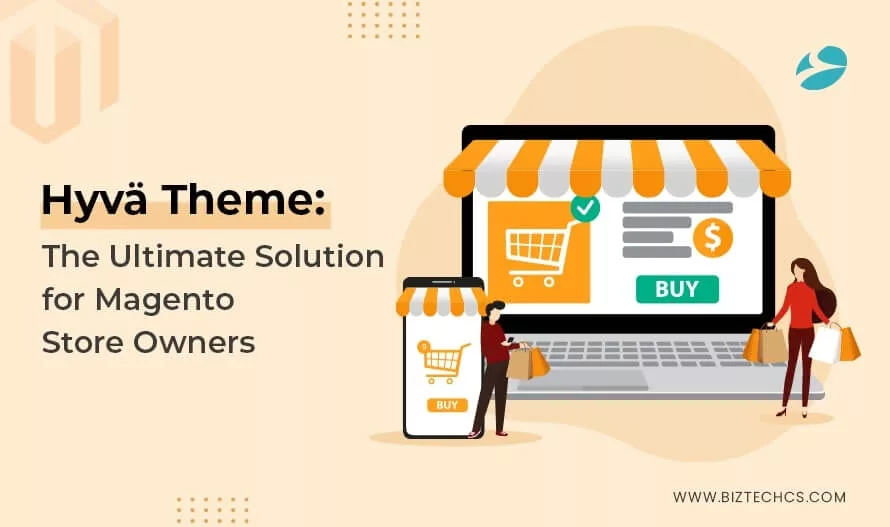 https://www.biztechcs.com/blog/why-choose-hyva-theme-for-magento-store/
Summary
In the bustling world of e-commerce, where every second counts and customer experience reigns supreme, the need for a lightning-fast, performance-optimized Magento store has never been more crucial.
If you're a Magento store owner on a quest for the ultimate solution to turbocharge your store's performance, then the Hyva theme might be the one to turn the world of Magento web development upside down.
The attention spans of online shoppers are shrinking faster than ever. Even a little delay can send potential customers scurrying to your competitors. But fear not, for the Hyvä Theme is here to rescue your store from the clutches of slow-loading pages and performance bottlenecks.
In this blog post, we'll embark on a journey to uncover why Hyvä Theme is the go-to choice for performance-driven Magento store owners, how it revolutionizes your website's speed, and why it's redefining the rules of the e-commerce game; all before you hire dedicated Magento developers for your project.
So, buckle up, because the era of the ultimate Magento performance solution has dawned.
What are Hyvä Themes?
Hyvä Themes are the ultimate solution for performance-driven Magento store owners. These themes are specifically designed to optimize conversion rates and deliver an exceptional user experience.
Hyvä Themes prioritize simplicity and performance, making them the perfect choice for business owners who value time to market and want to enhance their online store's performance.
Developed with performance in mind, Hyvä Themes utilize cutting-edge technologies such as Tailwind CSS and Alpine.js. By replacing bulky libraries with these lightweight solutions, Hyvä Themes significantly achieved
Improved page loading speed,
reduced bounce rates, and
improved SEO rankings.
The themes are compatible with third-party extensions and do not require complex development processes.
In addition, Hyvä Themes offers comprehensive online documentation, a dedicated Slack channel for support, and an active community of experienced developers. The Hyva themes are also compatible with Magento 2 and Adobe Commerce, making them the go-to solution for online store owners looking for maximum performance and seamless functionality.
How did it all start?
The two default Magento themes or templates are Luma and Blank. While Blank works as a basis for Magento theme customization, Luma is a demonstration theme and can be used as is.
Hyvä Themes originated from the need to address the challenges faced by Magento store owners with these default themes. Recognizing the importance of user experience and performance in driving conversions, the creators of Hyvä Themes embarked on a journey to develop a solution that would optimize these aspects.
Motivated by the desire to provide a better online shopping experience and improve the time to market for businesses, Hyvä Themes was developed as a frontend solution for Magento stores. By integrating cutting-edge technologies such as Tailwind CSS, and a PHP framework, Hyvä Themes prioritizes performance optimization and responsive designs to ensure faster page loads and enhanced usability.
The Hyvä Themes Usage Statistics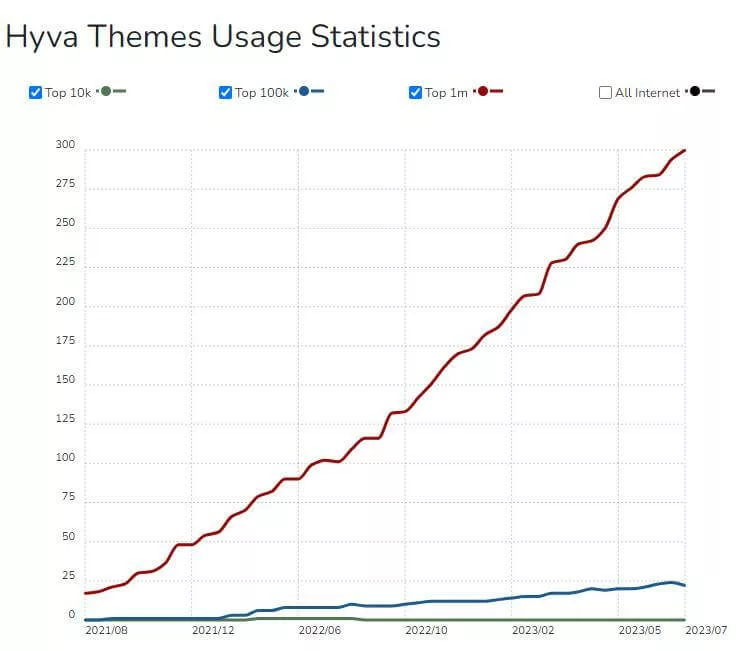 Hyvä Themes has gained significant traction among e-commerce website owners worldwide. Currently, a substantial number of online stores have embraced Hyvä Themes to optimize their performance and enhance user experience.
As per reports, there are about 2,119 live websites leveraging the power of Hyvä Themes to drive conversions and improve their search engine rankings. It is the 11th most popular theme used by the top 1 Million websites in the non-platform category.
The Hyvä community has also proliferated, with a strong network of developers, designers, and e-commerce enthusiasts actively engaging in discussions, sharing their expertise, and collaborating on projects. Besides support, they also contribute to the continuous improvement and innovation of Hyvä Themes.
The usage statistics of Hyvä Themes are impressive, with wide adoption among e-commerce websites globally and in the United States. The growing Hyvä community and the trust placed in it by web development agencies attest to its status as the ultimate solution for performance-driven Magento store owners.
Why Choose Hyvä Themes For Your Magento 2 Store?
Hyvä Themes is the ultimate solution for performance-driven Magento store owners. It offers a wide range of advantages that can greatly enhance the user experience, improve conversion rates, and boost SEO rankings.
Let's check the reasons for using the Magento 2 Hyva theme for your store!
Lightning-Fast Performance: Magento Hyva themes are designed from the ground up with performance in mind. Thus, they have incredibly fast load times and extend seamless shopping experiences to your customers.
Improved Conversion Rates: Faster page load times lead to lower bounce rates and higher conversion rates. It helps you retain and convert more leads.
Mobile Optimization: In the mobile-first era, Hyvä Themes are fully responsive and provide an excellent user experience on all devices, mobile, tablet, or desktop, helping you capture a wider audience.
SEO Benefits: Google considers page speed as a ranking factor. With Hyvä Themes, you'll likely see improvements in your search engine rankings, driving more organic traffic to your site.
Customization Ease: Hyvä Themes offer flexibility and customization options, allowing you to create a unique shopping experience for your business.
Community Support: Being an open-source project, Hyva theme Magento has a growing community of developers and enthusiasts. This means continuous updates, bug fixes, and a wealth of knowledge and resources at your disposal.
Future-Proof: As the Magento ecosystem evolves, Hyvä Themes are positioned to evolve with it, ensuring your store remains cutting-edge and adaptable.
Cost-Saving: The performance enhancements of Hyvä Themes can potentially save you money on hosting, as you can achieve more with fewer server resources.
Hyvä Themes Compatibility
Hyvä Themes is the ultimate solution for performance-driven Magento store owners, offering compatibility with Magento 2.4v and above. With over 140 supported extensions, Hyvä Themes ensures seamless integration with famous 3rd-party tools.
Major extension vendors recognize the power of Hyvä Themes and have committed to making their extensions compatible. It means business owners can leverage the benefits of Hyvä Themes without having to sacrifice their favorite functionalities.
To further enhance user experience, Hyvä Themes provides a public compatibility tracker. This platform allows users to view and vote for the extensions they want to be compatible with Hyvä Themes. The availability of this tracker ensures that users have a voice in shaping the future of compatibility.
With Hyvä Themes, store owners can effortlessly optimize their store's performance while enjoying a wide range of advanced features. The compatibility module and support from major extension vendors guarantee a smooth transition to Hyvä Themes, resulting in improved SEO rankings, reduced bounce rates, and a faster loading time for an optimal online shopping experience.
How to Install Hyvä theme?
If you are wondering how difficult it will be to work with the Hyva Magento theme, let us tell you that the installation is a breeze. The Hyva Magento theme installation process is quick and efficient, saving time for store owners who want to get their online stores up and running as soon as possible.
Let's check the steps to install theme in Magento Hyva!
Prerequisites
Before installing the Hyvä Magento 2 theme, you need to meet several prerequisites.
I. You should have a fully functional installation of Magento 2.4.x. This ensures that your store is up-to-date with necessary features and security patches.
II. It is crucial to create a backup of your Magento installation and database before proceeding with the installation of the Hyvä theme. It ensures you have a safety net in case any issues arise during the installation process.
III. You should have familiarity with the Magento Admin Panel or connect with a Hyvä theme development company for technical assistance. Having a good understanding of how to navigate and configure your store's settings will make it easier to customize and optimize the Hyvä theme to your specific requirements.
IV. Hyvä theme is compatible with Magento 2.4.3 or higher versions. If you're using an older version of Magento, it is highly recommended to upgrade before implementing the Hyvä theme. It will ensure compatibility and access to the latest features and security enhancements.
By fulfilling these prerequisites, you can ensure a smooth installation and maximize the benefits of the Hyvä theme for your Magento store.
How to Install Hyvä Theme Package?
To obtain the Hyvä theme package, you can visit the official Hyvä website or get it through official Hyvä suppliers. On the website, you will find detailed information about the theme's features, benefits, and pricing. Once you have decided to purchase the theme, you will receive a downloadable package via Packagist with a private key.
Before installing the Hyvä theme, it is important to review the license information provided thereof. This will ensure you comply with their terms and conditions. To install the theme in the Magento Admin panel, follow these step-by-step instructions:
Log in to your Magento Admin panel and navigate to the "System" tab.
Tap on "Web Setup Wizard" under the "Tools" section.
Select "Component Manager" and enter the private key received after purchasing the Hyvä theme.
Click on "Sync" to fetch the Hyvä theme package.
Once the package is synced, choose Hyvä theme and click on "Install" to start the installation process.
After the installation is finished, switch to the "Content" section and click on "Design" under the "Configuration" tab.
Select the store view for which you want to apply the Hyvä theme.
Under "Themes," select the Hyvä theme and save the configuration.
Compile and deploy the theme by running necessary on-screen commands.
Finally, configure the theme options in the Magento Admin panel to customize the appearance and functionality of your Hyvä theme.
By following these steps, you can easily obtain and install the Hyvä theme in your Magento store. If you find any issues with the installation steps, you can also avail of Hyva Theme Development Services and seek necessary help.
Once you have selected a frontend development company, discuss your project details with them. Provide them with information regarding your current Magento website, your goals, and any specific requirements you may have. This will help them understand your needs and tailor the Hyvä theme accordingly.
After discussing the project details, the development company will provide you with a quote for their services. It is important to ensure that the quote fits within your budget and includes all the necessary development work.
By following these steps, you can successfully apply Hyvä Themes to your Magento website, giving you a high-performance and visually appealing online store that will attract customers and drive conversions.
Want to avail of Magento Hyva theme development services? Our Magento experts can help you leverage the exclusive features and benefits of the Hyva theme. We are a
Magento development company with 16+ years of experience and can assist you in constructing a modern and engaging storefront. Connect with our developers for more information.
Conclusion
In the fast-paced world of eCommerce, speed and performance are paramount. For Magento store owners seeking the ultimate solution to elevate their online presence, the Hyvä theme emerges as the beacon of hope. With its lightning-fast performance, mobile optimization, SEO benefits, and robust customization options, Hyvä Theme empowers you to deliver an exceptional shopping experience.
By adopting Hyvä, you're not just optimizing your store; you're future-proofing it and gaining a competitive edge. It's not just a theme; it's the ultimate solution for performance-driven success in the Magento universe. Embrace Hyvä, and watch your online store soar to new heights. Your customers will thank you, and your bottom line will reflect the transformation. Don't wait; make the move to Hyvä today.
FAQs
What is the HYVA theme in Magento 2?
Hyvä theme represents a revolutionary approach to optimizing the performance and speed of Magento-based eCommerce stores. Unlike traditional themes, Hyvä is designed with a focus on speed, making it lightweight and highly responsive. It achieves this by leveraging modern web technologies, such as PWA principles and Vue.js, which significantly enhances the user experience. Hyvä not only improves website load times but also offers a more streamlined development process, empowering merchants to create high-performance online stores that excel in today's competitive eCommerce landscape.
How to choose a theme for Magento?
Choosing the right theme for your Magento store is crucial for creating an appealing and functional online presence. To make an informed decision, start by considering your business needs, target audience, and branding. Look for themes that align with your industry and provide the features you require, whether it's responsive design, customization options, or specific functionalities. Check for theme compatibility with your Magento version and ensure it's regularly updated and well-supported. Read user reviews and seek themes from reputable developers or the official Magento Marketplace. Finally, prioritize themes that offer excellent customer support, as this can be invaluable if you encounter issues or need assistance with customization.
What Will You Achieve Once Hyvä Theme Development Is Done?
Once Hyvä theme development is successfully implemented for your Magento store, you can expect to achieve several key benefits. Firstly, you'll experience significantly improved website performance, with faster loading times and enhanced user experience. This leads to lower bounce rates and higher customer engagement. Additionally, the modular and lightweight nature of Hyvä themes allows for easier customization and scaling, ensuring your store can adapt to changing business needs. Moreover, the clean and minimalist design of Hyvä themes promotes a modern and professional image for your brand.
How much does it cost to construct a Magento 2 store with a Hyvä theme?
The cost of constructing a Magento 2 store with a Hyvä theme can vary widely depending on several factors. These include the complexity of your e-commerce site, the specific features and functionalities you require, the extent of customization needed for the Hyvä theme, and whether you choose to work with an agency or do it in-house. Typically, building a Magento 2 store with a Hyvä theme may involve expenses for theme development, extensions, hosting, maintenance, and ongoing updates. For a rough estimate on development cost, it's advisable to consult with Magento developers or agencies who can provide a tailored quote based on your unique business needs and goals.
Why should I switch my current Magento 2 theme to the Hyvä theme?
Switching your current Magento 2 theme to the Hyvä theme offers several compelling reasons. Hyvä is designed specifically for performance, providing faster loading times and improved user experiences. It leverages modern technologies like PWA principles, resulting in a highly responsive and mobile-friendly website. Moreover, Hyvä themes are clean and uncluttered, making customization and maintenance more straightforward. With its efficient coding practices, the Hyvä theme can enhance your website's SEO and overall search engine ranking.
Can I try Hyvä Themes out before buying a license?
Yes, you can! Hyvä Themes understands the importance of allowing potential users to experience their solutions firsthand. That is why they offer a trial period for their themes. This trial allows Magento store owners to fully explore and evaluate the capabilities and benefits of Hyvä Themes before committing to a license. During the trial, users can test the themes' performance-driven features, responsive designs, and advanced functionality.
How does Hyvä theme contribute to improved SEO rankings?
Hyvä theme incorporates best practices for search engine optimization, helping Magento store owners achieve higher rankings in search engine results. With its clean and optimized code, enhanced performance, and responsive designs, the Hyvä theme positively impacts core web vitals such as loading time, mobile-friendliness, and user experience, all of which are crucial factors for search engine rankings.
Is Hyvä compatible with Magento 2 OpenSource?
Hyvä Themes, the ultimate solution for performance-driven Magento store owners, offer compatibility with Magento 2 OpenSource from version 2.4.x onwards. However, it's important to note that Hyvä Themes are exclusively designed for Magento 2.4 and higher versions and are not compatible with earlier versions.
Befriend Technology for Transformation
Selecting the right technology is pivotal to your business's growth and success. Have you already decided the suitable one for your next project? If so, we can help you take the next step. If not, we can help you decide the best option. Connect with the Top 1% pre-vetted software engineers to build your software.