745
How ERP for Automotive Industry is Essential for Accelerating Growth?
25 Jul, 2023
5 min read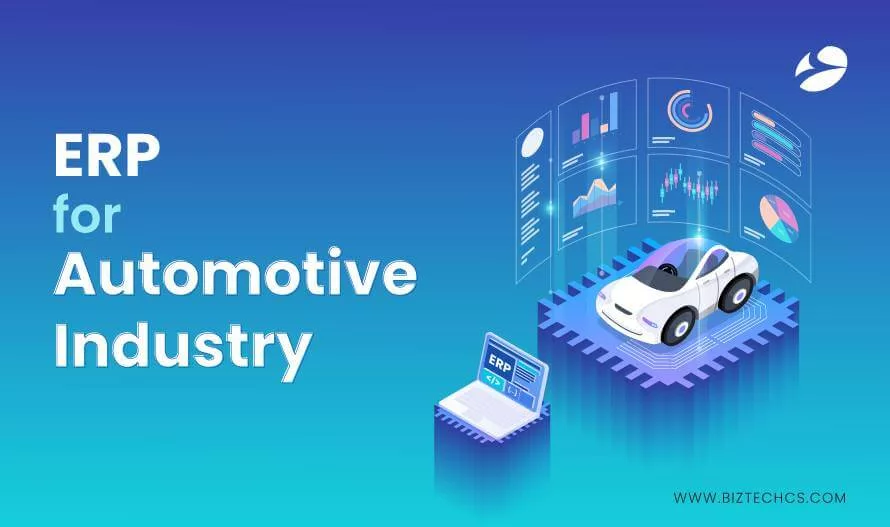 https://www.biztechcs.com/blog/erp-for-automotive-industry/
Summary
In a world of speed, innovation, and efficiency, Enterprise Resource Planning (ERP) systems still stand out as a game-changer.
If you are wondering whether your automotive business can survive without ERP implementation in today's highly competitive market, the answer is No!
Like other industries, ERP for Automotive industry has now become a need. And implementation of ERP systems can enable businesses to effectively streamline their operations, supply chain, and drive growth.
From the assembly line to the executive boardroom, ERP systems have driven elevated customer satisfaction, increased productivity, and unparalleled competitive advantage.
They also facilitate collaboration within the industry, connecting automotive businesses in a global network and enabling them to share data and resources.
In today's rapidly evolving market, there are plenty of ERP systems that offer you the much-desired flexibility and agility to adapt to market trends; all to deliver products to customers in time.
Moreover, ERP systems can act as a catalyst for accelerated growth and improve efficiency in a rapidly evolving industry with advanced technologies like artificial intelligence and cloud computing.
Wondering how an ERP system in the Automotive industry can transform your business? Then, get ready to explore the power of ERP systems before you avail of ERP services or pick your ERP software, read through it!
What is ERP?
Enterprise Resource Planning (ERP) is a software system that integrates and automates core business processes within an organization. Automotive industry or note, the core principle of ERP solutions is to streamline operations and facilitate effective communication across various departments.
The key components of ERP in the automotive sector include automation and data aggregation. By automating repetitive tasks and eliminating manual errors, ERP software enables organizations to
improve efficiency
Survive in the competitive market
and reduce costs.
Additionally, ERP systems collect and consolidate data in real time, providing a centralized database for analysis and informed decision-making.
An ERP system consists of various modules that contribute to the seamless functioning of business operations.
For example,
Human resources modules manage employee information, payroll, and benefits administration.
Customer relationship management modules streamline sales and customer service processes.
Business intelligence modules provide real-time data and advanced analytics for data-driven insights.
Supply chain management modules optimize inventory levels, ensure timely delivery, and coordinate with suppliers.
Finance modules handle accounting, budgeting, and financial reporting.
Challenges in the Automotive Industry
The automotive industry has faced numerous challenges in recent times. The demand-supply gap, global chip shortage, and disruptions caused by the Covid-19 pandemic have aggravated the situation.
These challenges have highlighted the need for an ERP system for automotive industry so businesses can innovate and stay competitive.
Let's check a few common challenges!
Supply chain disruptions: Lockdowns and restrictions have severely affected production and supply chains, leading to delays in delivery dates and a decline in sales.
Transition to electric vehicles: As per a leading semiconductor chip manufacturer Intel, the global chip shortage is likely to continue in 2023 as well. And the growing transition from traditional internal combustion engines to electric vehicles requires even more usage of chips than before. It leads to disruptions in the manufacturing process.
Changing consumer preferences: Consumer preferences are changing rapidly. There's more and more demand for personalization, connectivity, and digital features.
Economic volatility: The automotive industry is volatile and susceptible to the fluctuating economy of the world. With factors like geopolitical uncertainties, recession, and changing spending patterns of consumers, the industry's overall health and stability are determined.
To navigate these challenges, automotive companies are increasingly turning to AI-driven supply chain management. By harnessing cutting-edge technologies like artificial intelligence and real-time data analytics, companies can gain visibility into their supply chain and make informed decisions.
This enables them to identify potential bottlenecks, optimize inventory levels, and improve operational efficiency.
By implementing the modern ERP system for the automotive industry, companies can achieve operational excellence and stay ahead of the competition.
These ERP systems provide powerful tools for managing various business functions, including financial management, supply chain management, quality management, and customer relationship management.
Read More: Ecommerce ERP Integration
Key Features of ERP for the Automotive Industry
By now, you are well aware of the challenges that an automotive ERP can solve for you. But, do you know which features enable the ERP system to do so?
Let's take a look at that!
1. Supply Chain Management
The automotive industry comprises complex supply chain processes. Right from the procurement of raw materials and scheduling of production to the delivery of finished goods, a lot of planning goes into each stage.
If the raw materials are not available in due time, the entire manufacturing process will be delayed. Notably, the delivery of finished goods will also see an impact.
ERP systems help streamline the complex supply chain processes in the automotive industry. It helps streamline the entire process and reduces lead times, optimizes inventory levels, and improves overall supply chain efficiency.
2. Production Management
ERP automotive systems provide tools to plan and manage various production activities. It helps with
Accurate production schedules,
Effective resource allocation,
Tracking work progress,
Managing capacity,
Monitoring floor activities, and
Effective resource utilization.
This ensures timely completion of orders, minimizes production bottlenecks, and enhances operational excellence.
3. Inventory Management
With automotive ERP solutions, it is possible to track inventory levels, monitor stock movements, and manage stock-outs in a timely and accurate manner. This results in improved inventory accuracy, reduced carrying costs and ensures availability of critical components for uninterrupted production.
4. Sales Order Management
ERP systems streamline sales order processing, right from receiving an order to its fulfillment. You can further improve your business productivity by automating tasks like order tracking, pricing, invoicing, and shipment processes. This enhances order accuracy, expedites order-to-cash cycles, and improves customer satisfaction.
5. Quality Management
In the automobile industry, quality is a critical aspect. Your end product has to abide by strict environmental regulations, should be cyber secure, and meet the evolving expectations of your target audience.
Thus, robust quality management is most important. And with the help of an automotive ERP system, it will be helpful to define and enforce quality standards across the production process, conduct quality inspections, and manage non-conformance.
6. Financial Management
Managing Finance is another key feature of auto industry software. It helps your business comply with accounting regulations while managing its day-to-day, monthly, quarterly, and yearly financial operations.
Cost accounting, general ledger, financial reporting, budgeting, and maintaining accounts payable and receivable are some of its key highlights.
7. Product Lifecycle Management (PLM)
The PLM feature of auto parts ERP helps streamline all operations throughout the lifecycle of a product. Right from procurement of raw materials and manufacturing to quality control and maintenance, PLM helps throughout the process.
It establishes better connectivity between departments and stakeholders so a better quality automobile is produced.
8. Integration and Connectivity
Your automotive manufacturing software can be integrated with other important tools you use to improve your business performance. Be it a CRM tool, social media platforms, or marketing software, you get seamless integration and connectivity with these.
9. Business Intelligence and Analytics
An automotive ERP software helps businesses like yours with valuable insights to identify the latest trends and consumer preferences. With business intelligence and analytics reporting, you get exclusive data about these that help make data-driven decisions. KPIs (Key performance indicators), dashboards, ad-hoc reporting, and data visualization tools are some prominent features of this.
With these key features, ERP systems address the unique challenges faced by the automotive sector. They enable efficient supply chain management to meet increasing demand and deliver products on time. ERP systems optimize production processes, ensuring cost-effective production and improved time to market.
By harnessing these functionalities, automotive companies can gain a competitive edge and drive business growth.
Case Studies of ERP Implementation in Automotive Sector
An ERP system for automotive industry works like magic. It streamlines your business operations, ensures connectivity between departments, helps with data-driven decisions, and much more.
Let's check a few renowned automotive brands that use ERP for their business!
Case Study 1: Volkswagen
Volkswagen, a leading automotive vehicle manufacturer, implements SAP technology to reinforce the link between customer and employee experience. With SAP ERP for automobile dealers, they achieved a reduction in employee churn, improved satisfaction, and increased NPS score to the highest.
Case Study 2: Arista Group
The Jakarta-based company was founded in 2003 as a Honda-authorized car dealer. It has partnered with several renowned automotive brands like Suzuki, Mitsubishi, Yamaha Motorcycles, Mercedes Benz, and Ford since then.
Arista Group switched to Odoo ERP as it gauged its multifunctional capabilities. The company was able to simplify its sales and CRM operations and save critical assets such as save time and finances.
Overall, ERP implementation in the automotive sector has proven to be a powerful tool for accelerating growth. It enables automotive companies to overcome challenges, such as inefficient processes, fragmented data, and poor visibility.
How will ERP Help the Automobile Industry?
ERP systems play a crucial role in the automobile industry, providing a wide range of benefits that increase efficiency and improve decision-making processes. Here are some ways in which ERP can help:
1. Optimized Supply Chains: ERP systems enable automotive companies to streamline their supply chains by integrating processes and enhancing collaboration with suppliers. This optimization ensures timely delivery of materials and parts, reducing production delays and improving overall efficiency.
2. Improved Visibility and Reporting: By consolidating data from various departments into a central platform, ERP systems offer better visibility across the entire organization. Real-time reporting and analytics provide accurate insights into sales, inventory levels, and production, enabling informed decisions and improving operational efficiency.
3. Improved Customer Satisfaction: ERP systems facilitate better customer service by providing a 360-degree view of customer interactions, preferences, and purchase history. This enables companies to personalize their offerings and provide proactive customer support, leading to higher satisfaction and loyalty.
4. Reduced Administrative Costs: ERP systems automate manual administrative tasks like data entry and invoicing, reducing the need for manual intervention. It also helps minimize errors. This not only saves time but also lowers administrative costs, allowing companies to allocate resources more efficiently.
As evident, automotive aftermarket ERP systems have many benefits. By optimizing these processes, ERP systems help automakers thrive in today's competitive market. In fact, the future of ERP for automotive industry looks promising with the implementation of modern-day technologies like AI, AR, ML, etc.
How to Pick the Right ERP System for Your Automotive Business
Choosing the right ERP system for your automotive business is a crucial decision that can significantly impact
operational efficiency,
costs, and
overall growth of your organization.
To pick the most suitable ERP system, it is essential to consider the specific needs and requirements of the automotive industry. Here's a step-by-step process to help you select the right ERP system for your automotive business:
1. Define your requirements: Begin by creating a requirement sheet illustrating your specific needs. Consider your business shortcomings, supply chain disruptions, scope for quality management, CRM, and business intelligence.
2. Evaluate ERP solutions: Research and evaluate multiple ERP solutions and vendors to find ones that align with your requirements. Consider factors like advanced technologies, industry-specific solutions, real-time data, and predictive analytics to gain actionable insights.
Best ERP Software Solutions for Automotive Industry
Are you still looking for the best ERP for automotive industry? Then, you are in the right place! Whether you are an automobile manufacturer, dealer, or world-renowned brand, these top ERP software solutions can help transform your business.
1. Microsoft Dynamics Business Central
MS Dynamics Business Central is an all-in-one, cloud-based business management solution. It enables businesses to upgrade their legacy system to a modern ERP system that helps manage sales, finances, and customer service.
The plan for MS Business Central Essentials begins at $70 /user /month and for Business Central Premium begins at $100 /user /month.
MS Dynamics Capabilities:
Exceptional customer service
Supply chain optimization
Warehouse management
Financial and business insights
2. SAP Business One
It is a business management software for small to medium-scale businesses. It provides a comprehensive ERP system for large manufacturers in the automotive industry, offering functionality for financial management, supply chain management, and customer relationship management.
While this is designed for small businesses, you can also use the SAP ERP or SAP S/4 HANA for all kind of businesses.
SAP B1 Capabilities:
On-premise or cloud deployment
Integration with SAP HANA
Business intelligence integration
Quick deployment
3. Odoo ERP
Odoo is an open-source business management software. You can use the Community edition free of cost and the Enterprise edition starts at $24.90 /user /month for Standard and $37.40 /user /month for Custom.
With plenty of modules and applications available at the Odoo app store, it is highly customizable for your unique needs. You can also opt for Odoo migration from your legacy system and customize your business process to your specific needs.
Odoo Capabilities:
Customer management
Sales order management
Product management
Invoice management
Upselling techniques
4. Oracle Cloud ERP
Oracle Cloud ERP offers industry-specific solutions, advanced technologies, and powerful tools for automotive manufacturers to streamline their business processes and gain real-time insights.
This cloud-based ERP helps with various operations of project management, financial management, accounting, and procurement. Oracle Analytics Cloud Enterprise starts from $80 /user /month.
Conclusion
The future of ERP is filled with exciting innovations and developments. One major area of progress is in the integration of artificial intelligence (AI) and machine learning (ML) capabilities. These technologies will enable ERP systems to analyze large volumes of data, identify patterns, and make intelligent predictions for their automotive brand.
This will lead to more informed decision-making and the ability to take proactive actions based on real-time insights.
Voice-activated technology will also play a crucial role in the future of ERP. By integrating voice commands and natural language processing, users will be able to interact with the system easily and efficiently, enabling faster and more accurate data entry and retrieval.
Additionally, the integration of front-end and back-end systems will become increasingly seamless, enabling real-time access to data across all departments and processes. This will allow for better collaboration, increased efficiency, and improved decision-making.
Overall, the future of ERP is bright and promises to deliver advanced technologies that provide businesses with the data-driven insights necessary to thrive in the dynamic automotive sector and beyond.
So, what are you waiting for? Pick an ERP based on your specific needs and get the needed help for ERP implementation. BiztechCS boasts a team of talented professionals, skilled in various ERP technologies. Connect with our ERP experts and get a consultation!
FAQs
What are the benefits of ERP in the automotive industry?
There are multiple benefits of ERP in automotive industry, such as more streamlined processes, better collaboration, simplified supply chain processes, inventory management, and finance management. All of it helps improve productivity, saves time, reduces cost, and helps with resource utilization.
What are the modules associated with automotive ERP?
Accounting and Finance, Inventory management, Asset management, Quality management, Expense management, Customer service, and Purchase management are a few modules most automotive ERPs have.
Which ERP software is used for the manufacturing industry?
There are several ERP platforms that can be the best fit for the manufacturing process. For example, Oracle Cloud ERP, Odoo, SAP Business One, MS Dynamics Business Central, etc.
Does Tesla have an ERP system?
Yes, Tesla's complete finance and operational software is well integrated with its in-house ERP system called Warp.
Why is ERP important in manufacturing industry?
The manufacturing sector requires timely procurement of raw materials, seamless collaboration between various departments, efficient supply chain management, and inventory management. All these operations can be streamlined in a better way with an ERP for automotive.
Befriend Technology for Transformation
Selecting the right technology is pivotal to your business's growth and success. Have you already decided the suitable one for your next project? If so, we can help you take the next step. If not, we can help you decide the best option. Connect with the Top 1% pre-vetted software engineers to build your software.