3254
All You Need to Know About Successful Odoo 16 Migration
16 Nov, 2022
5 min read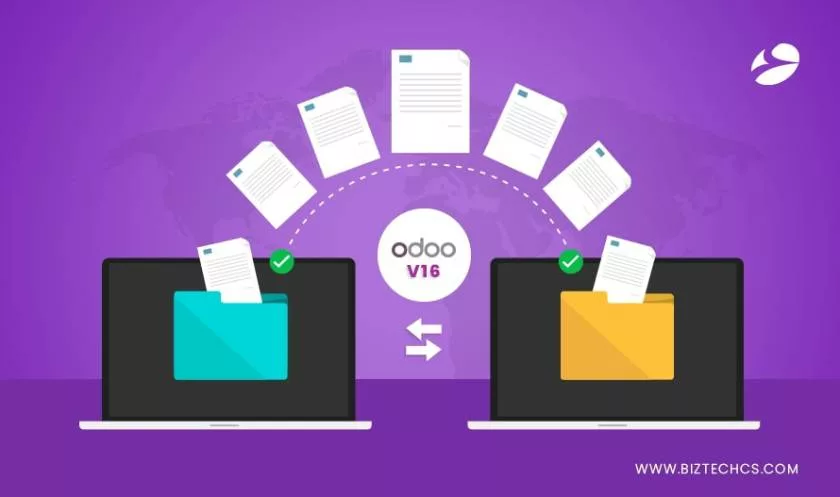 https://www.biztechcs.com/blog/odoo-16-migration/
Summary
Odoo ERP software has several benefits which make it one-of-its-kind. To name a few, we have its complete visibility, customization, integrated information between departments, and enhanced planning & reporting.
These benefits and features make it a unique business management software solution for businesses of any size and scale. However, to keep up with the everyday changes in customer demands and technology trends, Odoo migration to the latest version is essential.
It will keep you on top of all the security updates and you will be able to leverage the new features to make your processes more refined.
This Odoo 16 migration guide will help you understand the best practices and tips you need to adopt for a successful migration.
Let's dive in!
Advantages of Odoo 16 Migration
Odoo 16 was launched on October 12, 2022, and has become a popular choice for SMEs (small to medium-scale enterprises). Let's look at some of the noted benefits you can leverage with this Odoo ERP migration.
Enhanced performance
With the release of Odoo 16, several modules were updated with new features. For instance,
The new Instrastats reports can accelerate the validation process in the finance module,
In the marketing module, you can now change global attributes in your mailing list without any integration,
Allowing customers to track the manufacturing status of their product in the MRP module, and many more. You can check various Odoo 16 features and updates from here.
All these features and updates ensure every module has better performance than its predecessor update. So, if you want to upgrade to the latest Odoo version, you can expect a major performance boost.
Improved UX
The newly released Odoo 16 has a lot of provisions when it comes to improving the user experience of different modules. Whether it is the marketing module, sales module, or HR module, the newly designed simple user interface will surely elevate the user's overall experience.
Automated solutions
In the latest Odoo 16 inventory module, you can force a backorder to get it from the primary supplier rather than cancel it. Thus, saving business units from the trouble of canceling an order or impacting shoppers' experience negatively.
By doing this, they can automate the tasks of the inventory module. Many such new automation features are introduced with every new update. So, you get to enjoy these benefits with the help of Odoo migration services when you upgrade to the latest version.
Scalability
Whenever a new upgrade is introduced by the community, they are planned and developed with scalability in mind. Every Odoo user who plans for migration also needs to scale out and expand their business unit's reach. Thus, you get to scale your business with the upgrade.
Error fixes
Patch updates, bug correction, and security fixes are a few things every Odoo update includes just like Odoo 16 did. Migrating to Odoo 16 would mean you get these errors fixed.
So, these are some of the advantages you get with an Odoo migration. But, what comes next once you decide to go with the migration?
Sure, you get assistance from the best Odoo Migration Company in this venture. But, what things do business units have to consider? Let's have a look!
Read more: What is Odoo POS?
Noteworthy Considerations Before Odoo 16 Migration
I. How old is your current Odoo version?
Which Odoo version are you using currently? If you are using Odoo version 13 or anything earlier than that, it is time to update to the latest version. Since the Odoo community supports only its recent three releases, you need to migrate to the latest version before yours get out of support.
It is also to note that Odoo 17 launch date will be in November. It is expected to be announced during the Odoo Experience event scheduled between 8th and 10th of November, 2023.
II. What are the risks involved with Odoo migration?
Migration involves many steps, Odoo data migration, app migration, and modules migration. And each of these steps involves many risks if the process isn't carried out efficiently. Some of the commonly associated risks are
Forgetting to create an Odoo backup before migration,
Data leaks,
Failed connectivity with database,
High business downtime during migration causes interruptions in your processes,
Incompatible modules and apps with the new Odoo version,
More errors after the migration.
An ERP system is much-needed for a business unit so they can efficiently carry out their everyday operations. However, these migration issues can cause your business a lot of harm.
Thus, availing of Odoo Migration Services from the best professionals is much necessary. They have the right expertise to help with seamless Odoo migration.
III. Does your system have any customizations?
Since Odoo ERP provides you with customization capabilities, a lot of business units utilize it for their distinct business needs. But at the same time, the migration may mess up these unique customizations if you don't talk about them with the Odoo implementation team. You need to convey these custom requirements to the partner so they can help with a secure migration process.
IV. Are you planning to switch to the Odoo enterprise edition from the community version?
Were you using the Odoo community version or the enterprise edition? In case you are planning to switch from the community version to the enterprise version, you will have more features at your exposure. At the same time, you will also have to consider the costs associated with it.
Read more: Top 7 Benefits of Odoo Customization
How to Migrate to Odoo 16?
Whether you are considering Odoo Migration 15 to 16 or migration from any predecessor updates, these are some inevitable steps.
Data migration
This part of migration deals with the safe and secure migration of your ERP system's existing data. You may already be using an older Odoo version or any other ERP system. If you want to upgrade to a newer ERP, you need to ensure that these financial data, documents, customer/ vendor details, migrating reports, etc. stay intact.
Such data should be configurable with the migrated/ updated Odoo version apps and platforms. Any database tables that existed in the earlier versions should be mapped, imported, and modified for use based on the latest ERP version.
App migration
There are about 10,000 enterprise apps available in the Odoo App Store that can optimize your business unit's performance. Now, there are chances that some of these applications are absolutely necessary for your business.
Even if you consider migrating to the latest ERP version, you can't replace those apps. However, they don't work as seamlessly in the new version as they do in your current version.
In such circumstances, a seasoned Odoo Migration Engineer might be of great help. They will help you migrate the apps securely and edit the code so that the application runs smoothly for your specific purposes.
Odoo module migration
Odoo has about 35 base modules, such as accounting, eCommerce, Sales, HR, Marketing, MRP, etc. And just like every new upgrade, Odoo 16 update has also introduced exclusive features to these modules.
Migration of codes for these modules from the current version to the latest Odoo 16 version will help businesses utilize the newly updated features. Nevertheless, hiring dedicated professionals will assist you better in step-by-step Odoo module migration.
How to Do Odoo Migration
Plan
This is the first and probably the most critical step. You need to analyze your current data and understand how should you structure it after migration. It will provide you with a basic understanding of what your business needs and expects out of this Odoo 16 ERP migration.
Prepare
Once you have a sturdy plan in place, you need to prepare your data for migration steps. For example, creating a backup of your client data, app data, etc. will safeguard you against any migration mishaps.Before you create a backup, you might need to clean up your old data and remove redundancies or corrupted data. Make sure you have a backup plan if the migration doesn't go the way you intended because you can't lose all the sensitive customer information.
Migrate
In this step, the actual migration of the data, apps, and modules takes place. The time to complete migration will depend on the size and complexity of your data. Make sure you hire Odoo developers from the best company to assist you in this process for an effortless experience.
Test
In this stage, the Odoo developers will test your system to see if all the data, apps, and modules have migrated successfully or not. This is a crucial stage as it determines any/all possible migration errors, data loss, etc. It also provides developers to reverse the update or rectify the errors for maximum performance of your business apps.
Post-Migration considerations
After you have ensured that the Odoo migration is complete without any jitters, you can finalize that the software is good for use. You can start with simple tasks such as redirecting URLs from the old system to the new one, updating entries, and so on.
Read more: Odoo Vs ERPNext
Some Useful Odoo 16 Migration Tips
Make a list of data you need to migrate alongside its reasons to differentiate between useful and unuseful data. Remove any redundant or corrupt data beforehand as it will only burden your migration process.
Estimating the size of the data you need to migrate will help you evaluate the most appropriate methods of migration.
Make sure your Odoo development partners test the system thoroughly before your system goes live with the migrated database.
In case of an altered database schema, compare it with the new database schema and update it as needed.
Utilize Odoo's Sandbox feature to test any new update in the test environment section.
You should note that the time to migrate to Odoo 16 will depend on your current Odoo version, customization level, amount of data, and modules that need to be migrated.
Hire help from professional Odoo partners for a seamless migration experience.
How to Choose the Right Odoo 16 Migration Partner?
While these Odoo 16 migration tips can help significantly, having the right ERP partner can extend your migration experience further. They will assist you in migrating from any predecessor update to the latest 16 version.
But, how do you find the best Odoo development partner for your migration project?
Here are some tips you might find valuable!
Skills and expertise
Make sure to interview Odoo developers to find the best implementation partner for your project. You can test their technical skills alongside communication skills and flexibility to work on your terms. Keeping all your requirements at the forefront will give you a brief idea of the OpenERP partner you need to choose.
Industry experience
Enquire about the collective experience of an Odoo development company and the industries they have worked for. It will give you a better understanding of their past experiences and how they overcome specific challenges in your industry.
Success rate
It goes without saying, the better the success rate, the better your chances of a successful migration. Thus, get more information about the partner you choose by going through their portfolio, ratings and reviews, and testimonials.
Training & support
Most development partners provide Odoo training and support services, which is an added advantage for your business. After the migration is successfully completed, you will need to train yourself and your employees to work with Odoo. And having this can help you get acquainted with the platform significantly.
Odoo official partner
Hiring an official Odoo partner is a preferred option as they are trained in working with the Odoo platform. They also have access to enterprise source code and can directly escalate several Odoo issues.
So, if you avail help from a Silver, Ready, or Gold partner, you will have more refined resources at your fingertips.
Conclusion
Migrating to Odoo 16 version has a lot of perks – new features, improved modules, security fixes, and more! While it is evident that migrating to the latest Odoo 16 version will help you with the perks, doing so appropriately is the most crucial task here.
These tips mentioned here and ways to choose the right Odoo migration partner will help you significantly. If you find yourself struggling to understand the right approach to Odoo upgrade to 16 or need technical assistance, team BiztechCS is here at your disposal.
We are an established Odoo Ready partner company with certified professionals who can help you migrate to the latest Odoo version without a glitch. Connect with us to get started!
Befriend Technology for Transformation
Selecting the right technology is pivotal to your business's growth and success. Have you already decided the suitable one for your next project? If so, we can help you take the next step. If not, we can help you decide the best option. Connect with the Top 1% pre-vetted software engineers to build your software.