422
What New Odoo 17 Features Can Elevate Your HR Management Experience?
07 Nov, 2023
7 min read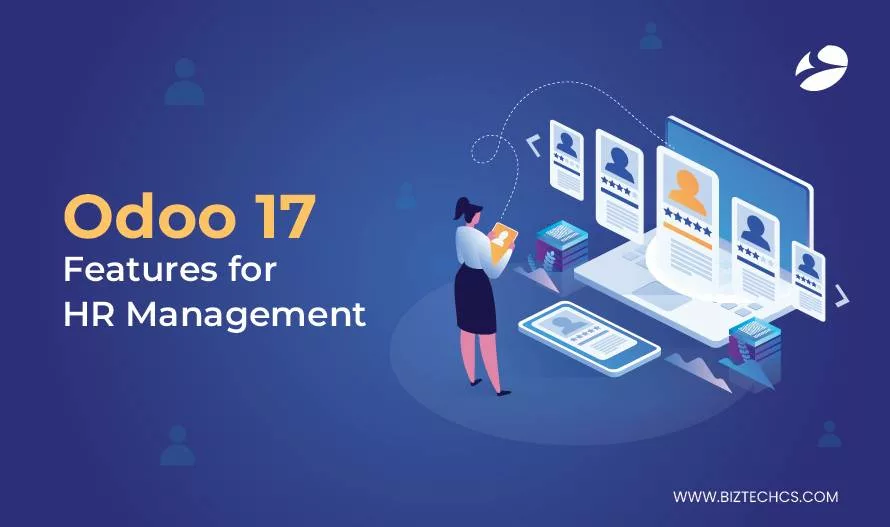 https://www.biztechcs.com/blog/odoo-17-features-for-hr-management/
Summary
As businesses strive to adapt to an ever-evolving workplace landscape, effective human resources management remains at the forefront of their operations.
Right from recruiting talented professionals to allocating resources to various tasks, efficient management improves productivity in multiple ways. However, managing human resources takes a lot of effort and can be tedious, when done manually.
With the help of a leading open-source business software suite Odoo, you get to nurture innovative solutions to meet the evolving needs of HR professionals. With the release of Odoo 17, the platform has introduced several new features designed to elevate the HR management experience.
These enhancements in Odoo HR management software promise to streamline HR processes, enhance employee engagement, and empower organizations to navigate the complexities of modern HR management with greater efficiency.
In this blog post, we will explore the exciting new features in Odoo 17 that can transform the way businesses handle their HR functions, making it easier than ever to manage and nurture their most valuable asset: their workforce.
If you are adopting Odoo as your go-to ERP solution for HR management alongside others, you're in the right place. Let's help you learn in detail about the update before you hire Odoo developers for your project.
New Odoo 17 Features That Can Improve HR Management
Employee Management
HR Files Access Link
In Odoo, when an employee leaves the organization or is archived for some reason (end of contract, resignation, retirement, etc.), their private information is saved for compliance and reference purposes.The new Odoo 17 update brings forth a new feature that grants employees access to their private files stored within the Odoo software for HR management. A secure link is shared with them to access these files instead of physically handing over the files or sending them via email.
Private Car Plate
The "Private Car Plate" field in Odoo is a practical addition that contributes to efficient vehicle management within an organization. It simplifies the process of searching for and retrieving information about specific vehicles, making it a valuable tool for businesses that rely on a fleet of vehicles for their operations.The "Private Car Plate" field added to Odoo is a specific data field where users can input the license plate number of a vehicle. This license plate number can be associated with a specific vehicle record in Odoo's database.
Add Fleet Manager to Plan
The feature allows users to assign these plan activities to the fleet manager who is responsible for a particular employee's vehicle. This assignment ensures that the right person is accountable for coordinating and managing the required tasks
Generate Employee CV
This new feature in the Odoo 17 Employee module simplifies the task of creating CVs for your employees. Instead of manually typing each detail into the CV template, you can now generate employee CVs seamlessly from the available employee record in PDF format.


Onboarding Without HR Rights
There are often parts of the onboarding process that can involve individuals who do not have full HR rights, such as mentors, colleagues, or trainers. These individuals may be responsible for certain onboarding activities, like providing job-specific training or mentoring new hires.With this new update, Odoo enhances the flexibility and inclusivity of the employee onboarding process. It allows organizations to involve non-HR users in specific onboarding activities while maintaining the security of sensitive HR data.
Employee Widget
The "Employee Widget" feature enhances the visual representation of employee-related fields. When this feature is enabled, fields that refer to an employee, such as "Assigned to" in a task or "Salesperson" in a CRM lead, display the employee's avatar alongside the field data.
Signature Requests
Odoo 17 facilitates the electronic signing of documents through the "Signature Requests" feature. Users can now create signature requests for specific documents or contracts that require approval or consent. This new update in HR document management software is likely to streamline managing signed documents.

Graph and Pivot Views
Graph views are a visual representation of data using charts and graphs. Whereas, Pivot views are a type of data table that provides a multidimensional analysis of data. These views are added in Odoo 17 to better understand trends, comparisons, and patterns in the data and for summarizing large sets of data and creating customized reports.
Presence Icon Visible
In many organizations, especially those with a workforce that includes remote or distributed employees, it's important to know the real-time presence status of team members. The presence indicator typically shows whether an employee is currently at work, on a break, or off duty.With the help of the 'Presence Icon' visible from the Attendance section, even users without access to the Attendance app will be able to see if an employee is present, on a break, or off duty.
Homeworking
This Odoo 17 HR feature simplifies remote work management. Remote working employees can now define a different location for each working day of the week, and this schedule can be repeated weekly. Users can also check in on the location of other employees via the Calendar app or the Employee portal.

Managers Have Access to Employee Details
Managers now have access to various employee details such as initial contract or upcoming appraisal dates. It gives managers information on when the employee has joined and when to review and process their appraisal.
Recruitment
Appointments Integration
When you schedule an appointment with a candidate for an interview, it is seamlessly integrated with the applicant's profile in Odoo 17. Thus, all details of the scheduled interview like date, time, location, purpose, etc. are linked directly to the candidate's records. It is especially important as recruiters can quickly fetch candidate information and check meeting details.
Google Jobs Integration
The "Google Jobs Integration" feature in Odoo is a powerful tool that allows businesses to index and make their job listings searchable on Google's job search platform, which is accessible at google.com/jobs.It allows your job openings to be indexed and searchable on Google's job search platform, making it easier for potential candidates to discover and apply for your positions. This integration enhances your recruitment efforts by leveraging the reach and capabilities of Google's job search functionality.
Chatter Access and Offers
In Odoo, the term "Chatter" refers to a communication and collaboration tool integrated into various modules, including HR and Payroll. It gives users a space to leave comments, discuss, and exchange information related to specific records or objects.The Odoo 17 update is likely to provide charter access to interviewers so they can communicate with other authorized users and share information related to job offers.
Send SMS from List View
The List View in Odoo is a tabular representation of records or data entries within a module. It provides a convenient way to view and manage multiple records at once. With this new feature, users can select multiple applicants from the list view, often by checking checkboxes next to their names or records, and send SMS to them.

Time Off Management
Notification On Time-Off Deletion
At times, an employee may need to revoke or cancel their approved time off because of unprecedented circumstances or a change of plans. With this new Odoo 17 update, the managers will be notified immediately if the approved time off is canceled or deleted.
Multiple Responsible Time Off Officers
In many organizations, there are designated individuals or officers responsible for approving and managing time off requests. These officers are typically responsible for ensuring that time off requests are processed and managed efficiently.However, some organizations may have situations where more than one person can be responsible for handling requests related to that particular type of leave. This feature in Odoo allows for the assignment of multiple responsible officers to a specific time off type.

France: Part-Time Employee Time Off
The Odoo 17 update brings a new Odoo localization feature for users in France wherein they can manage time-off requests for part-time employees seamlessly. It ensures that part-time workers receive the appropriate time off entitlements per their working hours and labor laws, making Odoo a suitable HR management system for organizations operating in the French market.
Part-Time Visibility
Part-time employees work fewer hours than full-time employees, often with varying schedules. Managing the schedules of part-time employees can be different from those of full-time employees due to the variable hours they work. With the Odoo 17 update, you will be able to see a partial working schedule from the calendar.
Timesheets Management
Grid View: Overtime
Overtime hours occur when an employee works beyond their regular working hours, often leading to additional pay or compensation. Conversely, missing hours refer to situations where employees haven't met their required or scheduled work hours.Employees can now get accurate information about overtime or missing hours per day from the grid view of timesheets. Managers and supervisors can also check this information from the grid view.

Deprecation of Awesome Timesheets
In Odoo 17, the Awesome Timesheets app won't be supported. In fact, it won't be supported from Odoo 16.2 onwards.These are the few most useful Odoo 17 features that can elevate your HR management experience! By upgrading to Odoo 17, you will be able to leverage these features and manage your human resources better.Want to elevate your HR processes by implementing Odoo?Our Odoo experts can help with that! As an Odoo partner, we have the resources and knowledge to help with Odoo implementation, Odoo migration, Odoo customization, and more! Connect with our developers for consultation.
Conclusion
Odoo 17 introduces a suite of innovative features that have the potential to transform your HR management experience. With a focus on efficiency, employee engagement, and compliance, these additions empower HR professionals to streamline their processes, from recruitment and onboarding to payroll and communication. The inclusion of AI-driven applicant ranking, Google Jobs integration, and enhanced visibility for part-time schedules allows for smarter and more effective recruitment strategies.
Moreover, features like automated signature requests, bulk SMS communication, and the Employee Portal in Odoo HR management software enhance communication and engagement while simplifying administrative tasks. Odoo 17's commitment to user-friendliness and customization ensures that these features can be tailored to meet the unique needs of your organization, ultimately elevating your HR management to new heights of efficiency and effectiveness.
Befriend Technology for Transformation
Selecting the right technology is pivotal to your business's growth and success. Have you already decided the suitable one for your next project? If so, we can help you take the next step. If not, we can help you decide the best option. Connect with the Top 1% pre-vetted software engineers to build your software.