707
Beyond Off-the-Shelf: 6 Reasons to Embrace Odoo Customization for Your Business
10 Aug, 2023
7 min read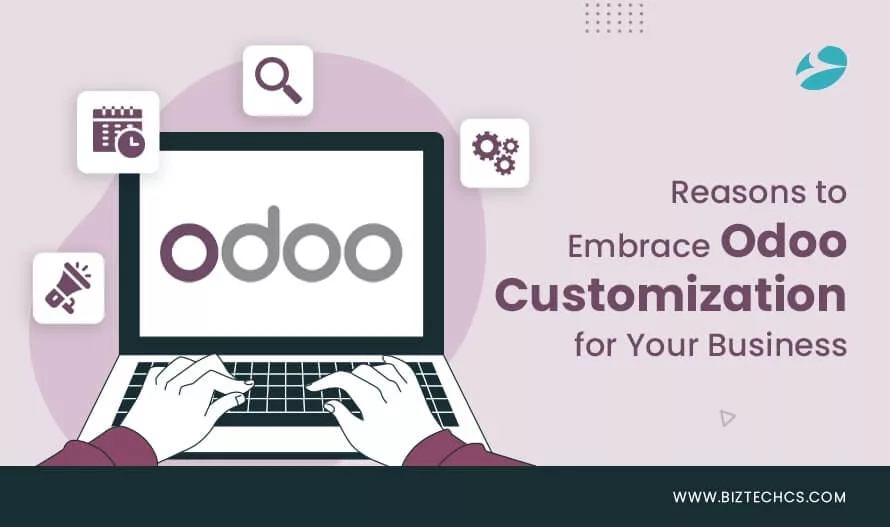 https://www.biztechcs.com/blog/odoo-customization-for-your-business/
Summary
When I think of off-the-shelf software, it resembles the 'one-size-fits-all' approach. It might work for you, but it won't be as efficient as you want it to be or work as per your terms.
In today's fast-paced and dynamic business landscape, such off-the-shelf software may not be as efficient as you want them to be. Why? It lacks the flexibility to resolve unique business challenges and demands.
Thus, power-packed ERPs like Odoo gives businesses like yours the flexibility and scalability to tweak the ERP software to your needs; through Odoo Customization.
If you are puzzled about whether or not you should customize Odoo ERP, you have stumbled upon the right piece of content.
In this blog, we explore the top 7 benefits of customizing Odoo ERP, shedding light on how this strategic approach can revolutionize the way businesses operate and propel them ahead of the competition.
Let's uncover what tremendous advantages await your businesses through Odoo ERP software development and customization.
Understanding Odoo ERP: A Brief Introduction
Have you ever visited a library? You can borrow books there, return them before the due date, and get new books issued or reissue the old ones.
Ever wondered how the librarian takes care of all the book records, issues, and due dates? Well, a library management system helps with that. It keeps track of all the books (Inventory), due dates, borrowers, memberships, and so on.
An ERP system works similarly! It manages various processes of your day-to-day business operations right from inventory and purchase to manufacturing, sales, and HR.
Odoo is one such flexible suite of business management software designed to streamline and integrate various operations within an organization. Formerly known as TinyERP and OpenERP, the platform is available as open-source (Community edition) to be used by everyone.
Being open-source, it allows you to build customized ERP solutions unique to your business needs. You can also leverage its advanced capabilities by opting for the Enterprise edition.
This powerful ERP system enables companies to centralize their data, automate processes, and gain real-time insights, ultimately improving efficiency, productivity, and decision-making. Whether it's a small startup or an established enterprise, Odoo ERP empowers businesses across various industries to enhance their workflows, optimize resources, and achieve sustainable growth.
Odoo ERP covers a wide range of modules, including sales, CRM, inventory, manufacturing, accounting, human resources, and more, all seamlessly integrated into a unified platform. With its user-friendly interface and modular structure, businesses can choose and implement only the modules they need, making it a scalable solution for all businesses.
Want to leverage Odoo's capabilities the most? You can implement the ERP system with the latest Odoo 16 version or migrate to the new version from your legacy system.
What is Odoo Customization? Why Do You Need to Customize?
Odoo is an out-of-the-box ERP solution to meet all your business needs. You can simply install Odoo, pick the modules you want, and get started with it; it's as simple as that.
But, at the same time, it also gives you the flexibility to personalize the experience of your employees and customers through Odoo ERP customization.
You can custom-build features and apps, pick apps from Odoo App Store, and integrate the ERP with your pre-existing tools. It allows you to tailor the software to meet your specific needs and attain maximum efficiency.
Let's check why you need Odoo Customization!
Reasons for Odoo Customization
Your business-specific workflows can be well aligned with modern ERP processes through Odoo customization.
When you customize Odoo ERP, you can simplify navigation and get a user-friendly interface to manage your business operations. It improves the overall user experience and boosts productivity.
Do you use other tools and software to handle specific tasks of your business? In that case, customization with Odoo can facilitate seamless integration with third-party applications, avoiding data silos and ensuring smooth data flow between systems.
Customizing Odoo ERP enables businesses to implement robust security measures to protect sensitive data and maintain privacy. You can add specific security features to meet industry-specific compliance standards.
While customizing Odoo may seem to add additional costs, it can actually prove beneficial in the long run. You custom-create features that can solve your business challenges, boost productivity, and generate high ROI.
Odoo ERP system is accessible to all and chances are that your competitors are also leveraging its multiple benefits. With Odoo website custom design and ERP customization, you get a competitive edge. By optimizing processes and functionalities, companies can deliver better services to customers, enhance product quality, and gain an advantage in the market.
Customized Odoo ERP is future-proof, as it can evolve and adapt along with the business. As the organization grows and its needs change, the customized ERP system can be continuously updated and improved.
Top 7 Benefits of Odoo Customization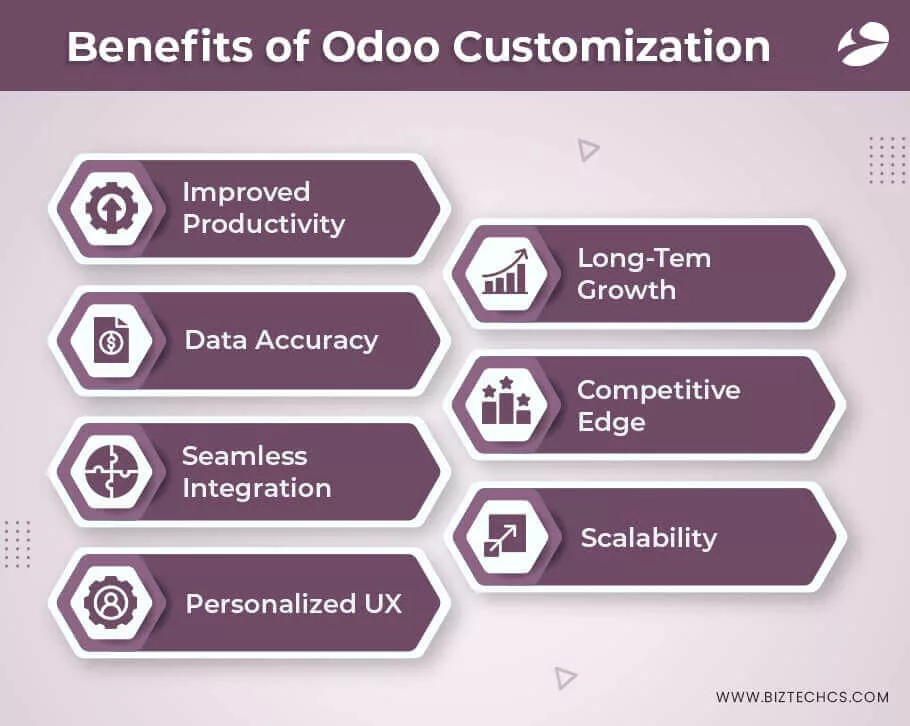 1) Improved Productivity and Efficiency
By customizing Odoo ERP to align with your unique business processes, you can achieve a plethora of things like
Automate repetitive tasks to reduce manual operations.
Streamlined workflows to minimize manual work.
Unified information in one place ensures quick decision-making and improved collaboration.
Employees are given role-based access so the right person has access to the right information, creating less confusion.
Collaboration between teams or with stakeholders becomes easier.
Quick access to information.
With Odoo Invoice Customization, you can automate tasks like invoice creation.
All of it indicates one thing, i.e., enhanced efficiency and productivity.
2) Data Accuracy and Reporting
With Odoo Report Customization, you can achieve greater visibility and accuracy for all your data-related tasks.
For instance,
Customized forms and fields can be designed to capture data in a standardized manner. It minimizes the risks of incorrect data or inconsistent data formats.
With the help of customized validation rules, you can control data input tasks. There won't be any invalid or incomplete data input.
You can prevent the errors involved in manual data entry with custom workflows for automated data entry from other integrated tools.
Customization also takes care that any data retrieved from other systems are mapped well with Odoo ERP.
With customization in place, you can generate custom reports as per your business needs.
You can also customize the KPIs as per your business objectives.
Create a customized real-time dashboard that showcases real-time insights into your business performance. It helps make accurate decisions.
3) Personalized User Experience
Did you know customization can help you personalize the way your Odoo interface looks and works? Well, there are a number of things you can do right from creating shortcuts to data views and filters. Let's check a few of them!
Role-based dashboards
Custom menus relevant to a user
Favorite shortcuts for quick access
Simplified data access with data views and filters
Choose the type and mode of notification with personalization
Language preferences and localization
Task prioritization to manage tasks efficiently
Removal of unnecessary features
Having tweaked the Odoo interface to your needs, you can make the platform easier to work with. Thus, improving your productivity and performance.
4) Seamless Integration and Improved Scalability
Customized Odoo ERP systems are more adaptable to business growth and changing needs. As your organization expands, customizations can easily accommodate new processes and requirements, ensuring that the ERP system remains scalable and flexible.
You can choose Odoo modules that are of use, leaving the others to be added later when needed.
It is possible to extend your system's capabilities later when your business grows, either through Odoo apps or 3rd-party integrations.
You can optimize the Odoo platform to meet your data volume increases.
If you wish to expand your business to multiple locations, Odoo customization helps with the local regulations, languages, and practices.
You can either choose on-premise or cloud-based infrastructure to meet the growing needs of your business.
5) Competitive Edge
In today's rapidly evolving world of technology, you are in a race with thousands of others if not millions; competing to grab the attention of your target audience. And it would be near impossible to achieve that with off-the-shelf software.
Let's check various ways an Odoo customization company can help you gain a competitive edge!
You can customize your business workflows as you want for tailored processes. And not just processes, you can add custom functionalities and features to set your business apart from competitors.
Innovation is at the core of today's digital realm and companies need to implement new strategies and business ideas to leave their competitors behind. This agility enables you to respond swiftly to market changes and emerging trends, giving you an edge over competitors who might be using off-the-shelf solutions.
Customization enables you to cater to specific niche markets or industries by adapting Odoo to their requirements. This specialized approach can attract customers who value solutions tailored to their industry needs.
In a dynamic market, customized Odoo can allow you to quickly adjust pricing strategies based on market trends, competitor moves, or changes in customer demand.
With Odoo POS Customization, you can also streamline your offline store. Odoo POS helps ensure the offline processes are well mapped to your ERP system.
6) Elevated Data Security and Compliance
You can create a more secure and compliant environment for your business with Odoo ERP customization in place. Let's check a few security practices you can perform!
Role-based access control to ensure only authorized personnel have access to sensitive business information.
Data encryption for secure data transmission.
Multi-factor authentication to add an extra layer of security to secure your accounts.
Customized features can help track user activities and changes made to the system.
Compliance workflows reduce the risk of non-compliance and associated penalties.
Customized Odoo can include mechanisms for automated security updates, ensuring that vulnerabilities are patched promptly to protect against emerging threats.
For businesses operating in regions with stringent data protection regulations like GDPR, customization can ensure that the system adheres to data privacy requirements, such as consent management and data deletion requests.
You can add features like automatic logouts, security reminders, incident responses, etc.
7) Improved Customer Service
Odoo customization allows you to tailor the ERP system to manage customer interactions more effectively. With a centralized database and access to real-time information, customer service representatives can respond quickly to inquiries, provide accurate information, and deliver personalized services, ultimately enhancing the overall customer experience.
Let's check how you can elevate customer service with Odoo customization!
360-degree customer view
Personalized interactions based on past behavior, preferences, purchases, etc.
Automate response workflows to respond to customer queries quickly.
Custom customer portal or self-service portal to help customers track their orders, make inquiries, and resolve simple issues on their own.
Real-time interaction with customers through features like live chat and instant messaging.
You can integrate a customer feedback system to continually improve your services based on customer input.
Customized case management to track and manage customer grievances and requests.
Thus, customizing Odoo ERP offers a wide range of benefits, from improving operational efficiency and customer service to ensuring data accuracy and security. By leveraging customization, businesses can gain a competitive advantage, foster growth, and build a robust foundation for future success.
Different Levels of Customization in Odoo ERP System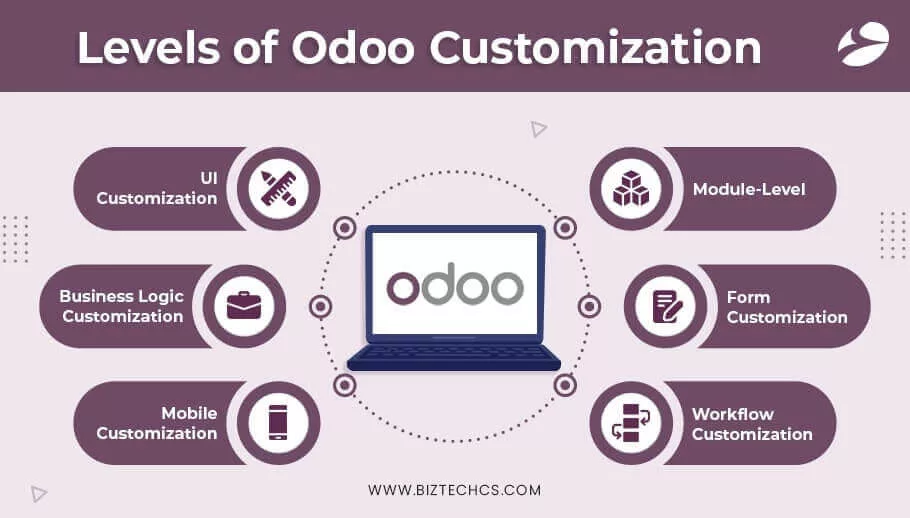 Based on the extent of modifications you make, customization in the Odoo ERP system can be categorized into multiple levels. Let's check the few different levels of customization in Odoo ERP:
UI Customization: Businesses like yours can create a personalized and intuitive user interface that aligns with your branding and enhances user experience. UI customization involves designing user-friendly dashboards, menus, and views to make navigation more efficient for your customers and employees.
Business Logic Customization: In this level of customization, businesses can implement their own business logic and rules within Odoo. It involves defining custom algorithms, calculations, and automation to manage complex processes that go beyond the standard functionalities of Odoo.
Mobile Customization: If you notice, most of our time is spent on mobile devices. If you want to book flight tickets, you use a mobile. If you want to purchase products online, you can easily buy from online stores. Similarly, you can attend meetings via mobile devices and so on. Thus, optimizing Odoo for mobile devices is essential. It ensures your employees can access and manage data on the go, improving productivity and responsiveness.
Module Level Customization: It involves customizing individual modules within Odoo. Businesses can either modify existing modules or create new ones to suit their specific workflows. This customization allows organizations to adapt the ERP system to their unique processes while still relying on Odoo's core functionalities.
Form Customization: This level of customization involves altering the appearance and layout of forms and views in Odoo. Businesses can add or remove fields, rearrange elements, and change the design to match their preferences and improve user experience.
Workflow Customization: Odoo ERP offers pre-defined workflows. But, businesses may have their specific sequences of activities. Workflow customization enables organizations to define their own stages, transitions, and approval processes, streamlining operations according to their unique requirements.
Understanding the different levels of customization in the Odoo ERP system will empower you to make informed decisions about the extent of modifications required. By choosing the appropriate level of customization, you can optimize processes, improve efficiency, and achieve seamless integration of Odoo into your daily operations.
You can choose any level of customization and create tailor-made Odoo solutions for your business.
Considering implementing Odoo into your business processes? You can leverage our Odoo customization services and create tailor-made ERP solutions suitable for your business needs.
With our experience of 1200+ projects and the extensive capabilities of the Odoo ERP itself, we can help your business reach new heights.
P.S.: You can expect the latest Odoo 17 release by November 2023, to be announced in the Odoo Experience event.
Connect with our Odoo experts to decide the best way to help your business elevate.
Conclusion
Odoo customization offers a transformative solution that takes businesses beyond the limitations of off-the-shelf ERP systems. By customizing Odoo ERP to align with your unique business processes, you create a tailored ecosystem that enhances efficiency and productivity. The personalized user experience and seamless integration with existing systems foster user adoption and streamline operations.
Moreover, Odoo customization empowers data-driven decision-making, providing valuable insights for strategic planning and improved customer service. It also ensures scalability and flexibility, enabling your ERP system to evolve alongside your business.
Embracing Odoo customization offers a competitive advantage, enabling you to stay ahead of the curve in a dynamic business landscape. With enhanced data security and compliance measures, you can operate with confidence and trust.
Thus, you unlock a fully capable ERP system with customization, empowering your business to thrive and adapt in a rapidly changing world.
Want to discuss more on how partnering with BiztechCS, an Odoo Ready partner, can help pave the way for long-term success? Our Odoo consultants are just a call away!
FAQs
Can Odoo be customized?
Yes, Odoo ERP is fully-customizable to your specific needs. You can use Odoo Studio in case of simple customizations or avail of Odoo services to get expert help for the same.
How to Customize Odoo?
There are several ways to perform Odoo customization. For instance, using Odoo Studio, overriding the base code, using Odoo marketplace apps, and extending modules or base codes.
What is the difference between Odoo Standard and Odoo Custom?
When you choose the Odoo Standard plan, it supports only a single company and doesn't provide access to Odoo Studio. Whereas, the Custom plan supports unlimited companies with access to Odoo Studio.
How do I create a custom layout in Odoo?
You need to create a template to create a custom layout in Odoo. To create a custom layout in Odoo, start by logging into your instance with admin privileges. Access the customization options, usually found under "User Interface" or "Customization." Adjust the menu structure, colors, and fonts to match your branding. Create custom views to modify specific screens and add any needed fields. Utilize drag-and-drop tools for rearranging elements. Preview and test the layout before saving and applying the changes. Document your customization and consider user training if the updates are substantial.
How do I customize my Odoo invoice?
To customize your Odoo invoices, access the "Settings" menu in Odoo and navigate to "Invoicing." Under "Invoices & Payments," choose "Invoice Reports." Here, you can modify the layout, add your company logo, adjust fonts, and include custom fields using Odoo's built-in customization tools. Preview changes before saving to ensure the invoice reflects your brand and requirements accurately. If you find the process to be challenging, you can always connect with an Odoo expert and get help with the process.
Befriend Technology for Transformation
Selecting the right technology is pivotal to your business's growth and success. Have you already decided the suitable one for your next project? If so, we can help you take the next step. If not, we can help you decide the best option. Connect with the Top 1% pre-vetted software engineers to build your software.