527
What New Odoo 17 Features Are There in the Payroll Module?
31 Oct, 2023
7 min read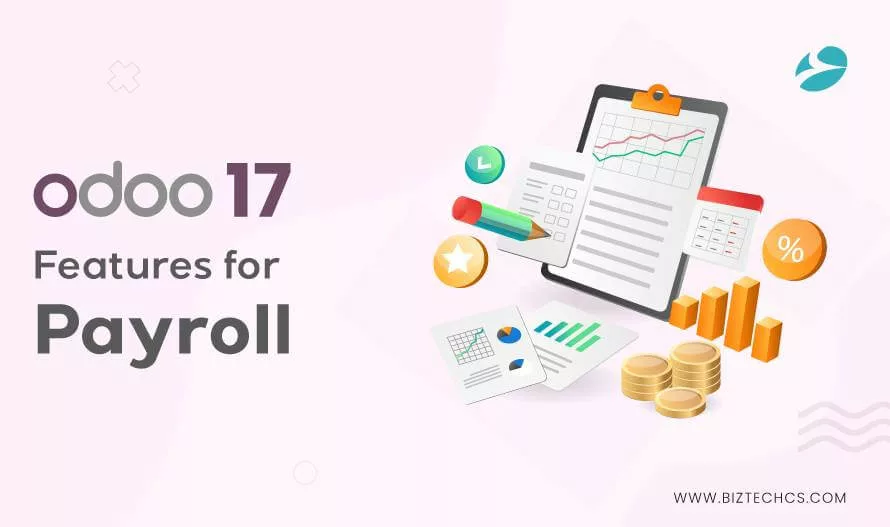 https://www.biztechcs.com/blog/odoo-17-features-in-payroll-module/
Summary
In the ever-evolving landscape of technology, Odoo has consistently proven itself as a frontrunner, empowering organizations with comprehensive solutions to streamline their operations. With each new iteration, Odoo introduces innovative features and enhancements to cater to the dynamic needs of businesses worldwide.
Odoo 17 is no exception! In this blog post, we will embark on an exciting journey to explore the latest and most compelling features within the Odoo Payroll module.
From automation and compliance enhancements to user-friendly interfaces and employee self-service tools, Odoo 17 brings a host of capabilities that promise to revolutionize the way businesses manage their payroll processes.
Join us as we delve into the heart of Odoo 17's Payroll module to discover how it can simplify and elevate your payroll management experience. The latest knowledge about Odoo updates will help you with the implementation process as well when you hire Odoo developers to manage your project.
Notable Odoo 17 Payroll Features
Generic Salary Attachments: The generic salary attachments feature in the Odoo Payroll module allows users to create salary attachments for multiple employees simultaneously. Salary attachments are additional components or items that can be included in an employee's payroll, apart from their regular salary. These attachments can have a wide range of items, such as bonuses, deductions, reimbursements, or any other payments that are not part of the standard salary.
Order Salary Structure Types: The capability to organize and prioritize different salary structure types based on the specific country or region in which your business operates is added to the Payroll module. This functionality allows for greater flexibility and customization in managing employee compensation structures to comply with local regulations and practices.
Expiration Date to Salary Configurator: The Expiration Date feature enables users to specify an expiration date for salary configurator offers. This feature is particularly useful in scenarios where companies want to set a time limit or validity period for special salary offers made to employees.In case you are not familiar with the Salary configurator within Odoo, it is a tool that enables HR professionals and managers to create customized salary packages for individual employees or groups of employees.
New/ Duplicate Salary Structure: This feature provides users with the ability to create or duplicate salary structures, and it involves copying rules associated with those structures. It includes rules related to salary components, calculations, conditions, and any other parameters defined in the original structure. This functionality is particularly useful for HR professionals and administrators when setting up compensation packages for employees.If you want to duplicate the salary structure of an employee, you can duplicate the same structure instead of creating the same rules from scratch. After duplication, you can now make some minor adjustments and customize the salary structure to your needs.
Removal of Contract History View: In the Odoo 17 update, the Contract History View is dropped and replaced with a Standard List View, which is now accessible directly from the employee form.The Contract History View typically refers to the historical records of employment contracts for individual employees. These records include details like contract start and end dates, salaries, job positions, and any amendments made to the employment terms over time.The removal of the Contract History View and consolidating it within the Employee form is likely to streamline the user experience and make it more intuitive. It should boost efficiency and offer a consistent navigation structure, making it easier for users to adapt to the system.
Conditional Advantages: This update refers to the ability to configure certain employee benefits or advantages in a way that their availability or display depends on the selection of specific other benefits or conditions. This feature allows for a more dynamic and flexible setup of benefits packages and ensures that employees receive benefits that are relevant to their choices or circumstances.With conditional advantages in Odoo, you can establish rules or conditions that determine whether a particular advantage is made available to an employee based on their selections or circumstances. These conditions can be set up in a way that links one advantage to the selection of another.For example, the fuel card advantage is available only to users who opt for a company car.
Automated Cancellation of Signature Requests: Amongst the Odoo payroll features, automated cancellation of Signature Requests is an important inclusion in the Odoo 17 update. It includes functionality that streamlines the process of managing signature requests for contracts, ensuring that these requests are automatically canceled when contracts are either canceled or refused.This automation simplifies contract management and ensures that signature requests align with the status of the associated contracts.
Fuel Type on Contract: This feature is particularly useful for organizations that provide company vehicles to their employees and need to document important details related to those vehicles within the employment contract. With this update, you can now see information about the fuel type associated with an employee's company vehicle on their employment contract.
Worked Days and Input: Manage your payslip's working times better by adding a "half-day" label on your payslip.
Force New Car List: This new feature in the Odoo Payroll app enables the "force new car list" field to be displayed in the salary configurator wizard only if a specific condition set on the "new vehicle request" setting is met.
Export to SD Worx: It is now a dedicated module and illustrates the capability of adding an export code to working entries for third-party integration, particularly for exporting data to SD Worx, a provider of HR and payroll services.
Payslip Viewer: This feature allows users to view the PDF version of an employee's payslip directly when it is attached or joined to the corresponding record. This feature simplifies the process of accessing and reviewing payslips, making it convenient for HR professionals, managers, and employees.
Existing Payslips to Open Batches: The payroll documentation of Odoo 17 includes this feature to allow users to add previously created payslips to an open batch. It is especially useful for organizations that process payroll in batches, as it simplifies the process of including payslips that may have been generated separately or at different times.
Lunch Period on Working Schedule: This feature represents a significant enhancement in managing employee working hours and breaks within the HR and payroll module.It combines the automatic generation of work entries for extra hours with the ability to include lunch periods in working schedules while ensuring that lunch breaks are not considered for extra pay calculations, thereby improving efficiency and accuracy in HR and payroll processes.
Some Odoo Localization features for the Payroll module are mentioned below:
Mexico, Morocco, Romania, Slovakia, Netherlands: Monthly pay computation feature is added. involves the calculation of monthly pay for employees and is a significant addition to Odoo's HR and payroll management functionalities. It involves determining the compensation owed to each employee for the work performed during a specific calendar month.
Conclusion
Odoo 17 brings a host of exciting and innovative features to its Payroll Module, empowering businesses to streamline and enhance their payroll management processes. These new features cover various aspects of payroll, from automation and customization to compliance and efficiency.
The introduction of generic salary attachments, orderable salary structure types, conditional advantages, automated cancellation of signature requests, and the ability to add expiration dates to salary configurator offers are just a few examples of the improvements that Odoo 17 offers. These features simplify payroll administration, improve accuracy, and ensure compliance with labor regulations.
The Odoo 17 update is up for release this November during the Odoo Experience Event, 2023! Watch out our space for more latest updates and news regarding Odoo 17. Want an expert opinion on Odoo implementation or migration?
We can help with that too! As an Odoo Ready partner, our team of experts is available at every step to help with development, migration, consultation, and implementation. For more info on Odoo pricing and implementation cost, let's connect with our Odoo experts!
FAQs
What are the features of payroll Odoo?
Odoo's Payroll module offers a range of features to streamline and automate payroll processes. It includes salary structure creation, employee contract management, automatic pay slip generation, tax and deduction management, compliance with labor laws, and customizable payroll rules.
Odoo Payroll also supports multiple currencies, payment methods, and reporting options. Additionally, it provides transparency for employees with payslip access and facilitates integration with other HR and accounting modules for comprehensive workforce management.
What are the expected features of Odoo 17 for payroll?
Some anticipated Odoo 17 features for Payroll module includes removal of Contract History View, addition of generic salary attachments, order salary structure types, conditional advantages, payslip viewer, and many more. These features are likely to improve the overall experience of Payroll management.
Do you need software to run payroll?
Yes, you need the Odoo software to run payroll within the Odoo ecosystem. Odoo is an integrated suite of business applications, and the Payroll module is one of the many modules it offers. You have to install Odoo ERP to be able to use it.
Befriend Technology for Transformation
Selecting the right technology is pivotal to your business's growth and success. Have you already decided the suitable one for your next project? If so, we can help you take the next step. If not, we can help you decide the best option. Connect with the Top 1% pre-vetted software engineers to build your software.