468
Odoo Pricing Breakdown: A Complete Cost Guide for Successful ERP Implementation
16 Oct, 2023
8 min read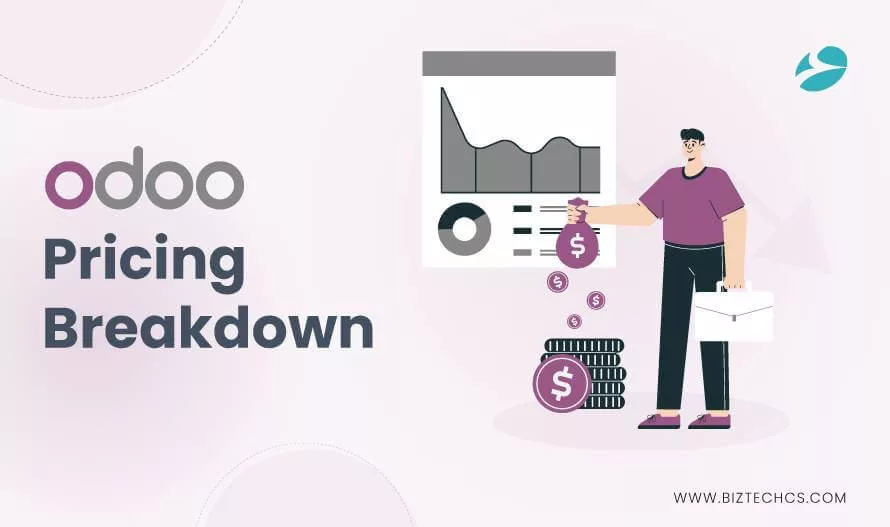 https://www.biztechcs.com/blog/odoo-pricing-breakdown/
Summary
In the ever-evolving landscape of business, the right tools can mean the difference between stagnation and soaring success. An ERP system is one such transformative tool, and Odoo stands at the forefront of this digital revolution.
But as you embark on the journey of implementing Odoo, a crucial question emerges: what is the true cost of transformation?
In our comprehensive guide on Odoo Pricing, we unravel the intricacies of Odoo's pricing structure. Get ready to delve into the nitty-gritty details, discover hidden costs and additional costs, and pave the way for a seamless and cost-effective ERP journey.
You should also be able to calculate the development costs associated with hiring experts from an Odoo development company. So, let's dive right in!
A Brief Overview of Odoo as an ERP
Odoo SA released the initial version of the Odoo suite of business management software in February 2005. While it was released initially as an open ERP system, the paid Enterprise version was rueleased later to fund the operations of Odoo Community.
Let's explore the various aspects of the All-in-One business solution, Odoo!
Operating Systems: Windows, Linux, iOS, Android, OS-X, Unix-Like
Modules: Over 100 base modules such as Accounting and Finance, Inventory Management, Project Management, Sales and Purchase Management, MRP, HR management, POS, CRM, eCommerce, Website, Marketing Automation, Odoo Helpdesk, etc. among others.
Benefits:
Improved customer satisfaction with features like real-time data access to help with quick and informed decision-making.
Elevated customer experience with a highly intuitive user interface and personalization.
Automates business processes.
Integrates services and systems.
Uninterrupted supply chain process with integration of supply chain management module.
Planning, monitoring, and implementation of business strategies.
Quick order processing and invoice generation.
Inventory management software to minimize any losses.
Payroll, benefits, and personal information are all managed.
Reports and analytics to better gauge your business situation, financial and otherwise.
Customer relationship management to boost sales, business growth, and increased ROI.
If you are still using a legacy system and want to transform your business processes, Odoo migration is the best solution for you. However, you have to estimate costs depending on your business requirements first.
So, let's help you with that!
Odoo ERP Pricing: Complete Cost Analysis
Odoo offers a flexible pricing structure that caters to different business needs and budgets. The pricing is based on a scalable user model, allowing businesses to add or remove users as required.
There are two editions available:
The Community Edition, which is open-source and free to use, and
The Enterprise Edition, offering advanced features and additional support.
So here, we will explore the total Odoo price in detail for the two editions. Let's start with the Odoo Community first!
Odoo Community Pricing
I. Software Licensing Costs
Since the Odoo Community version is Open-Source, there are no costs associated with the acquisition and use of the Odoo software. You can download the business software and make use of it with absolutely no upfront licensing fee.
II. Hosting Costs
The Odoo cost for hosting will depend on the hosting type you choose to go with. For Odoo Community users, you have two hosting options as mentioned below!
Self-Hosting: If you choose to host Odoo on your own server infrastructure, you'll incur hardware and infrastructure costs, including server hardware, network infrastructure, and data center expenses.
Cloud Hosting: Opting for cloud-based hosting solutions (e.g., AWS, Azure, Google Cloud) means paying for server resources (CPU, RAM, storage) on a subscription basis. Costs vary depending on resource usage.
III. Development and Customization Costs
Odoo customization allows you to build specific features based on your business requirements. However, these customizations are done by Odoo experts and the cost will vary depending on the extent of customization.
While basic customizations cost minimal, more complex and additional customization can shoot up your project.
You may need to budget for development costs if you require tailored features, integrations with other systems, or specific functionality adjustments.
IV. Implementation and Deployment Costs
These costs may include hiring consultants or in-house resources to set up Odoo, configure modules, migrate data, and ensure a smooth deployment.
V. Module Costs
While you get a set of core features with your Odoo Community version, you may require more as you start to develop and customize Odoo ERP to your needs. For that, Odoo offers a marketplace with additional modules and apps. Some of these may be free, but others may require a one-time or recurring payment. Consider the apps you need and the Odoo apps pricing, Odoo Studio pricing, etc. during budget estimation.
VI. Integration Costs
Integrating Odoo with other systems (e.g., CRM, e-commerce platforms, accounting software) may involve costs related to development, middleware, or third-party integration tools.
VII. Training Costs
Training your staff to use Odoo effectively is crucial. Costs may involve hiring trainers or using online resources to educate users. It will ensure everyone's on the same page and can use Odoo UI efficiently, thereby improving user adoption.
VIII. Maintenance and Support Costs
While Odoo Community Edition is free, you may need support services for bug fixes, updates, and troubleshooting. Consider budgeting for support contracts or in-house IT staff for maintenance.
You may as well rely on Community forums and support materials to find Odoo solutions. However, it is time-consuming and may not bring forth the best results.
IX. Add-On Services Cost
Depending on your needs, you may consider additional services such as data backups, security audits, and performance optimization, which may have associated costs. Consider these costs beforehand for a better understanding of your project budget.
Odoo Enterprise Pricing
I. Software Licensing Costs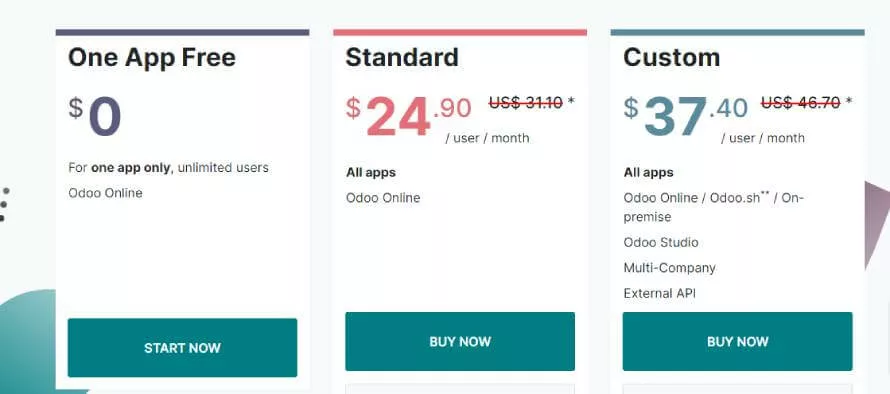 Image Source
Odoo Enterprise Edition is not open-source and requires payment of Odoo license fees. Costs depend on the number of users and the modules you choose.
One App Free: You get to have one Odoo application completely free of cost. In case, the app has dependency on other business applications, you also get access to those modules. You can always upgrade to the Standard or Custom plan as per your business needs.
Standard: The Standard plan allows you to use all Odoo modules at a fixed price per user. So, your subscription plan will vary depending on the number of users you choose and your region, of course. For the US, it is $24.90 per user per month. It is up to you to choose monthly billing or yearly billing.
As for India, you can check the Odoo Enterprise cost below!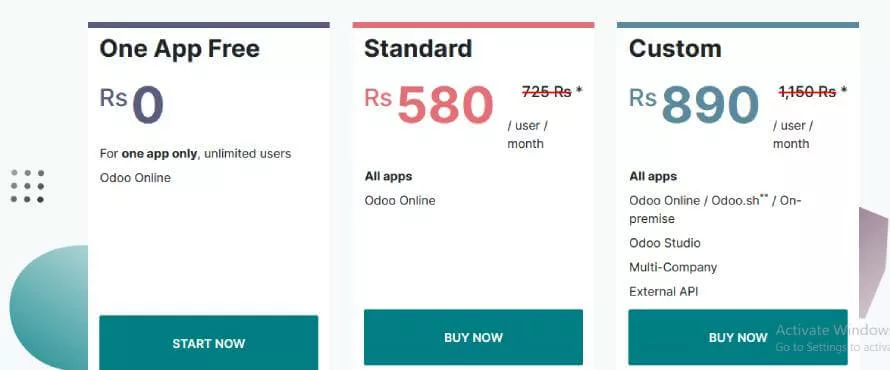 Image Source
Custom: We recommend this plan for deploying Odoo on-premise or on Odoo.sh hosting. It gives you complete flexibility to customize your Odoo application and integrate third-party applications into it. Because of the high level of personalization offered by the Custom plan, it costs more than the other two pricing plans.
II. Hosting Costs
For its Enterprise users, Odoo provides 3 kinds of hosting options:
On-Premises: This type of hosting can be done on a local server or third-party external server. Here, you have complete control over your hosting infrastructure, you are responsible for its operational costs and maintenance costs. Enterprises choose AWS widely for on-premise hosting.
Odoo Online: This cloud-based system is offered by Odoo to its software users where any operational and maintenance tasks are handled by Odoo only. Users can just enjoy the perks of cloud hosting without having to worry about any hosting technicalities at Odoo cloud pricing.
Image Source
Odoo.sh: This option is dedicatedly available for the users of Odoo Enterprise. This cloud platform extends shared and dedicated server options. Small-scale businesses can go for a shared server whereas Enterprises with more complex processes may opt for a dedicated server with Odoo.sh.
P.S.: Odoo.sh is available free of cost to Odoo partners.
III. Customization Costs
Customization requirements for tailored features, integrations, or specific functionality adjustments can vary widely. Budget for development costs accordingly.
IV. Implementation and Deployment Costs
Hiring consultants or in-house resources for initial setup, configuration, data migration, and deployment may involve the Odoo implementation costs. Note that Odoo migration from one version to the next is available free of cost. If you need any customization in your Odoo software, then you may need to hire Odoo partners, which comes at a cost.
V. Training Costs
Training your staff to use Odoo effectively is crucial. Costs may involve hiring trainers or using online resources to educate users. It will ensure everyone's on the same page and can use Odoo UI efficiently, thereby improving user adoption.
VI. Maintenance and Support Costs
For instant support services, bug fixes, updates, and troubleshooting, you can seek maintenance and support solutions. Consider budgeting for support contracts or in-house IT staff for maintenance.
You may as well rely on Community forums and support materials to find Odoo solutions. However, it is time-consuming and may not bring forth the best results.
Read Also: Odoo 17 features for localization
Cost Benefits of Hiring Odoo Implementation Partners
Hiring Odoo implementation partners can offer several cost benefits to businesses considering the adoption of Odoo ERP software. Here are some of the key cost benefits associated with partnering with Odoo implementation experts:
1. Efficient Implementation: Odoo implementation partners have extensive experience in deploying Odoo solutions. Their expertise allows for a more efficient and streamlined implementation process, reducing the time and effort required for deployment. This efficiency can translate into cost savings through quicker time-to-value.
2. Customization and Tailoring: An Odoo partner can tailor the ERP system to meet your specific business needs. Instead of investing in costly in-house development, partners can efficiently customize modules and functionalities, ensuring that you get the desired outcomes without excessive expenses.
3. Reduced Training Costs: Odoo partners often provide training and onboarding services as part of their implementation packages. This reduces the need for additional training expenses for your staff, ensuring that your team is proficient in using the ERP system from the start.
4. Access to Expertise: Odoo partners have a deep understanding of the Odoo ecosystem, including best business practices, module integrations, and industry-specific solutions. Leveraging their expertise can help you avoid costly mistakes and ensure that your implementation aligns with industry standards.
5. Ongoing Support and Maintenance: Many Odoo partners offer ongoing support and maintenance services. By partnering with them, you can avoid unexpected expenses related to system downtime or troubleshooting, as they can provide timely assistance and updates.
6. Scalability and Flexibility: Odoo partners can help design and implement a scalable ERP solution that grows with your business. This scalability ensures that you don't need to invest in a new ERP system as your organization expands, saving you long-term costs.
7. Risk Mitigation: Implementing an ERP system can be complex, and errors or issues during deployment can be costly. Odoo partners help mitigate risks by following successful implementation methodologies, reducing the likelihood of costly setbacks.
8. Cost Transparency: Odoo partners typically provide detailed cost estimates and project plans upfront, offering transparency in terms of implementation expenses. This allows you to budget more effectively and avoid unexpected costs.
9. Comprehensive Solution: Odoo partners can provide a holistic solution, including software license cost, hardware recommendations, integrations, and customization services. This eliminates the need to source these components separately, potentially saving time and money.
10. Access to Odoo Ecosystem: Odoo partners have access to Odoo's ecosystem of modules, apps, and resources. They can recommend and implement pre-built solutions, reducing development costs and accelerating implementation.
Conclusion
As we conclude our deep dive into the "Odoo Pricing Breakdown: A Complete Cost Guide for Successful ERP Implementation," remember that while costs are indeed a critical factor, they are just one part of the equation. The true measure of success lies not merely in the budget numbers but in the transformative potential of Odoo as a partner in your business journey.
So, let us embark on this ERP voyage with eyes wide open, budgets well-planned, and strategies carefully crafted. It's not just about the cost; it's about the value, efficiency, and future-proofing that Odoo brings to your business canvas.
Ready to implement Odoo to give your business processes a boost?
Our Odoo development team can help you with any assistance in Odoo migration, development, implementation, customization, and deployment. As an Odoo Ready partner, we can give your businesses the necessary technical assistance and leverage the best of Odoo ERP.
Let's connect with our experts and hire Odoo developers with the utmost transparency!
FAQs
Is Odoo really free?
Yes, Odoo is indeed free, but with some important nuances. Odoo's suite of applications offers two main editions: Odoo Community Edition and Odoo Enterprise Edition. The Odoo Community Edition is an open-source version that is free to download, use, and customize. It provides access to a wide range of basic ERP features. On the other hand, the Odoo Enterprise Edition comes with additional features, support, and services, but it is not free and requires payment of licensing fees.
How much does Odoo cost?
The Odoo Enterprise cost includes a license fee of $24.90 /user/month for the Standard plan and $37.40 /user/month for the Custom plan. Besides the license fee, you should also consider the implementation cost, customization cost, price of third-party apps, Odoo apps, and maintenance and support costs.
What are the pros of Odoo?
Odoo offers several notable advantages as an ERP solution. Firstly, its modular and open-source nature provides flexibility, allowing businesses to tailor the software to their unique needs.
Additionally, Odoo boasts a user-friendly interface, making it accessible to both technical and non-technical users. The system covers a broad spectrum of business functions, from CRM to accounting, streamlining business operations and promoting efficiency.
Its active community ensures ongoing development and a wide range of modules and apps, while the option to choose between the free Community Edition and the feature-rich Enterprise Edition caters to various budget constraints. Overall, Odoo's versatility, ease of use, and cost-effectiveness make it a compelling choice for businesses seeking a comprehensive ERP solution.
What are the cons of Odoo?
While Odoo offers numerous benefits, it also has some drawbacks to consider. Firstly, the implementation process can be complex and may require expertise, which can lead to higher initial costs. The free Community Edition lacks some advanced features available in the paid Enterprise Edition, potentially necessitating additional expenditures for specific functionality.
Moreover, the system's performance may be impacted when dealing with a large number of concurrent users or extensive customizations. Lastly, while Odoo's active community contributes to its development, the availability and quality of third-party modules can vary. Careful planning and consideration of these factors are essential to maximize the benefits of Odoo while addressing its limitations effectively.
Why choose Odoo over SAP?
Many businesses choose Odoo over SAP for its flexibility, cost-effectiveness, and user-friendliness. Odoo's modular and open-source approach allows for tailored solutions without the hefty price tag associated with SAP.
Its intuitive interface makes it accessible to a wider range of users, while SAP often requires specialized training. Odoo also offers a vast array of modules, making it a one-stop shop for diverse business needs.
While SAP may be preferred by large enterprises with complex requirements, Odoo caters well to small and medium-sized businesses seeking comprehensive ERP functionality without enterprise-level cost and complexity. For a detailed comparison, check our Odoo vs SAP blog.
Befriend Technology for Transformation
Selecting the right technology is pivotal to your business's growth and success. Have you already decided the suitable one for your next project? If so, we can help you take the next step. If not, we can help you decide the best option. Connect with the Top 1% pre-vetted software engineers to build your software.