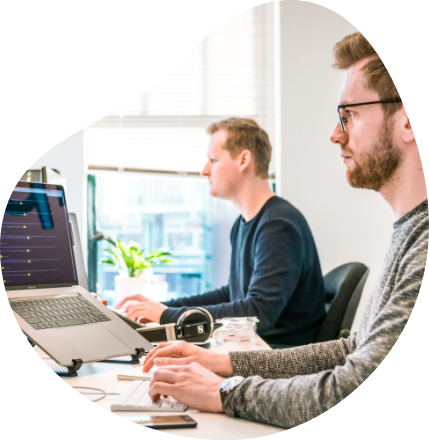 Digitize Learning with LMS Development
"There's no limit to learning."
Platforms like Udemy, Skillshare, and LinkedIn learning made us realize that learning is not confined to specific age groups and classrooms. Anyone can learn anything they want to, that too, from their comfort of home.
With the pandemic, the need for digital learning accelerated. Today, employees expect digital learning solutions like an LMS to prepare them for the future.
A custom learning management system development keeps learners updated with the latest learning materials and provides personalized content recommendations.
Being an experienced LMS development company, we know how to create an LMS solution that makes the learning environment more accessible. You can trust us with your custom requirements!
From helping you decide the features and technologies to developing LMS solutions from scratch and migrating from old LMS, we offer end-to-end development services. You can even hire LMS developers from us for your custom LMS development.
We are trusted for the flexible learning ecosystem that we deliver. You can try and see it for yourself!
Figure out the LMS Development Cost
Share your business requirements and book a 30-minute free consultation with our experts!
Our LMS Development Services and Expertise
We deliver robust and versatile LMS solutions with course-building tools and native integrations to meet your specific e-learning needs.
Custom LMS Development

We provide end-to-end LMS development services to develop cross-platform and feature-rich custom LMS solutions for educational institutions and corporates.

Rich Learning Environments

Make learning fun and creative by including interactive elements like 2D and 3D graphics, avatars, quests, badges, and more. Let our LMS developers help you with gamification and real-time communication tools!

Integrated Plugins and Module Development

Have an existing LMS solution? We will help you enhance your software's performance and capabilities by including custom features and functionalities.

LMS Migration

We migrate your LMS system from its existing tech stack to other e-learning platforms without hampering your data or ongoing process.

Support and Maintenance

Get round-the-clock support, routine system check-ups, and bug detection and resolution. With regular updates and maintenance, we optimize your e-learning solutions to function with 99% uptime.
Benefits of LMS Software Development
Redefining education norms with LMS bridges the digital and residential learning gaps, ultimately, democratizing access to education. If you're an educational institute or a corporate sector, here's how a custom e-learning platform can help you.
Personalize Learning Experience

Custom LMS solution provides various features like the custom dashboard to personalize the learning experience for employees and students. You can provide visual elements and personalized course recommendations based on their preferences.

Reduce Learning and Development Costs

Managing several processes simultaneously can be overwhelming. A custom LMS provides a centralized platform to store and retrieve learning platforms, assessments, training materials, etc. It helps you do away with the infrastructure costs, printed materials, etc.

Performance Evaluation

Educators can evaluate the impact of training concerning learners with the help of detailed reports and statistics. It's easy to know whether the course/training is meeting objectives and each learner's expectations.

Achieve Targeted Goals

Custom LMS development can enhance the learning experience by allowing learners access to different resources like pdfs, videos, eBooks, podcasts, etc. With it, you can reach your learners despite their location and time zone.
Words that make an impact
Success Stories of Digital Transformation Developed By BiztechCS
Our persistence and enthusiasm to work with technologies have helped us go above and beyond our client's expectations. Here, explore many of our successful projects which digitally transformed businesses.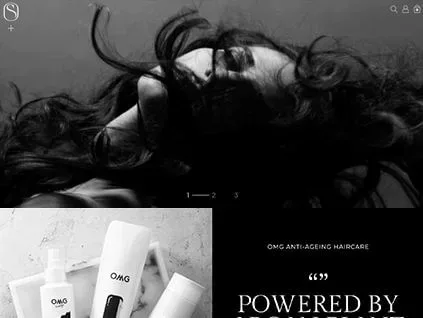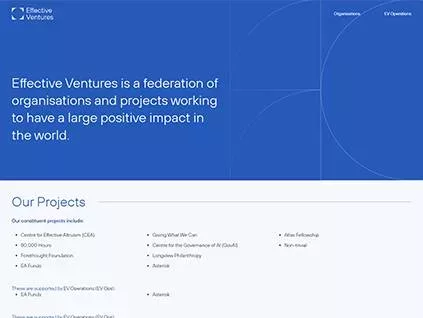 Effective Ventures
HTML5 , WordPress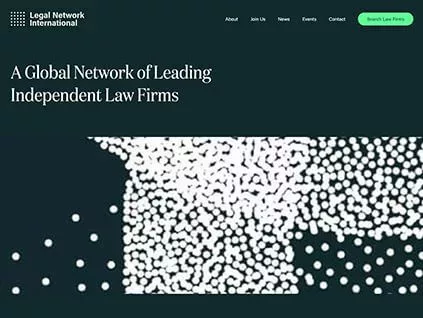 Legal Network International
HTML5 , WordPress
Tech Updates from Team BiztechCS
At BiztechCS, we keep you at the edge of technology with the latest updates, news, and trends influencing the IT industry. Our blog has a unique approach and is well-researched to give you a fresh perspective on technology.
Why Choose Us for Your Custom LMS Software Development Project
We have been working in the eLearning industry for more than 16 years, developing custom modules and plugins for organizations. We are eLearning and LMS experts!
Skilled LMS Developers
On-demand Scalability
Feature-Rich Solution
Flexible Engagement Models
On-time Delivery
Agile Methodology
Code Authorization
Streamlined Management
100% Customer Satisfaction
24*7 Support and Maintenance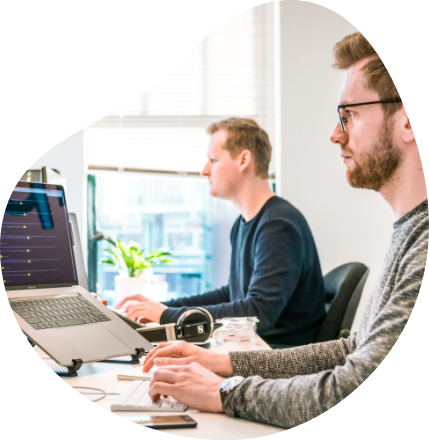 Craft State-of-Art LMS
Deliver personalized engagement, proactive advice, and connected experiences that learners expect when they join your organization with our custom LMS development services.
Frequently Asked Questions
How much does a custom learning management system cost?
The cost of LMS development services depends on the size and complexity of your project, along with the feature requirements. It also depends on the expertise and experience of the LMS development company you partner with. Contacting experts is the best way to get an accurate quote. Here's how you can contact ours – Talk to Experts!
What is the primary goal of using LMS?
An LMS solution helps plan, integrate, and assess various learning processes. It assists companies in training employees from any location and timezone. It's an excellent tool for organizations and institutions who want to optimize their training effectiveness.