744
Your Complete Guide to Hire Best Odoo Partners in USA 2023
27 Jan, 2023
7 min read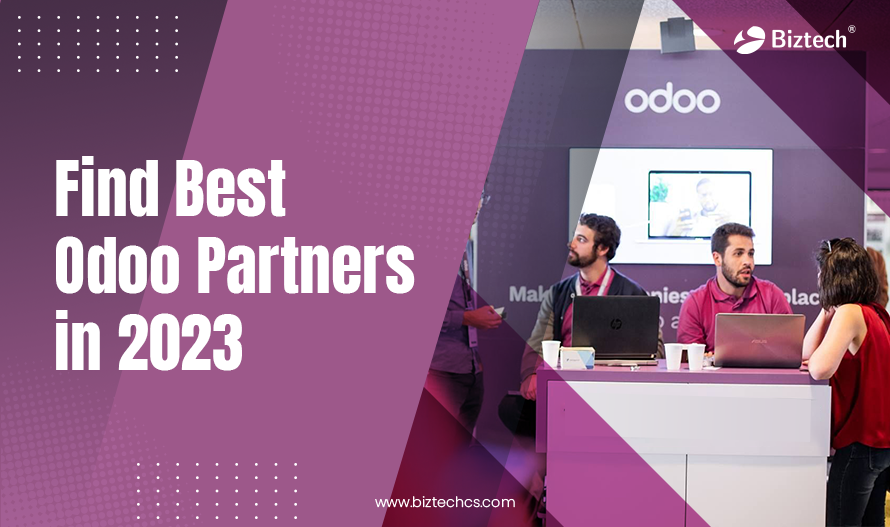 https://www.biztechcs.com/blog/guide-to-hire-best-odoo-partners-in-usa/
Summary
What started as an OpenERP software is now delivering a full range of ERP solutions with its Community and Enterprise editions. Its multiple modules come with exclusive features that can optimize your business app's performance greatly.
While Odoo has a simple user interface and is easy to work with, you can't deny the inevitable need for Odoo partners. They are well-educated on the nuances of Odoo ERP software and the latest technological improvements to keep your business apps running more smoothly.
But, finding suitable Odoo partners is quite a challenging task. Fortunately, I have put together this blog so you can easily find the best Odoo partner for your project and get the most out of this ERP.
Looking for the best Odoo partner USA? We've got you covered!
Odoo Partners - Why Do You Need One for Your Business?
Who do we call Odoo partners?
It is an official label presented by Odoo to various dedicated companies that excel working with the OpenERP Odoo. Working with an Odoo partner ensures
You get a team completely trained on Odoo.
An Odoo partner has access to the source code for the Odoo Enterprise edition.
They are the most suitable partners to resolve any issues occurring in Odoo apps.
They also have access to the weekly training sessions provided by Odoo for upskilling.
You and your employees can be trained to work with Odoo ERP seamlessly by these experts.
An Odoo official partner has access to the GitHub repositories for Odoo Enterprise.
A partner is provided a yearly training session whenever a new Odoo version is released. For instance, a partner is well-trained to work with the newly released version of Odoo 16.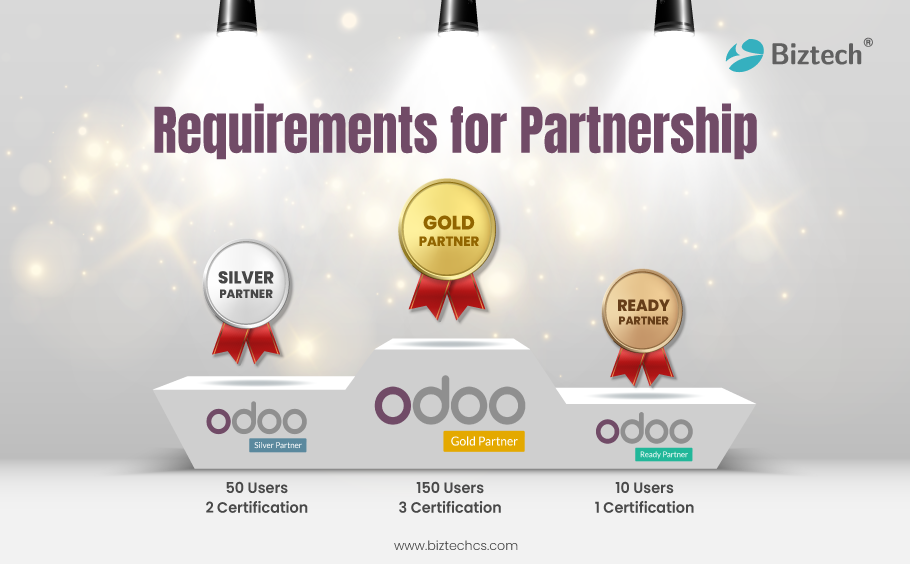 Odoo Partners
There are several Odoo official partner levels presented as mentioned below
Odoo Learning partner
Odoo Ready partner
Odoo Silver partner
Odoo Gold partner
Now, let's look at some of the benefits each of these official partners can leverage.
Recognition
Odoo Ready, Silver, and Gold partners are visible on Odoo.com under their respective sections. However, you can't see a learning partner here.
All official partners of Odoo have the right to use its trademark.
Requirement
When you become Odoo partner for learning level, you don't get any new enterprise users each year. Whereas an Odoo Ready partner gets 10 users and silver and gold partners get 75 and 200 users respectively.
Odoo partners have access to certified internal resources. For Odoo Ready, it's 1 and for Silver & Gold, it is 2 and 3 respectively.
Odoo Silver and Gold partners also have an assured retention rate of a minimum of 70% and 80% respectively.
Training advantages
While all Odoo partners get training for the partnership knowledge base, the scaling up and sales support options aren't available for a learning partner.
Sales benefits
Dedicated account manager – Not available for a learning partner.
Partners mailing list access – Not available for a learning partner.
Local leads – Not available for a learning partner.
Odoo Enterprise commission – 10% for Learning and Ready partners, 15% for Silver, and 20% for Gold.
Odoo.sh commission – 10% for Learning partners, and 50% for Ready, Silver, and Gold partners.
As evident, there are multiple benefits that an Odoo partner gets to leverage. Understandably, they are more acquainted with the way Odoo works and upgrades its processes and are the right candidate for your Odoo implementation needs.
But, the question is – How to find the best Odoo implementation partner for your project? And how to assess that they are the right ones?
Let me help you with that!
Read Also: What is Odoo POS?
How to Choose the Right Odoo Partner in 2023?
Whether you want to use Odoo 15 for your business or want to upgrade to the latest Odoo 16 version, it all starts with choosing the right implementation partner.
Checklist for Odoo Python Developer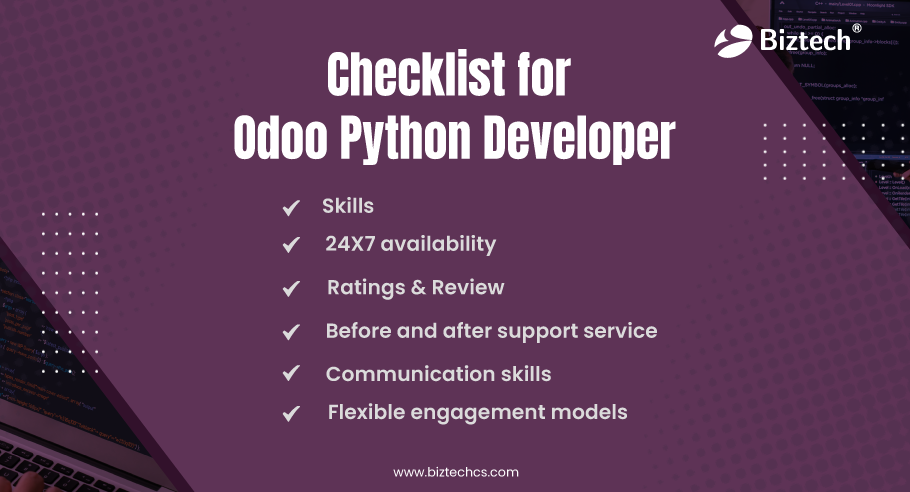 Odoo Developer Checklist
Skills, knowledge, and experience
The most important thing you have to look for in a developer is their skills and experience in working with the Odoo ERP system. They have to be proficient in programming languages like Python and Javascript, which are used for the development of Odoo.
They have to be able to customize the codes if needed so your Odoo apps work flawlessly. Not just that, they must have expertise working with different Odoo modules. It is quite obvious that you will look for developers who have relevant skill sets and experience. But, you must interview them stringently and screen candidates thoroughly.
This process becomes a bit easier when you work with official Odoo partners. You don't have to think whether they have relevant skills or not as they have proved themselves to be qualified enough to be an Odoo partner.
What you can further do is note down your unique project needs. It should help you interview the candidates on relevant matters that are specific to your project.
24X7 availability
Odoo ERP works like a centralized system connecting all your business applications. So, if there arise any issues in your Odoo modules, it can interrupt your business productivity.
To evade situations as such, you need to find Odoo developers who are available round the clock. Doing this will ensure they are easily accessible if one such incident arises and your business productivity isn't hampered.
So, make sure to hire a team that is available 24×7 for any of your Odoo-related needs.
Ratings & Review
Another critical factor in choosing the best Odoo partner Vietnam is checking the ratings and reviews of the agency. A company with good ratings and reviews is always preferable as it is easier to form a positive opinion about them and rely on them for your project needs.
By checking out the testimonials and user reviews, you should get a clear idea of their working style, efficiency, implementation costs, and more.
Before and after support service
It is essential to check if your Odoo service provider also extends before and after support services. Ensuring that will safeguard you from any unnecessary complications involved before/ after Odoo implementation.
You can consult an Odoo professional to strategize better in the beginning for Odoo implementation or receive support services later in case any issues arise. If you don't talk it out with the company beforehand, you might have to pay additional charges for the consultation or support services you seek.
Communication skills
Just like technical skills, your Odoo developers on demand also should have decent communication skills. It is to ensure you can communicate with them seamlessly without any bottlenecks. Thus, it is something you should notice while interviewing the candidate.
In case you are hiring a team with a project manager, you should ensure that the person in contact has the right skills to understand your requirements.
Flexible engagement models
Do you want to hire Odoo developers on a fixed hiring model or want to hire on an hourly basis? Make sure you decide on your preferred model and choose Odoo Gold partners in USA that deliver the same.
Also, if you are unsure which hiring model works best for you, make sure to choose a team that is flexible enough with their hiring models. It will ensure you can switch to a different model of your choice at a later point.
Check out the services offered
You may have more than one Odoo requirement like Odoo 16 migration, Odoo custom module development, Odoo maintenance, training, and more. It is essential that you check with the implementation partner that they extend the services you need.
You can check their website, and portfolio, and confirm in person before proceeding with your Odoo implementation project.
Where to Find Odoo Developers?
Now that you have a checklist of things you should look at while searching for Odoo developers, the real question is 'where do we find such Odoo partners?'.
The answer is, you have to look in multiple places and not just stick to one. Here, I have enlisted a few interesting places where you can find potential leads.
Check out the Odoo official partner page to look for Ready, Silver, and Gold partners that may help you out the best. However, don't just stop here as the sky is the limit when looking for the best Odoo professionals.
Leverage the power of search engines like Google in order to find the best Odoo development company in the US and beyond.
You can search in review websites such as GoodFirms and Clutch to find the best Odoo partner for your business requirements.
You can also find Odoo developers from social networking sites such as LinkedIn.
While you can find an Odoo partner from any of the above-mentioned sources or through recommendations, you should create a robust strategy for their screening. Make sure you have an experienced senior resource who can interview the Odoo developers and determine if they are the right fit for your company.
Besides these, a few other considerations have to be
Privacy and security – Make sure you get an NDA signed by the team.
Be direct about the time and method of communication and ask them to be transparent about the same.
If you already use an old ERP system and want to migrate to Odoo, make sure they are capable of handling that. Ask the team if they have experience with your current platform.
These considerations should help you find the best Odoo partners for your organization. Whether you work with Odoo 14, 15, or the latest version of Odoo 16, they can help you with that.
If you are still looking for an Odoo official partner that can meet your unique needs and implement custom Odoo software, you have come to the right place. With an average of 5+ years of experience in development, our developers can help with any of your Odoo-related requirements.
BiztechCS is an Odoo Ready partner and has access to the Odoo partner dashboard alongside the various perks it offers. Want to leverage these to build a smooth set of business apps, look no further! Connect with our team today to get a quote.
Read Also: Best place to hire odoo developers?
Conclusion
It's 2023 and you want the best Odoo partner to ensure the smooth functioning of your business processes. With this list of things to do, you should be closer to finding a suitable partner for your organization's ERP needs. So, analyze your project needs first and then start hunting for the most suitable Odoo partner.
FAQs
1. How to become Odoo partner?
To Odoo become a partner, you need to attend various Odoo official training sessions. For instance, it is 1 for Ready partners, 2 for Silver partners, and more than 2 for Gold partners. You can check out more information from the Odoo Official partner page or connect with their team.
2. Is Odoo trustworthy?
Odoo is one of the fastest growing ERP software present today and is coming neck-to-neck competition with industry leaders like SAP. The platform itself is secure and the user passwords are protected using PBKDF2+SHA512 encryption (industry standard). Besides, open-source software has a huge community of developers to back it up. So, if you are still worrying whether it is reliable or not, there's nothing to worry about.
3. Why is Odoo so popular?
There are more than one reasons why Odoo is so popular – It is open-source so the costs involved is obviously less, it has a huge community and updates are frequent, the ERP software is best for small to medium-sized businesses, and the interface is easy and can be seamlessly used.
4. What is the benefit of Odoo?
Odoo has several modules that make for the multiple benefits you get to leverage – it is open source, inexpensive, highly flexible, scalable, ensures improved productivity, and helps with quick decision-making, reporting, analytics, and third-party app integrations.
5. What makes Odoo different?
Its ease, flexibility, and integration capabilities make it one of a kind. Odoo ERP software gets as seamless as it could for small to medium scale enterprises at an affordable price. Businesses can also choose its Enterprise edition to add further more features.
6. How does Odoo make money?
Odoo was first introduced as an OpenERP software and its community edition is still available free of cost. However, after seeing its immense popularity amongst businesses and finding a way to monetize the growing needs of maintaining this open-source software, its Enterprise edition was introduced. Odoo supposedly makes money by charging a premium cost to its Enterprise edition users.
Befriend Technology for Transformation
Selecting the right technology is pivotal to your business's growth and success. Have you already decided the suitable one for your next project? If so, we can help you take the next step. If not, we can help you decide the best option. Connect with the Top 1% pre-vetted software engineers to build your software.