1802
Odoo Community Vs. Odoo Enterprise: Which One Should Be Your Ideal Choice?
24 Nov, 2022
5 min read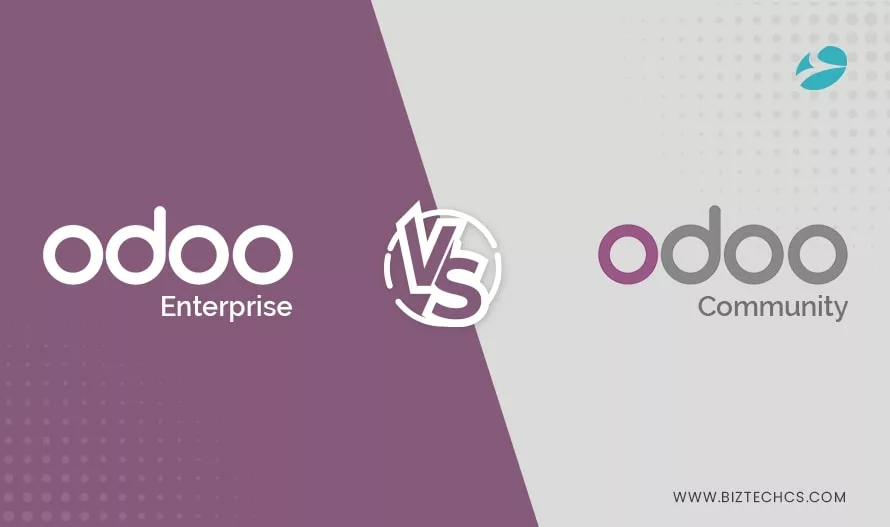 https://www.biztechcs.com/blog/odoo-community-vs-odoo-enterprise/
Summary
Odoo presents a suite of management tools to ease your day-to-day business activities. From risk and compliance management to supply chain management, it can significantly simplify and accelerate your business operations.
Businesses can choose from the Odoo Community vs. Enterprise edition and see what works best for them. Since the Enterprise edition comes with significant charges, it is best to analyze the offered features and benefits before you decide.
Here, you will learn in detail about the two Odoo editions and decide for yourself what would be ideal for your business unit.
So, let's check!
A Brief Introduction to Odoo Community & Enterprise Version
An ERP system works much like a calculator – both ease your job.
For instance, when calculators first came into existence, people found a much quicker way of calculating numbers. A group of scientists working on a complex problem could easily use the calculator to simplify their calculations.
Later, when the scientific calculator was invented, they got an option to upgrade to this exclusive version to use scientific formulas of logarithm and trigonometry. However, that would cost higher.
Scientists with huge requirements for scientific formulas chose to pay for scientific calculators, whereas others chose the plain-old calculator for their computation.
Read Also: Why Choosing Odoo eCommerce for Your Online Store
The Odoo Community vs. Enterprise Odoo works similarly here. Let me brief you on both.
I. Odoo Community
Odoo was released on February 2005 as a tiny ERP software platform. When Fabien Pinckaers first founded the Odoo ERP Community edition, he wanted to help businesses improve their processes using this open-source software.
Like other open-source platforms, this Odoo version is freely available to everyone for customization. Meaning, if you have the technical proficiency or hire Odoo developers, you can customize the platform as per your unique business needs.
Furthermore, statistics show that Odoo is the 10th most popular open-source software. Thus, it is evident that many business units have found the Community version to be quite beneficial.
II. Odoo Enterprise
After a decade of the Odoo Community version's existence, Fabien Pinckaers released the Enterprise edition to assist businesses further. This proprietary edition could help extend the many functionalities of your business system that the Community version couldn't.
This edition was particularly released to stabilize the revenue stream and fund the updates of the open-source Odoo Community platform. Since it is a paid version, businesses enjoy more updates and features.
So, regardless of the version release, you can use the Community as well as the Enterprise edition for your business. Odoo is launching its newest version Odoo 17 in November 2023, which will be made available to both editions.
However, your capabilities will change based on the edition you use.
Odoo Community vs. Odoo Enterprise Comparison
Let's compare the Odoo Community edition vs. the Enterprise edition based on the pointers mentioned below.
I. User interface/user experience
| | Odoo Community | Odoo Enterprise |
| --- | --- | --- |
| Desktop/web version | ✅ | ✅ |
| Multi-language capability | ✅ | ✅ |
| Mobile app (Android/ iOS) | ❌ | ✅ |
| Barcode scanner access | ❌ | ✅ |
While both Odoo versions are a great fit in terms of their UI/UX performance, the Enterprise edition comes with a few additional features. It is only possible to access the platform using a mobile app in the Enterprise edition. Users get to access the Odoo dashboard conveniently from any place and manage resources, sales processes, and other activities.
If you use the Community version, you can use the desktop version using a browser on your desktop or mobile. The mobile app support for the Enterprise edition also enables users to access the barcode scanner using a tablet or mobile, which is missing in the community version.
II. Odoo Studio Customization
| | Odoo Community | Odoo Enterprise |
| --- | --- | --- |
| App creator | ❌ | ✅ |
| Screen customization | ❌ | ✅ |
| Menu editor | ❌ | ✅ |
| Report designer | ❌ | ✅ |
Odoo Studio App is an extremely useful tool out there. It can help business units with no or limited technical knowledge create Odoo applications in a matter of minutes. Mentioned in the above table are some of its key features that allow you to create apps seamlessly.
Sadly, this exclusive feature is only available for the Enterprise edition. That doesn't mean you can't custom-create your apps. Just that it makes things a bit more challenging for you. Businesses will have to use their coding skills or hire Odoo developers to custom-create such applications.
III. Price
The Odoo Community edition is an open-source version that doesn't require you to pay any charges. You can easily download the free edition from Odoo's official site without paying any licensing fee.
However, if you are new to the ERP system, you will need Odoo migration services or technical assistance for successful implementation. Hiring professional Odoo experts will guide you through the process, and you will get the most out of the platform.
Furthermore, check the Enterprise edition plans as mentioned below.
| One App | Standard | Custom |
| --- | --- | --- |
| Free | $24.90/ user/month | $37.40/ user/month |
| Available for one app only | All Apps, Odoo online | All Apps, Odoo online, Odoo Studio, external API |
Your charges will vary based on the number of users, the number of integrations, and your preferred plan. The cost is calculated on a monthly basis and billed annually. You can learn more about the price of Odoo ERP from here.
It is essential to compare Odoo Community vs. Enterprise edition pricing before you choose the best-suited ERP for your organization. It will impact your finances and is an important consideration when choosing an ERP.
However, that cannot be the basis of your decision as it all comes down to the features you need to optimize your various processes. For instance, if your manufacturing process requires quality and PLM features, it would be better to choose the Enterprise edition and enjoy these benefits.
To be precise, you have to decide the cost-to-value ratio and see if it is going to benefit your organization in the long run or not.
IV. Hosting
| | Odoo Community | Odoo Enterprise |
| --- | --- | --- |
| Hosting | ❌ | ✅ |
Odoo Community users have the option to use any third-party hosting vendors or manage the hosting server themselves. You can choose to use any local on-premise server or even a cloud hosting service.
Users of the Odoo Enterprise edition can also leverage these hosting servers in addition to the official Odoo hostings. Names of Odoo's official hostings are:
Odoo SaaS: This multi-tenant online cloud platform is apt for new Odoo users. However, it is not useful if you want to use custom modules or modules available in the Odoo store.
Odoo.sh: Leverage the advanced cloud platform with integrated GitHub capabilities. However, you may need to hire dedicated Odoo developers to manage and maintain this hosting server effortlessly.
V. Support
| | Odoo Community | Odoo Enterprise |
| --- | --- | --- |
| Unlimited functional Support | ❌ | ✅ |
Odoo 16 upgrade was released on October 12, 2022. With its release, the support for Odoo v9 officially ended as it only extended support for its latest three versions. Odoo Community users working on version 10 and above can still leverage the support functionalities.
But, availing unlimited functional support was only available for Odoo Enterprise users. Consequently, the Enterprise edition might be a better choice if you want to enjoy benefits like unlimited support.
VI. Upgrade
| | Odoo Community | Odoo Enterprise |
| --- | --- | --- |
| Version Upgrade Support | ❌ | ✅ |
If you want to upgrade or migrate to the latest Odoo 16 version or any other version, you get assistance for the same in the Enterprise edition. However, the Community edition doesn't have any provision for this.
If you want to upgrade to the latest version in Community, you will have to do it yourself with the best Odoo developers onboard. Also, you can't upgrade with all the customizations and third-party integrations involved.
VII. Odoo modules/features
Here are some Odoo Community vs. Odoo Enterprise differences based on the modules used:
Accounting module
| | Odoo Community | Odoo Enterprise |
| --- | --- | --- |
| Complete Accounting | ❌ | ✅ |
| Invoicing & payments | ✅ | ✅ |
Manufacturing
| | Odoo Community | Odoo Enterprise |
| --- | --- | --- |
| MRP | ❌ | ✅ |
| Maintenance | ✅ | ✅ |
| IoT | ❌ | ✅ |
| Shipping Connectors | ❌ | ✅ |
| Quality | ❌ | ✅ |
| PLM | ❌ | ✅ |
Human resource management
| | Odoo Community | Odoo Enterprise |
| --- | --- | --- |
| Payroll, employee referrals, approvals, department dashboard, appraisals | ❌ | ✅ |
| Employee directory, leaves, expenses, recruitment | ✅ | ✅ |
Sales management
| | Odoo Community | Odoo Enterprise |
| --- | --- | --- |
| Subscriptions, digital products, helpdesk, eSignature, Field Service | ❌ | ✅ |
| CRM, customer portal, and sales | ✅ | ✅ |
Project management
| | Odoo Community | Odoo Enterprise |
| --- | --- | --- |
| Forecasts | ❌ | ✅ |
| Tasks and timesheets | ✅ | ✅ |
These Odoo Community features and Enterprise features should help you spot the key differences between the two editions.
How to Choose the Right Odoo Edition for your Business?
In a nutshell, the Odoo Enterprise edition has benefits such as:
Improved and responsive backend for all devices,
Extensive Odoo Enterprise features,
No user limitations,
Standard migration or upgrade support.
But it comes at a cost!
A cost that many business units might feel too overwhelmed with.
Especially for startups and mid-level organizations, it is a critical factor they must consider. So, what should businesses choose between the two editions?
Well, here's something you can do to make the decision process easier!
Read Also: Odoo VS MS Dynamics Business Central
I. Define the scope of the project
Your project will require the implementation of certain Odoo modules and apps. Based on the Odoo Enterprise vs. Odoo Community differences mentioned above, you will be able to know which features are available for your edition.
It is in your best interest to define your project's scope and write down the modules and features that you absolutely need. This will help you differentiate between the features/modules you need and the ones you want.
If most of the modules and functionalities are from the Community version, you may not choose to upgrade your plan to an Enterprise edition and vice versa.
II. Determine the number of users
Well, the number of users in your organization will directly affect the cost of implementation in the Enterprise edition. You should also consider their technical competency as you will need to train them to work seamlessly with the Odoo ERP system.
III. Assess your technical team's capabilities
What is the quality of work your technical team put together? Can they handle the Odoo implementation, migration, and training tasks?
If not, you will need Odoo professionals who can help you implement the Odoo ERP system seamlessly, customize modules, and integrate third-party apps.
IV. Consider budget
It is important to consider the budget for Odoo implementation as it can affect your organization's financial standing. Make sure you consider the cost of implementation, resource acquisition, and operational costs before deciding the best edition for your organization.
Performing these steps will provide you with a clear idea of where your organization's needs lie. It should help you decide the best-suited Odoo edition for you.
Furthermore, if you need technical assistance with Odoo ERP implementation, migration, or customization, BiztechCS can help you sufficiently. We are proud Odoo Partners with professionals well experienced with the nuances of the Odoo Community as well as the Enterprise edition.
Connect with the expert professionals of a leading Odoo development company like BiztechCS to leverage the ERP software to its fullest potential!
Conclusion
This guide on the Odoo Community vs Enterprise edition is to shed light on the key differences between the two editions. You can understand the benefits you get to leverage with the Enterprise edition. At the same time, you are informed about the pricing and other factors that you must consider.
Take all these pointers into consideration and choose the most suitable version for yourself.
Befriend Technology for Transformation
Selecting the right technology is pivotal to your business's growth and success. Have you already decided the suitable one for your next project? If so, we can help you take the next step. If not, we can help you decide the best option. Connect with the Top 1% pre-vetted software engineers to build your software.