811
How to Pick the Perfect Odoo Hosting in 2023? Perks of Choosing Odoo.sh
17 Mar, 2023
5 min read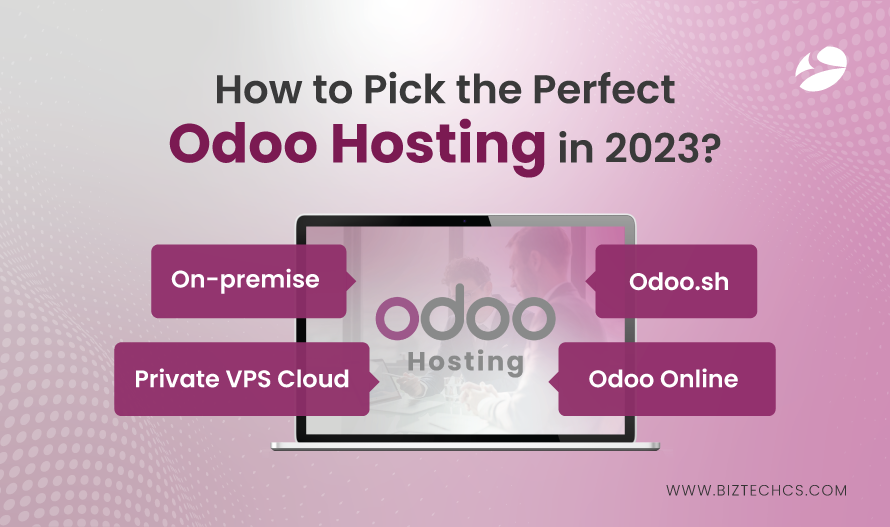 https://www.biztechcs.com/blog/odoo-sh-picking-right-odoo-hosting/
Summary
So you have chosen Odoo for all your enterprise resource planning operations, what next?
Hosting options! Yes, there are plenty of options for you to choose from like on-premise, dedicated cloud, third-party vendors, SaaS, or advanced cloud platforms like Odoo.sh. But, why does it matter which hosting type you choose?
Let me tell you!
All your business apps are managed and accessed on a server; cloud or on-premise. If you don't choose a compatible hosting type to run your Odoo apps and other business applications, there are definite chances of experiencing downtime.
As you would already know, downtime is proportional to less productivity, losses, and poor customer experience. Thus, choosing the right Odoo hosting becomes of prime importance.
But before you decide, there are multiple things you have to consider:
Which Odoo edition are you using? If you haven't chosen yet, compare Odoo Community vs Odoo Enterprise editions and pick one. It's a deciding factor for your hosting needs.
Security offered by each hosting type.
What's your budget?
In this blog post, I have put together all these points to help you pick the most appropriate and cost-effective hosting type for Odoo apps in 2023.
Let's check!
What are Some Types of Odoo Hosting?
If you have chosen the Odoo Community edition, you can manage the hosting yourself by choosing a third-party vendor, cloud hosting service, or on-premise hosting server.
However, if you use the Odoo Enterprise edition, you can either choose to manage the hosting yourself or rely on Odoo's official hosting options.
Here, we will look at the different Odoo hosting options and their advantages and drawbacks to decide which is the most suitable option for you.
On-premise hosting
Applicable for: Odoo Community, Odoo Enterprise
When you go with On-premise hosting, everything is hosted locally on your company's servers and computers. Thus, all your business apps are synced with Odoo ERP apps on-premise (locally or publicly as per your business requirements).
If you want to access any of these applications outside of your company infrastructure, that's not possible with on-premise hosting. Usually, such hosting types are managed by the technical team of your organization as they are well-informed about your server infrastructure.
You can also get assistance from a third-party supplier. However, you will have to consider a few things before you choose this option:
Have they agreed on signing a service-level agreement? Note that it should include all terms and conditions, uptime guarantee, and update responsibilities when growing.
What's the data policy and terms of accessing backup?
Who will maintain third-party apps?
Ask yourself these questions to decide if it is a reliable, appropriate, and affordable option for you.
Advantages:
You can easily install custom modules.
Since you will be able to use Odoo apps locally, it is much faster.
You can manage the hardware yourself, ensuring maximum security.
Disadvantages:
You will need technical expertise to manage the server. If you don't have technically competent people on your team, you may have to hire or look for a third-party supplier. This can increase the cost of deployment.
Hardware costs can increase over time.
In case your hardware experiences a failure, it is not possible to move it to another IP quickly as it is possible with cloud hosting.
Read More: What are the Top Benefits of Choosing Odoo As Your ERP Solution
Private VPS cloud
Applicable for: Odoo Community, Odoo Enterprise
A VPS (Virtual Private Server) is owned by a web hosting provider. It acts as a virtual and isolated environment on a physical server. Virtualization technology is used to divide the physical machine server into multiple virtual ones. You can host Odoo on VPS with custom configurations.
Advantages:
You can upgrade or downgrade server configurations based on your business needs.
It is easy to install custom modules.
Disadvantages:
You have to set up production and staging instances manually, which is time-consuming.
You will also need assistance from a technical person for managing the cloud server.
When to Choose?
If you need a dedicated server with root access, you can choose this option. However, you must have a technical person who can help you manage the server as per your needs. At the same time, you also have to note that it is an expensive method and should be chosen only if you have the need.
Read More About: Why Choose Odoo eCommerce for Your Online Store?
Odoo.sh
Available for: Odoo Enterprise users
Extended by Odoo SA, it is a PaaS (Platform as a Service) and is available free of cost for Odoo partners. The advanced cloud platform is integrated with GitHub capabilities and enables you to create staging, development, and production environment.
Multiple users can use Odoo during development. Additionally, you can easily install any Odoo applications or third-party apps or further custom-create ones as per your need.
To get started, you need to tap on the 'Deploy your platform' button from the Odoo dashboard. You have the option to sign in using GitHub. If you don't have a GitHub account, you may create one now.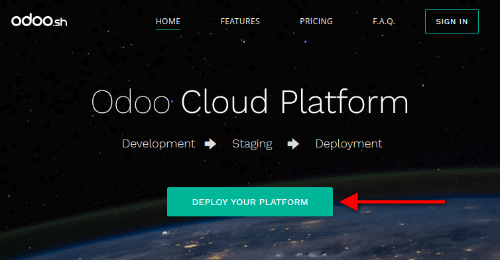 Next, you will need to grant access to all the needed Odoo.sh requirements by pressing the 'Authorize' button. For more information about the deployment of Odoo on the hosting server, you can check out the Odoo sh documentation.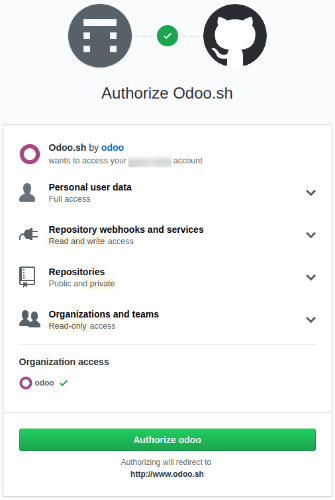 Advantages:
With Odoo.sh connect, you can develop, test the apps, and get your customizations live.
It is possible to develop custom applications or use third-party applications.
Every commit operation creates an automatic build.
With a personal 'Runbot', you can constantly improve your project performance.
Automatic and manual database backups are supported. You can regularly create a backup of your data and it is stored in various data centers from multiple continents.
You get a web-based editor for editing source code, perform commit operations, and more.
It is highly scalable and can change as per your business needs.
Another advantage of this hosting service is that you can choose your deployment architecture. You can select the number of Odoo.sh worker, staging environment, storage, etc. depending on your setup requirements.
Disadvantages:
It is even more expensive than a virtual private server cloud.
Since it is a shared hosting server, you don't have complete control over it as you do in the VPS cloud.
When to Choose?
Working with Odoo.sh is much easier as the steps to development, testing, and pushing to production aren't that complicated. Besides, you can check out the Odoo.sh tutorial from the official page to learn more about the step-by-step procedure.
If you still find it difficult to work with Odoo, you can always hire dedicated Odoo developers and get the necessary help.
Odoo online
Available for: Odoo Enterprise users
It is a SaaS (software as a service) with a pre-configured email server that can be ready for use in a matter of few clicks. Since everything is handled by Odoo only, you do not need to worry about any technical issues.
With the help of Odoo support staff, you can fix errors and get unrestricted security updates for your Odoo apps. They will monitor the system 24×7 to ensure your system and business apps don't experience downtime and can receive maximum efficiency.
Besides any planned maintenance, you get guaranteed 99.9% uptime with Odoo online. Your entire backup is created by Odoo ERP on an everyday basis and is duplicated to keep it safe over 3 other computer networks spread over different continents.
Advantages:
You do not have to worry about maintaining the hosting server as everything is taken care of by Odoo itself.
It is a cloud-based hosting service. Thus, you can access it anytime and from anywhere as long as you are authorized.
Talking about Odoo security, it is completely hacking-safe.
Odoo online also supports any future migrations to updated versions.
Disadvantages:
No customization options available.
It does not support server controls.
You can only use authorized apps from the Odoo App store and no third-party applications.
When to Choose?
When you do not want any hassle of deploying Odoo hosted server, you may consider choosing Odoo online.
If you rely on core Odoo modules for your business operations, choosing this option is best.
In case you want a plan that's customized depending on the number of users and applications, Odoo online is your pick.
Read Also: Top 7 Benefits of Odoo Customization
How to Choose the Best Odoo Hosting? A Quick Comparison of Odoo Hosting Servers
For successful Odoo development and deployment, you must pick the best hosting server first. I have already enlisted the various benefits and drawbacks of the various hosting servers that you can use with your Odoo edition.
Going forward, let's compare all of them at a quick glance!
| | On-Premises | Private Cloud VPS | Odoo.sh | Odoo online |
| --- | --- | --- | --- | --- |
| Number of users | 1 to 200+ | 1 to 200+ | 1 to 200 | 1 to 50 |
| Easy and quick setup | No, requires extensive technical knowledge | Technical expertise needed | Easy setup | Easy setup |
| Automated backups | No | No, either use an auto backup module or do it manually. | Yes | Yes |
| Automated backups | No | No, either use an auto backup module or do it manually. | Yes | Yes |
| Odoo official app maintenance | No | No | Yes | Yes |
| Support for third-party apps | Yes | Yes | Yes | No |
| Best for (Organization size) | Medium to large enterprises | Medium to large enterprises | SME | SME |
| Email server or mass mail servers | No | Yes | Yes | Yes |
| Guaranteed uptime (99.9%) | No | Based on hosting server provider | Yes | Yes |
| Customization level | Medium to heavy | Medium to heavy | Low to medium | No customization option |
This should give you a brief idea about the best Odoo hosting server for you in 2023! Furthermore, let's look at a few additional tips for your reference.
Additional Tips:
First of all, you should check out the Odoo online and Odoo.sh pricing based on the number of users, storage, hosting type, etc. from here. It should give you clarity about the most affordable plans.
If you are on a budget and can't afford Odoo Enterprise, you should try the Community version and can go for affordable shared or on-premise hosting.
Research and check out Odoo reviews to learn more about various companies' experiences.
You should note that Odoo Enterprise is optimized for all devices.
Conclusion
In the end, it narrows down to your business size, budget, unique needs, number of users, and level of customization. The points mentioned above should help you understand which hosting server will prove to benefit your business more.
Take this understanding with you and decide the best Odoo hosting for your business in 2023. If you still find any confusion regarding choosing the best hosting server or need technical assistance for the same, we can help you all the way.
We are an Odoo Ready partner and are well frequented with the nuances of the ERP system. Need us to customize your Odoo ERP apps? We're just a click away!
FAQs
What is Odoo.sh?
Odoo.Sh is a PaaS (Platform as a Service) extended by Odoo SA. Odoo partners can use this free of cost. The advanced cloud platform is integrated with GitHub capabilities and can be signed in using GitHub as well. It enables you to create staging, development, testing, and production environment seamlessly with customization.
What is the difference between Odoo SaaS and SH?
Unlike SH, Odoo SaaS doesn't allow any level of customization and is a ready-to-use server. It gets ready easily in just a few clicks and guarantees 99.9% uptime.
What is Odoo SH workers?
In simple terms, 1 worker is equivalent to a certain number of concurrent users (all tapping on a button at the exact same time). This number could be anything based on the situation. The number of Odoo SH workers simply denotes the number of concurrent requests your server is able to handle.
Why is Odoo so popular?
Odoo is available in two different editions: one is open-source and the other is an Enterprise edition with more advanced features. Thus, it makes Odoo a diverse platform for businesses of all sizes. With its latest Odoo 16 upgrade, it has also optimized the user experience of all the modules with some interesting new features. So, it has become immensely popular amongst SMEs.
Befriend Technology for Transformation
Selecting the right technology is pivotal to your business's growth and success. Have you already decided the suitable one for your next project? If so, we can help you take the next step. If not, we can help you decide the best option. Connect with the Top 1% pre-vetted software engineers to build your software.