1025
WhatsApp Salesforce Partnership: How Businesses Can Benefit from This?
26 Sep, 2022
5 min read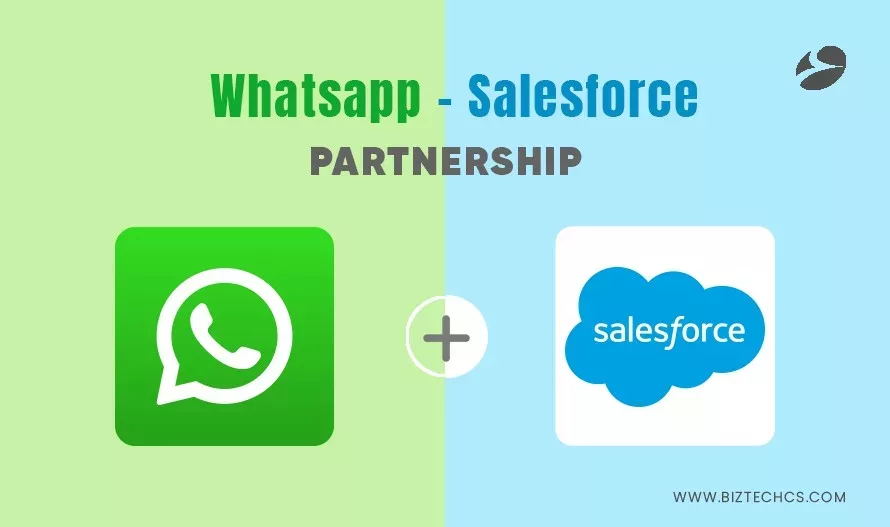 https://www.biztechcs.com/blog/whatsapp-salesforce-partnership-2022/
What Does This WhatsApp-Salesforce Integration Mean for Businesses?
Salesforce's digital engagement with WhatsApp helps businesses manage interactions with leads through a single interface seamlessly. The new partnership can help businesses improve the way they approach a client in various sectors.
For instance, customers using Salesforce for the real estate sector can easily get in touch with potential leads about any newly available property. Or, in eCommerce, business units can use WhatsApp to notify customers about their abandoned products in cart and exclusive deals to convert them. So, there are unseen possibilities that one can achieve here.
Nowadays, most companies are implementing business on WhatsApp to increase sales and know customers' requirements.
Let's look at the various ways this partnership can benefit businesses! But before that, let's see how Salesforce development companies are reacting to it.
Personalized interactions with customers
Amongst the many announcements made in Dreamforce '22, the introduction of Salesforce Genie has piqued the interest of several enterprises. Now, Salesforce marketing cloud WhatsApp enables businesses to interact with customers based on trusted real-time consumer data.
Powered by these AI insights and real-time data, businesses can send personalized messages for the promotion of their products and services. They can do it seamlessly through the marketing cloud CDP (customer data platform) only.
With single-tap WhatsApp ads across social media platforms like Facebook, Instagram, etc., business units can drive their customers to one-to-one interaction.
End-to-end customer journey
Today's customers prefer to be informed about every part of a product purchase process or brand interaction journey. And Salesforce integration with WhatsApp ensures a customer is well informed throughout the journey.
Whether it is informing them of their order status, adding a new product to the cart, or offering them a discount for the next purchase, Salesforce businesses can now quickly connect with customers.
Trigger lead conversion
Businesses can use custom templates with brand images and videos featuring their products and services to improve their lead conversion rate. With the power of instant messaging through WhatsApp and other Customer 360 tools, one can lead to single-tap interactions or trigger action for users to open the product page and continue with the purchase.
Don't believe in the power of messaging yet, hear it from Peter Chan!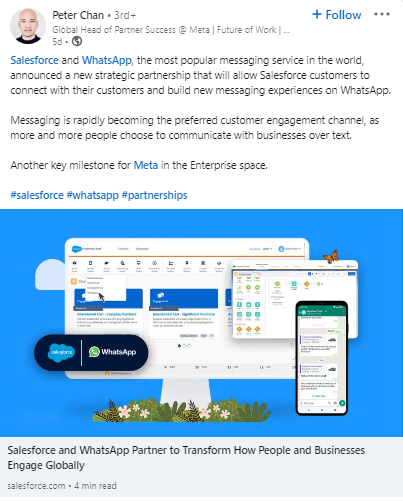 Improved customer service conversations with automation and AI
According to a survey report, about 83% of respondents believe that AI can help them serve more customers and assist them better. With automation, AI, and the features of WhatsApp with Salesforce, it is now possible to improve the customer experience and service. Enterprises can address the issues of a client seamlessly over text messages.
Security and privacy
We all use WhatsApp on a daily basis and it is needless to talk about the security and privacy controls it offers to us users. Every text and conversation between the customer and enterprise is end-to-end encrypted and ensures maximum security.
Befriend Technology for Transformation
Selecting the right technology is pivotal to your business's growth and success. Have you already decided the suitable one for your next project? If so, we can help you take the next step. If not, we can help you decide the best option. Connect with the Top 1% pre-vetted software engineers to build your software.