1941
Salesforce for Real Estate: How it is Transforming the Industry for Good?
09 Sep, 2022
5 min read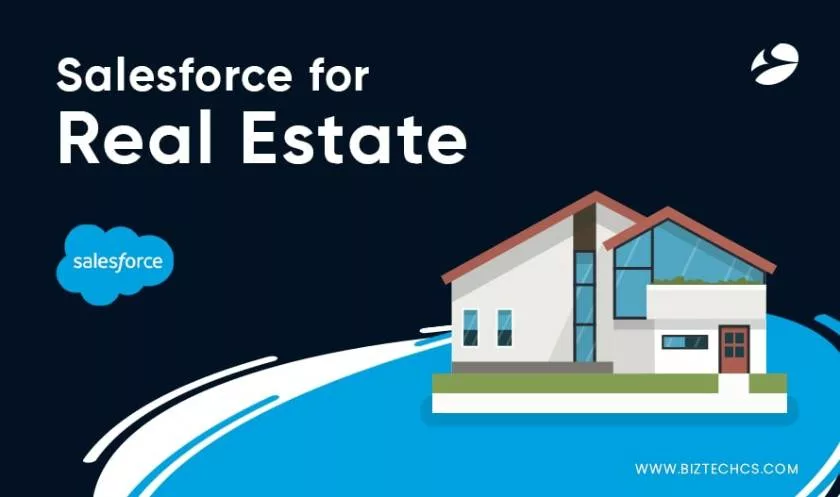 https://www.biztechcs.com/blog/salesforce-for-real-estate/
Summary
Salesforce is a leading CRM software solution today with about 19.8% market share, the largest amongst its four competitors – SAP, Adobe, Oracle, and Microsoft. It is widely accepted by small to large enterprises from various industries as their preferred CRM solution. 
However, if you are from the real estate industry, you would know Salesforce real estate wasn't that popular until recently because of- 
Preference for traditional real estate deals. 

Digitization came much late to the real estate industry and it is still in the transition phase. 
Up until Covid-19 came into the picture, software like Salesforce CRM was mostly implemented by large real estate companies like L&T, IBM, Gartner, etc. Only, a few small to mid-scale real state agencies used it. 
But, the disruption caused by the pandemic caused many businesses to rethink their way of operation, and many small real estate companies started adopting Salesforce to improve their customer and business processes. 
Calson Properties is one such close-knit, family-run real estate company based in California. It was established in 1948 and the company implemented Salesforce CRM solutions in 2019 to streamline its work, automate emails and other communication options, and enhance the visibility of the project status. 
Today, the need for a powerful CRM like Salesforce is too evident whether it is in a small real estate agency or a large real estate enterprise. However, realtors might feel conflicted if it is for the best. 
If you are conflicted about the same, this blog is for you. Here, we will talk about how Salesforce is transforming the real estate industry and its numerous benefits. 
Let's dive in!
Is salesforce good for real estate?
Unlike other industries, closing a real estate deal has higher stakes. If a deal falls through at the last minute, it can cause much loss to a business. And in the conventional method, it happens all the time. Isn't it?
How can you reduce the chances of such occurrences?
Not just a CRM, but a powerful one is your answer. Using Salesforce for real estate might be the best to understand where the deal might go wrong and realtors can take preventive measures. 
But, don't take our word for it! See for yourself. 
Salesforce has acquired around 69 companies

to date to expand their business operations. Its latest acquisition 'Slack' was in 2021 – for Workplace messaging. This feature can be well utilized by

real estate

agency members to connect with fellow coworkers and carry out day-to-day business operations. 

·

Statistics

show that real estate companies investing in Salesforce can see about a 27% increment in sales revenue, around 32% rise in lead conversion rate, and approximately 34% enhancement in customer satisfaction. 

As per the emerging trends in real estate Europe 2021, 78% believe Proptech is going to grow further in the coming three to five years. 
It is evident that CRM (customer relationship management) software like Salesforce is helpful to analyze your customers and strengthen relationships with them. If you are wondering how it is beneficial to your real estate business, look into a few points here – 
Real estate agent has to be on their toes when it comes to acquiring information or sharing them. Salesforce lets them deal with a lot of data securely at their fingertips. 

Building customer relationships with existing customers or approaching new customers is easier with Salesforce real estate CRM.  

Responding immediately to customer queries is made possible with Salesforce. 

The platform can be helpful for establishing contacts with the clients you have worked with previously. 

Salesforce CRM for real estate also aids in decision making as they get to see customer preference, purchasing habits, and other crucial data in pictorial and graphical formats. 
Salesforce has many applications in the real estate industry. And all of it ensures – better communication with clients, improved customer relationships, and increased sales. I have elaborated more about the various benefits of Salesforce later in this blog. 
So, if you ask me whether Salesforce is a good option for your business or not, I would say it is a viable option. But, it should be followed by the right implementation techniques to achieve desired results.
How to Use Salesforce for Real Estate?
Salesforce is a cloud-based CRM solution with multiple modules and features that a realtor may find useful. But, how do you use that to your advantage? Let's check! 
Here, let's look at some of the Salesforce CRM modules and how they can be customized to meet your real estate needs. 
Marketing module –

Marketing automation, Single tap sharing to social media, seamless integration with Google Analytics and other tools, efficient lead nurturing, managing advertising channels, ROI calculation. 
Customer service and support –

Instant messaging through the website or social media portal, integration of sophisticated chatbots, to tend to repetitive customer queries, links to self-service portals, improved referrals with user satisfaction, and automated personalized emails/text. 
Sales module –

Sales document creation, single-click sales offers, getting new leads with the web-to-lead feature, conversion ratio tracking, custom criteria options for lead conversion and tracking, and automatic property listings from numerous sources. 
Analytics and reporting –

Historical trend reporting, custom reports, stacked summaries, reporting snapshots, lead tracking. 
Security

– Granular access rights, authenticated and authorized user access, secure process, and data management. 

Purchase

– Pre-defined discount offer integration, custom property pricing based on plot value and features, booking approvals. 

Community cloud

– Improved business processes for creating loyal customers, a seamless platform to connect real estate agents with customers. 
This is just the tip of the iceberg when it comes to the level of customization and automation you can do with Salesforce real estate. Businesses can automate numerous processes and reduce their day-to-day task overheads for maximum efficiency and better client handling. 
Nevertheless, it is always helpful to hire a Salesforce real estate development company for its implementation and use. The professionals have the desired experience and skills to customize and automate various Salesforce processes.
What Role Does Salesforce Play in Real Estate Growth?
The growing needs of real estate customers can be satiated with evolving technology. The traditional methods of property listing and handling several clients are perceived as a hassle and might be inefficient to some extent. 
Here, let's understand this with a simple example. 
#1 – A real estate company Cresa New York recognized that they have to change and evolve their business processes with time. So, they implemented Salesforce for commercial real estate and automated their business processes. 
What changed? 
Now, whenever a customer reaches out to them with any question, the automated chatbots send appropriate answers and solutions to them. No one is left unattended. It means you retain the lead you get. 

You often had thoughts of reconnecting with previous clients, but couldn't because of too much work overhead. With a salesforce commercial real estate CRM, you can now automate multiple processes and connect with previous clients seamlessly. 
P.S. – chances of more potential leads, and building customer relationships. 
Managing multiple property listings and observing real estate data trends was a lot of a task earlier. And more often than not, assessing them to crack a deal became too overwhelming for them. But not anymore, as they have Salesforce to guide the process. The platform is used for data analysis and reports assessment to create improved real estate operations. 
#2 – Another real estate company Base Camp Leasing in Indiana was established around 20 years ago. They believed traditional methods of business are ideal and didn't feel the need to invest in a CRM. 
The result?  
Increased manual work with property listings and client handling. 

More resources are needed leading to increased operational costs. 

Delay in response time may affect client experience as today's buyer wants to be attended immediately and have a seamless user experience. 

Connecting human resources across different geographical regions were a hassle. 
They eventually addressed these issues by investing in the Salesforce solution. With their experience gathered over the years, they also established another real estate agency named Base Camp Country Real Estate with improved Salesforce solutions. 
The real estate industry is thriving and growing at an exponential rate. As per statistics, it is expected to grow from a market size of $200 billion in 2021 to a market size of $1 Trillion by 2030. 
With Salesforce real estate management, it is possible to improve the various aspects of a real estate business, contributing to its growth. 
Further, let's look at some of the advantages of Salesforce for real estate brokers and decide for yourself if investing in such a CRM is a good deal for you or not.
Benefits of Salesforce for Real Estate Agents
These are some of the most noteworthy benefits of using Salesforce real estate. Let's check! 
A real estate deal may fall through the cracks if the client queries or issues aren't addressed in the due time. They may seek help from your competitors and you could face substantial losses.
But, with Salesforce real estate in the picture, you could send automated AI-powered personalized texts to your clients. They can also answer simple questions or attend to common grievances. 
However, if the chatbots can't help them with the solution, you can record a message and send it to them using any device as Salesforce works on cloud technology. 
Increased conversion rate 
Generating leads is one thing and converting them is another. It takes a lot of persuasion, discussion, and hard work. With a tool as robust as Salesforce for real estate agents, customers can be one step ahead to convert these deals. 
They can analyze the year-on-year real estate trends, customer data, their needs, and wants to help crack the deal. It is often seen that business units with powerful CRM software lead to improved conversion rates than the ones that don't use one. 
Real estate sector is huge and so is the competition. If you want to survive and sustain in this cut-throat industry, data and information are two pivotal things here. On one hand, you have hundreds and thousands of property listings, their features, locations, prices, & characteristics, on another hand, you have to deal with industry trends and crucial customer data. 
With a centralized system of Salesforce, all such data are contained securely within the platform. It can be accessed with security and business units can have a holistic view of their entire processes as they need. 
Productive social media campaigns 
Social media promotions are a must for every business and industry, and the real estate sector is no different. Whether it is generating quality leads or brainstorming them to invest into the properties of their interest, Salesforce can help in both. 
Quick sharing across social media sites or assessing the browsing behavior of customers, Salesforce can perform multiple things for your business. 
While Salesforce real estate has many evident applications and benefits, it all comes down to the right execution and implementation. And that's possible with a quality Salesforce implementation partner.
Biztech is one such reputable Salesforce implementation company that can help your real estate business reign on the new and evolving digital needs.
Wrapping Up
Salesforce CRM has many implementations in a plethora of sectors including real estate. The CRM solution can provide the much-needed flexibility, security, and performance boost that every real estate business seeks. 
With Salesforce for real estate investors, business units can break through the shackles of traditional real estate deals and embrace technological evolution to its core. 
As of now, the various processes have seen much progress with the use of Salesforce, and the most important part – better customer experience is attained in most cases. 
Want to venture into Salesforce real estate? Try out for yourself with the best Salesforce real estate implementation partners!
Befriend Technology for Transformation
Selecting the right technology is pivotal to your business's growth and success. Have you already decided the suitable one for your next project? If so, we can help you take the next step. If not, we can help you decide the best option. Connect with the Top 1% pre-vetted software engineers to build your software.