957
Why Sunsetting Your Legacy ERP For Odoo Makes Sense?
29 May, 2023
7 min read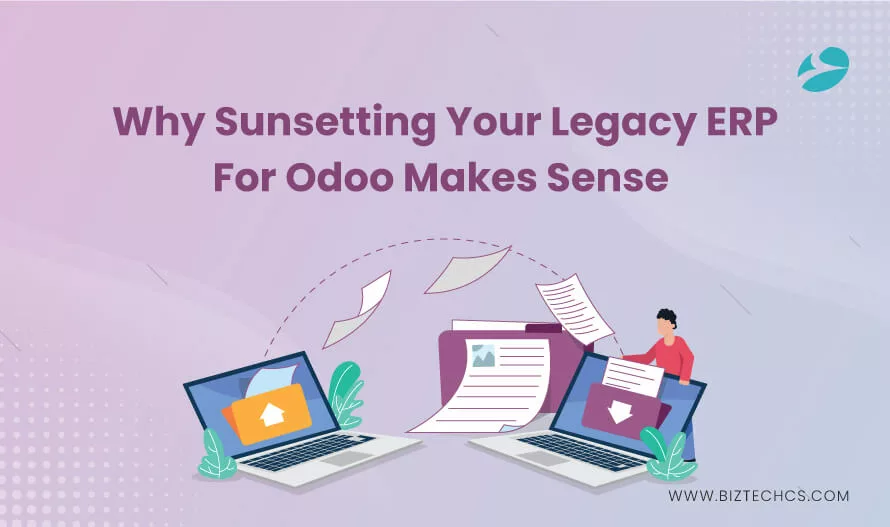 https://www.biztechcs.com/blog/why-sunsetting-your-legacy-erp-for-odoo/
Summary
It's 3:45 PM on a busy Tuesday. You're sitting at your desk, sipping your lukewarm coffee, wrestling with an outdated, slow-moving ERP system that's eating up your precious time and resources. Your team is struggling to integrate new tools, and the entire process is far from mobile-friendly. Worse still, your system is susceptible to security risks, and its inflexibility is affecting workplace productivity. Sounds familiar?
You're not alone. Many businesses today are shackled by the constraints of legacy ERP systems. But imagine a world where your ERP system can be custom-tailored to your specific needs, offers seamless integration with new technologies, and is scalable to grow with your business. A world where high maintenance costs are a thing of the past, and your team can work from anywhere with a secure, mobile-friendly solution.
Welcome to the world of modern ERPs. This blog post will introduce you to one such robust system Odoo, and how availing of Odoo development services can make your transition from your current ERP system a breeze. Say goodbye to unnecessary costs, inflexibility, and security risks. Your journey to improved productivity and efficiency begins here.
The Benefits of Choosing Odoo As Your ERP Solution
There are plenty of reasons why legacy ERP systems don't compare to modern ERPs like Odoo. Here are some noteworthy benefits:
Flexibility & Customization: The Odoo ERP system is highly customizable as you can tweak the features, settings, and modules as per your specific needs. You get to choose from 10,000+ Odoo modules and applications to implement unique ERP solutions for your business.
Scalability: Odoo OpenERP and Enterprise editions are available at flexible pricing options. Furthermore, the Odoo partner pricing also helps businesses scale up and beyond as per their changing needs. The modular architecture in Odoo makes it optimal for all business sizes.
Single-stop Solution: Odoo is a single-stop ERP solution with multiple modules to help your various business operations. From sales and purchases to eCommerce, website, and marketing, you can synchronize them and use them to your benefit.
Cost-Effective: The Odoo community version is open-source. So, if you are going for Odoo Migration to the Community version, the cost will be comparatively less. You can start with fewer modules and add more as and when needed.
User-Friendly Interface: Unlike other ERP systems involving complexity, Odoo has a rather simple user interface. It is easier for you to get acquainted with the software and navigate the dashboard and its various menus.And with the best Odoo partners, you will also be trained to work with the ERP. The partner company has special and quick access to all the latest Odoo news and can help you better understand its UI.
Third-Party Integrations: Streamlining your business operations gets easier with Odoo. It is well capable of integrating with multiple third-party applications for social media integration, shipping, secure payment, and more.
Cloud-Based: With Odoo, you have the flexibility to choose the deployment method. Either select on-premise or cloud-based as per your business requirements.
As evident, there are plenty of reasons you may choose Odoo for legacy ERP replacement. However, you may need to avail of Odoo Migration services from a partner firm to ensure a smooth migration.
And before you do so, here are some Odoo ERP system migration practices that you must note down.
Best Practices for a Smooth Odoo Migration
ERP migration can be troublesome for you if anything goes wrong. You could lose your valuable customer data, some of the customizations may not work, and there can be failed database connectivity.
You can even end up with incompatible modules and business downtime, causing you major losses.
Thus, it is extremely important to create an ERP data migration checklist before you start migrating to Odoo. Here's a list of ERP data migration best practices that you need to take care of during the ERP migration steps.
Are you migrating from a legacy system to Odoo ERP? For example, QuickBooks to Odoo Migration? Then, you need to review third-party dependencies, customizations, and more.
When you collaborate with an Odoo partner, you will need to tell them about all the customizations present in your system. Not knowing about the minute customizations can mess up the whole ERP system after migration with bugs.
Make sure to create a backup of your data and system so nothing is at risk even if things go a bit awry during the migration process.
Create a robust strategy for successful ERP data migration methodology.
Read More: How can we use ERP in manufacturing?
How Do You Create a Tailored Data Migration Strategy for Odoo?
Having a tailored Odoo migration strategy will help in many ways. Here are a few steps that are essential to forming a tailored data migration strategy and their associated benefits.
Identify the scope of migration: Defining the scope of migration will help you understand the amount of work Odoo partners have to do. It will also give you clarity about the data to be migrated, the customizations needed, and the systems to be integrated. You will also ensure that all the stakeholders are on the same page.
Set a budget and timeline: As a business, you may have budget constraints or need to switch to the new Odoo ERP quickly. Having a budget and timeline planned will give you the clarity needed.
Foresee risks and reduce downtime: What are the risks associated with your current ERP system? You should be able to identify these risks so you can build a new ERP system without these risks. With a contingency plan and identifying these risks, you will also be able to reduce business downtime.
Ensure data integrity: You can form a robust ERP data migration strategy with the help of Odoo developers to migrate sensitive data to Odoo. You can plan for removing redundant data, define data mapping, cleanse data, and validate data for appropriate migration.
Plan for user training and support: By planning for user training and support, you will ensure that you, as well as your team, are capable of working with Odoo. They will be trained on the new system, help with user adoption, and minimize the risk of errors.
Not curating a proper plan prior to migration can result in poor and faulty migration and even lead to delays.
Read More: A comprehensive guide to ERP and Open-ERP Systems
The Role of an Odoo Partner in the Migration Process
While having a proper migration plan is critical for success, you should also look for the benefits involved with investing in the Odoo partner program.
What is an Odoo Partner?
Odoo Partners are certified and recognized professionals authorized by Odoo SA. Only after going through the training program and qualifying certain benchmarks set by Odoo SA, they are accredited as Odoo partners.
You can hire dedicated Odoo developers from partner firms to get technical support and help devise a robust migration strategy.
They can help you in numerous ways, as mentioned below:
Reviewing existing legacy system: An Odoo partner should help you assess the state of your legacy system accurately. They will inform you about the shortcomings of your current ERP and the ways that Odoo ERP can help address them.
Devising a migration strategy: Odoo partners will help create a robust ERP migration checklist so you don't miss out on any essential steps.
Technical assistance with Odoo: Odoo partners are well-educated in the nuances of the ERP system. They also have access to all the latest updates and features to help you better with the migration.
Testing and QA: Acquiring Odoo development services from a partner firm ensures you have access to quality resources. These professionals can help with thorough testing of the Odoo ERP solutions and check if all the integrations and customizations are working in order.
Read Also: Odoo Vs ERPNext
Why Partner With an Expert Odoo Company like BiztechCS?
By now, you're familiar with the critical role an Odoo partner plays in the migration process. But the journey doesn't end there. Their expertise and skills extend far beyond the confines of migration, offering your business a bouquet of post-migration services.
But how exactly does this partnership add value to your business operations? Let's pull back the curtain and dive into the multifaceted ways in which an Odoo partner company like Biztech can supercharge your business.
Skills and Experience: There may be plenty of Odoo development companies in the market. But, a partner firm has the desired skills and experience that your project needs. They are well-trained on the various Odoo modules and help you with not just migration, but integration and development.
Reduced Implementation Time: Through their well-defined processes and methodologies, you can reduce the implementation time in leaps and bounds. You get guaranteed minimal downtime and improve your business productivity.
Customized Odoo Apps: An Odoo partner company can do more than integrate the already existing modules and apps. With their skills and expertise, they can even build unique Odoo applications as per your distinct needs.
Training and Support: You and your employees can learn to work with Odoo more efficiently and quickly with help from an experienced Odoo partner. They will also extend support in case you experience any issues after migration.
Reduced Cost: Instead of hiring an in-house team of Odoo developers, outsourcing Odoo migration services from a partner company will cost you substantively less. You can get a range of Odoo development, customization, and migration services from a single firm in addition to ongoing support.
BiztechCS is an Odoo Ready partner with extensive knowledge of various modules and applications. We help companies not just migrate to Odoo but adopt this ERP to improve their business processes and increase productivity and profitability.
We also assist companies implementing Odoo that have never used an ERP and help with training and support so they can use it effortlessly.
Conclusion
In a rapidly evolving business world, clinging to outdated ERP systems is like running a race with a heavy backpack. Your competitors are sprinting ahead, while you're left gasping for breath. It's high time to shed the weight and embrace a modern ERP system like Odoo, tailor-made for your needs to elevate productivity and profitability.
Odoo ERP, with its extensive suite of modules and applications, is a powerhouse of capabilities waiting to be harnessed. But the true magic unfolds when you join forces with an experienced partner like BiztechCS. We don't just help you migrate to Odoo; we empower you to leverage its full potential and optimize your business processes. As an Odoo Ready partner, we bring to the table our rich expertise and deep knowledge of Odoo's workings.
So, are you ready to leap into the future and revolutionize your business operations? Take the first step with us. Contact BiztechCS today and let's embark on this transformative journey together.
FAQs
What is ERP migration?
The process of transferring your organization's current ERP from one system/ software/ version to another is called ERP migration. You can either migrate to a higher or newer version of the same software or change from one software to another of your choice.
Is Odoo safe?
Yes, Odoo is one of the safest and most secure ERP software. Its layered security and regular updates make it secure as an ERP platform. Odoo encrypts all sensitive data to protect your system from unauthorized access or data theft. Audit trails, disaster recovery options, backup and restore functions are some of its key security features.
Befriend Technology for Transformation
Selecting the right technology is pivotal to your business's growth and success. Have you already decided the suitable one for your next project? If so, we can help you take the next step. If not, we can help you decide the best option. Connect with the Top 1% pre-vetted software engineers to build your software.