1362
How to Build Robust Meditation App: A Complete Guide on Types, Costs, & More!
29 Sep, 2022
14 min read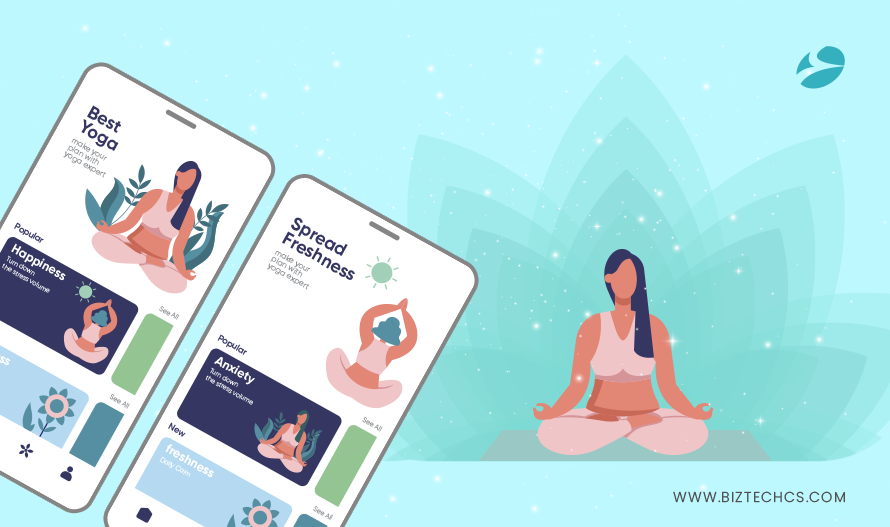 https://www.biztechcs.com/blog/meditation-app-development/
Summary
Contrary to the popular belief that you don't need technology for meditation, today we have several meditation apps, podcasts, and videos to go. To name a few popular apps, we have – Calm, Unplug, Breathwrk, Shine, and Smiling Mind.
Such applications are a great alternative to many expensive in-person therapy sessions. While they are valuable to users dealing with anxiety and stress in everyday life, it is also profitable for businesses investing in meditation app Development.
Speaking of one such meditation app – Calm; it became Apple's iPhone "app of the year" for the year 2017. In fact, as per a report, it generated an estimated revenue of $200 million in 2020, a 33% improvement from its previous year.
About a decade ago, who would have thought that a meditation app could be that profitable to a business?
But today there lies immense possibilities for entrepreneurs who want to develop meditation apps. Isn't that the same reason you are here? If yes, stay with me through the blog to know your way around developing top meditation apps.
How Technology is Reinventing the Plain-Old Art of Meditation?
Meditation is the practice to focus on your body, mind, thoughts, and activities to attain a calm and stable state. Amidst the hustle-bustle of fast-paced life and digital confinement, meditation can help attain emotional stability and peace.
But, how does technology interact with this ancient practice?
Looking around, I have found people chanting slogans from spiritual books to attain a state of mind. Some listen to relaxing and therapeutic music while others seek guided meditation.
So, each person has their own unique style of meditation, and technology can play a vital role in this. It is especially important for people with no experience and knowledge as they get to explore the depths of meditation with help from experts.
Daily meditation apps are a great option in this context. If you are still puzzled about whether your guided meditation app can be a success or not, it is time to relax your shoulders and let go of the confusion.
You can innovate a number of ways how your app can contribute to the modern ways of meditation. For instance
It can speed up the process of getting into the meditative state.
Help amateurs with guided meditation.
Provide visuals or auditory arrangements.
Clearly, this ancient art has welcomed technology for betterment. Now, it is up to you to build the best relaxation apps that can be profitable to you as well as your users.
The Best Meditation Apps & Their Types
The above section covers how technology interacts with meditation. And mobile apps seem to be the most popular form because of their easy accessibility.
So, before you develop your own meditation app, it is best to research what has already been achieved and what your competitors are doing. You might as well want to research the best health and fitness app ideas before you start your own.
Lucky for you, I have curated this list on what is the best meditation app and what different kinds can you develop.
Let's check!
1. Headspace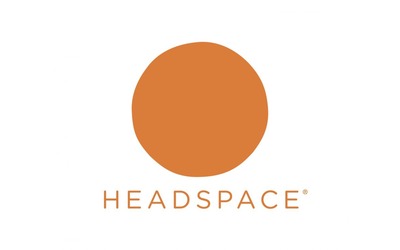 Platforms – Android, iOS.
Average rating – 4.9 ⭐, 70 Million downloads.
Pricing – Free to download, 14-Day free trial available
Type – Guided meditation app.
Headspace explores the art of meditation and combines them with technology to present guides for all, from beginners to advanced. Their motto is to help users achieve a greater state of emotional and mental stability, peace of mind, joyfulness, and sound sleep.
Technical findings – The app fosters a beginner-friendly user interface with hundreds of meditation exercises one can choose to do. With visually pleasing aesthetics and animation, it is one of the best apps for meditation.
2. Calm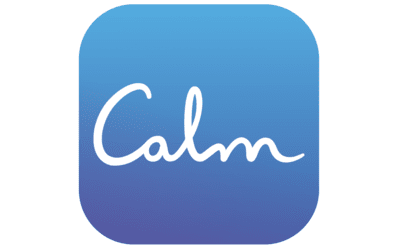 Platforms – Android, iOS.
Average rating – 4.6 ⭐, 10 Million downloads on Google's Play Store.
Pricing – Free to download, offers in-app purchases.
Type – Guided meditation app, sleep stories, relaxation app.
Is stress keeping you up at night? Or, lack of focus is driving you away from your goals? Then, Calm is the app for you. It is one of the best relaxation apps accessible to anyone.
The Co-founder of Calm Michael Acton Smith says "Calming the mind is not about switching off and retreating from the bustle of life. It's a superpower that rewires our brains, changes the way we see the world, and helps to unlock our true potential." .
Technical findings – The aesthetically pleasing visuals of the Calm app is very satisfying to the users. It features a library of pleasant background music that can help one relax and sleep; a great option for people suffering from insomnia.
3. Shine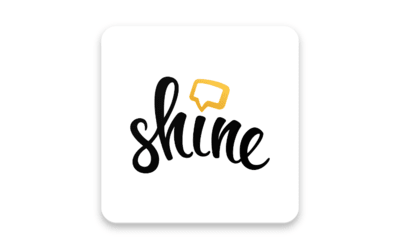 Platforms – Android, iOS.
Pricing – Free to download, $64.99 yearly subscription.
Type – Meditation app, a platform to connect with the BIPOC community, and mental wellbeing.
Developed and introduced by two BIPOC (Black, indigenous, and people of color) women, the Shine app is open to all. Though, it is run and managed by an 80% BIPOC team. Its free version comes with a daily meditation option along with features like a gratitude log, and a daily article.
However, users can tap into the premium membership to enjoy their exclusive meditation library, private member-only events, personalized meditations, and connect to a private digital community.
Technical findings – The app has a bright yellow and black background color that immediately uplifts your mood. With beautifully designed animation images, it is very engaging. Users are provided with multiple login options to choose from, they are asked to input their name and it's done!
They are asked to choose an option about the areas they want to improve in their life – be it for career, relationships, parenting, or more. They also get to choose their preferred playlist and share them with their friends through multiple options.
4. Buddhify
Platforms – Android, iOS.
Pricing – Download fee of $4.99 for iOS users, $3.99 for Google Play store users, and offer in-app purchases.
Type – Guided meditation app, mindfulness app.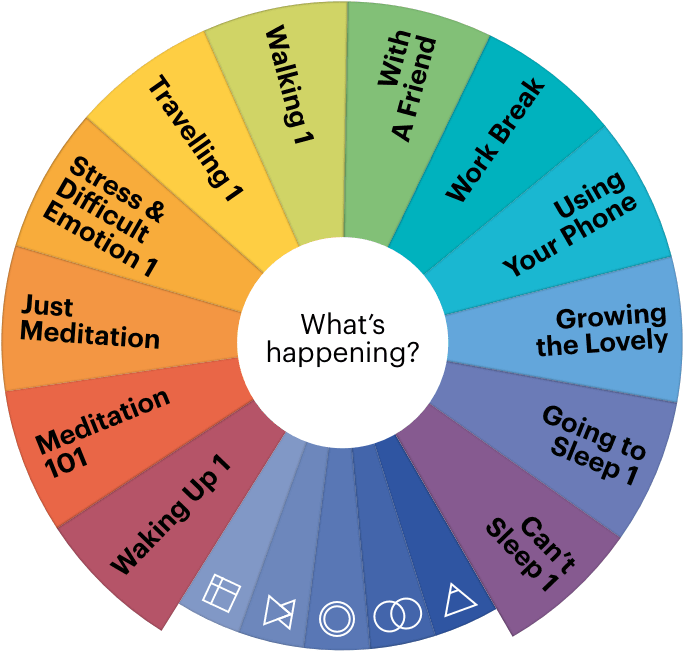 Buddhify is amongst the top mindfulness apps catered especially to people who feel they don't have much time to dedicate. Thus, the application has multiple categories and meditation exercises categorized for each. For instance, waking up, before sleep, work breaks, stress, etc.
Technical findings – The app features a spinning pinwheel of meditation from where one can quickly access their preferred meditation exercises. The fun part is, it also allows users to customize their own wheel based on their daily schedule and meditation practices they want to leverage.
5. Unplug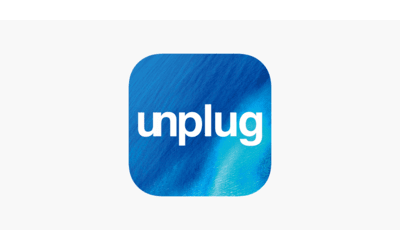 Platforms – Android, iOS.
Pricing – Free to download, $60 Subscription fee/year.
Type – Guided meditation app.
Considered to be the best meditation app for anxiety, Unplug provides short and long meditation exercises for people that lack the time for it. The app has over 1,000 videos for you to watch and over 100 meditation guides to help you embark on this journey.
Technical findings – Meditating with Unplug is as easy as it can get. You can do it in three simple steps – pick up the topics of your choice, sign in each day for meditation routines, and get inspiration from many renowned personalities.
The application covers a wide range of topics, provides smooth navigation, and delivers a seamless user experience. Anyone can easily use the app and get started!
These are some of the best mindfulness apps you get to use today. Exploring these apps and how they are performing in the real world will assist you in setting realistic and achievable goals for your app.
You should have a better understanding of the competition and invest your time and money smartly in meditation mobile app development.
How to Create a Powerful Meditation App?
Now that you have seen some of the most powerful apps for meditation, you would know how challenging it is to build an app of this kind.
Since it caters to the audience segment that seeks peace and calm, designing the aesthetics and building relevant user experiences is difficult. Here browse through these sections to get insight on building the best meditation app.
i. Decide the type of meditation app
Though there are several kinds of meditation exercises available in the digital medium, I have categorized these applications into three kinds.
Mindfulness apps – These applications contain aesthetically pleasing visuals, sleep stories, and pleasant music to help improve focus, sleep, attention span, reduce anxiety, and more.
Guided meditation apps – Such kinds of applications guide one to meditate properly. They have predefined tracks and allow users to choose from different topics like anxiety, lack of sleep, stress, etc.
Network apps – These are generally developed by a certain community. For instance, the Shine app from the BIPOC community. It provides people with a platform where like-minded individuals can connect to influencers and learn more ways of meditation.
ii. Which features to include in the mindset meditation app?
There are plenty of app development ideas for startups to choose from. But, no matter the kind of application you are developing, you should have clarity about the purpose of your app. It will help you decide which features are absolutely necessary for your app.
Here, I have mentioned some of the most useful meditation app features for your reference.
Useful features for end users
Profile management.
Social signup.
Guided meditation audio/video access.
Track progress.
Favorites section for meditations or adding music to playlists.
Sleep stories, breathing exercises.
Submit ratings and feedback.
Customized sessions.
Meditation reminders.
Push notifications.
Gamification.
Leaderboards.
Wearable integrations.
Secure payments.
Offline tracks download.
Useful features for Admin panel (from where you will manage your app's data)
Secure and authenticated login.
Reports & analytics.
Ratings and reviews management.
Managing discounts and offers.
User management, session management.
Upload/ add meditation audios/videos.
These aren't all the features you would need in your app. You need to find out your app's unique selling point and custom-create features accordingly.
iii. Things to keep in mind while designing the UI/UX of a meditation app
Just like the features, the UI/UX of a meditation app is also important. Most of the top-rated meditation apps mentioned above have an aesthetically pleasing design. The color palette used is clean and vibrant.
Let's look at these design tips to create a satisfying meditation app UI/UX.
Use minimal designs – Since users use the meditation app for relaxing purposes, the design shouldn't be too distracting. Use a minimalist design approach and keep only the necessary things on your app.
Consider aesthetic attributes – Every app element, button, layout, font, widgets, typeface, etc. should have a calm and relaxing appeal to it. UI/UX designers shouldn't use any colors or designs that can trigger negative emotions like stress and anxiety.
App localization – Ensuring your app is available across the globe and in several popular languages is necessary to drive more engagement.
Search function – Your app's user experience depends hugely on how easily users can find desired information on it. Thus, make sure your search feature is not only robust but well-placed and easily accessible.
vi. Choosing tech stack for meditation mobile app development
Choosing the right technology for enterprise mobile app development is the key driving force to your app's success. Do you want to build an app for iOS users, android users, or both?
If you are focusing on users of a particular platform, you may consider developing a native app with native capabilities. It can have more hardware dependencies and use access to a camera, GPS, etc.
To develop native mobile apps, you can choose Ionic, Java, Kotlin, Swift, Android, iOS, etc.
In case you need to build apps for multiple platforms, choosing cross-platform technologies might be the best. They can compare to the performance of native apps to a certain extent and are cost-effective.
Examples of cross-platform app development technologies are – Flutter, React Native, Xamarin, and Titanium.
However, consider factors like cost of development, developer availability, etc. to choose the right tech stack for your project.
v. How do you monetize your meditation app?
If you follow these steps and research the industry well, developing good meditation apps will be easier. However, that doesn't help your business entirely. Sure, you will earn loyal customers and goodwill, but how about the revenue?
How are you going to monetize your app? You might have a couple of ideas in mind. Here are some more popular ones that the top mindfulness apps are using.
In-app purchases – These apps are free to download, users only have the option to pay if they need access to special features or content.
Subscription model – It requires users to opt for a subscription model, either monthly or yearly to access the features of the meditation app. In certain cases, they may offer the option of a free trial for a limited number of days.
Freemium model – The freemium model provides users with the option to use the free version with limited access. Those subscribing to the premium version by paying a fixed amount get to enjoy more advanced features and exclusive content.
In-app advertisements – Ads are a great way to earn money. Especially, if you want to keep your mobile app free for every user.
Partnerships – You can partner with other brands and promote them through your app so they get potential leads/customers and you get money for the promotion.
These steps should help you develop your meditation app successfully. However, you should also learn ways to maintain your mobile app so it works smoothly for end-users.
Cost of Developing Meditation Apps
While the above methods should guide you with the steps of meditation app Development, it is also critical to consider the investment you will need for it. So, how much will your meditation app cost?
Honestly speaking, I can't help you with an estimated figure! Why? Because your requirements will vary from mine or someone else's.
But, I can help you estimate the cost of development. Here, consider these factors and the cost for each of these accordingly.
App complexity – How many features does your app need? Obviously, the more features you add, the more will be the cost. Some projects might demand the use of machine learning and artificial intelligence in mobile apps. In that case, your development cost would rise even further.
Tech stack – The cost of developing native apps is higher than that of cross-platform or hybrid apps. Besides this, you should also consider the database and hosting service fee for your app beforehand.
Cost of hiring a development team – Whether you hire a freelancer or developers from a reputed company, there are multiple costs associated with it. The cost of hiring, onboarding, etc. Thus, choose your preferred engagement model and decide smartly on who to hire.
Furthermore, if you want more elaborate information about the hourly rates of developers, you can find it here.
This guide should help you build a robust, engaging, and profitable meditation app. However, if you need assistance with the development part, our developers are here to help. We are an established and reputed meditation app development company with seasoned professionals to serve your personalized requests.
Wrapping Up
The exercise of meditation may come naturally to some, but it seems difficult for most. Especially, with the distraction of inner and outer worlds, there may be complete chaos if the thoughts aren't controlled.
Thus, guided meditation is a great way in this context through a digital medium such as mobile apps. But once you decide, there come bigger challenges like creating the right aesthetics and developing suitable features.
The points mentioned above should help you plan appropriately for your project. If you need further technical assistance developing your meditation mobile app, we might come in handy! Biztech CS has relevant app development experience in multiple niches that could be an added advantage to your project.
So, what are you waiting for? Explore our mobile app development services and book a consultation today!
Befriend Technology for Transformation
Selecting the right technology is pivotal to your business's growth and success. Have you already decided the suitable one for your next project? If so, we can help you take the next step. If not, we can help you decide the best option. Connect with the Top 1% pre-vetted software engineers to build your software.