399
From Trade to Triumph: How Odoo 17 Can Elevate Trading Enterprises?
20 Oct, 2023
7 min read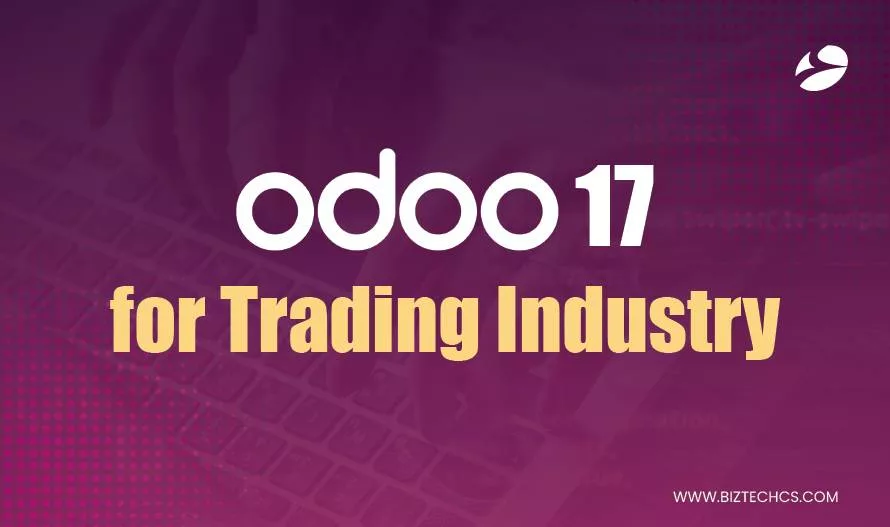 https://www.biztechcs.com/blog/odoo-17-for-trading-enterprises/
Summary
With the new Odoo 17 release, the latest iteration of the renowned ERP solution, you can navigate complex supply chains, diverse product portfolios, and ever-evolving market trends. Featuring its arsenal of powerful functionalities and enhancements, Odoo 17 is poised to elevate trading enterprises to new heights of productivity, profitability, and competitiveness.
Odoo is capable of offering an omnichannel experience to its customers with its Sales, PoS, Ecommerce, and mobile commerce processes.
In this blog post, we'll delve into these game-changing capabilities of Odoo trading and explore how it can empower trading businesses to transform their operations, from trade to triumph.
You can also connect to an Odoo development company for further implementation and integration assistance. But first, let's check what to expect from the Odoo 17 update!
Odoo 17 Features for Trading Business
Accounting Module
AI-Powered Bills: In Odoo 17, you will see account and tax prediction on vendor bill lines activated. You can also enable product prediction from settings.
Improved Partner Creation: You can now pre fill the VAT number and partner name on manual matching for creating partners easily.
Invoice Upload Harmonization: Your credit note drafts can be changed to invoices and you get more streamlined invoices in Documents as well as Accounting.
Improved Credit Limit Calculation: Any uninvoiced yet confirmed sales orders are added to a partner's total receivables. It helps with accurate credit limit computation.
User-Friendly Bank Synchronization: You get simplified bank synchronization flows with buttons and alerts on the dashboard. The account holder also receives email notifications.
Revamped Send & Print Wizard: The Send & Print Wizard in Odoo 17 can be used to generate chosen documents and request approvals.
Express VAT in Local Currency on Invoices: Tax computation in your customer invoices is done in local currency.
Auto-Reconcile: You will get a new wizard for auto reconciliation in Odoo 17.
Avatax Improvement: When calculating taxes using AvaTax for an invoice related to a sales order involving deliveries and pickings, Odoo now utilizes the warehouse address from which the goods are shipped. This ensures the most accurate tax calculation possible.
Improved Report Loading Speed:A new prefix group mechanism is added to enhance accounting report loading speed in case of large databases.
Read Also: Launch of Odoo 17 – Keynote by Fabien Pinckaers
Manufacturing Module
BOM Generation: You can generate Bills of Materials (BOMs) from manufacturing orders, update BOMs with changes to confirmed manufacturing orders, and create Engineering Change Orders (ECOs) based on manufacturing orders.
UX Enhancements: Some UX improvements have been made in the Manufacturing module. For example, the work center occupancy is now shown in percentage, propagation rules are used to automatically merge manufacturing orders.
Simplify work order management with list view: log in as an operator, mark one or multiple work orders as completed, assign employees, and easily locate assigned work orders using the 'My work orders' filter when logged in.
Sales Module
Sales Without Pricelists: In Odoo 17, you can use sales flow without using price lists.
Quotations Mass Cancellation: Use the best ERP for trading business Odoo to cancel multiple quotations at a time from the list view.
Payment Instructions for Wire Transfers: Introduce the option to re-generate payment instructions using the available bank accounts for wire transfers.
Add products from Catalog: With Odoo ERP for the trading industry, it is possible to add products quickly from the catalog itself.
Stat Button on Customers: A stat button is added to access the loyalty cards of a customer from the Form View.
Improved Partial Payments: Generating payment links is simplified, and quotations are automatically confirmed upon the completion of a partial payment for the total amount.
Amazon Synchronization: Adjust the available quantities for 'Fulfilled by Merchant' (FBM) listings on Amazon based on inventory levels.
Sales Order Locked: You can lock a sales order at any stage.
Down Payment Descriptions: To enhance clarity in cases with multiple down payments, sales orders now include references and dates of down payment invoices within the down payment line descriptions.
Purchase Module
FIFO Product Costs: In Odoo 17, the cost of FIFO products will be set to the average cost of remaining product quantities.
Components Demand Propagation: Update component demand changes for individual manufacturing orders and synchronize them with pre-production pickings in Odoo 17.
Work Center Planning: The Work center planning view now comprises of the combined work center load.
Flexible Reservation: You can now modify reserved quantities and reserve specific quantities.
Operations Menu: The revamped Operations menu helps find the right operations quickly.
Product Quantity Update: It is possible to quickly update product quantity from the product form.
Reserve/ Unreserve Button: The reserve/unreserve button in the forecast now supports multistep routes.
Revamped Work Orders List View: Managing work from the list view is easier than ever. Log in as an operator, mark work orders that are done, assign employees, or find assigned work easily.
Autobatch: It helps batch operations in the Ready stage.
Least Packages Removal Strategy: The 'Least Packages' force removal strategy is introduced in Odoo 17, preventing the reservation of quantities in two separate packs when the demand can be fulfilled with a single larger pack.
Lots Expiry and Quantity Mass Entry: Mass entry of lots/serial numbers on receipts to include expiration dates and quantities, enabling users to efficiently input this additional information when pasting multiple lots/serial numbers.
Reception Report Barcodes: With the introduction of barcode in the Reception report, products can move quickly from pick to pack with a barcode scanner.
Lot/Serial Properties: The serial and LOT numbers are displayed on their quants now.
MTO/MTS: In case of an interruption in MTO (make to order), available stock items can be reserved for smooth workflow.
Online Payments
SEPA: Pay Once to Create Mandate: The Odoo 17 will allow customers to make the first payment for validating the SEPA mandate.
Stripe: Customers have the convenience of making payments directly within the payment form, eliminating the need for redirection to Stripe. This update also brings support for 26 new payment methods and Indian e-mandates.
Public Users Payment With Tokens: With Odoo 17 ERP for trading business, users can make payments with their saved payment option event without logging in.
Partial Capture in Demo Provider: Demo provider supports partial capture of online payments.
Ecommerce
The new Odoo 17 for eCommerce industry features include:
You can use shipping methods without using inventory.
The search bar is removed from your shop page.
Product tags are displayed in filters on the shop page.
Configure 'Display Product Prices' independently for separate B2B and B2C stores.
Promotion codes are now shown on the checkout page and can be added in a single click.
POS
If your trading business also operates offline and requires a commodity trading ERP, Odoo can be your go-to solution. Check out these new Odoo 17 POS features that may assist in your offline trading business.
Non-User Employee Access: You can enable non-user employees to access advanced functionalities like cash in/out.
Scan and Pay: Odoo POS allows your customers to pay online by scanning a QR code.
Online payment: When self-ordering, customers can make payments online.
Prevent Cash Payment Method Reuse: Cash payment methods and cash journals are not available for reuse across multiple point-of-sale (POS) systems to prevent accounting complications associated with cash drawer management.
These are a few Odoo 17 features that can strengthen your ERP trading game. Not sure if Odoo is the right solution for your trading business challenges? Then, check out these benefits for your reference!
Read More: Odoo ERP Pricing – Complete Cost Analysis
How Trading Businesses Can Benefit from Odoo?
A trading business specializes in the purchasing and selling of goods or financial instruments. The primary goal of a trading business is to generate profits by engaging in the purchase of products or assets at a lower price and selling them at a higher price.
Trading can involve various types of commodities, such as physical goods (e.g., electronics, clothing, agricultural products) or financial instruments (e.g., stocks, bonds, currencies, and cryptocurrencies).
The different trading business types include:
Retail Trading: Retailers buy products from wholesalers or manufacturers and sell them directly to consumers.
Wholesale Trading: Wholesale traders purchase goods in bulk and sell them to retailers or other businesses.
Commodity Trading: This involves purchasing and selling of physical commodities like agricultural products, metals, and energy resources.
Stock Trading: Individuals or entities engage in the buying and selling of company stocks or other financial instruments in stock markets.
Forex Trading: Traders participate in the foreign exchange market, where they buy and sell currencies to profit from exchange rate fluctuations.
Online Trading: With the advent of online platforms, individuals can engage in various forms of trading through online brokerage accounts.
Now, if you are wondering how ERP for a trading company fits in the trading landscape, let us tell you all about it.
Trading businesses can reap significant benefits from implementing Odoo, thanks to the Trading ERP's versatile features and capabilities:
Odoo helps with efficient Inventory Management to optimize stock levels, reduce carrying costs, and ensure product availability.
Streamlined Procurement to simplify the procurement process with automated purchase orders, supplier management, and vendor negotiations.
Odoo helps improve your sales process by streamlining the sales journey. It helps with multiple tasks, right from creating quotes to managing customer relationships, and so on.
Odoo's accounting tools enable precise financial tracking, invoicing, and reporting.
Improve warehouse efficiency with features like picking, packing, and shipping management.
Seamlessly sync online stores with the ERP system for real-time inventory and order updates.
Gain insights into trading performance through customizable dashboards and reports with the help of Odoo Reporting and Analytics.
Implementing Odoo can transform trading businesses by streamlining operations, reducing costs, enhancing customer service, and facilitating growth.
Want to know which other modules and features can you add to your Odoo trading system? We can help you make the decision!
With our diverse 1200+ project experience and 16+ years of experience, our Odoo experts can help with Odoo implementation, integration, migration, and more. Talk to our Odoo experts today!
Conclusion
In the fast-paced world of trading enterprises, Odoo emerges as a game-changer, redefining how businesses operate and succeed. With its powerful features tailored to the unique needs of trading, it's more than just an ERP—it's a catalyst for transformation.
Furthermore, the advanced features of Odoo 17 can help with efficient inventory management, streamlined procurement, enhanced financial control, and more. Odoo 17 empowers trading enterprises to navigate complexities and seize opportunities with confidence. The journey from trade to triumph has never been more promising, and Odoo 17 is the compass guiding businesses toward new heights of productivity, profitability, and enduring success.
Befriend Technology for Transformation
Selecting the right technology is pivotal to your business's growth and success. Have you already decided the suitable one for your next project? If so, we can help you take the next step. If not, we can help you decide the best option. Connect with the Top 1% pre-vetted software engineers to build your software.