Starting your own eCommerce business can be difficult. It needs thorough research and a proper understanding of each and every detail. But let's start with some of the issues which every eCommerce business faces and why most of them fail.
1. Selecting technology and platform:
This is a common issue which everyone faces whether you are from a technical background or not. Today we have hundreds of programming languages and ecommerce platforms to choose from. It becomes difficult and confusing to understand which one is better, and why.
2. Security and maintenance:
Next up is the issue of security. It is a very basic yet the most important thing. Every eCommerce business needs to make sure that their website, payment gateway, users' data, and more are secured. And to maintain this security according to the ever-changing technology can be challenging. Lack of timely maintenance, security, and feature updates can play a vital role in the loss of business. Because who would like to interact with a business that doesn't take security issues seriously?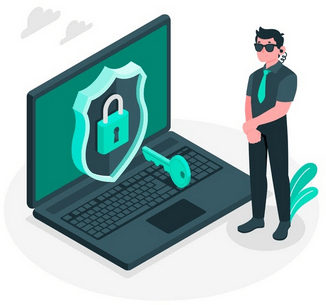 3. Understanding customer requirement:
Customers' demands are ever-changing and keeping up with this constant change is the key to success for any eCommerce business but it's hardly ever taken into consideration. Every day there is something new in the market and customers want that.
4. Marketing and sales issues:
This is the department where many people experience failure. You have a great product, customer service, and everything but if we don't do proper marketing then you won't get noticed. Marketing and sales play a core part in the success or failure of your ecommerce business. Many eCommerce businesses fail due to a lack of proper budgeting, marketing, and support.
We definitely understand all these challenges. It is never a cakewalk to grow any business, especially when you have competitors coming from right and left.
At the same time, if we flip the coin and see the current scenario, eCommerce has become a one-point solution for any business to grow. According to research done by Statista, the global eCommerce market is estimated to cross the threshold of $2 trillion in 2020. That's a huge number. Additionally, these recent stats will show you at which speed different industries and their revenues from e commerce are growing.
Every other person in the world right now is placing an order online.
Isn't that crazy, the frequency at which people are placing orders online?
Now, comes the big question, with this competitive, how one can grow their eCommerce business? Or how one can even think of jumping on this wagon that's going at the speed of 100 miles per hour?
Don't worry, here we have got it all covered for you on this page. We are going to help you with step by step process on how you can start your eCommerce business and actually succeed doing so.
Budget Planning
Defining a budget is one of the crucial phases. As a startup, it is obvious to have funding issues. And so having a properly planned and allocated budget can give you the proper start you need.
Proper budget planning helps in better decision making, gives a roadmap for future plans, and more. It helps you to understand the difference between what are the things which you need and want, and help you better match your expenses with ROI.
Initially, it is difficult to set a budget or even understand how to go about it. But, once you have defined it, it becomes very easy to run your business and simultaneously grow as well.
Also Read: [FREE Guide] Amazon Clone: A Journey to Starting a Successful eCommerce Business
Selecting Ecommerce Platform
It's very important to have clarity on which platform is right for your business and what are its pros and cons, and what features does the platform have. So, let's understand these platforms in detail.
Magento
Magento is the go-to solution for businesses just entering the digital space because it is easy to integrate with third-party services, mobile-friendly, and provides SEO friendly URL structures, sitemaps, tags, description, etc.
Along with these merits, there are demerits too. With Magento, you need a dedicated server to host your website. This might increase the cost of development and customizing your site further might become challenging compared to other eCommerce platforms. If you are using the open-source version of Magento then there are chances of you ending up with a slow loading website. But, with the enterprise version which will cost you a handsome amount, this issue gets solved.
Shopify
Shopify + eCommerce = Success
When it comes to an eCommerce platform, people will usually recommend Shopify. Some of the major reasons:
Even if you are a beginner, Shopify provides you with a simple drag and drop option to create your eStore. No need for coding.
Integrated solution for payments i.e. Shopify Payments
Round the clock support
Mobile friendly and responsive designs available. Additionally, you can also create your own themes.
Easily integrates with multiple online sales channels like Amazon, eBay, etc. and can help you manage sales from all your channels.
WooCommerce
WooCommerce is an open-source platform which means it's free to use. It's a go-to solution for people who have experience with WordPress. You can easily customize the design and code of your website and develop it according to requirement.
In spite of being open-source, it provides regular security updates, secure and easy integration with online payment gateways like Stripe, PayPal, etc. It is highly supported by community members, users, and developers.
One of the major drawbacks of WooCommerce is its speed. Because of all the features it provides and maybe the lack of infrastructure to support heavy features, it slows down the speed of your eStore. This can result in losing customers.
Mean Stack
MEAN is the new kid on the blog that is becoming a top choice for developing eCommerce or m-commerce estores. Some of the major features which make it a one-stop solution:
MEAN stack can provide the high Performance that is mandated for any estore.
It is an open-source hence no investment in licenses and easy access to libraries.
User experience plays a vital role in keeping your customer engaged. With the help of MEAN stack development, you can provide a better experience with real-time updates on the websites.
If you are still confused as to make the right choice for your eStore then talking with an industry expert is a must. We can understand your requirements and help you choose the right platform.
Once you choose the platform, next comes deciding the products for your catalog and choosing the right vendors to partner with.
Catalog
For example, you are starting an eCommerce business to sell clothes, then you will be having three different types of catalogs:
Trending designs
Evergreen designs
Your Unique designs
Let's say in trending categories, you are spreading awareness on national or international issues that the world is talking about. Eg: San Francisco fire, safety measures for COVID-19, voting for upcoming elections in Nov 2020, etc.
There are some designs that are evergreen in the apparel industry. You can have one section for this. Eg: t-shirts of NASA, Avengers, games related, or boho-chic dresses, etc.
The final category: unique designs. In any business having a unique point to stand out of the crowd is important. Bring some of 'you' or ask your designers to dig deep and bring history to your clothes and sell them. This will help you to gain loyal customers and of course, increase your sales.
Taking an example of another startup idea: Jewelry.
There are various types of jewelry available like everyday wear, silver, gold, diamonds, etc. Here, the first thing you need to do is define your target audience.
In the jewelry industry, you can not sell all types of jewelry with one brand, it's important to find your niche, understand your buyers, and stock accordingly.
Another example: If you are planning to start your business in the current COVID situation, then having a section for face masks and hand gloves is a must. We all know there is a global demand as well as a shortage of these two basic things. Thus, selling face masks and hand gloves can give your business a faster boost.
In fact, here you can get a little creative and provide custom face masks and hand gloves.
Vendors
For vendor selection, you need to define a vendor management model. Are you going to opt for Just in inventory model or procurement model?
Why is it important to define this?
Because whichever method you chose, it is going to affect your overall budget and profit margins. This is the phase you need to decide whether you or the vendor will ship the products to the customers.
Quick tip: If your budget is small then we suggest opting for just in inventory model. But, if you have a good budget then choose the procurement model.
Once you make decisions on catalog and vendors, next comes payment gateway and logistics.
Payment Gateway
Secure payment gateways help avoid credit and debit card frauds. With multiple payment gateways, you can provide your customers with easy payment options and hassle-free experience.
Nowadays mobile payment options are most used by users. While developing your website make sure to provide Stripe, Razorpay, or similar popular payment gateways. Alternatively, you may choose to directly integrate PayPal, Amazon Pay, Apple Pay, Google Pay, or any other mobile wallets.
Make sure that your payment gateway is Payment Card Industry Data Security Standard (PCI-DSS) compliant. This standard of security is necessary for online transactions because, without it, your customers won't feel secure enough to make payments.
Another major aspect of online payment that you need to make sure is the security of your users' confidential information. It is preferable to use the latest algorithms to avoid cyber attacks and loss of users' information.
Logistics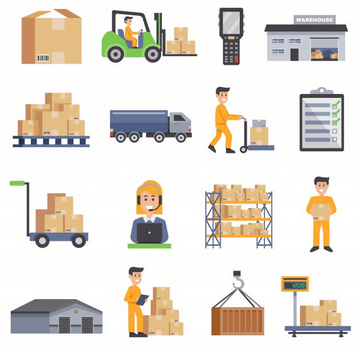 Firstly, you need to find out the logistics company, sign the deal or contract with that company, and most importantly integrate their API perfectly with your website.
Proper integration is important so your website can easily calculate the shipping cost and actual product cost in real-time. Giving a clear view of the final amount to your customer is important so even they can understand the costing, shipping, or if any other charges are there.
Let's move to the last two phases of how to start an eCommerce business.
Marketing Strategy is next on this business guide. Let's understand different types of marketing strategies and which one to start is right for you.
Also Read: eBay Clone: A Guide to Starting a Successful eCommerce Business
Online Marketing
There are two major types of online marketing strategies:
Search Engine Optimization (SEO)
SEO is an organic way to get the traffic on your website with the help of targeted keywords. It is a slow and steady process and takes four to five months to show results.
If you are thinking about why SEO is important, then I think this stat is enough to tell you why. Every second there are millions of searches happening on Google, Bing, etc. It is the basic and first step to get traffic for your website. We can also say that SEO is an alternative of Search Ads (this we will see further).
Pay Per Click (PPC)
There are four different ways of getting started in marketing with PPC.
Shopping Ads
Shopping Ads are information-rich ads which consist of product images, price, merchant name, and link to the product page. This is a great way to gain momentum at the early stage of your company
Customers usually believe in the things they see. With the help of shopping ads, your customers can see the images, cost, reviews, and the seller in the first go. This helps you to gain the trust of your customers and they are very likely to click on the shopping ads in which they can actually see the image. The only drawback of shopping ads is you can not optimize keywords based on the products.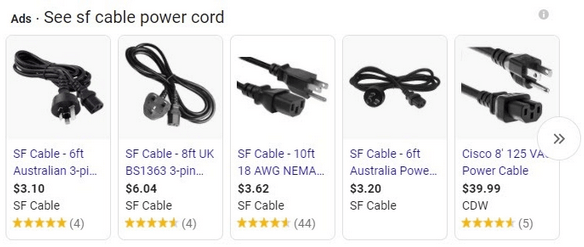 Search Ads
Search Ads help you to rank a particular page of your website. The amount that you need to invest vary based on the keyword search volume and ranking difficulty. Usually, the search ads are separated from SERP results with an indicator that reads Ad before the listing as shown in the image below.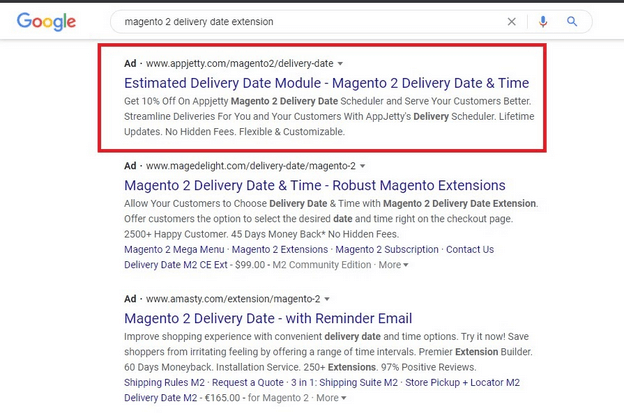 Display Ads
Display ads are usually used for retargeting or bran awareness rather than getting people on a particular page. They are either image-based, video-based, or text-based ads. We recommend using these ads only after your website has reached a certain amount of breakeven i.e. has gained a certain amount of place in the market. The major drawback of it is it requires a lot of investment but confirms only clicks and not the actual conversions.
Additionally, with display ads, you also get to choose their placement. Means do you want your ad on any particular website or any random web page. In short, display ads focus on the audience and not the specific keywords.
Social Media Ads
Social media ads run on social media platforms like Facebook, Twitter, Instagram, etc. Using social media platforms, you can run the whole marketing campaign for your products. You can promote your brands and set up another sales channel.
With the help of social media marketing, the ROI can increase 10X because of the insights into your followers, their areas of interest, age, names, etc. it provides. You can use this information, better understand your users, and create more targeted ads.
If you are confused about which type of marketing you need to start with, then here's a quick order you can follow:
Shopping Ads
Search Engine Optimization
Search Ads
Social Media Ads
Display Ads
Another thing you need to make sure is that your website is search engine friendly. Make sure that you are using header tags, your website does not have duplicate content, proper use of keywords, and most importantly, Google should be able to crawl your website i.e. it should be indexed.
If these things are perfect, then it helps your website to rank automatically on Google. Additionally, you also need to make sure that your website is mobile-friendly which means it should score around 45-50 in the Google page speed test.
Too much to take in?
The last phase is to gain a competitive edge. It is important to know your competitors as it gives you more clarity in defining your target audience as well as understanding them. Learn from your competitors, understand their business logic, study their campaigns, how do they target their audience, and many such things. Use some of the most useful tools like SEMRush, SimilarWen, ahref to gain insights into the current marketing landscape of your industry.
How Can We Help You?
We are industry-leading experts with more than 15 years of experience into ecommerce development, marketing services, UX designing, strategizing, and more. We have helped our clients grow their businesses from the startup phase to becoming large companies and are still their technology partners. We help them grow their revenue year over year and have a strong online presence. You can take a look at our case studies of Essential Aids and SFCable and know how we have helped them grow their business and maybe we can help you grow as well.