1500
Why Choosing Odoo eCommerce for Your Online Store in 2023 Can Be Your Best Bet?
21 Apr, 2023
5 min read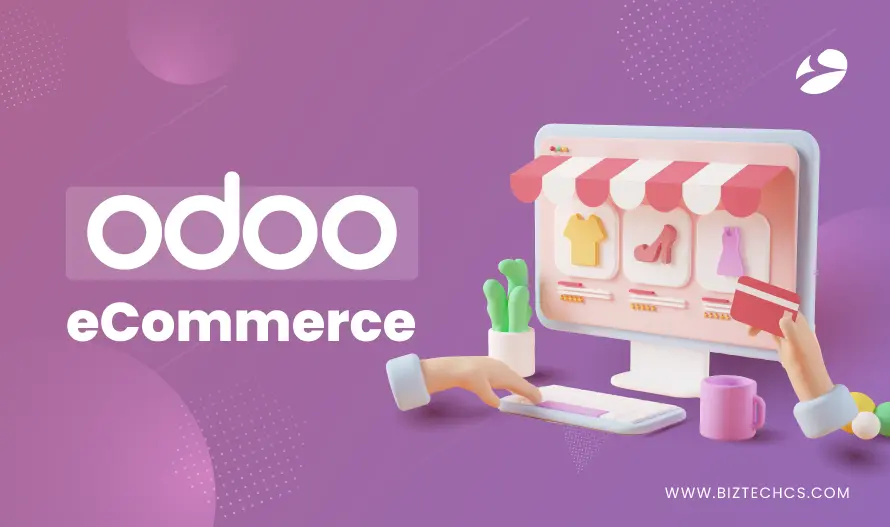 https://www.biztechcs.com/blog/why-choose-odoo-ecommerce/
Summary
If you are looking for an eCommerce website builder, Odoo might not be the first option to cross your mind. That's because of its immense popularity as an ERP (Enterprise Resource Planning) software.
However, that's not all there is to Odoo! It is a suite of business management tools for Odoo eCommerce, CRM, project management, inventory management, accounting, and more. So, if you want to build an eCommerce store, Odoo CMS will make your job easier.
You can also use the other Odoo modules and applications to create a centralized system for all your eCommerce operations.
But, why would you choose Odoo over other eCommerce giants like Magento, WooCommerce, and Shopify? Well, let me help you with everything you must know before choosing Odoo for eCommerce.
What is Odoo E-Commerce?
Odoo software has several modules to help your business operations. Website builder and eCommerce are two of its open-source modules. You can use them to build your eCommerce store in just minutes.
It is especially beneficial for small-scale businesses and startups that do not have the budget to invest. Not only is it free to use, but also includes the domain name and hosting for your eCommerce store. Yes, you read it right!
Odoo takes care of your website hosting and the domain name, which is free for the first year. After a year, you can switch to a preferred vendor for the domain name. In case you wish to integrate other Odoo modules like social marketing, inventory, etc. with your eCommerce store, you will have to pay charges.
Read Also: Top 7 Benefits of Odoo Customization
What is Odoo Omnichannel eCommerce Architecture?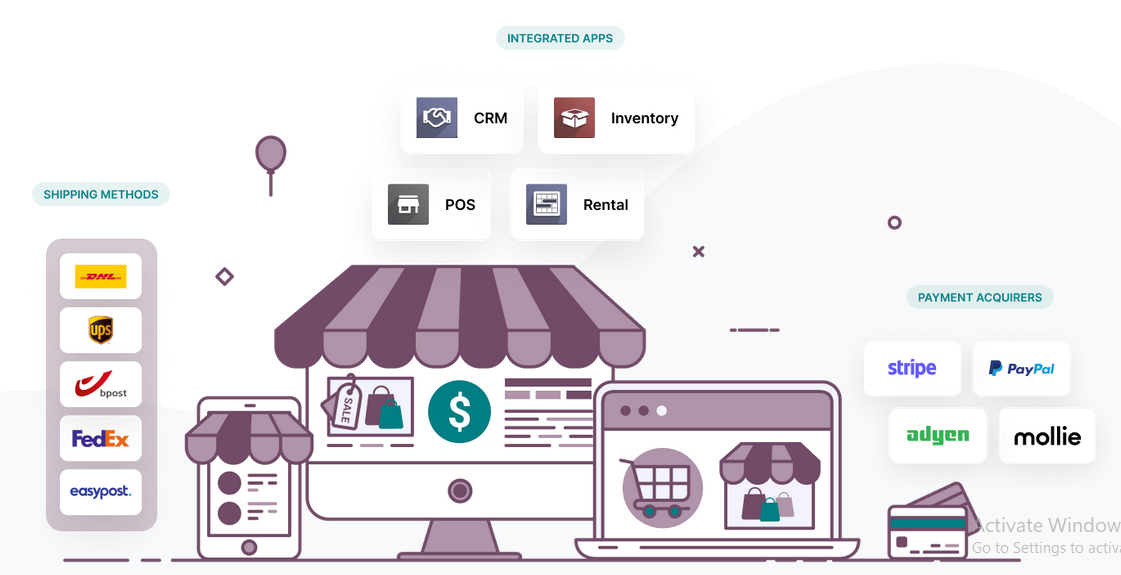 The omnichannel eCommerce architecture helps you reach customers at every touchpoint. It is so you can place your product range smartly in front of the targeted customers. As opposed to the single-channel and multichannel architectures, this method is more helpful with customer engagement and retention.
It is a way to manage your brick-and-mortar retail store alongside your eCommerce store across multiple channels. Unlike the multichannel approach, all the channels are interconnected and in sync.
With Odoo Implementation, you can use various Odoo apps and integrate them to work seamlessly for your eCommerce store. For instance, you can make use of Odoo POS, CRM, inventory, Sales, and Purchase modules together for your Odoo operations.
Odoo Ecommerce Features and Functionality
Here, I have mentioned various key features and functionalities of Odoo eCommerce and website builder. Let's check!
Drag and Drop Editor: Developing an online store on Odoo is possibly the simplest. You don't have to code and can use an easy drag-and-drop interface to build your virtual store. However, working around the Odoo UI can be a bit time-consuming if you have never done it before.
Quick Designing: Designing your Odoo online store can be done in 4 simple steps with the help of an AI website configurator. You also get to search for copyright-free images for the eCommerce sector and use them on your website.
Professional eCommerce Themes: There are several Odoo themes for you to pick from. You can easily find free Odoo themes on the app store, use them as it is, or even customize them. Or, choose from top premium Odoo Themes to give your store a unique look and feel. You can also hire professional Odoo developers and custom-create themes as per your specific needs. The choice is yours!
Multi Website & B2B Store: You can configure more than one store on a common database and even share products between them seamlessly. You have the option to make your store accessible to select users. The price list option will further help you display different prices based on certain criteria (Like discounts for a specific total cart value, bulk purchases, B2B and B2C).
Configure Product Variants: You might have seen different product variants based on size and color. With Odoo eCommerce, you will be able to configure your products seamlessly.
Automated Tax Rates: Automatic application of sales tax depending on your customer's country and type.
Contact Form: Customize contact forms to your liking and give them a more personalized look for customer engagement. With Odoo, you can quickly integrate them into your system.
Live Chat: The seamless UI of Odoo makes live chat easier for you from the backend. Each time a visitor drops a message, a chat window will immediately pop up in your backend.
Upselling and Cross-selling: You can increase your sales dramatically by cross-selling and upselling products in various parts of your eCommerce store. For instance, on product pages, during checkout, or in the cart.
Coupons and Promotions: Setting up promotional campaigns and coupons are easier with Odoo eCommerce. It helps encourage shoppers to purchase products from your store.
SEO optimized: With unique features like automatic adaption to mobile devices and other integrated tools, you get to keep your online store ahead of others. With a search engine-optimized site, you will be able to ace the ranking and get more visitors to your store.
Analytics: Enhance your conversion rate as you integrate your Google Analytics account with your Odoo online store. You can also make use of the integrated analytics tool to track metrics like visitor intent, page performance, conversion rate, and so on.
Read More: What are the Top Benefits of Choosing Odoo As Your ERP Solution
Advantages of Odoo eCommerce Integration
As mentioned above, there are plenty of things you can do to set up and manage your online store effectively. But, what makes Odoo not just an interesting choice but a desirable choice in 2023?
It's Odoo integration!
With the various ERP, CRM, inventory, and other modules available, you can extend the capabilities of your online store. Let's look at some of the best Odoo eCommerce integration features/ advantages.
Shipping & inventory integration


With Odoo eCommerce integration, you will get to optimize your shipping methods substantially. You can integrate directly with logistics like FedEx, USPS, UPS, etc., and track your products in real-time.

Warehouse management, inventory adjustments, creating replenishment strategies, shipping setup and operations, advanced routes, and barcodes are a few things you can do with this integration.

Product management: While you could easily add/edit products for your store with the eCommerce Odoo module, integrations enable you to do more. You can integrate inventory with your online store and track the status of product stock.It helps in removing out-of-stock items based on the inventory data. You can also apply product filters and add favorites.
Customer database: Odoo integrations can help you track crucial customer data like their browsing history, purchasing history, and wishlists. You can use this data to optimize your marketing campaigns or re-design the eCommerce store for web or mobile.
Payment gateway integration: Your customers have to have plenty of payment options so that buying from your store feels easy. Thus, integrating applications and plugins to support multiple payment gateways is a crucial step for optimizing your online store.
Cloud-based ERP integration: With Odoo ERP integration, you will have complete access to your eCommerce store anytime and from anywhere. While Odoo Community lets you access from a desktop, you can even access your store's dashboard from the mobile app when you choose Odoo Enterprise. That's one of the key differences between Odoo Community vs Odoo Enterprise.
Sales boost: Integration of the sales module will help you track and analyze sales data intricately. You can either use this data to refine your sales processes or improve your marketing strategies.
Read More: Odoo Vs ERPNext
Odoo Online Store Examples
It is needless to say that online eCommerce businesses built with Odoo can be optimized for better performance. Let's look at a few real-life examples.
I. InterVlag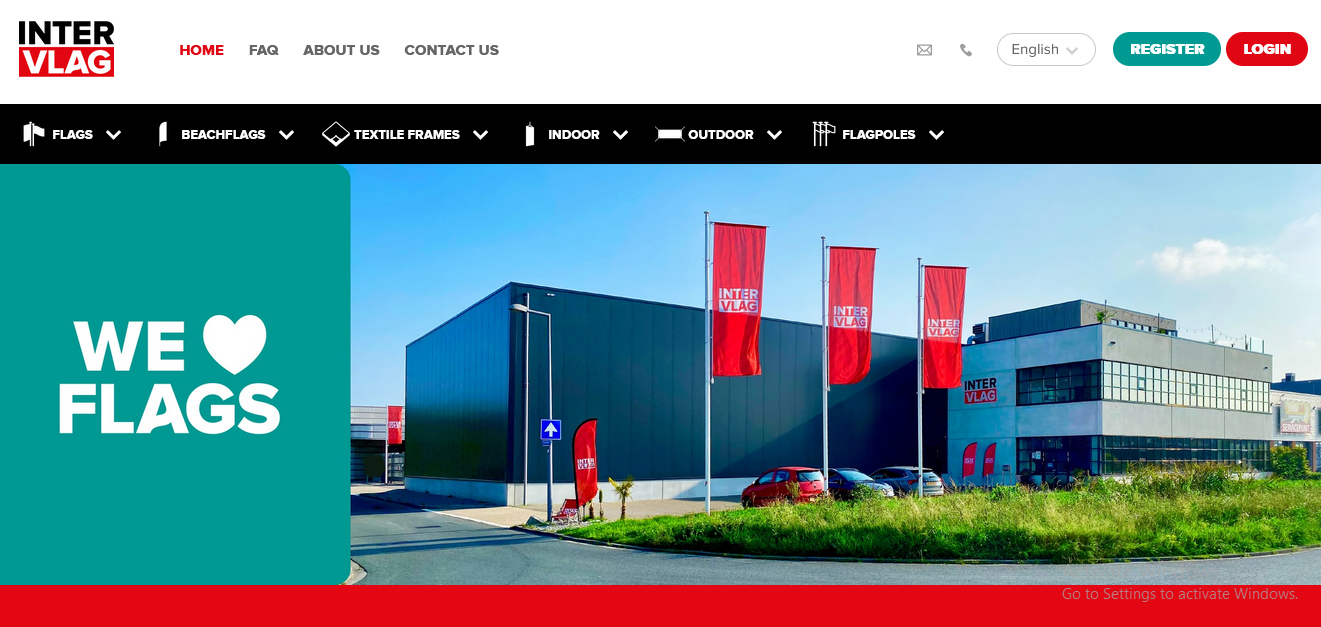 InterFlag or InterVlag is a flag manufacturing company in the Netherlands for resellers. They founded the company in 2010 with the aim to become specialists in the flags and textile market. With their dedication and sheer determination, they are scaling up their business.
To meet the evolving eCommerce needs, InterVlag had its website revamped from Biztech using Odoo. We have been their technology partner for over 6 years and worked on many tasks to utilize Odoo to its fullest potential.
II. Legion Safety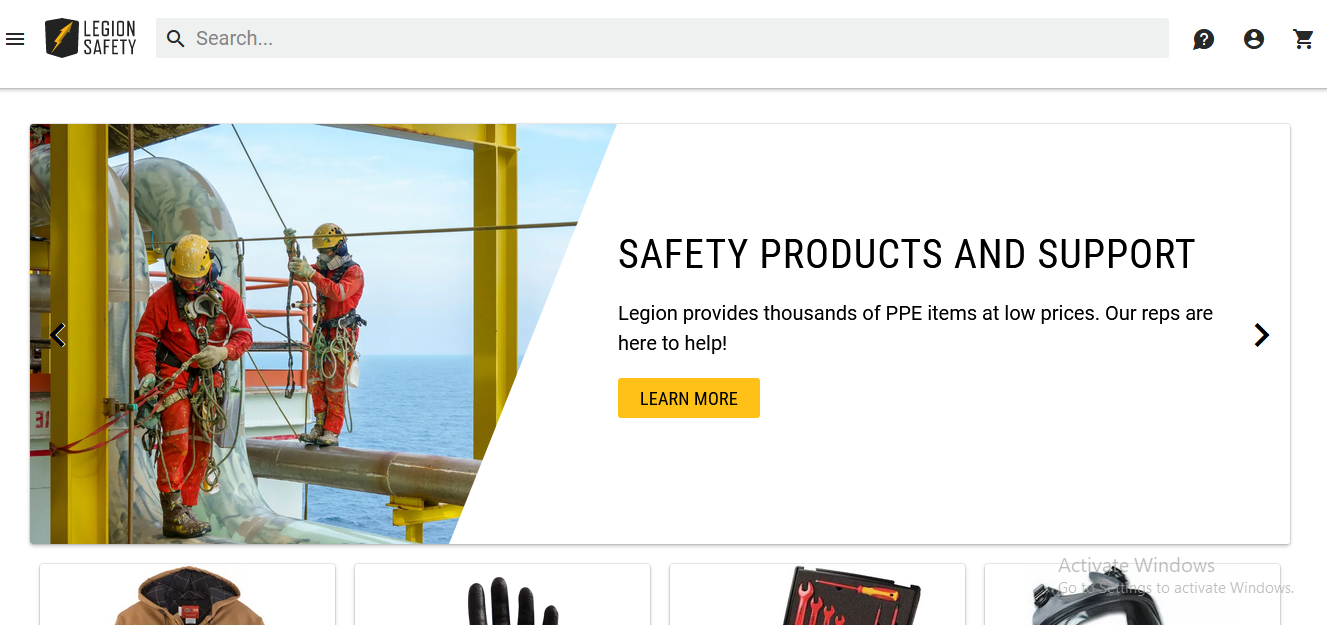 Legion Safety was founded in 2009 and is a distributor of personal protective equipment based in Illinois. The website features a menu in the left corner as well as different categories on the home page itself. It is to ensure that shoppers can easily get the products they want. The website uses Odoo eCommerce and looks clean, precise, and easily navigable.
How Odoo eCommerce Compares to Other eCommerce Giants?
Odoo's eCommerce application is undoubtedly one of the best we have today as it gives us complete flexibility and ease. Not to mention, the easy-to-handle centralized system we get to manage all our business operations.
But, how does it compare to other mainstream eCommerce platforms? Let's find out!
Odoo eCommerce vs Shopify
Odoo
Shopify
Features

CRM
POS management
Inventory management
Manufacturing
Accounting
Marketing automation
Purchase

Shopify app for mobile
Simple analytics dashboard
Inventory management
Dropshipping option
Unlimited BW web hosting
SEO-friendly

Setup & Customization
Odoo has a simple user interface and can be seamlessly used for developing eCommerce stores. However, integration with other modules can be tricky. It will be easier if you avail of Odoo development services as the development speed and quality will improve.
Shopify is one of the simplest eCommerce platforms we have today. You can learn to work with the platform in a matter of minutes. You can also find plenty of Shopify tutorials to get started.
SEO

Mass content sharing
High-quality SEO-friendly content creation
Auto title and meta description generation

Optimizing pages for SEO
Creating responsive store

Pricing
You can use the Odoo Community version free of cost. However, you must pay for Odoo Enterprise based on the modules you choose.
The Shopify Basic plan starts from $29/month and the Advanced plan goes up to $299/month.
Odoo eCommerce vs Magento
Odoo
Magento
Features

CRM
POS management
Inventory management
Manufacturing
Accounting
Marketing automation
Purchase

Creating and editing orders from Admin panel
Email notification
Multiple invoice printing
Customer support
Content staging
Advanced catalog search

Backend operations
Odoo has a simple and ready-to-use backend. With the help of various Odoo modules, you can add more advanced operations to your backend.
The Magento backend can be custom-created for various backend operations like order management, catalog management, etc. However, you can add more extensions to manage inventory, purchases, and so on.
Setup
Working with Odoo eCommerce is easy and doesn't require much technical expertise. However, acquiring Odoo development services will ensure more seamless development and setup of Odoo.
Developing eCommerce stores with Magento requires technical proficiency. So, setting up a Magento store is a complex procedure and you will need help from developers.
While Odoo might not be a mainstream eCommerce platform, it definitely compares to the best and most popular ones. With its diverse range of Odoo apps and modules, you can customize your store just the way you want.
You can also avail of online eCommerce services if you want to customize Odoo apps or implement unique customizations for your store.
Conclusion
Odoo eCommerce presents you with endless possibilities with its multiple modules and omnichannel architecture. The sync between various Odoo modules further makes it easier to manage your day-to-day eCommerce business operations. This guide should help you understand where Odoo stands as an eCommerce platform. Also, our dedicated Odoo Experts are here to assist you every step of the way.
In case you choose Odoo for setting up and managing your online store, we are here to help with the development part. Hire Odoo developers from BiztechCS, an Odoo Ready partner, to get insights on the latest Odoo updates and build highly engaging eCommerce stores.
FAQs
What is Odoo eCommerce?
Odoo eCommerce can be used to build custom eCommerce stores in just minutes. Not just that, you can use it for managing your store efficiently. Whether it is adding/ editing products, managing inventory, planning marketing campaigns, or so on, everything gets easier with Odoo eCommerce.
What are some new features in Odoo 17 for the eCommerce industry?
Odoo 17 is expected to welcome a plethora of unique features and functionalities for the eCommerce sector. For example, Odoo 17 users can now use Shipping methods without having to integrate the Inventory module. Coupons are available automatically on the checkout page which can be added in a single click. 
You can distinguish unique prices for your specific websites if you are handling Odoo multisite. The new currency filter helps you filter payment providers based on your chosen currency. Order synchronization in Amazon, displaying product tags, advanced search, and improved flows in Live Chat are some other notable features you can expect in Odoo 17 for eCommerce Industry.
What are the benefits of Odoo eCommerce?
Designing engaging product pages, simplifying the checkout process, managing product pages, multiple payment gateway integrations, and other integration options are some of the noted advantages of Odoo eCommerce.
What are the payment providers already integrated with Odoo eCommerce?
Here are some of the integrated payment providers with Odoo: Amazon Payment Services, Adyen, Asia Pay, Flutterwave, PayPal, Buckaroo, Razorpay, Mollie, SIPS, Stripe, Mercado Pago, and Authorize.net.
What are the 5 features of Odoo e-commerce?
Drag-and-drop editor, quick designing, multi website & B2B Store, multiple themes, multiple payment gateway integrations, etc. are a few noteworthy features.
How to set optional products in Odoo E-Commerce?
If you want to set an optional product, you need to go to the Sales tab of the main product in Odoo and then opt for the Optional product option. You can either choose one of the products from the list or create one and add it.
Is Odoo good for e-commerce?
Odoo eCommerce is surely a great alternative for people who want to avoid the complexities involved in development with platforms like Magento and WooCommerce. And with the integration of Odoo ERP, you streamline everything right from inventory to sales.
Befriend Technology for Transformation
Selecting the right technology is pivotal to your business's growth and success. Have you already decided the suitable one for your next project? If so, we can help you take the next step. If not, we can help you decide the best option. Connect with the Top 1% pre-vetted software engineers to build your software.