1121
A Head to Head Odoo VS MS Dynamics Business Central Comparison to Help Businesses in 2023
21 Mar, 2023
5 min read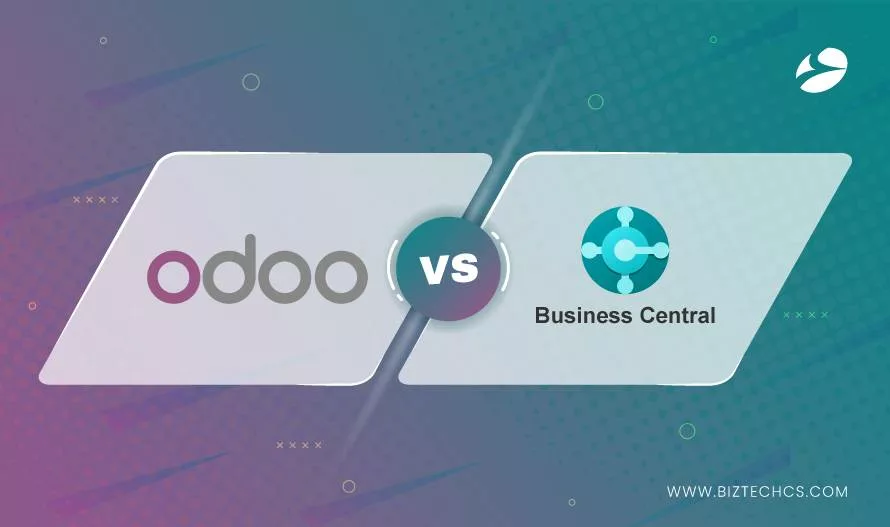 https://www.biztechcs.com/blog/odoo-vs-ms-dynamics-business-central/
Microsoft Dynamics Business Central Vs Odoo Comparison
To start with, we have taken multiple factors right from rating and reviews down to their features, updates, and support facilities.
| In terms of | Odoo | Microsoft Dynamics Business Central |
| --- | --- | --- |
| Functionality | 4/5 | 4/5 |
| Usability | 4/5 | 3.5/5 |
| Customer support | 3.5/5 | 3.5/5 |
| Average Rating | 4.12/5 | 3.81/5 |
II. Features and functionalities
Odoo
Microsoft Dynamics 365
Analytics and Automation

With an easy-to-use dashboard alongside standard and custom reports, Odoo provides several grouping and filters capabilities.
With the help of cohort analysis, keeping track of your metrics evolution and determining trends is much easier.
Minimize manual entries and adopt automation by migrating to Odoo 16 for better tracking of analytics.

The use of artificial intelligence or AI on data will provide you with correct insights on customer data. You will be able to use it for improving customer experience.
This data can be used for relationship analytics, pipeline analysis, conversation intelligence, and deal insights.

Leads and Opportunities

With the lead scoring tool of Odoo, you will be able to track page views, time of visit, and localization.
It should help you track the potential of an incoming lead by assigning it a lead score. Based on this score, you can assign teams, create pipelines, and track tasks and subtasks of pursuing leads.

Sell smarter with an intuitive dashboard that helps you manage leads seamlessly.
If you are an Office 365 user, you can apply your current settings and accelerate the CRM setup quickly.
With Microsoft Dynamics 365 Business Central, you will be able to identify potential leads, track status of current leads, remove dead leads, and more.
Unlike Odoo, lead scoring and nurturing features aren't available here.

Integrations

There are several Odoo modules present that you can use to upgrade your processes. You can also install Odoo applications to customize your process.
Odoo apps can also be integrated with other third-party applications and Google docs.

Microsoft Dynamics 365 Business Central can be used either as a standalone application or with other Microsoft products effortlessly.
You can also download apps from AppSource to integrate with MS Dynamics NAV.
III. Customer support
Support services are a critical aspect of any software as they can affect the performance of your business drastically. Imagine a business not being able to resolve a security-related concern immediately! It can affect your customer experience. So, let's look at how Microsoft Dynamics CRM vs Odoo CRM competes on this front.
Backed by Microsoft, the customer support is exceptional for MS Dynamics Business Central with options including phone support, chat, email, knowledge base, videos, webinars, and documentation.
If you compare Odoo vs Dynamics, you will see all of these options for support alongside access to FAQs/ forums. Users can look for common queries and look for solutions through the portal.
IV. Training
Even though Odoo has an easy-to-use interface and is great for beginners, customizing them to your enterprise needs require specific skills. To empower their users, Odoo provides several training options like documentation, in-person training, webinars, videos, and online.
Besides, you can also hire Odoo developer or partnerfor your project and receive training from them for better understanding.
If you want to become well-versed in MS Dynamics 365 Business Central, you do not get any online or in-person training. Rather, you have to rely on the available documentation, videos, and webinars. However, the documentation is managed by the Microsoft team so it is elaborated and easy to comprehend.
To best utilize the features offered by the platform, you can also consider hiring Microsoft Dynamics developers. You only have to relay your requirements and the rest will be taken care of by the professionals so you have less to no downtime in your business setup.
An interesting and a very detailed comparison: Odoo Vs SAP
Befriend Technology for Transformation
Selecting the right technology is pivotal to your business's growth and success. Have you already decided the suitable one for your next project? If so, we can help you take the next step. If not, we can help you decide the best option. Connect with the Top 1% pre-vetted software engineers to build your software.