1070
Why Choose Salesforce CRM for Manufacturing Companies? Best Reasons to Note
09 May, 2023
5 min read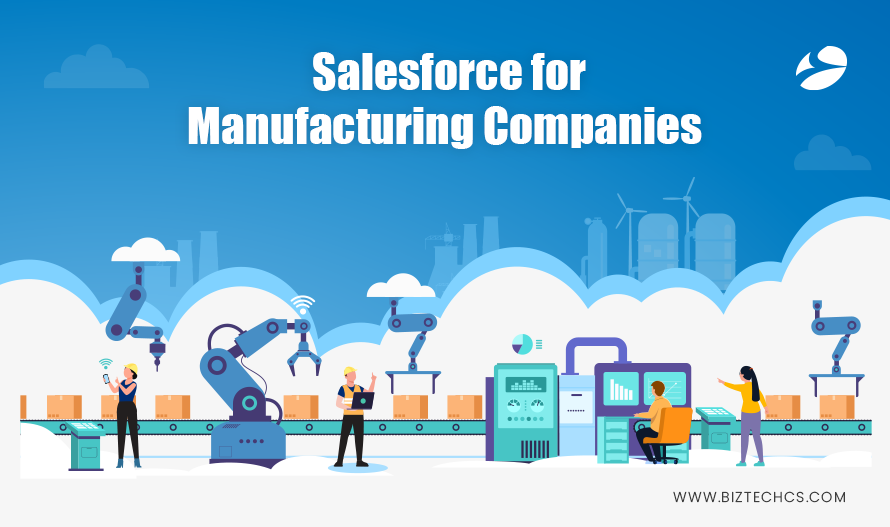 https://www.biztechcs.com/blog/salesforce-crm-for-manufacturing-companies/
Top Benefits of Using Salesforce for Manufacturing Businesses
A celebrated CRM solution Salesforce can help businesses retain customers and gain loyal customers. Here, look at the various advantages.
Easy accessibility
Salesforce is a cloud-enabled CRM solution that enables manufacturers to easily access their integrated business apps. As long as you are connected to the internet and have a digital device (computer, laptop, mobile, or tablet), you can access all your apps seamlessly.
Whether you want to check the status of inventories or track an order shipment, everything can be accessed remotely. You don't have to stay present in the office physically to manage and ensure all these operations go smoothly.
Takeaways: Solves the traditional approach of working, employees can work flexibly, and more productivity as tracking/ sharing information on the go is possible.
Monitoring leads
For a manufacturing company, the wholesale and retail suppliers are their potential leads. In a traditional setup, monitoring those leads was quite a challenge as it would be tedious and time-consuming. They would have to keep a record and dial each number to follow up.
With the Salesforce CRM solution, tracking leads would become much more seamless. You can utilize the platform to differentiate quality leads from dead leads, create a systematic report based on the data, and share it further with the sales teams.
The different modules of Salesforce will further help you nurture those leads and turn them into loyal customers.
Improved productivity
A manufacturing unit often faces productivity issues because of a number of reasons. Ineffective resource utilization, idle time, and non-productive activities are some of them.
While it was difficult to cope with these challenges with manual intervention, Salesforce makes it easy for you to get rid of them. It can assist you in the smart utilization of resources, predicting the right quantity and time of production, improving sales forecasts, and preparing better production plans.
More lead conversion rates
Acquiring leads is one thing and converting them is another. Your sales team would have to be agile, flexible, and work on their toes to convert leads. But, that's not enough if you want to accelerate your conversion rates.
For that, implementing a CRM solution of quality is much more necessary. CRM software like Salesforce can contribute greatly in this regard. Your team gets access to a centralized system, which can be used for the identification of quality leads, and real-time access to customer information.
With the all-new Whatsapp-Salesforce partnership, manufacturing companies can leverage more of this CRM Software In USA. You can effortlessly integrate WhatsApp with Salesforce software to use a unified view. Your sales representatives can quickly access real-time data from Salesforce and use the information to personalize their sales pitch and improve conversion rates.
Increased sales and revenue
With great conversion rates, you get to increase your business unit's sales and revenue. You can leverage the features and functionalities of various clouds for Salesforce in the manufacturing industry and sell faster and better. It equips you with tools for business analytics and improved sales processes so you can reach out to the right customers with appropriate product recommendations.
Better marketing capabilities
Whether you build Salesforce for nonprofits or for manufacturing, marketing is a critical part of it. You need to promote your products and services to the right audience and persuade them to try them. Salesforce is a platform that comes with a marketing cloud to support your marketing ventures.
It can help you devise a robust marketing plan, use custom templates for email marketing, integrate Google analytics, and so on. Whether you use social media marketing, organic SEO campaigns, or paid marketing, you can do more with Salesforce capabilities.
Befriend Technology for Transformation
Selecting the right technology is pivotal to your business's growth and success. Have you already decided the suitable one for your next project? If so, we can help you take the next step. If not, we can help you decide the best option. Connect with the Top 1% pre-vetted software engineers to build your software.