1365
Why Shopify is Considered the Best eCommerce Platform for Small Businesses?
09 Nov, 2022
5 min read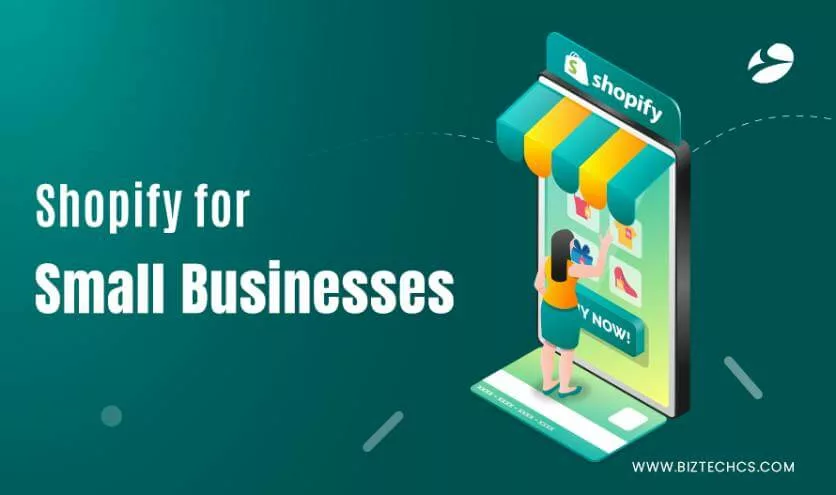 https://www.biztechcs.com/blog/shopify-for-small-business/
Is Shopify Good for Small Businesses?
If you are wondering, 'is Shopify worth it for a small business?', then this is what you have to know! And business ideas by sampoorn jankari can help you in choosing best business ideas for you in different niches.
Shopify takes the pain out of setting up and managing eCommerce stores with its easy-to-use interface and multiple functionalities. There are more than one reasons why a small business would prefer Shopify to build its store. Here are some of them!
All-in-one platform
Shopify serves as a single platform to help businesses start their online store, set it up digitally, and market it to build a digital identity. It provides business units with immense capabilities right from its branding and creating an online presence to store setup.
With the help of the Shopify platform, businesses can sell anywhere and everywhere
Online stores.
International commerce.
POS or point of sale.
Sales channel.
Buy button.
Custom storefront tools.
From a website using the Checkout page.
Small businesses get the right exposure they need to sell their products as they wish through their desired channel. Or, they can choose to invest in more than one channel.
The Shopify eCommerce platform doesn't limit its use to setting up online stores and selling only. It also helps businesses leverage various marketing opportunities such as email marketing, Facebook Ads, business chat, marketing automation, and customer groups.
To conclude, businesses don't have to search for multiple tools and applications while setting up their online store as Shopify brings all the facilities to them under one roof.
Easy-to-use interface
Unlike other technologies like Magento, WooCommerce, and Laravel for eCommerce, Shopify doesn't require you to be tech-savvy. You can follow basic instructions as provided on the website and successfully complete setting up your online store.
You can set up your domain, choose from over 100 Shopify themes, customize your store's design, and add/ modify/ remove products at your convenience. With expertise in HTML and CSS, you can further customize your store's design as per your unique needs.
Starting a small-scale business? There's nothing easier than Shopify! You can get started in a matter of minutes.
Best pricing
Shopify charges affordable prices for its use compared to other eCommerce platforms. It provides businesses with a 14-day free trial option to help them get acquainted with the platform and see how it works.
Later, they can choose a plan befitting their budget and needs. It extends three pricing options to businesses as mentioned in the table below.
| | Basic | Shopify | Advanced |
| --- | --- | --- | --- |
| Ideal for | Startups and small-scale businesses. | Business units with consistent sales or those who want to expand their business. | Business units with high volume sales or establish eCommerce units. |
| Pricing | $29/Month | $79/Month | $299/Month |
| Number of staff accounts | 2 | 5 | 15 |
| Inventory locations | Up to 4 | Up to 5 | Up to 8 |
| Transaction fee | 2% | 1% | 0.5% |
Besides the plan you opt for and a transaction fee applicable on each order, you don't have to pay for anything else. Shopify is extremely transparent about its charges and the facilities they extend for each plan. You can check more about it here.
Small businesses or startups can kick-start their business with a plan as low as $29/month, and a transaction fee of 1%. Furthermore, they can expand their business anytime they wish by opting for a better plan.
Mobile friendly
In today's age of indispensable digital needs, smartphones are irreplaceable. They are handy and can save a lot of time. Leveraging the numerous benefits of smartphones, Shopify can literally help you manage your entire store from a mobile device.
You get order notifications on your mobile in the form of texts or emails. And, you can use applications to manage inventories, fulfill orders, check prices, and more anytime anywhere.
Managing your store remotely can't get any simpler than this! For example, you are starting a cosmetic business. There is a range of products with different prices you can't remember. You don't have your system with you as you are traveling back home after a vacation.
But, you have your smartphone to quickly check for the prices and even offer a discount to your shoppers. A minimal effort can boost your sales significantly. That's just the tip of the iceberg you can achieve with the convenience of mobile devices.
Widened customer reach
Whether you start an online clothing store business or a store for handcrafted items, reaching a wider audience segment has always been a matter of concern for small-scale businesses. With Shopify, it can be simpler.
You can widen your customer base with a lot of options that Shopify offers
Offering discounts, coupon codes, or gift vouchers to promote your products and accelerate sales.
Social network integration to reach a wider audience or prospective customers.
Facebook or Instagram selling opportunities.
Targeted email marketing.
Product reviews to boost product demand and create transparency.
Ads to widen customer reach which can't be attained organically.
24/7 support
For a Shopify small business, it extends many support and learning opportunities. The site features blogs, guides, free tools, podcasts, and research for self-help. Entrepreneurs can access any of these materials to strengthen their knowledge about the platform.
The Shopify Help Center further categorizes all the business operations into sections like start, sell, manage, market, and expand. One can also access the necessary help from here.
In case it doesn't solve your problem, you have access to the Shopify community to seek the necessary help for launching your Shopify store successfully.
Comprehensive App Store
Along with its in-built eCommerce features, Shopify also enables businesses to use apps from its app store or to build custom ones. These apps can further expand your store's functionality. As of 2022, there are about 2,200 apps in the Shopify app store.
A few noteworthy Shopify apps are – OptinMonster, TrustPulse, PushEngage, and OctaneAI. These apps can be used for directing traffic to product pages, re-engaging with visitors, recovering abandoned carts, recommending products, and more.
These apps can help optimize your store's performance substantially. For instance, simplified site navigation. Seamless navigation and impressive UI/UX are the key elements of a successful eCommerce store. If your store can be navigated easily, shoppers will find the products faster and more conveniently. It would require minimal effort on their part and you will have more chances of conversion.
With Shopify apps, achieving these things would be easier. Companies can hire dedicated Shopify developers to integrate these apps or custom-create ones that suit your unique business needs.
Dropshipping
Shopify removes the pain of storing inventories, managing them, and sending products for delivery with the drop shipping option. Businesses can now directly deliver the products to shoppers from suppliers without having to go through the hassle of arranging warehouses and managing inventory. This could be quite beneficial for small to mid-scale businesses.
Befriend Technology for Transformation
Selecting the right technology is pivotal to your business's growth and success. Have you already decided the suitable one for your next project? If so, we can help you take the next step. If not, we can help you decide the best option. Connect with the Top 1% pre-vetted software engineers to build your software.