1270
Why Use Salesforce for Insurance Companies? Advantages, Methods, and More
20 Oct, 2022
5 min read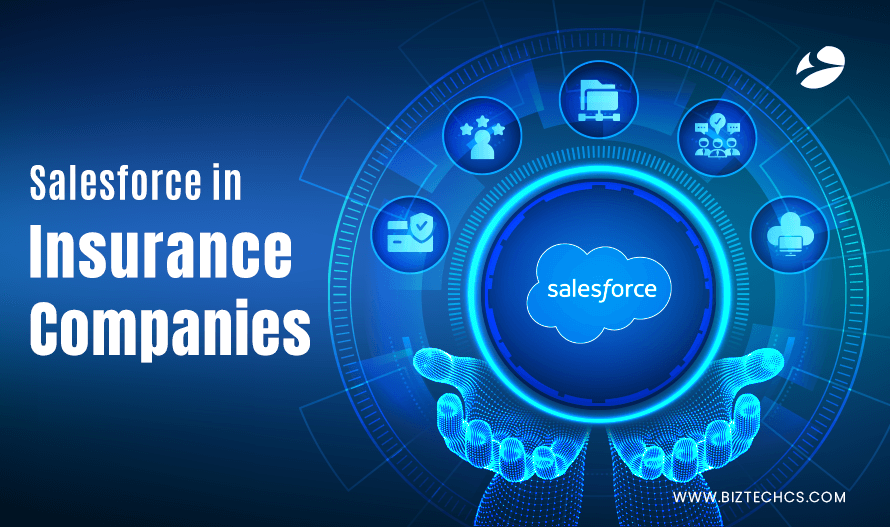 https://www.biztechcs.com/blog/salesforce-for-insurance-companies/
It goes without saying that every industry is unique, and companies require a different approach to be successful. Likewise, your insurance agency needs a custom plan that works marvelously for you. And, Salesforce can be a considerable part of that custom plan due to its multiple CRM benefits.
While Salesforce is no new name today, you would still wonder how Salesforce for insurance companies works and whether it is the right fit for your company.
If you are in a dilemma, this blog is for you!
Before dissecting how Salesforce for insurance agencies works, let's look at one of the case studies, I came across.
"It is about a Switzerland-based reinsurance company, Swiss Re. The company offers digital insurance, reinsurance, and commercial insurance as its products. Leveraging the various CRM features of Salesforce, it has improved its customer journey to greater lengths."
Several insurance agencies use CRM software like Salesforce to improve their business processes. For example, VTB Capitals PLC, Thomson Reuters Corporation, Allianz AG, and so on.
What made them choose Salesforce solutions? Let's look into it!
Benefits of Using Salesforce CRM for Insurance Companies
An insurance company has to meet various bottlenecks to emerge as the leading competitor in the finance sector. Whether it is strengthening customer relationships, increasing the number of policy purchases, improving claim settlements, or issues managing customer networks.
These challenges can hold your business back. Salesforce can present you with prospective opportunities to deal with them. How? Let's look!
Real-time agent communication
Challenges:
An insurance aggregator has to be available round the clock for better service. In addition, they need to reduce client handling time for better returns. Salesforce has resolved this issue very easily for insurance companies.
Solution:
Insurance agents use a custom dashboard that syncs their data with Salesforce in real-time. So, the sales representatives have accurate real-time information for lead conversion.
They can further add an automated chatbot or lead customers to a self-service portal to assist them better with their queries and issues. In any case, Salesforce for insurance brokers will lead to better and faster communication.
Bridging marketing/promotion gaps
Challenges:
Marketing or promotion gaps in the insurance sector are causing a steady decline in the number of insurance policies. As per a report, about 50% of US citizens had a life insurance policy in 2020, quite a decrease from 63% in the year 2010.
However, the rise of the pandemic in mid-2020 showed new prospects for the insurance sector. And reports say insurance companies need to target millennials and people between 31 and 45.
Solution:
As evident, marketing for this sector seems quite beneficial. And Salesforce provides perfect opportunities to overcome these marketing hurdles. Since the target audience significantly uses digital media in their day-to-day life, using the Salesforce Marketing Cloud to streamline various promotion activities results greatly.
It helps immensely with streamlining marketing campaigns, managing communication across channels, performing social media marketing, campaign automation, etc. Thereby gaining new customers or easily retaining customers with Salesforce.
Improved broker operations
Challenges:
An insurance agent has a lot of tasks at hand. For instance, tracking leads, speed to leads, upselling or cross-selling, managing client data, account setup, claim management, etc. Each of these tasks involves great financial risk to the company as well as the client. Thus, it requires careful planning and implementation.
However, attaining accuracy and efficiency isn't possible with the manual handling of data.
Solutions:
Such situations warrant CRM software as powerful as Salesforce. With the help of CRM integration, storing and managing client data and automating the processes of account setup, underwriting, etc., will be effortless.
Seamless claims management
Challenges:
This is one of the most dreaded tasks of any insurance corporation. They need to assess the situation and type of claim, go over multitudes of data, their policy terms, and the history of claims.
It will help them differentiate fraudulent claims from genuine ones and also assist in updating the policy terms as and when needed. However, it is one daunting task and involves risk assessment.
Solution:
When you integrate Salesforce into your insurance company's digital setup, you get easy access to a multitude of crucial data and ways of sorting and storing it. Not only this, but you can also manage roles and assign specific tasks to specific individuals to accelerate the speed of claim settlements.
Cloud-first digitalization
Challenges:
A KPMG report mentions how COVID-19 acted as a catalyst to the already fast-paced world of digitalization. So much so that about 79% of their survey respondents believe it has created an urgency for insurance companies to adapt and reinvent new business models that are sure to leave lasting impressions.
Some also believe the industry has a lot of catching up to do as customer expectations are preceding the deliveries.
Solution:
With Salesforce, insurance agencies can achieve a certain level of digitization and improve their business processes. Be it bringing automation in various sales and marketing processes or enhancing customer relationships through added Salesforce app integrations, they have many innovations.
Now, rebuild your business processes and get your insurance company ready for a digital renovation with Salesforce. However, you may need to hire certified Salesforce professionals to ensure proper implementation of the CRM solution.
Personalized customer journey
Challenge:
Similar to how Salesforce for real estate works, personalization is a pivotal factor for an insurance company's sales as well. As an insurance aggregator, you need to connect with your audience and engage for better conversions.
However, most financial institutions and NBFCs come as salesy while trying to sell their insurance products. This can directly result in poor customer experience and declining sales.
Solutions:
Initiating customer communications with personalization in mind is the best thing you can achieve with Salesforce for the insurance industry. For instance, you can send push notifications to a specific group of audiences who have purchased an expensive electronic gadget recently.
They will require insurance and might be looking for one. This is the best time for you to approach those. They will get the required information, and you can assist them through the paperwork and purchase experience.
Better relationships with insurance policyholders
Challenges:
You would know how health insurance used to work traditionally. Once the policyholder buys an insurance policy, they will get financial coverage against their medical conditions for a certain period.
Now, before this period is over, they will have to renew their policy by paying a premium fee so they can extend the benefits. If policyholders forget to complete the renewal in time, they may have to pay a penalty or late fee.
Solution:
But, with Salesforce for health insurance, they can avoid unwanted situations like these. They can automate the processes so that every policyholder will receive a reminder message a few days before their policy is up for renewal.
This is just one of the many things you can do with a Salesforce CRM by your side. Such processes help improve customer relationships, and you can gain more loyal customers in the long run.
How Does Salesforce Work for Insurance Agencies?
If you have any previous experience with Salesforce, you would know about its multiple Clouds. Each Clouds deal with a different module and offers impressive features that can help your overall business experience.
Let's see how Salesforce can help insurance companies reform their business processes.
Service Cloud
Some relevant features of this cloud are:
Case management
Order management
Workflows and approvals
Lightning web component service control
Self-servicing
Customer support
Each of these features is extremely important to elevate the processes of an insurance company. They can help manage the number of policy orders, direct customers to a self-service portal, and help with seamless communication based on real-time insights on client data (such as preference).
The recent announcement of the WhatsApp- Salesforce partnership in 2022 can further help you reinvent the customer service process. You can conveniently remind your customers about a policy renewal or the status of their claim through a WhatsApp text.
Sales Cloud
This module is especially useful to sales representatives who are putting efforts into various sales approaches for lead generation, retention, and conversion. Some useful features include the following:
Process automation
Account/contact management
Pipeline/forecast management
Quote bidding
Opportunity management
When you are interacting with a dead lead or following up with a prospective lead, real-time insights can be of great help. It can help your insurance company make wiser decisions like marketing investments. Sales representatives can make wiser decisions, and the process may help predict the future turn of events in terms of sales.
Marketing Cloud
Like every other industry, your insurance company also has to market products to reach potential audiences. However, marketing is a vast term and requires a lot of planning.
However, with Salesforce for insurance agencies, your marketing efforts can be channeled and synced. You can manage and automate them through a single portal. In addition, you also get to create charts and predictions to see how your marketing campaign can perform in real-time.
Let's look at some of the most useful features you can build with Salesforce.
Mobile studio
Email studio
Web studio
Journey Builder
Social studio
Advertising studio
Financial services Cloud
The Salesforce financial services cloud for insurance is a dedicated tool you can use for personalizing communication between any insurance aggregator and a customer. Some of its best features are:
Accessing accurate and complete information about a policyholder's interactions with insurance agents, availed policies, claims, settlements, etc.
Streamlining the process of underwriting with the help of document review, digital submission, online collaboration, automated quoting, etc.
Personalized interaction with policyholders and managing claims lifecycle, reverse management, etc.
Automate payments
Secure and denied payment methods are a necessity for any insurance company. Thus, Salesforce CRM's automated recurring bill payment facility can immensely help policyholders. They will be able to make timely payments without paying any additional or late fees.
The insurance policyholders will also have multiple payment methods for purchasing or renewing their policies in time. These are some of the ways you will elevate your insurance company's processes.
These modules aren't built solely for an insurance company. You can utilize Salesforce Clouds for nonprofits, real estate, healthcare, or any other industry as well.
While the benefits and features are immense, it all comes down to the right implementation of these clouds. Make sure you hire dedicated developers and elevate your business processes sufficiently, irrespective of the industry you serve.
If you are on the lookout for professionals from a reputed Salesforce development company, then BiztechCS might meet your expectations. Our in-house Salesforce professionals have relevant experience in the insurance sector. You can leverage our flexible engagement models and hire as per your terms.
Takeaway
Salesforce opens a sea of possibilities for insurance companies with its many clouds. Right from marketing and sales to finance and service, improving your business processes each day is seamless.
However, connecting with qualified professionals can help you tap into a new world of creating out-of-the-box solutions for your business. So, explore the unseen possibilities with the right technical experts at your service.
Befriend Technology for Transformation
Selecting the right technology is pivotal to your business's growth and success. Have you already decided the suitable one for your next project? If so, we can help you take the next step. If not, we can help you decide the best option. Connect with the Top 1% pre-vetted software engineers to build your software.