2648
Angular vs React: Which one is best suited for your app development?
26 Aug, 2020
5 min read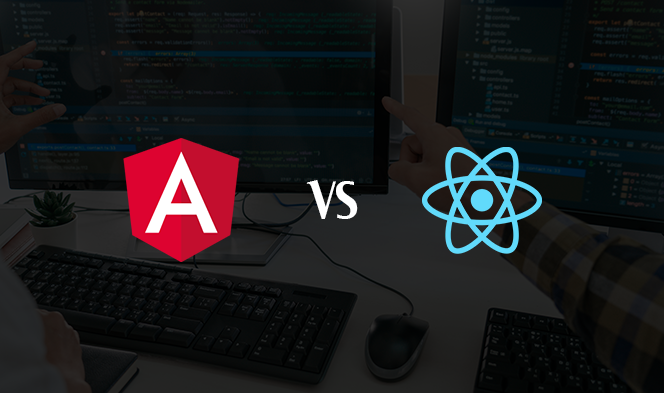 https://www.biztechcs.com/blog/angular-vs-react/
What's great about frameworks?
"They help you manage those piles of unnecessary codes, reduce redundancy, simplify dynamic web app development, enhanced user experience, optimized load time, etc."
However, now, they can do much more than that. In Stack Overflow's 2020 Survey, ReactJS and AngularJS were in the 2nd and 3rd position in most popular frameworks. Though both mobile app frameworks have advanced functionalities and are capable of facilitating your business requirements, which one you should choose can be the biggest dilemma.
Here, in this article, we've explained the strengthens and weaknesses of both the frameworks to help you decide the best framework suited for your business.
History of Frameworks
What is ReactJS?
React is an open-source Javascript library used for developing user interfaces for websites and mobile apps. Launched in 2013, managed by Facebook and many big companies such as Netflix, Dropbox, Khan Academy, The New York Times leverages this platform. Facebook even uses it extensively in its products: WhatsApp and Instagram. The reason why internet giants prefer using ReactJS is that it doesn't have server-side rendering, and more. React 16.13.0 is the latest version of the ReactJS launched in Feb 2020 with advanced features like warning updates during rendering and hydration, concurrent mode and suspense feature, and a lot.
What is AngularJS?
AngularJS was launched in 2010 by Google as a frontend application. With Angular2, the framework was revised into three sections: TypeScript, RxJS, Zone.js. Today, it's a powerful front-end javascript framework used to build dynamic web apps. Angular recently had a release of its latest version, Angular 9 with power pack features such as shrinked bundle size, CSS and design improvements, default Ivy compiler, and more. The latest version brings more power to companies using Angular along with Apple, PayPal, Nike, Udemy, Google, and other internet giants that prefer Angular.
Looking at the introduction, both seem to be a power-pack framework. But to get a better hold, let's have a look at their strengths and weaknesses.
Angular vs React
Real vs Virtual DOM
A DOM (Document-Object-Model) is an API used by HTML and XML documents. It defines a logical structure of the document, how the data would be accessed, etc.
React and Angular have a slightly different approach to enhancing the performance of the apps based on the DOM's.
Angular has a real DOM and for every re-rendering, it creates a new DOM from scratch and replaces it in the browser. React, on the other hand, minimizes the work by calculating the minimum operations required to bring DOM to its internal virtual DOM stage and then executing it.
For instance, there's a change in one section of the page, in such a scenario, Angular would create a new DOM and then reload the entire page for the changes to be reflected, taking a lot of time. React would use its inbuilt virtual DOM feature that would re-render only the updated part of the application. It would then execute the specific change without reloading the entire page, and hence saving time.
Data Binding
Angular provides a two-way data binding which means you can transfer data in both ways. It's beneficial for enterprise based apps where data input from the customer side needs to be in sync with the database on the server-side.
React offers a one-way data-binding which means you can move the data only in one direction. The data would be shown to the customers in a read-only format. However, with two-way binding helpers, React can also handle all those complicated data sync operations. But it's an add-on. Angular has it inbuilt.
To understand it in simple terms, let's take an example. Suppose you have an entertainment app where users can only view the videos and images already on the site, which means it's a one-way binding. You don't have access to upload videos or images or edit the already ones. The information gets transferred from the server to you. It doesn't go back to the server. For two-way data binding, consider school profile management. You can add details by the admin and through your login window, you make a few changes into it. The changes are synced with the database and the changes you made via your login portal app, would be saved in the database as well.
Code compatibility
Angular has an improved command-line interface that has components such as ng_update to upgrade the app to the latest version of the framework. This saves developers a lot of time as the updates are automated.
React also offers a seamless transition to new updates but it is an extensive library of components and uses 3rd party library extensions for updating and modifying the components. Besides, the developer has to always check if the external libraries are compatible with the latest version of React. Too much of the work!
Though both the frameworks are competing for a seamless transition, React lags behind Angular in compatibility.
Learning curve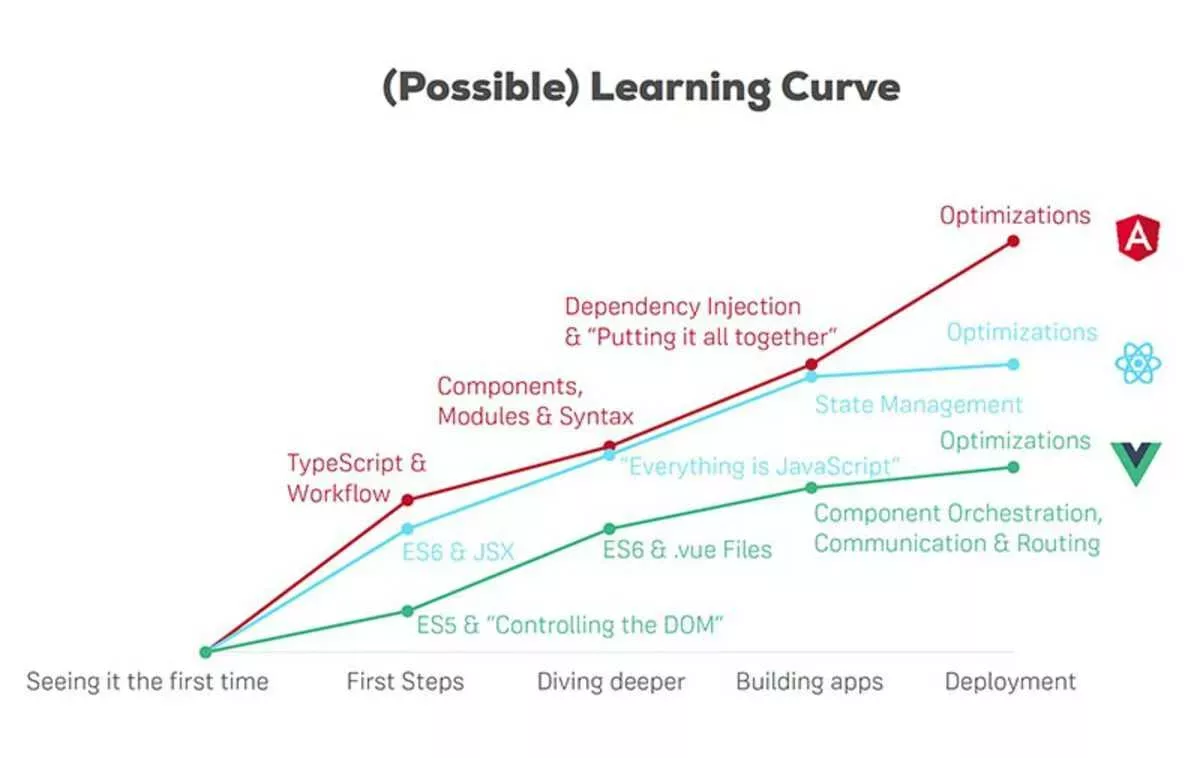 Angular has a steep curve in comparison to React. Being a complete framework, it has inbuilt multiple features and ways to solve problems, complex components. Moreover, learning Angular demands familiarity with different concepts and languages such as TypeScript, RxJS, pipes, dependency injection, etc. Thus, an angular javaScript developer has to invest a lot in learning it.
React is a simple library and you can quickly learn it. It makes it easy for developers with javascript knowledge to develop apps in the react ecosystem. Developers would need to have additional knowledge of the external libraries but it would be less complicated than angular.
Testing
Testing an app before final deployment is imperative. Angular app testing is possible with a single tool like Protractor, Jasmine, or Karma. But it's not possible to React App. React testing requires multiple tools such as Jest for Javascript code testing, Enzyme and Unexpected React for component testing, Skin Deep for render testing utils, React-unit for unit testing, and software testing services. Now that's the downside of using external libraries.
Performance
Performance is the ultimate requirement of mobile apps. After all, load time decides how far the app would be in the race.
Though Angular has a better performance it's bundle size that comprises all the components and extensions tends to be large, increasing the load time. However, the integration of the Ivy compiler in its latest version has shrunk the bundle size, improving the performance and page load time.
React, on the other hand, is well-known for its performance and optimized load time. With its ability to load priority tasks without waiting for the complete data loading, it's best suited for small-sized apps.
Documentation and Community Support
Angular is a bit slow when it comes to documentation and tutorials. The main reason being the ongoing development process. The tutorials and manuals are outdated making it difficult for developers to find a solution to current issues.
React is nothing like this. Though it's underdevelopment the insights and community support are large, making it easy for developers to reach out and find a solution to the bug.
Read more: Vue vs Angular
And the final say…
Both frameworks have their own pros and cons. Every developer would have their own preferences based on their requirements and ease such as React can be preferable for small-sized apps, whereas Angular can be a solution for enterprise based apps. In the end, it depends on your business requirements because a one fit solution can never work when it comes to developing front-end solutions. Discuss with the Mobile app development company and explore as much as possible.
All product and company names are trademarks™, registered®, or copyright© trademarks of their respective holders. The use of them does not imply any affiliation with or endorsement by them.

Befriend Technology for Transformation
Selecting the right technology is pivotal to your business's growth and success. Have you already decided the suitable one for your next project? If so, we can help you take the next step. If not, we can help you decide the best option. Connect with the Top 1% pre-vetted software engineers to build your software.