999
Biztech Named Among Top Ecommerce Developers of 2020 by Clutch
18 Feb, 2020
5 min read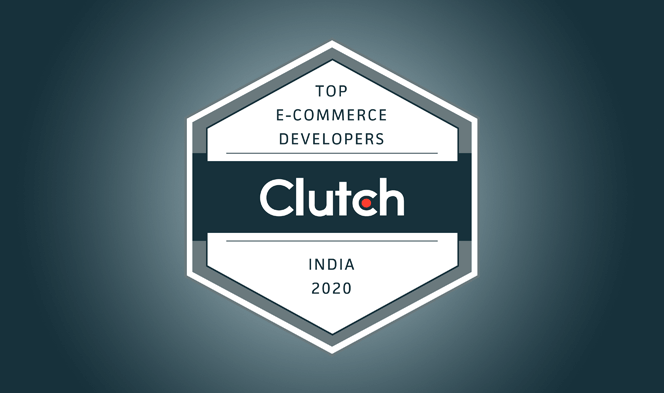 https://www.biztechcs.com/blog/biztech-top-ecommerce-developer-india/
Here at Biztech, we know it can be difficult for a new company to maximize its success with limited staffing capabilities. That's where we can help! We help companies of all sizes prepare for tomorrow by providing first-in-class tech teams. We have a comprehensive team of developers, business thinkers, designers, and marketers ready to make your success a reality! We can help you expand on your terms and dominate your industry!
In recognition of our efforts, we've been considered a leading ecommerce developer in India by Clutch! They're a market research firm that employs a unique rating methodology to compare and contrast leaders across a wide variety of sectors. Their findings help interested buyers connect with verified vendors.
And here's what our CEO, Maulik Shah, had to say about this, "We couldn't have gotten this far without our loyal customers! They took the time to engage with Clutch representatives to assess our impact on their business projects. We were graded along the lines of quality, attention to deadlines, and overall project management. We're happy to report we've maintained a wonderful 4.8 out of five stars! Take a look at a recent review below: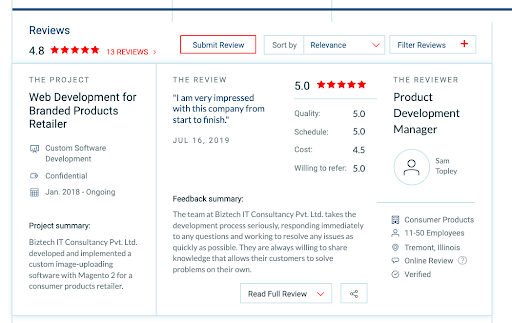 "We are honored to receive this award. We are grateful to all our customers who believed in us and have stayed with us for over 5-6 years now. They have helped us grow and earn this position in the list of leading e-commerce developers in India." – Biztech Leadership Team
We're thrilled to receive this recognition and look forward to helping even more clients achieve their goals for years to come! Drop us a line if you'd like to work on a project together soon.
Befriend Technology for Transformation
Selecting the right technology is pivotal to your business's growth and success. Have you already decided the suitable one for your next project? If so, we can help you take the next step. If not, we can help you decide the best option. Connect with the Top 1% pre-vetted software engineers to build your software.