Love it or hate it, but you can't ignore TikTok, can you? Whether it's for good or wrong reasons, the platform is always in the news. Mainly for its journey from being a global sensation to a target of censorship.
Will the platform fade away? Only time can tell. But one thing is clear that apps like TikTok are crowd-pleasing. Kids and teenagers love it. Even adults do not mind indulging in it occasionally. I bet, you too, would have seen a TikTok video on your social media feed and exclaimed that it's awesome!
Jokes apart, video sharing/editing apps have a growing popularity. If you look at TikTok's alternatives, they too have a growing audience. In August 2020, the market share of TikTok's competitors climbed to 44%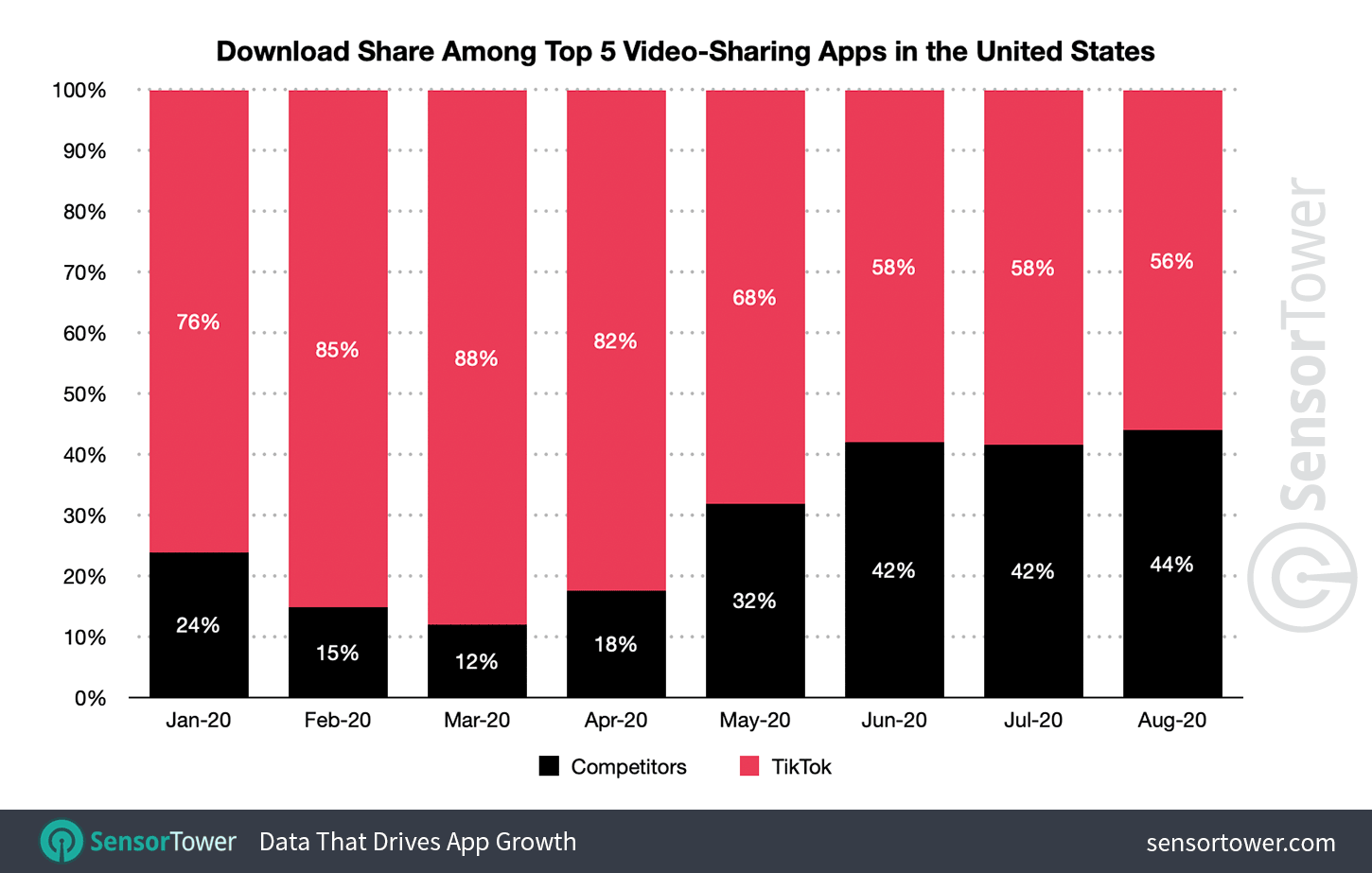 This indicates that TikTok's alternatives are developing some appeal among the users. For entrepreneurs, who want to join the revolution of video-sharing apps, this is the right time. If you are one of them then you have landed on the right page.
We have created this guide to help entrepreneurs who want to make TikTok like app. We will cover points including how to make an app like TikTok, and get users to download your app.
A quick outline of topics this post covers:
The Downside of TikTok and What It Means for You
TikTok gained a lot of popularity among the users. But just like other social media platforms, there are drawbacks to this platform too.
One of the biggest cons of the platform is extensive data collection. I know every company collects data, and nothing is surprising. Giants like Facebook and Google, too, are tracking machines. However, they have their privacy policies in place and give users some control over what they can collect. But TikTok collects much more data than it would need to provide services or show targeted advertisements.
Here is an excerpt from the app's privacy policy
"We automatically collect certain information from you when you use the platform, including internet or other network activity information such as your IP address, geolocation-related data, unique device identifiers, browsing and search history (including content you have viewed in the Platform), and Cookies."
Addiction is another concern for the audience, especially kids and teenagers. Stats say they spend an average of 80 minutes per day on the platform. Other issues include the rising cases of fake news in the videos, cyberbullying, and data leaks.
Considering all these concerns, the app has been either banned or intermittently blocked in countries including India, Indonesia, and Bangladesh. Biden's tech policy is still taking shape. As of now, the US President has paused legal action against the ban till the administration becomes familiar with the issue.
All these issues create preconditions for the app to shut down. And even if it doesn't, video apps are growing in popularity. Newcomers with a unique idea to make an app like TikTok have a good chance to rise.
Now, let's see in-depth how to create app like TikTok.
Step 1 – Learn What Makes TikTok Popular
If you want to know how to make an app like TikTok, the first step is to understand why TikTok is so popular and what you can learn from it.
As of January 2021, the platform has 689 million monthly active users worldwide. As of Q1 2019, TikTok was the most downloaded app on the Apple App Store, with 33 million downloads in a single quarter.
So, how did it become so popular?
There are three main drivers behind the popularity of TikTok: a clear targeted audience, a simple and easy-to-use interface, and it's algorithms. Let's discuss each in detail.
1. A Focused Target Audience
If you want to make an app like TikTok, knowing things like who will download your app? Who are your target personas? What do they expect? Etc., will help determine what design, features, etc.. Therefore, one of the major decisions when building an app is to find a well-defined target audience.
If you look at TikTok, it has a specific user demographic. TikTok reports that 80% of all users are between the ages of 16-34. To appeal the audience, the platform offers an opportunity to go viral, instant gratification, and feed targeted towards their interest.
To successfully create app like TikTok, begin by researching your target audience. Get more insights into details like your users' average age, location, type of device, etc. This way, you can create a better product that will respond to your user's needs.
2. Great App Design
TikTok' s user interface plays a major role in the app's success. The app's design is such that once users create an account, they are immediately hooked with the app. The app automatically provides a video that users can watch again or keep switching to other videos. One video per screen is a good way to increase engagement and focus purely on content.
Moreover, simplicity is at the core of the app's design. Users can easily find everything for themselves. The interface is clean and without any distractions right from the sign-up screen to creating videos.
One principle to keep in mind if you want to create app like TikTok – If you want people to do something, make it as easy as possible. To make things easy for the user, follow what TikTok does. Reduce the number of options and interactions that a user requires. TikTok automatically provides a confirmation code and phone number, thus, making the process easier for users.
Want to know how to make an app like TikTok that is user-friendly? Then we can assist you. Our UI/UX professionals have the right skills, domain expertise, and knowledge of technology to meet your target audience and industry needs. Let's get in touch to engage your audience by creating a well-designed app.
3. TikTok's Feed and Algorithms
Another reason why the app is sweeping over the world is the app's content discovery field. Also known as 'For You page,' this page acts as a timeline on the app. It is how users find new content. Behind the curated feed, works a unique algorithm that uses AI and machine learning.
As explained by TikTok – "When you open TikTok and land in your For You feed, you're presented with a stream of videos curated as per your interests, making it easy to find content and creators you love. This feed is powered by a recommendation system. It delivers content to each user as per their interest.
When you create app like TikTok, feed becomes one of the crucial pages of your app. Your users are going to spend their maximum time checking videos, liking, and sharing. And hence, you will want to offer amazing functionality. You can follow TikTok's style of vertical feed where users swipe up and down to browse videos. Currently even Instagram is testing with this function with its stories. Or you go with the classic way of right swipe. But the bottomline is to always keep the user in mind and choose what they will enjoy the most.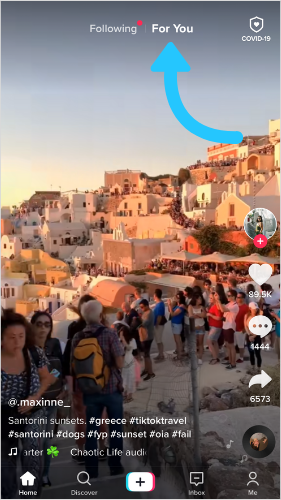 (TikTok's For You Page Where Users Find New Content – Image Source)
Step 2 – Review TikTok' s Competitors
To know how to create app like TikTok, a good idea is to acquaint yourself with other social video apps like TikTok. That will inspire you with new ideas. Let's talk about some of them.
Funimate – Funimate is a video editing app that allows users to create pro edits with their advanced editing features. The app offers an element library where users can choose from hundreds of emojis and add text to videos. It includes other features like AI effects, video transitions, text effects, and more. With Funimate, users can purchase brand t-shirts too. Such in-app purchases work well as a monetization strategy.
Like – Like is a video-making and sharing platform with a powerful personalized feed. The app offers high-quality video shooting and editing functionality. The best thing about the app is that it has amazing features like make-up, microsurgery. Users can try different makeup styles using a beauty camera. Some of its smart features include hair color, 4D magic with AI-powered body movement tracker, and dubbing.
Instagram Reels – Last year, Instagram announced reels – a way to discover and create short videos on Instagram. Users can record, edit, and 15-second multi-clip videos with audio, effects, and new creative tools with reels. Does this sound familiar? Well, Reel is Instagram's response to TikTok' s popularity.
If you look at video-sharing based applications on the internet, you will find certain things in common. For instance, various filters and effects, excellent video editing functionality, focus on short-form videos, etc. This means users expect these features. So, to create app like TikTok, you need include those plus find a unique functionality that users would appreciate.
Have a unique idea in mind? Let's help you turn your idea into a workable strategy. Our team will collaborate with you to identify the core concept, understand objectives, analyze the market, and build a product.
Step 3 – Choose a Business Model
Before you jump into developing an app like TikTok, consider choosing a business model. Next comes choosing the right revenue model. There are paid apps, advertisements, in-app purchases, and other options. Following are some ways to monetize an app like TikTok. These also include methods that TikTok follows.
1. In-app purchase
In-app purchases prompt users to buy special features, services, and content within the application. TikTok is making money through in-app purchases of coins that range from 99 cents up to $99.99. Users buy coins that they can use in the app or give them to their friends or favorite creators. If TikTok coins may seem difficult at the early stage, you can instead choose a subscription-based model. Here, you can charge for premium features like AR filters, live-streaming, etc.
2. Advertising
For app owners, mobile ads are the most accessible source of revenue. 7 out of 10 apps generate payments per ads display (per impression), per click, or per install. TikTok earns from small and big brands who use the platform to promote their products or services through in-feed video ads. With the help of AI-powered algorithms, the app studies user preferences to show relevant ads. If you plan to choose an advertising-supported revenue model, start by deciding ad variants like video ads, banner ads, incentivized ads, etc.
Step 4 – Decide the Features to Build an MVP Version
At this stage, you will have to take an important decision – full-fledged app v/s MVP. I get the excitement that you do not want to miss out on any feature and give your users a full-fledged mobile application.
But here's the deal. Developing a fully functional app takes both time and money. Plus, you do not know how your users are going to react. When you are just entering the market, your goal is to appeal to your target market, begin earning and raise funds for further goals.
Developing a minimum viable product with the essential features helps you validate your business idea and provide directions towards what features you need to include later.
MVP development requires you to look at the product from the end-user's perspective and decide what features are necessary to make TikTok like app successful. Here's a list of features along with the estimated time for your reference.
1. Log in & Edit Profile
First, to create app like TikTok, you will need a login/sign-in feature. For convenience, it is good to offer login via social media, email, and phone number.
Next, allow users to create their profile by adding a bio, profile picture, username, etc. Here, you would like to pay attention to the data you collect. The thumb rule is only to collect information that is important for your business.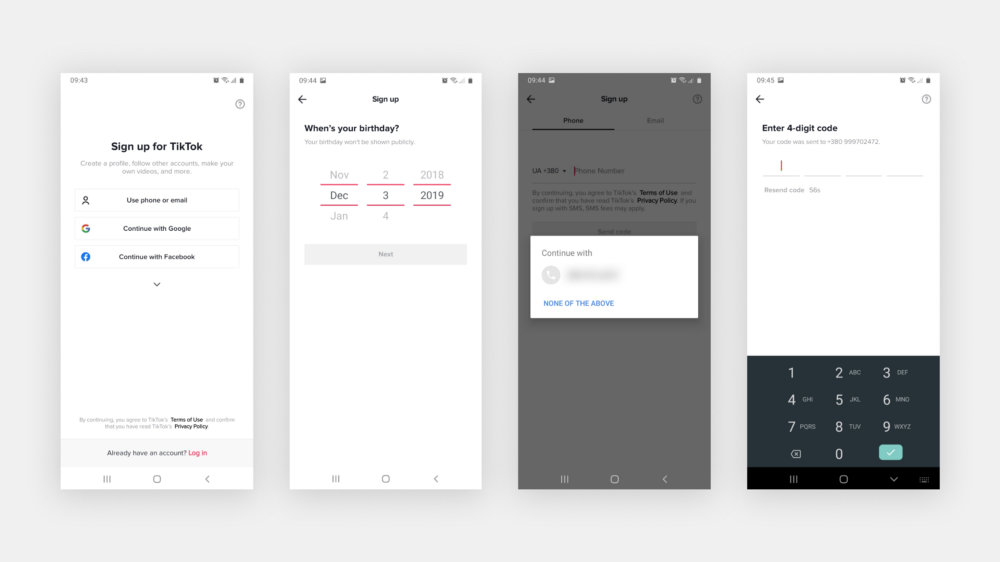 Once a user creates an account, they would want to explore the app and its different features. For a better user experience, keep the navigation intuitive and menu options as simple as possible.
2. Upload/Edit/ Videos
Videos are at the heart of your app. An easy and quick way to upload videos is a must-have feature to make an app like TikTok.
Secondly, a sharing option is equally important to gain more users. TikTok knows the importance of this, and therefore it has an easy-to-use sharing feature that allows users to share on Facebook, Instagram, Twitter, and WhatsApp.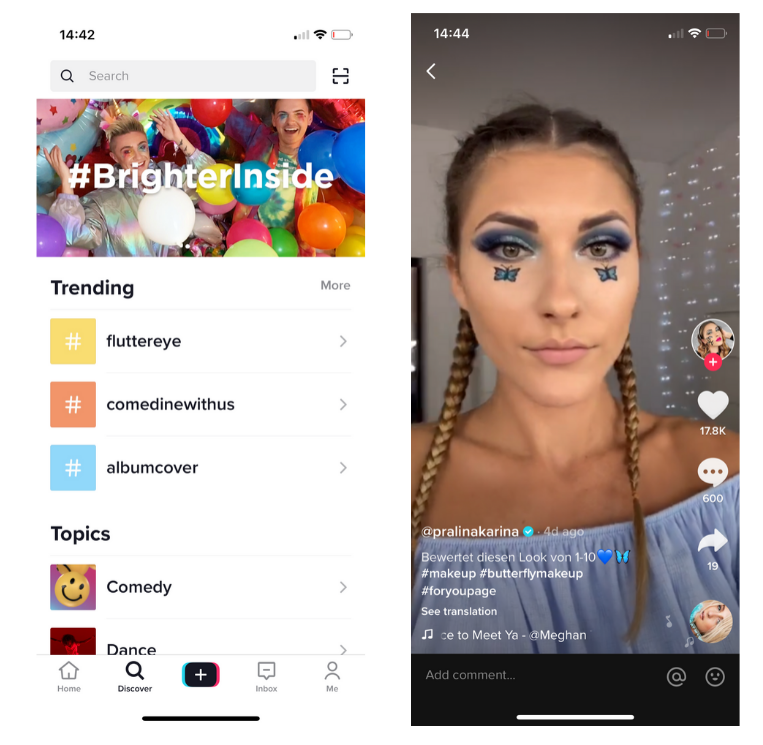 When you create app like TikTok, make sure it has a full-fledged video editor. Include both basic editing capabilities such as cropping, flipping, speeding up video, etc., and advanced overlapping capabilities to dub videos.
3. Filters & Effects
You can attract more users by offering them unique filters and effects. Filters allow users to modify the color and overall look and feel of the video/photo. Some popular TikTok Effect categories are: Trending, New, Interactive, Editing, Beauty, Funny, and World. They completely change the look of the video. For example, changing the color of hair, effects like green screen, spooky memes, etc.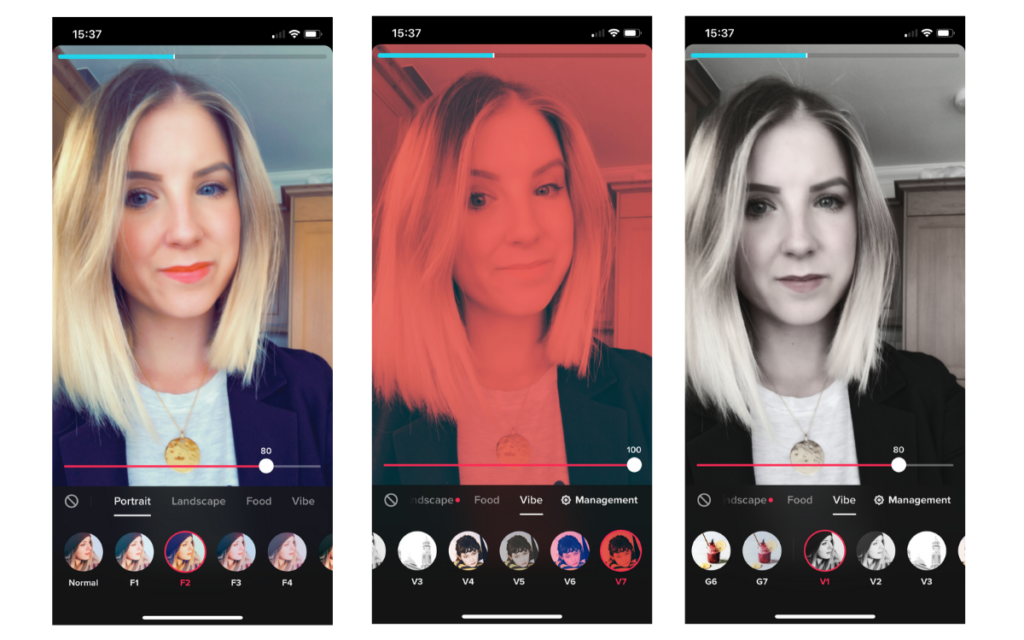 4. Comment & Share
Just like Instagram, TikTok allows users to like the video and comment. To gain more users, you can integrate a sharing option. With this, both content creators and viewers can share the content on other social media platforms.
You can even integrate the 'add to favorites' feature in the app. It's just like 'Saves' on Instagram, where the user can save their favorite videos.
5. Notifications
From a marketing perspective, the notification function is crucial. It helps you to interact with your users and keep them updated. With this feature, you can inform the users about comments on their videos, likes, app updates, new features, and more.
When it comes to notifications, being personal is the key to improve retention and enhance user experience. Rather than annoying users by sending generic messages, consider sharing appropriate content based on user profile, location, language, etc.
Get in touch with us to find out what features you need to appeal to your defined audience.
Advanced Features to Add Later
The features mentioned above are enough to launch the app. Once you start gaining followers, you can integrate new features and functionalities such as: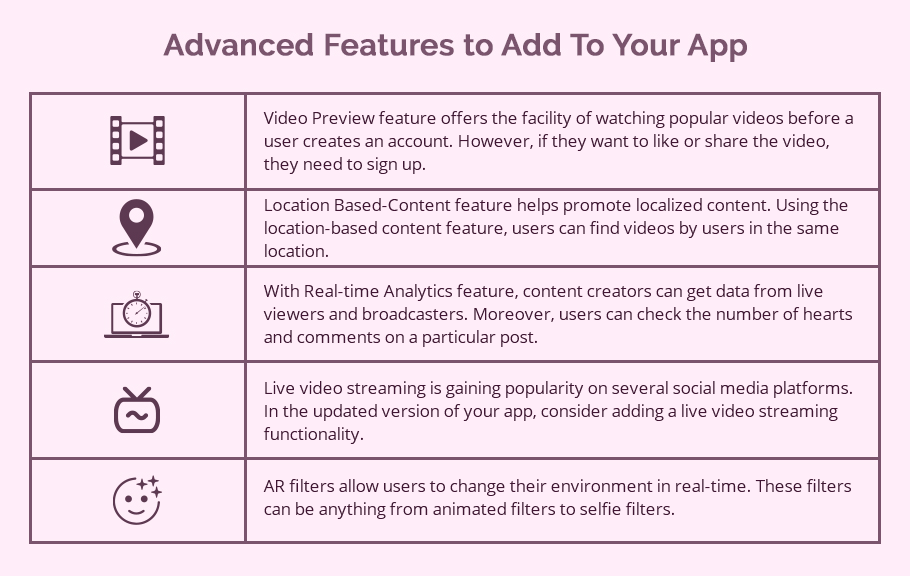 Time taken to create app like TikTok is 1224 hours to build a native app and 922 hours for a hybrid app. Given below is the estimated time that each feature requires.
Features
API
Native: Android + iOS (in Hrs)
Hybrid (in Hrs)
Module Name
Design
Development
QA/UAT/PM
Design
Development
QA/UAT/PM
User login
10
16
32
15
12
16
8
User profile
10
16
24
11
12
16
8
Video Editing, uploading and Video Preview
24
24
100
32
20
72
24
Filter and Effects
16
24
72
24
20
52
20
Likes and Comments
10
22
26
15
14
16
10
Notification
8
8
24
9
8
20
6
Hashtags
10
8
40
12
8
28
8
Analytics and Real-Time Analytics
12
16
56
20
12
48
14
Duets
16
20
78
22
16
52
16
Reactions
8
16
28
12
12
20
8
Live Video Streaming
16
16
72
20
12
52
12
QR Code Scanner
8
8
40
12
8
28
8
Geolocation
10
16
40
20
12
28
8
158
210
632
224
166
448
150
Total
306
Native: Android + iOS + API
1224
Hybrid + API
922
If you want to get a customized quote on time and cost, get in touch with us today!
How to Reach Your Audience
Sometimes, even the most innovative app ideas flop because they fail to drive users. With more than 8 million apps in the market, reaching your target market, and achieving your goals is not easy.
So, how to create a app like TikTok?
Well, if you want to make an app like TikTok, you need to have a marketing strategy to get users to download your app. In this section, we will talk about both paid and free ways to market your application.
1. App Store Optimization
After creating an app like TikTok, you would want to increase visibility and organic app downloads. App store optimization optimizes mobile apps to rank higher in an app store's search results.
If you are not willing to spend money on ads initially, ASO can be the best strategy to reach the right people by focusing on organic growth. If you have a good app store optimization strategy in place with regular monitoring and updates, you are likely to enjoy long-term results. That's because when people search for keywords related to your app, they will find it at the top! So, how does this whole thing work?
Begin with the title. Not the features, not the design, it's the title that users will see first. To make the best first impression, choose your app name wisely. A good title is appealing, easy to read, and relevant to your app.
Moreover, there are certain limitations when it comes to character. You have 50 characters available in the Google Play Store and 30 characters in the Apple App Store. Therefore, think smart and choose the best one.
To get users to know your app better, write a short yet informative app description that gives an overview of your app and its features. The description is also essential because Google uses description to find keywords to rank your app.
2. Paid User Acquisition
Many businesses put their marketing investment in paying to acquire users, targeted ads and app install campaigns. If you think you have a decent budget to spend on paid marketing, it will enhance the organic efforts you put into marketing your app.
Plus, this approach's biggest benefit is that you can target the audience you want to reach. You get the power to decide the period and the ad placement to reach the right audience.
If you are planning to include paid ads in your marketing strategy, you may want to consider Google Ads. With App Campaigns, you can promote your iOS or Android app on Google Search, YouTube, Google Play and more.
Google Ads ad campaign enables you to drive both installs and in-app conversion actions. Once you submit your campaign objective (cost per install or cost per action), create ad copy, add images or videos, and define the budget, you are good to go. Google ads then automatically generate your ads and optimize them according to the display network. Later, you can even keep an eye on your current users' conversion data using conversion tracking for ad campaigns.
Other than paid ads, and store optimization strategy; referral programs are also one of the easiest ways to widen the user base. The concept of referrals is not new. We always look for recommendations that come from our friends and family. The same thing applies here. Target the most loyal users of your app, and motivate them to share your app's information to their social media connections. You do this by offering an incentive like reward points, access to premium features of the app, etc.
There are too many tips, tricks, and tactics you will find on the Internet to market your app. But sometimes, choosing the right one can be difficult. At Biztech, we not just design and develop but also help our clients market their products. Get in conversation with our marketing team to craft a successful marketing strategy for your mobile app.
Over to You
Creating and sharing video content is a trend. Whether it's sharing a 20-second comic video or a quick evening snack recipe – people seem to be obsessed with short-form video content. It is an excellent chance for app entrepreneurs who want to be a part of this growing sector.
If you have a unique app idea to make TikTok like app, we can assist you. Biztech is a leading development company with more than a decade of experience. We have helped businesses across all vertices in designing and developing solutions that help their business grow. Our team has the right skill-set and industry knowledge to create innovative, user-friendly, and engaging apps. Let's get in touch to work on your project.

All product and company names are trademarks™, registered® or copyright© trademarks of their respective holders. Use of them does not imply any affiliation with or endorsement by them.