There is no doubt that TikTok is a crowd-pleasing mobile application. The video app  has over 1 billion download times globally.  It stayed on top of the 'most downloaded iOS app' chart for five consecutive quarters. 
If you are wondering how you can build an app like TikTok, this blog will be of great help. Continue reading to discover the features, technical requirements, and everything that goes into developing the app.
TikTok: Everything You Need to Know
TikTok is the result of several mergers of various apps, including Douyin and Musical.ly. This is a video-sharing app that allows users to create and share 15-second videos on any topic. The videos feature music in the background, can be sped up, slowed down, or edited with a filter.
In October 2018, TikTok was the most-downloaded photo and video app on the AppStore, globally. The app reportedly has amassed over 500 million monthly active users, the US being the most popular country with over 80 million downloads.
TikTok Algorithm
As explained by TikTok – "When you open TikTok and land in your For You feed, you're presented with a stream of videos curated to your interests, making it easy to find content and creators you love. This feed is powered by a recommendation system that delivers content to each user that is likely to be of interest to that particular user."
The main factors affecting the recommendation system are:
> User Interactions – includes the videos a user likes/share, comments, accounts they follow. Moreover, if a user posts clips using a certain hashtag, there are chances they'll see content with the same tags.  
> Video information – this includes details like captions, specific sounds and songs.
> Device and account settings – language preference, country setting and mobile device type are among other factors influencing the recommendation system. 
2 Reasons Behind TikTok's surge in popularity
Localized Content – The app runs local contests, uses local trends, and localized hashtags. This encourages the creation of local videos, and creators gain followers. For instance, a contest held in Russia in September 2018 gained 31,000 video entries and millions of views from TikTok users. This helped promote the app in the country.
Celebrity Endorsements – Celebrities and influencers help drive the app's popularity. TikTok has paid partnerships with celebrities who promote the app to the local community. One such example is – In 2018, Jimmy Fallon urged his show viewers to take on the #TumbleweedChallenge and post videos on TikTok. The challenge was responsible for gathering over 8,000 entries and 10.4 million engagements, within a week.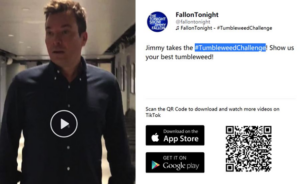 How to build an App Like TikTok?
To build an app like TikTok, it is better to develop an MVP (Minimum Viable Product: an application with basic functionalities) and then further add the additional features. The first step in accomplishing this is to research the target audience. This will help you create an application that responds to the users' requirements. For that, you need to create a demographic profile of the audience which includes age, geographical details, what type of device they use, etc. 
Now let's discuss the features for your mobile app like TikTok.
Essential Features
Log in 
Like any other app, you will need a login/sign-in feature. You can include several options for login such as login via social media, email, and phone number. 
Search Filter
Once the user creates an account, they will look for trending videos and accounts. For this, you need to have an easy-to-use search feature.  
Edit profile
You should offer customized options to enable users to customize their profile – add a bio, change profile picture and username, etc. 
Upload videos
An easy and quick way to upload videos is a must-have feature in your app. Secondly, a sharing option is equally important to gain more users. TikTok knows the importance of this and therefore it has an easy-to-use sharing feature that allows users to share on Facebook, Instagram, Twitter, WhatsApp, Messenger, and even on email. 
Filters & effects
You can attract more users by offering them unique filters. On TikTok, there is a clear distinction between effects and filters. 
Filters allow users to modify the color and overall look and feel of the video/photo

The main TikTok Effect categories: Trending, New, Interactive, Editing, Beauty, Funny, and World. They completely change the look of the video. For example, changing the color of hair, effects like green screen, spooky memes, etc.
Video editing
Your app should have a full-fledged video editor offer both basic editing capabilities such as cropping, flipping, speeding up video, etc. and changing complete effects. Video editing feature even includes audio overlapping capabilities which allow users to dub videos. 
Like, Comment, & Share 
TikTok provides an opportunity to like the video and comment it on. Consider adding the heart like commenting option, and sharing option in your TikTok clone app. 
Notifications
It is necessary to have a push notification function to interact with your users and keep them updated. With this feature, you can inform the users about comments on their videos, likes, or any other updates. 
Duet Option
Using this feature the users can collaborate with other content creators and create a video. 
Premium Features
The above-mentioned features are enough to launch the app. Once you start gaining followers, you can integrate new features and functionalities such as: 
Video Preview 
This feature offers the facility of watching popular videos before a user creates an account. However, if they want to like or share the video, they need to sign up.
Location Based-Content
This feature helps promote localized content. Using the location-based content feature, users can find videos by users in the same location.
Real-time Analytics
With analytics, content creators can get data from live viewers and broadcasters. Moreover, users can check the number of hearts and comments on a particular post.
Live Video Streaming
Live video streaming is gaining popularity on several social media platforms. In the updated version of your app, consider adding a live video streaming functionality. 
AR Filters
AR filters allow users to change their environment in real-time. These filters can be anything from animated filters to selfie filters.
Monetization Model
Next comes choosing the right revenue model. Following are some ways to monetize your TikTok app:
In-app purchase
In-app purchases prompt users to buy special features, services, and content within the application. TikTok is making money through in-app purchases that range from 99 cents up to $99.99. These allow you to buy coins that they can use in the app, or gift these coins to their friends or favorite creators. 
Advertising
For app owners, mobile ads are the easiest source of revenue. 7 out of 10 apps generate payments per ads display (per impression), per click, or per install.
What TikTok Does – Small and big brands use TikTok to promote their products or services through in-feed video ads. These videos are displayed in between user-generated content. There are various pricing models available in TikTok:
> Cost Per Click: TikTok charges the advertiser for every time a user clicks on a specific ad. 
> Cost Per View: CPV is also known as Cost Per Mile. TikTok charges the brand/advertiser per 1000 impressions of their advertisement.
> Cost Per Action: The advertiser pays TikTok when the user performs specific actions such as installing an app, purchasing, submitting a form, subscribing to a newsletter, etc.  
What you can do – there are 5 ad variants you can utilize in your app:
> Banner ad: charge per impression from brands to place their banners at the top or bottom of the mobile device screen.
> Video ad: place a 10-30 seconds video advertisement within the app.
> Native ads: naturally integrate sponsored content or videos of companies into your app.
> Incentivized ad: where you reward the user for taking a specific action such as answering the poll or sharing content.
Fundraising
According to research, TikTok gathered more than 3 billion dollars from high-class investors. Fundraising is the best choice especially when your project is in the initial stages of development. There are plenty of ways to raise funds such as:
> You have got savings? If yes then you can fund your idea with your own money. That is known as bootstrapping.
> Family and friends are another reliable source of funding.
> Reach out to local businesses who can be future users of your app. Every business needs to market their brand. Those businesses who are willing to invest can later use your application to post video content for marketing. 
Platforms
There are two popular platforms: iOS and Android. Ideally for an app like TikTok, you need an application for both platforms. But, if you have limited resources, you can build the application for one platform and later release the other version. 
Another thing to remember is that the UX of both these platforms is different. So, you need to develop the UI/UX specific to each platform. 
Key factors to consider while choosing the right platform:
Geography – target geography of the app plays a major role. For instance, when targeting the US market, iOS is a preferred platform.
Demographic – your target audience and the type of mobile device they use.
Security – every platform has security vulnerabilities. However, iOS tends to be more secure as compared to Android.  
Tech Stack
Given below is the tech stack of the TikTok app. You can increase or decrease the requirements as per your budget and other considerations.
| | | |
| --- | --- | --- |
| App | Programming Language | Networking |
| iOS | Swift | Alamofire |
| Android | Kotlin | OkHttp3 |
Back-end Development: 
| | |
| --- | --- |
| Programming language | Node.js |
| Framework | Express 4 |
| Database | MongoDB, SQL, MySQL |
| Cloud | AWS or Azure |
Tools:
| | |
| --- | --- |
| Storage | Amazon S3 |
| Signup | Amazon SES, Amazon SNS |
| Notifications | Google Cloud Messaging for Android and Apple Push Notification Service for iOS |
| Real-time analytics | Azure stream analytics, Google Mobile App Analytics |
| AR-filters | ML Kit, ARCore |
| Geolocation | Google Maps API, MapKit/Core Location frameworks (for iOS) |
| Chat | Twilio |
Need an expert team in building social apps? Let's create something awesome together.
Effective Pre-launch strategy
With more than 8 million apps in the market, reaching your target market, and achieving your goals is not easy. That's why you need to have a solid pre-launch plan. An effective pre-launch strategy includes the following:
App Store Optimization – App Store Optimization (ASO) is the process of improving app visibility within the app stores and increasing app conversion rates. The main aim of ASO is to increase downloads. However other goals include:
Increased brand exposure.
Positive app reviews and ratings.
Audience engagement.
Additional marketing channel diversification.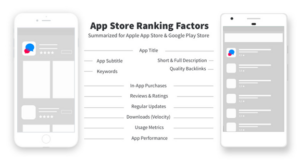 Keep the following points in mind to improve mobile growth with app store optimization:
> Choose your app name wisely. Make sure your app title is appealing, easy to read, and relevant to your app. Character count is equally important. You have 50 characters available in the Google Play Store and 30 characters in the Apple App Store.
> Search for potential keywords and establish a keyword set that you want your app to be found with. 
> Write a short yet informative app description that gives an overview of your app and its features. The description is important because Google uses description to find keywords to rank your app.
> To make your TikTok app global, you need to practice localization. Meaning, make your app available for users who search in their native language. Localization will help improve visibility in the global market.
Create a Landing Page – An app landing page is a dedicated webpage designed to describe the functions of your application. It is one of the best ways to increase curiosity among the audience and attract traffic. This doesn't mean you need to spend time building a full-fledged website. You can easily create a landing page using WordPress Wix, or other platforms. While creating a landing page, it is necessary to include these elements – 
A clear picture of your app
Compelling headline
A clear call to action
Contact information including social media handles
Engaging visuals
Over to You
We hope the above mentioned points help you start with building your TikTok clone app. If you need further assistance, send us an email at [email protected].

All product and company names are trademarks™, registered® or copyright© trademarks of their respective holders. Use of them does not imply any affiliation with or endorsement by them.