At the edge of technology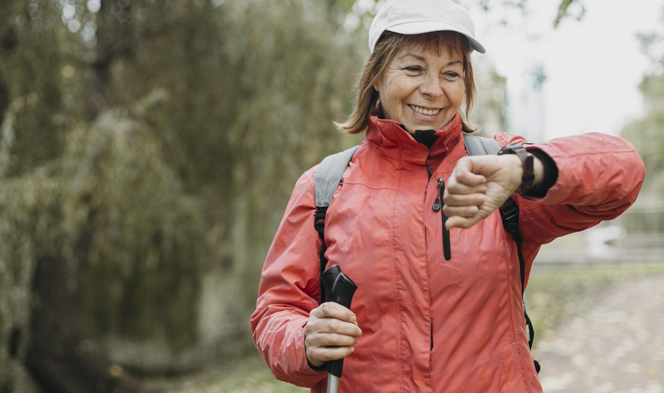 https://www.biztechcs.com/blog/features-apple-watch-hiking-app-must-have/
Top 7 Features your Apple Watch Hiking App Must Have
19 Mar, 2021
6 min read
Hiking and outdoor activities have become the need of an hour for many people especially after staying inside for the longest time. And since people have again started going out to explore, hiking is one of their favorite things. And when it comes to hiking you can miss on Apple Watch.
Apple Watch is the basic necessity for most of the hikers because of the features like heart-rate, oxygen sensors, knowing distance and kilometers, and more. It helps hikers to understand their body and surroundings better, and accordingly carry things.
Today, there are many companies like AllTrails, Gaia GPS, ViewRanger, and more that have their entire business model around these hiking apps. And things don't stop here, to use technology in its best possible way, Apple Watch is helping hikers on their trails. If you are planning to go for Apple Watch app development for the hiking industry, let's see some of the features your app must have.
Top 7 Features Hiking App Must Have:
Search Hiking Trails Easily:
Start with the first and most important feature your trail app must have. Provide users with an ease to search about different trails. Based on their location you can provide them with multiple trails and then they can decide which one to choose. Moreover, provide features like add trails in favorites and filter the search result on the basis of length, difficulty level, and more.
Download Map Offline:
When hiking in remote areas it can be obvious to lose the internet connection. This is when you need to provide a feature of offline map syncing. It is very obvious that hikers need the map of their trail in detail so they don't lose the track of it. Hence, provide an offline map along with a GPS solution in it and then you are good to go.
How will this work:
Once your users decide the trail they want to go for, they can download the map of that trail. Further, the map will work on the GPS location and will be in sync with the Apple Watch. In the worst-case scenario, if the phone battery dies, they can still route through the map via Apple Watch and reach the location.
Visual Search:
Hiking is not only about trails, it is beyond, it is about providing experience. Provide customers with a feature of visual search in the app. For example: while they are hiking, they will get a lot of things on their pathways i.e. some unknown flowers, plants, routes, and more. With the help of Visual Search, they can hold the camera on the products and get detailed descriptions of particular flowers, plants, trees, etc. This will help them to take home great experiences and also gain necessary knowledge on the way.
Create Custom Trails:
When the user searches for trails you can provide them with results according to location or provide a feature to create custom trails. Provide your users with the campaign or hiking checkpoints and accordingly they can create their own trails. Once they create the trail, you can keep them synchronized with their Apple Watch. Don't stop just here, you can even provide your customers with an option to search and create custom trails on their Apple Watch. Using Siri, they can pass a command to open your app and search for a hiking app according to their location and create their own custom trails.
Track Hiking Progress in Real Time:
To track the progress of your app, you don't just need to use mobile, you can do it with the help of Apple Watch.
Thinking how?
Your app will record all the necessary information like number of kilometers hiked, water intake, heart rate counts, fall detection and more. All the information will be synced with the Health app of iPhone and will provide all the data when needed. Thus, helping customers to serve themselves keep track of their health.
Share Trail Routes:
Another major option which you can provide users with is the ability to share trail routes. Your users can either create their custom trails or select their desired trails. Further, they can share the entire trail track with their friends and family, to keep themselves in loop and reach out in case of emergency. The trail routes help customers provide the right information and help them serve their customers better.
Lists of Things Users can Carry While Hiking:
After users have decided their routes, you can provide them with the list of things they need to carry with them like bottles, sleeping bags, safety boxes, etc. and how much kilos of baggage are allowed. Provide some normal lists of things and other custom curated things according to customers' selected routes. This provides customers with the needed information on how businesses can help with custom facilities.
Going further, let's see some of the basic things you can do and integrate with your Apple Watch and how you can provide your customers with the best possible experiences.
Integrate Hiking App with your Apple Watch:
Keep Apple Watch and App Synced:
Go with Apple Watch app development so that you can sync all your data between iPhone and Apple Watch. Once done, your users can check the trail route on their Apple Watch and can also use it offline and can navigate via GPS. Moreover, it also provides users with knowing your current location and navigating via compass.
Share Location during Emergency:
All the app data syncs with the Apple Watch, and your users' trail information too is sharable with their contacts. So, when the user has some emergency, the Apple Watch directly sends their live location with their emergency contact.
For example: when you create an Apple Watch app, all the data seamlessly syncs between Apple Watch and iPhone. And Apple Watch too has an in-built feature of fall detection. So, during any outdoor activity, if the user meets with an accident, the Apple Watch can send live location of users to the emergency contact as well as 911. This feature has helped save lives of many uses across the globe.
Check Blood Oxygen of Hikers:
While hiking one of the major and important things is to count oxygen levels of hikers especially when going to the high-altitude areas. With the help of an in-built sensor you can provide customers with their blood oxygen level. This data helps them in deciding further whether they should hike or not and also share the data with their doctor and other important contacts if needed.
Generate Detail Report on Weekends:
Provide your customers with all the necessary information like their food and water intake habits, number of calories consumed and burnt, number of kilometers walked and more. All this information will help them to understand their body more and make further diet plans accordingly.
Conclusion:
After the global pandemic if you are planning to set up a hiking business and looking at the boom of it, you are at the right place. We know how much consumers prefer outings and how much important it is to stay safe while having fun. This is when technology always helps and creating an application which helps you contribute in the betterment of community will make your business stand out.
Reach out to companies like Biztech which can help you with Apple Watch app development. We have served in the industry for a decade and are helping businesses to set up and grow their businesses. Reach out to us and our experts will be happy to help.

All product and company names are trademarks™, registered® or copyright© trademarks of their respective holders. Use of them does not imply any affiliation with or endorsement by them.