"It is safer to search in the maze than to remain in a cheeseless situation"
– Spencer Johnson, Who Moved My Cheese?
In your case, the cheeseless situation is the business reality of canceled events as the words urges to maintain social distancing. And what's in the maze? That's exactly what we aim to answer today.
The event industry was one of the first to experience the devastating impact of the pandemic. The current changes have made companies think about how to continue with their events.
If you are one of them then get ready to spring into action and start searching in the maze with us!
Shift your strategy and take it virtual is what we suggest. There are so many alternatives you have like virtual shows, pre-recorder events, live webinar, and more. When you create event planning app, you can seamlessly manage all tasks.
If this sounds interesting to you then keep reading. We will share our insights on how you can create event app to turbocharge your business.
A quick outline of what this guide covers:
Why are Event Management Applications a Big Deal?
Industry insiders believe that a mobile app for an event is a necessity nowadays. 62% of event marketers say that an app can help drive attendee engagement. We think there are two reasons why event businesses create event planning app
New Generation Event Attendees: A shift in Demographics
If you have been in this space for a long time, you will agree that the profile of event attendees have changed significantly. The new generation is now the largest pool of event attendees. Generation Y and Z are entering the workforce and bringing along their novel world views, event planners are wondering how to design events that meet the needs of the younger generation.
The days of simply pushing attendees in a conference room and having a panel who will speak for hours is over. A decade ago, as an event planner, your job was to get in the maximum attendees. Even the marketing message was a boring paragraph that you will print and distribute.
Today, instead of passively taking in information, attendees value interaction and personalization within the event context. Also, contrary to the long pieces of content, the new generation expects short and visual marketing messages on social media. Today's attendee is looking for a technology-driven event/meeting which is engaging and insightful. And an event planning application is one of the most effective tools to grant what they are looking for.
We will discuss the advantages to build event management applications further in the article. Let's understand the second reason.
Event Apps: The Biggest Enabler of Event Satisfaction
To understand what facilitates event satisfaction, we need to find out why people attend events, meetings, or conferences in the first place.
The International Association of Exhibition and Events conducted a study that provides extensive insight on what drives event attendance. Results show that the top three drivers for event attendance are education, destination, and networking – 76% of respondents believe that events give them an opportunity to make connections.
Why should you care? – Always keep in mind that the attendee is your customer, and the process of registering for the event is similar to a customer purchasing a product. If you fail to give what the customer expects; remember there are other players like you in the market. Do you want to lose your audience to them?
Now that we know networking is one of the top drivers of event attendance, it is a good idea to focus on how to enhance networking. And what's better than to create an event app to enhance networking between attendees and other stakeholders to improve event satisfaction? in And what's better than to create event app.
Building an event management application is not just about planning. It needs to have a well-defined roadmap and execution plan. Kickstart your app development with the right resources.
If you are still not convinced why you need to create event app, check out these additional benefits
Additional Advantages to Build Event Planning Application
Simplify Event Experience – Using a mobile app, the attendee can conveniently register, purchase a ticket using online payment solutions, check-in with the help of a barcode scanner, etc. This way you can simplify the event experience.
Enhances Attendees' Interest – Event apps are a good way to enable interaction. Through the app, attendees can participate in live questionnaires, take part in contests and discussions, and more. With this ability of mobile technology to keep participants engaged is how you gain their interest throughout the event.
Make Connections – Like we discussed before that networking is the main goal of any event. Using a mobile even app will benefit both you and the attendees. As an event professional, you can build a community and engage with them using newsletters, notifications, publications, etc. Meanwhile, the participants can find people with common interests and connect with potential business partners.
Analyze Data – If you hold multiple events, it becomes difficult to measure the return. A mobile app works as an effective tool to calculate the ROI of your event. Moreover, with an app, you can get real-time event information, and make adjustments accordingly. Later, you can utilize the information to plan the next event.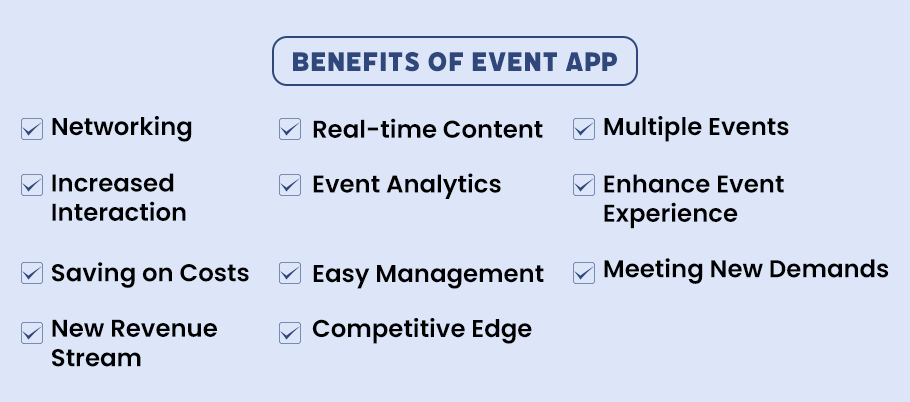 Examples of Event Planning Applications
The event planning industry has seen a number of companies. If you want to create event app, this list will give you an idea of what the possibilities are.
A global platform to find, attend, share, and create events. From BBQ parties to marathons, the app has a pool of events that users love to attend. The strong unique selling point of Eventbrite is real-time monitoring of the event. The app even provides solutions to boost sales, and increase audience participation for organizations.
Features
Event listing Page
Wait-list
In-app payments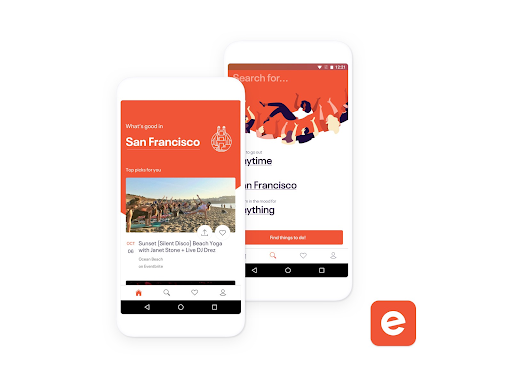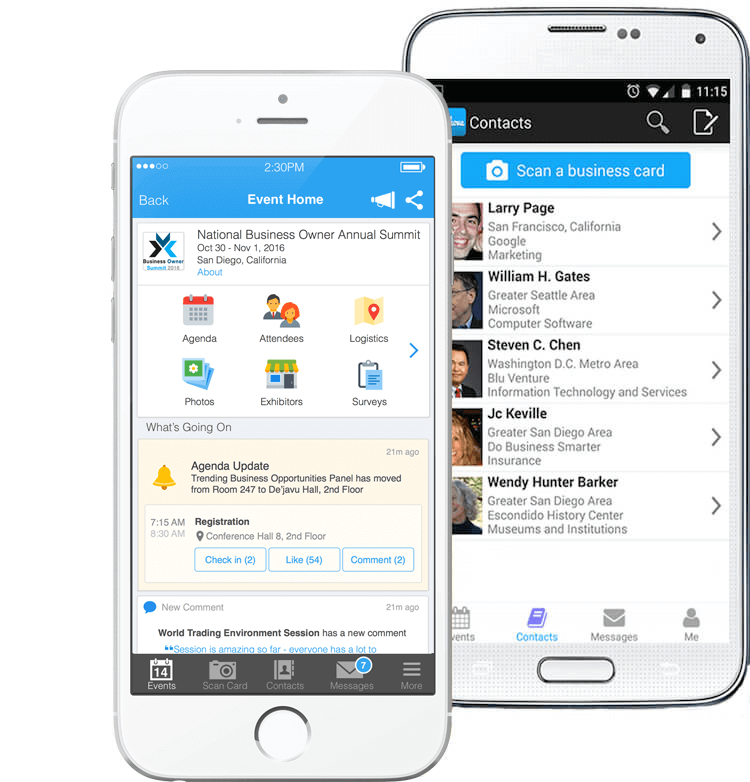 2. Whova
Whova is popular among professionals for networking at conferences, and business summits. What makes Whova special is the comprehensive profile of attendees that you can view before or while attending the conference. The USP of Whova is to make the event interactive for attendees.
Features
Gamifications
Multi-tracking event sessions
Interactive maps
Smart profile for attendees
3. DoStuff
A local event tracking app that helps people discover the best events in the city. It's special features are map view, redesigned profile, event preview, ticket giveaways.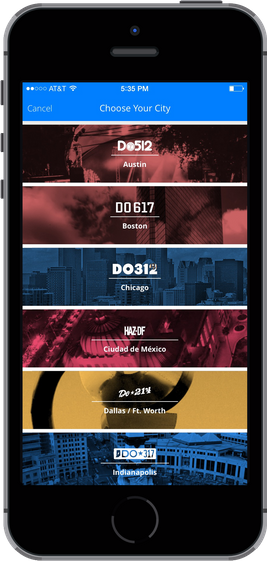 Understanding Types of Event Planning Applications
There are different types of event planning apps divided based on the following factors:
1. Purpose
What's your idea behind building an app? Do you want to create event app that is a mediator between different organizers and attendees? Let's understand the two approaches in detail.
Event Aggregator – Apps like EventBrite work on this approach where they work as an aggregator between event-goers and event planners. Such mobile apps aim to bring together event participants, event organizations, and marketplace operators.
Dedicated Event App – The dedicated app is where a single organizer plans events for a specific community. For instance, the iBurn app for the burning man festival.
2. Implementation
Here, the choice is between custom-made apps v/s Whitelabel solutions that you can customize. If you are planning to create an event aggregator app then a Whitelabel app is right for you. Here you build event planning app but other companies can rebrand it. On the other hand, a custom-made solution is a good option for those who want to create a dedicated app. Here, the event business owner can create an app that aligns with the company image and website design. A white-label web development service can help you create a custom solution that meets your specific needs.
3. Audience
Whom is your app meant for? You have these options: (a) an event app for participants focusing on different events and networking, (b) an app to organize and manage the event, or (c)both. For example, Whova offers both event management tools and apps for participants.
4. Event type and scale
From corporate meetings to local festivals, it's up to you what type of event app you want to develop. However, here are some popular use cases. There are many opportunities for you. But for now, let's features that will make your event app a success.
Types of Event Apps
Festivals – An event app to arrange concerts, music, art, and dance festivals, and other social occasions.
Corporate Meetings – App for conferences, workshops, or other similar business events.
Sports Championship – An app for sports competitions which includes schedule of matches, real-time broadcast, and more.
Wedding Event Planning – App to help customers save time and manage boring tasks like booking a venue, caterer, DJ, etc.
We can help you in deciding what type of event management app your business needs. How about connecting over a scheduled skype call with our tech team?
Event Planning Application: Features
To create event app, you need to know what features to include. We have divided this section into two parts –
Features That Attendees Expect
Must-have Features for Event Management
Features That Attendees Expect
Mobile Check-in – The traditional way of registering consumes time. Therefore you need to optimize the process by integrating the check-in feature in your app. It eliminates long queues, quickens the process, and works as a reliable tool to collect user data.
Events Feed – The event feed displays the list of ongoing or upcoming events in an area/city/state. Users can check the events they are interested in by using the search filter. The most common search filters for an event app are by – location, type, free/paid, and popularity.For a better user experience, it is a good idea to include necessary details including the event description, time, information on speakers in case of conferences and sessions, details about entry requirements like ID card, etc. You can even offer customization options by creating a personal schedule for users.
Buy Tickets – At some point, users will require to book tickets and make payments. For this, you need to implement third-party payment services in your app. Out top three payment processing platforms are Stripe, Braintree, and PayPal. Ensure that you offer order managing tools to users. This will show them a list of tickets they purchased, and give them a chance to cancel.
Maps & Directions – In case of offline events, attendees and guests must know where the event is taking place. So the location functionality is essential. Consider maps for both indoor and outdoor navigation. For indoor navigation, you can implement augmented reality. AR pointers will lead users to a particular place.
Social Media Integration – Attendees love to connect with fellow participants, and speakers. Social media integration will help you fulfill this function. For marketing purposes, you can create an event specific hashtag and ask participants to tweet or share pictures using the hashtag.Bonus Section – Given below are some advanced features that you must add to the event app to provide a better experience.
Gamification – Gamification taks best elements of game playing (like scores and competition) and uses it as a marketing technique to encourage engagement with a product. Integrating gamification in the mobile app will keep your users motivated and happier. Gamification features like polls, quests, and achievements can improve attendees' engagement.
Live Streaming – This feature can work as a monetization option for you. Let's say an attendee who purchased a ticket can't attend the event. You can give them the privilege to watch the event live. (Only if they have a paid account. Of course!)
In-app Chat – In-app chat will allow two ways of communication – (a) between you(the event organizer) and the user, (b) a chat where attendees can communicate with the speakers, and ask questions.
Must-have tools for Event Management
A dashboard to help organizers manage attendees, speakers, sponsors, etc.
Marketing channels like emails, in-ap chats, social media ads to reach the users.
Data analytics tools to collect, monitor, and analyze data.
Features to add surveys, polls, questionnaires, and offer loyalty programs.
Want to include any of these features in your app? We can assist you to create event app that is feature-rich for your business.
Create Event App From Scratch
We have summed up the basic guidelines to create event app –
Determine Purpose – Finalize the business model and decide the type of app you want to create based on your market research.
Finalize the Features – To create event app, you need all the features that attendees expect, and the tools that will help you manage the event. To provide value, consider incorporating advanced features too.
Choose a Development Approach – Based on app type (you want a web app or a mobile app or both) decide if you want to create a native app, or cross-platform app.
Partner With a Development Company – Experience, and expertise is what you look for when choosing an app development company.
Test & Launch – Carry out app testing before you make the event app available to users.
Promote – Social media, search engine, paid, free marketing do whatever it takes to promote your app.
Where to Begin?
Whether you are planning to make a wedding app or a sports championship app, the first step is to begin with the product discovery phase. At Biztech, by following the agile methodology, we start by defining the scope of your work and forming a roadmap. This involves all essential aspects like UI/UX design, functionality, and more. We then create a visual prototype to give you a clear vision of how your end product will look.
Follow Tech Trends to Be Remarkable
The year 2020 has been an uncertain year for event management. However, there are some trends that are here to say no matter what. When building an event planning application, consider the following technology trends which are on the rise. They will make all the difference.
Artificial Intelligence
Businesses across the globe are integrating AI in some way or other. The reason for its popularity is the ability to create personalized recommendations. This is a huge thing for event planners. On-site you would manually recommend attendees seminars; AI does this job for you.
AI applies intelligent algorithms to data to detect patterns. So, using the data of the registration process, AI can enable a personalized experience that will delight the attendees. YOu can use it to pair attendees with speakers for more meaningful conversations. Other examples of AI in event planning includes:
Chatbots
Facial Recognition
Voice Translation
Email/Newsletter Personalization
AR/VR
Augmented reality and virtual reality are the most exciting technologies right now. They have limitless possibilities and therefore event planners are in awe of it. Here's are some fantastic ideas to use AR/VR –
Use AR filters and create your brand experience using photos or videos on social media.
Using AR for event navigation.
Conduct staff training sessions using 3D model videos.
Use immersive technologies to activate sponsorship just the way Coca Cola does.
Common Monetization Options
If you create event app, it can work as a side income for your business. Here are some ways you can generate an additional revenue –
Paid Model – A paide model is one of the easiest approaches to monetize your app. In this business model, if people want to use your app they need to purchase it from the app store. So, with every new user, you can make money upfront! For this, you need to ensure that your app delivers real value. You can do this by offering additional perks such as augmented reality experience, a chance to personally meet the speakers and interact with them, access to the profile of other business owners, etc.
Partnerships – Partnering with other businesses is another way of capitalizing your app. They pay you for giving them the access to portray their brand, service, or product in front of your audience. For example, you can partner with an online taxi service. Attendees can book a ride without leaving your app. You can even allow these sponsors to display advertisements in your app.
The Show Must Go On
Of course event businesses have lost their original charm. We do not when we will attend on-site conferences, take part in local festive events without fear. But that doesn't mean it's time for you to pack up. Today, if you take the right step, in the right direction then you can completely change your business.
If you have an idea about what kind of event planning application you want, contact us today! Our project manager will get in touch with you and discuss your requirements and give you details on the standard rate.