Two years back, only 13.6% of sales happened online. It is likely to reach 21.8% by 2024.
An 8.2% increase in just five years.
With the explosion of online sales comes increased competition—thousands of brands selling the same product and targeting the same audience.
That is when customer experience becomes the biggest differentiator. Prioritizing customer experience at every touchpoint will help establish a loyal customer base and pay off greatly.
We have listed the top web to print solutions to help you fulfill all your goals and deliver more extraordinary experiences.
Irrespective of whether you are just starting an online business or already have an established business, you are sure to find this post helpful.
Here's what it includes:
Product Design Tool – Enabling Customization for Greater Engagement & Sales
One of the biggest challenges businesses face is to gain traction. With thousands of other brands selling the same product as yours, how do you ensure that you stand apart?
That's where a product customization software can help you. Such a tool works as a USP on your store where you give the power to your customers to design products.
Product Customization in Action
From high-priced products like cars to package printing, product customization is everywhere. Just recently, Kellogg's in the UK ran a campaign offering customers a chance to create a personalized 'back to school' cereal box.
On Kellogg's website, shoppers can upload an image and a personalized message including their child's name, age, etc., which would appear on their personalized cereal box.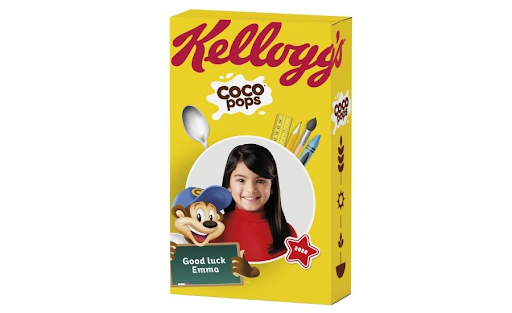 (Kellogg's Personalized Cereal Box)
Reports mention that the company saw an increase in sales across its cereal portfolio with this particular initiative.
Another example of a brand leveraging product customization is the printing giant Vistaprint. They offer a wide range of quality products at an affordable price. What makes them more popular is their product design tool that enables customers to design products.
A Fully Functional Tool for Your Store
Brush Your Ideas has everything that you need from a designer tool. Its diverse features enable end-customers to create and customize print-ready files.
It works with any product that has a printable surface and is compatible with all popular eCommerce stores.
If they do not want to design from scratch, they can access a library of ready-to-use templates and artwork and start customizing.
The tool also includes other features like text, clipart, custom image upload, design preview, image/text effects and editing, and a lot more.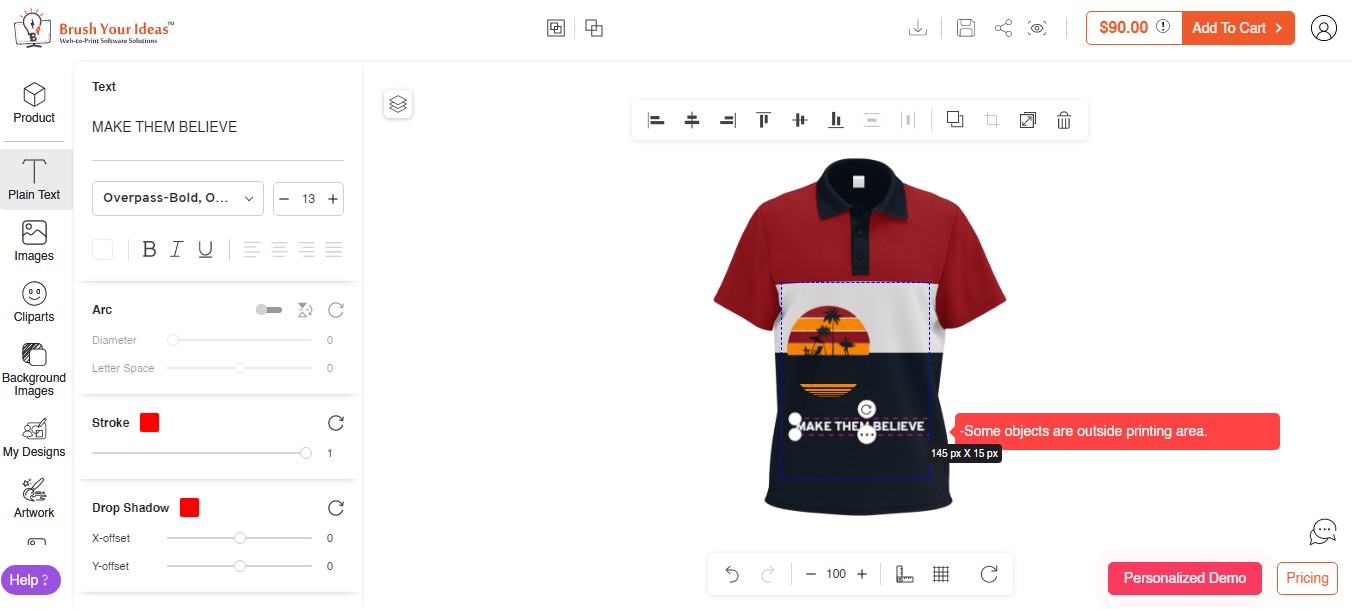 (Fully Functional & Feature-rich Product Design Tool)
The best thing about the tool is that it is industry-specific. The design tool includes industry-specific layouts to better serve the requirements of every industry.
The web to print software provides complete control to the admin too. For instance, business owners can lock a specific object from the backend using a lock feature to restrict shoppers from editing it any further.
Moreover, the tool is completely customizable as per your business logic. Check out more details on the product design tool and its features.
ERP Software to Streamline Business Operations
Irrespective of the size of your business, efficiency is the key to being successful. No business can ignore opportunities to optimize operations and improve efficiency.
And that is why printing businesses are automating their print workflow. It helps them reduce errors, increase productivity, and boost profitability.
Automation is the use of technology to reduce the need for manual work. If you have an automated system in place, you need not visit every order to generate print-ready files. The software handles everything for you.
With workflow automation, you can reduce turn-around time, and the entire process becomes quick and error-free. Web to print ERP solutions are perfect for delivering your orders in a hassle-free manner.
PrintXpand – The Ultimate ERP Software to Optimize Workflow
PrintXpand is an ERP software exclusively for the printing industry. It aims to help print businesses manage all of their print operations and thus boost productivity and sales.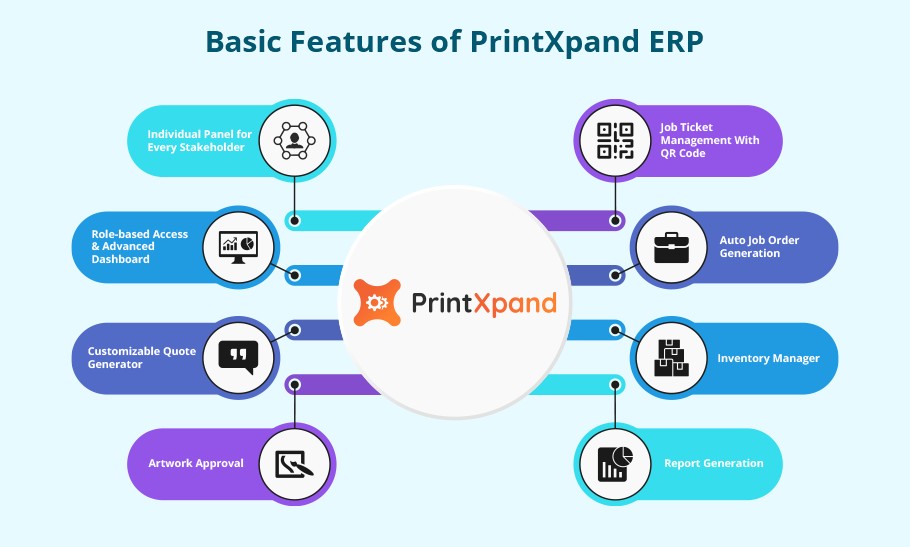 From a single interface, you can create and handle print jobs to achieve faster efficiency. With an advanced dashboard, you can get a glimpse of everything that is happening in the backend using visual charts and reports.
The software offers all the features that you need to optimize print workflow. It includes user management, print job manager, job tickets with QR codes, order management, inventory manager, and more.
An All-Inclusive Web-to-print Storefront
For businesses, having a website is a necessity to survive in the digital age. However, the traditional way of building a website is time-consuming and tedious.
A web-to-print storefront is an ideal solution for business owners who want to take their business online at the earliest. Such ready-to-use customizable stores provide support for everything you need to run your business.
In comparison with traditional storefronts, it is a budget-friendly option. Plus, its scalability enables you to upgrade it as your business grows.
Web-to-print storefront by Brush Your Ideas is built with an aim to help businesses launch their website in no time. Equipped with cutting-edge features, it is a perfect solution.
It is an all-in-one solution where you can find what you need. With multi-purpose, SEO-friendly, and easy-to-integrate themes, you can design the website of your dreams. Further, as per your business logic, you can customize the theme.
The best thing about a web-to-print storefront is that it is fully compatible with a product designer tool. That way, you can start selling custom products and offer a seamless customer experience.
The backend of the storefront is equally powerful. You can streamline all your business operations with features like catalog management, inventory manager, print job manager, and a lot more.

(A Complete End-to-end Web to Print Store)
3D Product Configurator Tool for Greater Customer Experience
It is not enough to just include an appealing product description and product images in your website. 3D models are the latest trend that brands are adopting to enable customers to visualize when shopping.
In a highly competitive industry, 3D offers a better shopping experience that ultimately leads to increased sales. Therefore, it shouldn't be surprising that the 3D rendering market is witnessing immense growth.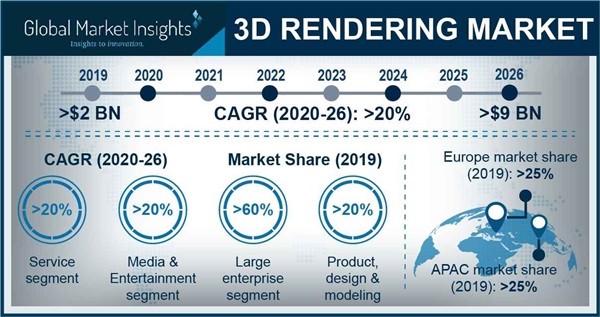 (The growing demand for 3D rendering solutions for better visualization)
From global leaders to SMEs, all have started leveraging the power of 3D configurators. For instance, Herman Miller, one of the most popular brands in home and office furnishings, uses a 3D product visualizer to empower customers to customize each chair.
Another example is that of the headwear brand PukkaHat. Their customizer is the ultimate tool that lets shoppers design hats with simple steps. Once they pick a product, they can choose from numerous fabrics and color combinations.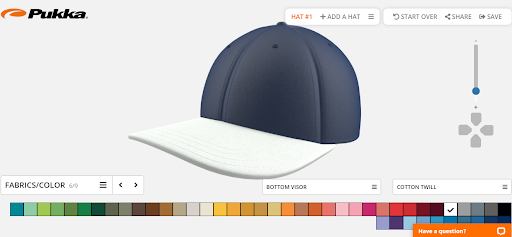 Why 3D Configurators are a Must Have
In a nutshell, 3D configuration is all about showing your customers real-time representations of what a product will look like. They cannot just customize a product but also see 3D renders of it to make a more informed decision.
Offering 3D configuration is a win-win for both you and your end customers. As an eCommerce store owner, you can shorten the sales cycle.
As end customers get everything in real-time, it reduces back and forth communication between them and your sales representatives. This helps reduce redundancies and errors in the manual process.
Another biggest advantage of 3D configuration is reduced purchase returns. 3D models and zoom-in capabilities enable shoppers to inspect specific features and make decisions accordingly.
And as they themselves design products, they are less likely to return. In fact, brands using configurators reduced their online returns by 80% as per Forbes.
Getting Started with 3D Configuration
With a 3D configurator, you can create rich 3D models and provide your customers with an advanced shopping experience. Your customers can customize products and interact with them in real-time.
Such configurators offer unlimited configurable options for various products. That enables your customers to configure different attributes of a product, including color, texture, etc.
Brush Your Ideas is a perfect tech partner that enables businesses to leverage the power of 3D visualization. They recommend ready 3D model libraries that will help you start the process of 3D configuration quickly.
They not just 3D models for you but also handle all the technical aspects on your behalf. Find out more about 3D Product Configurator.
Marketplace Development to Boost Your Business
In recent years, we have seen tremendous growth in the rise of the eCommerce marketplace model.
As the technology to build marketplaces becomes more accessible, entrepreneurs have started launching their own marketplace.
Online marketplaces help businesses reach a bigger audience and become more profitable. Marketplaces, especially in a niche segment, are gaining momentum.
As compared to traditional horizontal marketplaces like Amazon, a niche or vertical marketplace has a very well-defined target audience. Thus, with less competition, businesses can easily become dominant leaders in a specific category.
Secondly, the B2B landscape is becoming more popular. Did you know 20% of purchasing managers spend more on marketplaces?
This suggests that now is the right time to start with marketplace development and become successful. The first step in building your own online marketplace starts with getting and validating an idea.
Successful businesses solve problems. Once you know what you are selling, focus on how your business can help solve an existing problem.
After initial research and planning, the process of website development begins. Whether it is B2B, B2C, or C2C, features fall into three categories – admin, reseller/vendor/designer, and features that help simplify eCommerce operations.
Backend Configuration for Admin UsersThis enables marketplace owners to access the features of the system. It includes admin dashboard, request approval, vendor/reseller account management, notifications & alerts, admin level monitoring, order fulfillment, etc.
Backend Configuration for Vendors/Resellers/DesignersAfter vendors create their accounts, they can access different modules, including a personalized dashboard, access to a designer tool, inventory management, etc.
To explore more about marketplace development, head on to the Brush Your Ideas website.
In a Nutshell
Web-to-print offers all the benefits you need to empower your online store and make your end customers' overall shopping experience impeccable. Brush Your Ideas is a one-stop destination for all your web-to-print needs. Check more about the web to print solutions and services here.