Project Highlights
The client had a huge inventory to maintain and wanted a platform that could hold thousands of products without crashing. Initially, they had a website in Magento 1, however, for better performance, advanced features, and security they wanted to migrate it to Magento 2. The reason why they contacted us. The work also included website revamping with a new look and feel. Other requirements included:
Responsive Website Design
Data Migration and Custom Developments
Shipper HQ Integration
Elastic Search
SEO Optimization
Our Work
Responsive Website Design
The client wanted to make their website responsive so that customers can access it from any device. We made it as per their business needs, keeping in mind the website performance.
Magento Migration and Custom Development
As their previous website was developed in Magento 1, we migrated it to Magento 2 with aesthetic theme integration based on changing markets and styles. The migration to Magento 2 optimized their website performance, provided new and advanced features such as user-friendly checkout, enhanced security, and many more.
Data Migration
In addition, we migrated their entire data from Magento 1 to Magento 2, considering every small detail.
It was challenging because it involved authentic customer details, client's invoices, and order history.
Elastic Search
To make the navigation smooth and quick, we integrated an elastic search feature along with synonyms token filters. With this feature, if a customer searches for a specific product, say, freezer, all the products with synonyms of the freezer will also show up.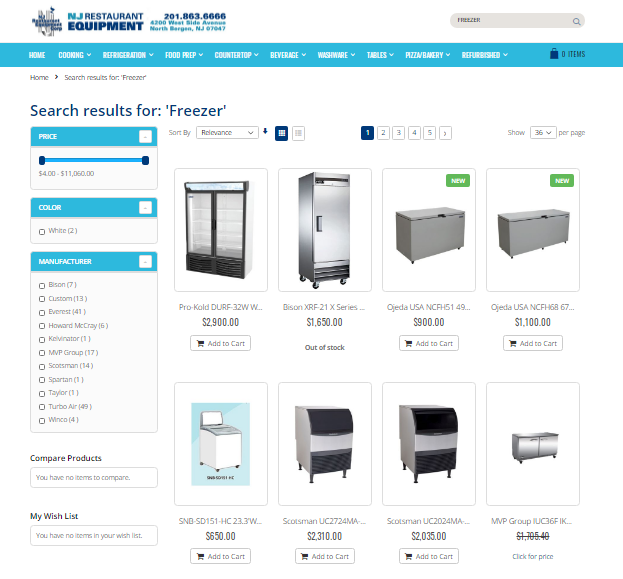 Shipper HQ Integration
For customizing shipping rates and delivery options, the client needed the shipping HQ service. So to assist them to provide quick, transparent shipping services, we integrated the shipping HQ extension with the Magento 2 store. A separate shopping cart assisted customers to order directly without any hassle. To make it swift, we also integrated multiple payment types with a guest checkout feature.
SEO Optimization
With technical SEO and on-page optimization, we helped them get a better Google ranking. The previous one lacked even the basic SEO elements.
Outcome
The migration of the store from Magento 1 to Magento 2 helped them with better customer experience, increased sales, and better results.
With Shipper HQ integration, they can easily set the shipping rules and restrictions, auto-calculate the rates, making it profitable and different from their competitors.
SEO Optimization helped them with a wider audience and high Google rankings.