At the edge of technology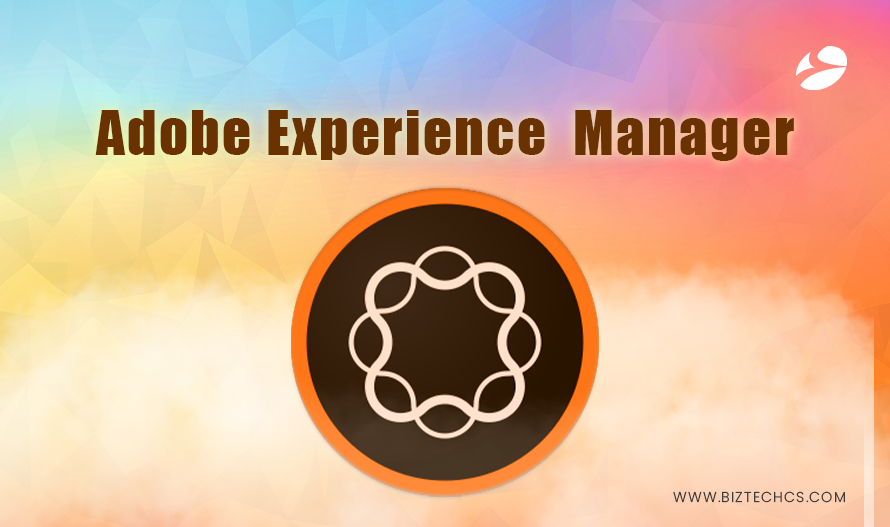 https://www.biztechcs.com/blog/what-is-adobe-experience-manager/
88
What Is Adobe Experience Manager: How to Setup & Deploy AEM?
21 Feb, 2023
5 min read
Summary
It is needless to say that a content management system takes the pain out of development. You get a simple canvas to design and develop a website without having to code everything from scratch. You also get to use a user-friendly backend that is convenient for adding/updating content.
Today, I will talk about one such leading CMS: Adobe Experience Manager. It not only helps manage content but also digital assets including images, videos, logos, and documents. This CMS is said to be extremely useful for developing enterprise applications and websites for the eCommerce sector.
Did you know Adobe Experience Manager is the 5th most popular CMS for top 1 Million sites under the Enterprise category?
In fact, about 129,644 websites are using AEM for web and app development in the world.
Statistics show that Adobe Experience Manager is widely used by high-traffic sites. Whereas, other popular content management systems like Shopify, Wix, WordPress, Joomla, etc. are mostly used for low to intermediate-traffic websites.
Thus, AEM is a potentially good choice for enterprises that want to have elevated eCommerce performance and maximize their ROI.
So without further ado, let me get you acquainted with AEM and ways to use it!
What is AEM?
Adobe Experience Manager is better defined as a content management system and a digital asset management system. With the help of AEM, creating, managing, and publishing content across the web becomes more seamless.
The software is built using Adobe Cloud and lets you access any content (text documents, PDFs, online forms, or media files like images, and videos) from anywhere without worrying about the complexities concerning networking protocols.
With AEM Adobe experience manager, you can automate your content management strategy and manage digital assets and even share with the team. Its eCommerce capabilities further allow you to optimize various significant touch points like checkout pages, cart components, product pages, etc.
To put it simply, you can build websites, applications, and forms using the AEM content management system. It is a way to create an application more easily and ensure content is managed and shared across the web more conveniently.
AEM license has flexible pricing and the cost varies based on your business type and the number of components you use. Thus, the cost of Adobe experience manager would range between $100,000 to $200,000.
Advantages of Adobe Experience Manager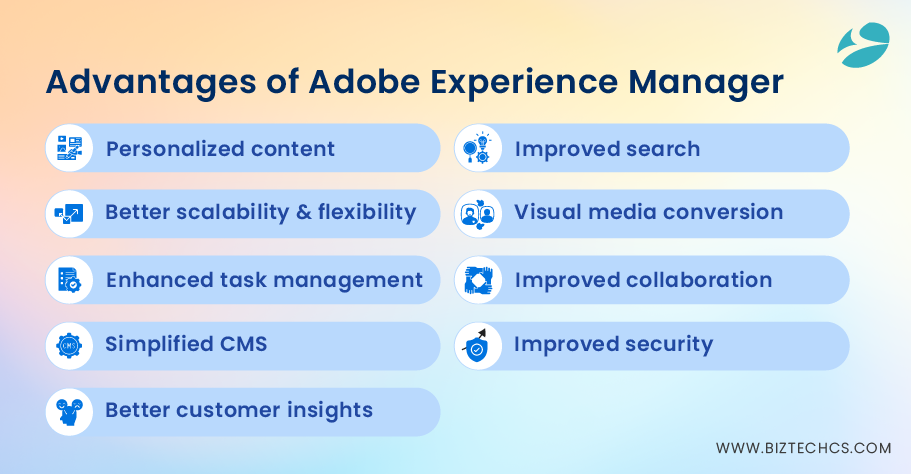 AEM Advantages
Now that you know what AEM is, you might wonder if it is actually advantageous for you to use it. If you are wondering the same, let me tell you that AEM has several benefits to offer. Here, I have mentioned a few of them for your reference.
Personalized content
You might know about the significance of personalized content in B2B eCommerce development. While your eCommerce store should have consistent content resonating with the brand vision, the checkout pages and carts should have personalized content to generate a better return on investment.
With the AEM content management system, creating personalized content for your target audience will be easier. The content is easily customizable from a simple user interface with drag-and-drop features. You can easily add new content, update the existing ones or modify them as per your need.
Managing product catalogs and content is much easier for an eCommerce site. It ensures providing unique experiences for your customers. So, you have better opportunities of generating high traffic.
Enhanced task management
One of the most useful AEM capabilities is that it can handle the entire project lifecycle smoothly. Thus, you can perform multiple projects at the same time without feeling overwhelmed. You can create a separate workspace for each of your projects, and manage analytics, assets, and content to work flawlessly.
Your teams will be able to work on several projects at a time without being burdened. So, improving your team's productivity greatly becomes easy and you can achieve results faster with AEM in place. It is much easier for you to create individual workspaces, communicate with team members, organize digital assets, share files in real-time, schedule tasks, and even track their progress.
Simplified CMS
With an easy-to-use and modern interface, content management Adobe is extremely useful for developers, designers, and digital marketers. With its drag-and-drop features and inline editing functionality, creating, publishing, tracking, and reporting content has become effortless.
What's more? You can use a single interface to manage your mobile and web content. Besides, you can utilize Adobe Stock designs for creating more interactive elements for your adobe experience manager sites or apps. You can also attain maximum advantages of its simple UI to perform a number of tasks right from personalizing website design to setting up email campaigns.
Improved search
Searching for media content isn't as easy as searching for text and documents, especially when you have to deal with large amounts of data. But AEM's search feature has been improved to give you exact results and much faster.
Instead of tagging the images automatically as per set parameters, you can apply them as per specifications. Since the photo manager used in AEM functions based on the 'search by metadata' option, you can search for exact images quickly.
Visual media conversion
Did you know that different social media platforms and blogs prefer different media sizes? For Facebook, the preferred size is 1,080 x 1,350 pixels, for Instagram, the width should be 1080 pixels minimum, and for LinkedIn, it is 1200 x 627 pixels. Similarly, the image and video formats differ too from platform to platform.
Thus, content creators/curators have to convert their media files to specific sizes and formats so they can get the most benefits. Typically, one has to use a different tool to get these media files optimized to their specific size.
But with AEM services, you get to use its in-built tool to convert media files to specific formats so they appear the best across channels and platforms.
Improved collaboration
Adobe Experience Manager enables your team to work smoothly on a wide array of features, functionalities, and tools. They can collaborate with one another and ensure their productivity is enhanced altogether.
Better scalability and flexibility
With AEM, you have the flexibility for publishing personalized content, managing it, and maintaining robust workflows. Moreover, the centralized system makes it easier for the backend team to update and manage the content and connect with target audiences at various touchpoints.
At the same time, AEM offers scalability to businesses so they can adapt based on evolving market conditions.
Improved security
Any content uploaded via AEM is secured using HTTPS TLS v1. 2 or higher, ensuring maximum security. Whether it is your login credentials, user credentials, customer data, or the data to store and publish, you can assure maximum security for all.
Better customer insights
With Adobe experience management, businesses can improve their marketing efforts greatly and make sound decisions. You get valuable customer data and insights that can help create customized marketing campaigns or personalized content for your various target pages.
Now that we've seen the various advantages of Adobe Experience Manager, let me help you understand the different ways you can put AEM to use. Here, let's check!
Adobe AEM Capabilities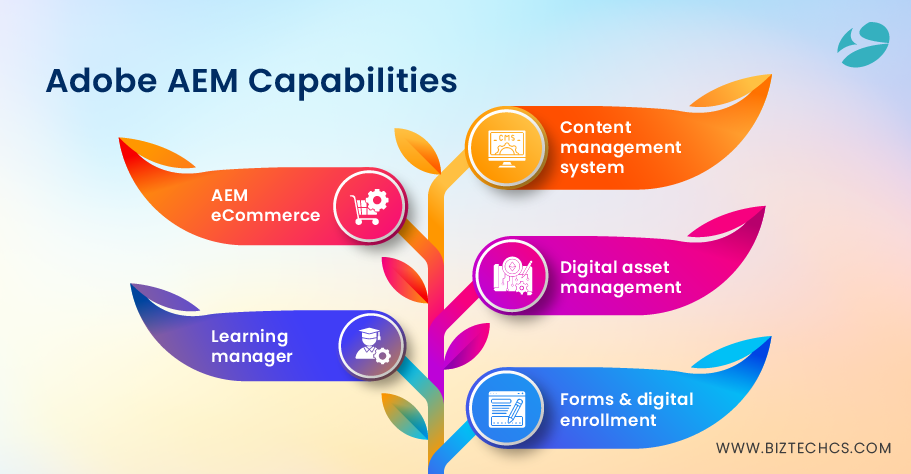 Adobe AEM Capabilities
There are a number of things you can manage with AEM. Here are some of the capabilities of AEM that you must note:
Content management system
With the help of a simple user interface, you will be able to develop websites from scratch, curate personalized content, and launch various marketing campaigns. Handle all these from a unified dashboard.
You can further build robust and futuristic software by availing of eCommerce development services from a reputed firm. The professionals can assist in developing advanced features that work seamlessly for you.
Digital asset management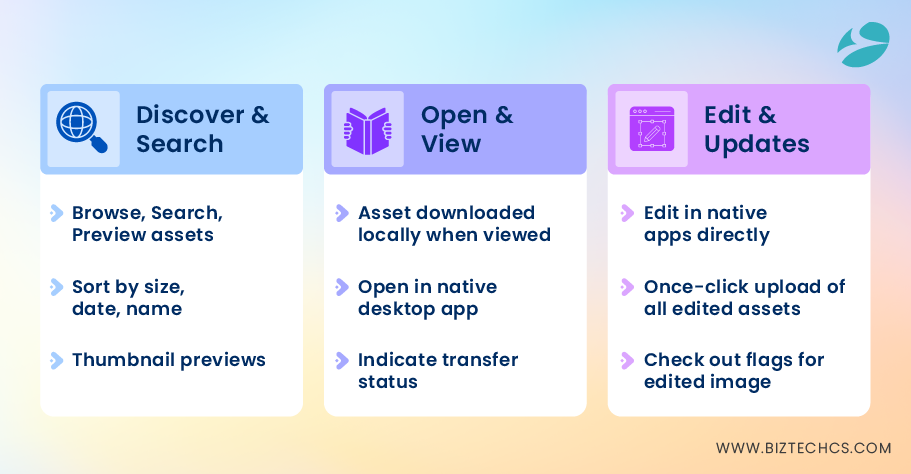 Asset Management
You can store and manage millions of data (docs, images, videos), convert them to your preferred format, and publish personalized content consistently across several channels. AEM apps use AI technology for adding image tags. Thus, it becomes much easier to search for relevant images.
Forms and digital enrollment
One of the AEM capabilities allows marketers to create smart responsive forms with automotive responses. You can reuse these forms to develop various templates, forms, and interactive elements.
Learning manager
With AEM learning manager, the task of content development and training gets easier. Leverage the potential of AI to personalize the learning experience of users and customers.
AEM eCommerce
Leveraging the power of AEM eCommerce, marketers can provide a smooth user experience to consumers at every touchpoint. They can optimize product pages, shopping carts, and checkout components to improve the ROI.
Want to build an eCommerce store like Alibaba clone? AEM eCommerce might help you build a similar store effortlessly and you can market the various pages in a more personalized manner.
Prerequisites of Using AEM
To download Adobe experience manager, install, and use it, here are some prerequisites that you have to meet. Let's check those first!
Checklist
You must have a modern web browser like Mozilla Firefox, Safari, or Google Chrome.
Install JAVA, JDK standard edition, or any other supported JVMs (Java Virtual Machines).
Stand-alone JAR or web app development WAR.
Linux machine.
Apache Maven v3.3 or greater.
Supported databases like MongoDB and MySQL.
Java v11.0 or JDK v8 or higher.
AEM license.
Hosting servers like AEM itself or Apache Tomcat.
Access to Adobe account to use AEM and support for other related services.
You will also need a space of 5GB in the installation directory and 2GB memory.
Further, let's check how to install it.
How to Setup Adobe Experience Manager?
Browse to the release notes page and download the installer. You can choose to download Experience manager as a cloud service or Experience Manager 6.x for your operating system version by tapping on the download link.
Once downloaded, follow the installation instructions to install it on your software.
Create a database and configure it for the Adobe Experience Manager instance to set user permissions.
After you configure the essential settings, you can set up an AEM instance by providing the server name, license key, and port number.
Next, you will need to create a user account for the instance. You will also have to set up appropriate user permissions.
Now, initiate the AEM instance and utilize the user credentials to log in.
Then, you have to track and maintain the AEM instance for smooth and efficient running.
After you have logged out and opened the app for the first time, you will need to use 'https://[aem-server-url]:[port]/' format for providing the AEM server URL. Next, provide user credentials to connect with the server.
AEM seems to be quite beneficial for businesses that need to manage huge amounts of data and provide a personalized experience at the same time. If you go through the Adobe experience manager reviews, features, and benefits, you will be able to assess if it is the right choice as a CMS.
Conclusion
Adobe experience manager is a powerful tool that businesses can use to build websites, applications, and forms. And with assistance from AEM partners, designers, developers, content creators, and marketers can do much more.
Whether it is delivering personalized content across multiple channels or customizing webpages for improved UX, AEM is a perfect tool to achieve all of it. However, you might have to hire AEM experienced eCommerce developers to achieve great results smoothly.
If you are still looking for experienced eCommerce developers well versed in AEM, BiztechCS can lend you a helping hand. Our seasoned professionals have an average of 5+ years of experience in eCommerce and would be able to help you with the design, development, and optimization.
FAQs
What is Adobe experience manager used for?
Adobe experience manager can be used for multiple reasons such as – the development of websites, apps, responsive forms, content management, digital asset management, eCommerce optimization, and learning management.
Is Adobe experience manager a CMS?
Yes, Adobe experience manager is a content management system using which you can develop sites from scratch, edit/ update content, and publish those.
What does AEM stand for?
AEM stands for Adobe experience manager.